Nicole Tse — Grimwade Centre for the Conservation of Cultural Materials
A member of AICCM for more than 20 years, involved in the organising committees for IIC in 2000, and ICOM-CC in 2014 and AICCM Bulletin editor since 2013, Nicole has been awarded 2016 Conservator of the year in recognition of her networking, leadership and collaborations in SE Asia.
Her role in APTCCARN, the Asia Pacific Tropical Climate Conservation Art Network and her involvement in disaster recovery activities in Bohol, the Phillipines following the earthquake and Typhoon Haiyan. Through her role in APTCCARN, Nicole has successfully gained support from the Australian-ASEAN Council of DFAT to present an international forum, Natural Disasters and Cultural Heritage in the Phillipines: Recovery, reconstruction and measures of effectiveness in 2017 in conjunction with the National Museum of the Phillipines.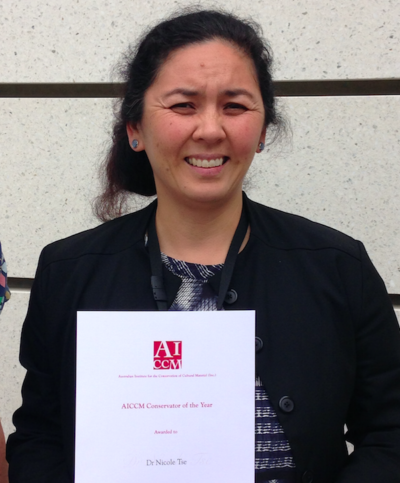 Past winners
2018 – Kelly Leahey
2017 – Helen Privett
2016 – Nicole Tse
2015 – Tess Evans
2013 – Kristen Phillips
2011 – Lydia Egunnike
2010 – Deborah Lau
2009 – Alexandra Ellen
2008 – Alice Cannon
2006 – Kim Morris
2005 – Amanda Pagliarino
2004 – Robyn Sloggett, Detlev Lueth and Angeletta Leggio
2002 – Julian Bickersteth
2001 – Jude Fraser
2000 –  Not awarded in this year
1999 – Malgorzata Sawicki
1998 – Donna Midwinter
1996 – Ian Cook
As you can see, our records are incomplete. If you can help fill in the blanks we would love to hear from you.