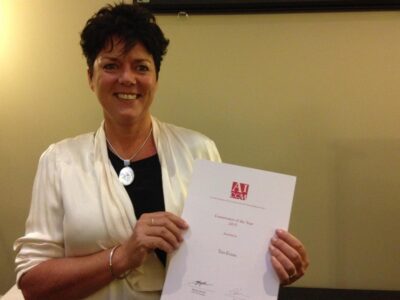 In preparation for the Museum of Brisbane's blockbuster Costumes from the Golden Age of Hollywood exhibition, which went on to win the 'Best Temporary or travelling Exhibition' award at the 2015 Museum and Galleries National Awards, Tess treated over  70 costumes and more than a dozen props and accessories, demonstrating extraordinary problem solving abilities and a deep commitment to the project. She went on to present several hands-on conservation public programs, all of which were sold out events that highlighted the role and value of conservation to the visiting public. The award selection committee commented on Tess's ability to work within the time and staffing constraints of the project, her excellent public engagement and the increase in conservation's public profile as a result of her excellent work.
Tess completed a Post Graduate Diploma in Textile Conservation and a three-year  apprenticeship in Tapestry Conservation at the Textile Conservation Centre, London (1984) and went on to become Deputy Head of the Textile Conservation Centre Tapestry Department for three years, before moving in Australia in 1987. She has worked primarily in private practice in Australia and internationally, establishing Heights Heritage Conservation in 2005, as Principal and Senior Conservator. Tess became a Professional Member of AICCM in 2012.
In 2011, Tess began a two-year sabbatical in UK, researching bio-deterioration of cultural materials and attained an MSc with Merit in Museum Studies from Leicester University in 2014. During this time, she completed her ICON Accreditation, lectured for the BA Conservation course at the Camberwell College of Art, University of London and volunteered in the V&A Conservation department, assisting the Exhibitions Mounting team.
Since returning to Australia, Tess has mounted some significant exhibitions: 'Orry Kelly, Dressing Hollywood' at the Australian Centre for the Moving Image in Melbourne, 'Slim Dusty Collection' at the Slim Dusty Centre in Kempsey and of course 'Costumes from the Golden Age of Hollywood' for Museum of Brisbane. Tess is currently working on 'Marilyn Monroe' with Bendigo Art Gallery.
Past winners
2018 – Kelly Leahey
2017 – Helen Privett
2016 – Nicole Tse
2015 – Tess Evans
2013 – Kristen Phillips
2011 – Lydia Egunnike
2010 – Deborah Lau
2009 – Alexandra Ellen
2008 – Alice Cannon
2006 – Kim Morris
2005 – Amanda Pagliarino
2004 – Robyn Sloggett, Detlev Lueth and Angeletta Leggio
2002 – Julian Bickersteth
2001 – Jude Fraser
2000 –  Not awarded in this year
1999 – Malgorzata Sawicki
1998 – Donna Midwinter
1996 – Ian Cook
As you can see, our records are incomplete. If you can help fill in the blanks we would love to hear from you.