Established in 2016, the AICCM Emerging Conservators SIG connects students, graduates and new professionals with the established cultural materials conservation community in Australia. Fostering ongoing learning, continuity of friendship, and conservation dialogue for Emerging Conservation Professionals (ECPs).
To help you feel supported during student and post-graduation years we aim to:
• Connect ECPs with each other, the heritage community, and the AICCM.
• Create and promote training, mentoring opportunities, and other AICCM activities.
• Partner with student groups such as Student Conservators at Melbourne (SC@M)
• Increase the involvement of ECPs at AICCM conferences, symposiums and events.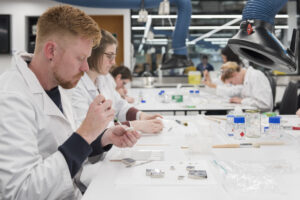 Chris Redman and Kate Dawson get busy with B72 at SC@M's 2017 Ceramics Workshop taught by conservator Penny Byrne. Photograph by Katrina Watson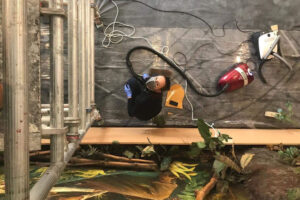 Alexander Taylor worked on a large community-loved mural at the Matraville RSL that had been damaged by fire with International Conservation Services in 2018. Photograph courtesy of Alexander Taylor
Our Facebook group Emerging Conservators Australia is a supportive space for ECPS. We welcome students/graduates from Australian and international cultural materials conservation, heritage conservation and allied training programs to join the conversation. We hope you'll share all those burning conservation questions you're dying to ask, along with professional opportunities, conservation news and events.
Email us to say hello or suggest events, workshops and support you would like to see happening. All contributions welcome!
Co-convenors: Emily Vearing + Lisa Mansfield
We acknowledge the Traditional Custodians of the land on which we work and live, and recognise their continuing connection to land, water and community. We pay our respects to Elders past, present and emerging, and to all First Nations peoples.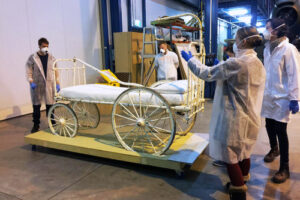 Image taken on location at the Australian War Memorial's large technology storage facility of a bed lived in by a returned soldier's due to lifelong war injuries, inspected by Kate Ritchie (forward right) during her 2018 internship. With thanks to the Australian War Memorial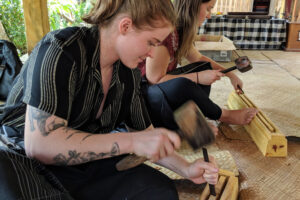 Jessie Gray and Grace Barrand learn how to carve traditional wooden boxes to house 'Lontar' (palm leave manuscripts) at Museum Pustaka Lontar in Bali, Indonesia. Part of the 2018 project by conservation alliance Konservaction. Photograph by Saiful Bakhri