Newsletter Issue Number:
---
Art Gallery of New South Wales
Social: Comings and goings of staff
Barbara Dabrowa has temporarily left Gallery for working full-time at the State Library of NSW. In her secondment, the Frames Conservation team has been reunited with Sofia Lo Bianco, who will work on varied frame conservation projects until Basia's return. In April-May 2018, the Frames Conservators were joined by Seela Kautto, painting conservation student from the Metropolia University of Applied Sciences, Helsinki, Finland, who came for the 10-week internship in frames/ gilded objects conservation at the AGNSW.
Paper Conservation hosted a Masters Conservation student from Melbourne University for her internship, Rose Maurice.
Bec Barnott-Clement is currently undertaking a conservation internship at AGNSW working with time-based art conservator Asti Sherring as well as paper conservators Analiese Treacy and Sarah Bunn.
Sarah Bunn welcomes the addition of a new student intern late May from UNSW Masters in Curating and Cultural Leadership, Karolin Wu, to work with current intern Isabella Ling. on finalising documentation, treatments and housing for Chinese Bible before its display in November. Lucy King, a Masters of Heritage Conservation student from Sydney University, will undertake an internship in May assisting with the documentation and data entry of 300 international prints, and undertake research into several complex installation artworks to document their previous iterations for our records.
Professional
Simon Ives and Dr Malgorzata Sawicki have been honoured with the Fellowship of the International Institute for Conservation of Historic and Artistic Works. This is a great honour and recognition of work and research that both of them have done over many years to promote the development of their respective conservation fields within Australia and internationally.
Treatment projects
Analiese Treacy has just completed work on a group of varied photographs for an exhibition entitled Hold Still on display at the Gallery from May-July. Analiese has also been working on the preparation of works on paper for the upcoming John Peter Russell show. Analiese and Sarah Bunn are facilitating a discussion night at the AGNSW in conjunction with AICCM based on the Richard Wolbers gels workshops held in Melbourne in January this year.
Sarah Bunn is continuing work on Chinese Bible, collection rehangs and regional tours.
Rose Maurice undertook several treatments including 2 Arthur Murch drawings from the study collection, a Grace Crowley drawing and Norman Lindsay print. She also assisted Sarahin condition checking prints for a regional tour and with the ongoing work on the installation artwork Chinese Bible by Yang Zhichao.
Kerry Head has been working on condition reports for numerous loans and was instrumental in preparing Ewa Pachucka Arcadia: landscape and bodies (1972-77) for display in March. This a multi-part installation is made primarily of crocheted natural and synthetic fibres and treatment involved cleaning and structural repairs. Melanie Barrett continues to work on proposed acquisitions and worked on the install of the Bienalle of Sydney. Emma Rouse has also joined the Object Conservation team and is working on condition reports for proposed acquisitions and researching equipment options for the Sydney Modern Development set to open in 2021.
In the Paintings Conservation Section Celine de Courlon has been completing an extensive restoration of The Prospector by Julian Ashton (1889). A previously brown painting, Celine's painstaking removal of several layers of varnish and large areas of overpaint, and the inpainting of an extensive network of drying cracks have re-established the richly coloured and lively original brushwork of this Old Court favourite. Paula Dredge has completed the retouching of Saint-Roche by Giambattista Tiepolo (1730-5). Miraculous survivor of a shipwreck in 1912 this portrait of the pilgrim saint is once again displaying the supreme painterly qualities of the Italian genius. Also Simon Ives finally completed the clean and reconstruction of the mysterious but intensively analysed panel portrait of Henry VIII just in time for its display as the centrepiece of the HenryVR virtual reality display in the galleries Old Courts.
Sofia Lo Bianco, Seela Kautto, and Malgorzata Sawicki have been working on major restoration of the frame for the Charles Landelle painting Ismenie, Nymph of Diana (1878). The gilded surface of this elaborate frame was painted over with several layers of brass-based paint applied over dark soiled gilding. The project aims in removal of overpaint and subsequent surface cleaning of the gilding layers, allowing testing of several solvent gels and emulsions in addition to the conventional cleaning methods.
In February – May, Emma Rouse was restoring the frame for the Thomas Miles Richardson Jnr, Eagle, Crag and Gate Crag, Borrowdale, Cumberland (1875). This was the first watercolour to be commissioned by the AGNSW and formed the basis for an extensive collection of British watercolours. This treatment involved removal of brass-based overpaint and a layer of regilding to reveal the original gilded surface. Borax/solvent gels and hydrogels were used as part of the innovative treatment methodology. The project was time consuming and beyond the scope of time and resources delegated to it initially and therefore it was funded with benefactor support. It will have to wait for its completion to the later date, while Emma moved to work on the surface cleaning of the Maratta frame for the Giambattista Tiepolo painting Saint-Roche (1730-5).
Tom Langlands has finished the reproduction of the Tudor frame for the AGNSW Henry VIII painting, which has undergone an extensive restoration. The Oak frame based predominantly on an original engaged Tudor frame on another Henry VIII portrait at the National Portrait Gallery, London, and required a recreation of a band of imitation tortoise shell. The painting is now on display in the old courts being the focus of the Henry VR exhibition, offering a virtual reality experience that explores the history and restoration of the artwork. The exhibition is associated with this year Archibald Portrait Prize at the AGNSW.
Research projects
In March 12-14, 2018, Dr Malgorzata Sawicki attended the international Experts Meeting on the Cleaning of Wooden Gilded Surfaces hosted by The Getty Conservation Institute (GCI), Los Angeles, CA, US. The twelve participants of the meeting were invited by Dr Stephanie Auffret, GCI Project Specialist and Coordinator of the ICOM-CC Wood, Furniture and Lacquer Working Group, who organised and moderated the sessions. It was the opening meeting initiating the new GCI research project on Cleaning Systems for Wooden Gilded Surfaces. Over three days, the group, along with GCI staff, debated on the state of knowledge of wooden gilded surfaces in various parts of the world, ethical issues related to their preservation, training opportunities and needs, methodical research and documentation of gilded surfaces, and cleaning systems available for treatments and their effects on gilded surfaces. (For the report on the meeting see the article in this issue of the AICCM Newsletter).
Conference attendance
AGNSW Time-based art conservator, Asti Sherring and Lisa Catt, Assistant Curator of International Art will present key findings from AGNSW research, discussing the variable nature of time-based art and the changes this necessitates in traditional collection management procedures at the Symposium 'It's About Time! Building a New Discipline: Time-based Media Art Conservation', held at the Institute of Fine Arts, New York University (NYU), USA 20-22 May 2018. In attending, Asti and Lisa will join a new generation of conservators, curators, educators, artists and art historians, as well as engineers and computer scientists, in addressing the cross-disciplinary nature of time-based media artworks and their urgent preservation needs. Further to this, Asti will present research on the AGNSW time-based art project at American Institute of Conservation National Conference 'Material Matters 2018', Houston, Texas, USA 30 May – 3rd June. These presentations mark a significant step in establishing this specialist field on an international level, and the inclusion of AGNSW — is a testament to the leadership it has shown to date. Asti's attendance was supported by 'Create NSW'.
---
Artlab Australia
Social: Comings & Goings of Staff
Canadian intern Paige Keith who was with the Paintings team for 6 months has recently left for home via New Zealand and Asia. It was a delight to have her with us and she has been greatly missed. We wish her well in the next stage of her career and hope to see her back in Adelaide again in the future for a visit!
Events
Megan Sypek from the Objects lab and Rosie Heysen from Paintings recently ran an AICCM SA/NT Division talk and workshop; "A practical overview of Richard Wolber's New Methods of Cleaning Painted Surfaces". The talk and workshop were very well attended and gel cleaning kits are now in use at Artlab. It was fantastic to see so many people enthusiastically trying out new methods and achieving results during the workshop.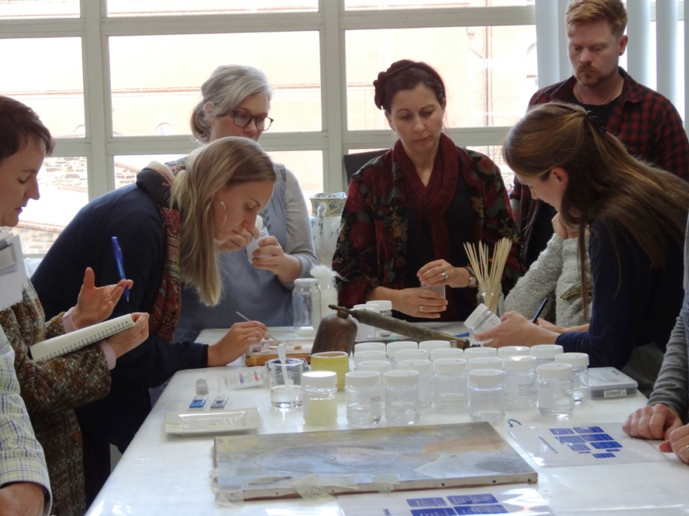 For the third time, objects conservator Sophie Parker is very pleased to have been involved in a workshop held at Artlab with Desart and artists from Central Australia.
Professional
Treatment projects
The entire Paintings team have been working at Ayres House undertaking periodic conservation treatment on the 1870s hand painted ceiling in the Summer Sitting Room on the lower ground floor. Following a water leak from above in the 1970s the hand painted interior suffered near catastrophic damage and has suffered ongoing delamination and loss ever since. The room has been closed to the public for some time. However at the conclusion of this 6 week project it will be able to be opened again for viewing by the visiting public.
Marek Pacyna is currently working on a complex and comprehensive treatment of the early South Australian colonial work 'The artist and his wife, Francis Amelia' by John Michael Skipper from the collection of Art Gallery of South Australia (AGSA). The scene features the couple and their faithful hound in conversation with an Aboriginal local all located in the picturesque Mount Lofty Ranges with a view of sea behind. Rosie Heysen is working on a striking student piece 'Portrait of Leslie Wilkie' by fellow student Hugh Ramsay. Eugene Taddeo is immersed in a treatment of the tranquil landscape scene of 'Mount Wellington at sunrise, from Newtown Bay, Tasmania' by W. C. Piguenit c1900 dreaming of his return to visit the apple isle.
This year's recipient of the Copland Foundation Scholarship Chris Payne is heading to the UK in July to attend the Attingham Summer School 2018. But before he departs on his merry way there is plenty for him to complete such as Mildura Arts Centre's 1930s 'Portrait of Dimitri Sursock' (aka Sir Sock) by William Orpen and a number of privately owned works.
As always the Objects Lab has been a busy place recently. Justin Gare entertained many History week tours as well as contributing to public art conservation projects on Gouger Street with Renita Ryan.
One of Jo Dawe's private clients brought in a couple of historic Asian artefacts which had unfortunately been exposed to moisture whilst in storage. A stunning 14 "page" Burmese Kammavaca manuscript manufactured from stiffened cloth covered and decorated in gilding and thickly applied lacquer text, had tissue paper stuck to the surface (from wrapping each of the individual pages prior to storage). Careful testing was undertaken by Jo to determine the best method for gently removing the tissue without affecting the fragile gilded and lacquered surface. Cleaning was carried out under the microscope, with slightly moistened cotton wool swabs of deionised water, to very gently remove the adhered tissue. It proved to be a time-consuming but ultimately visually satisfying treatment.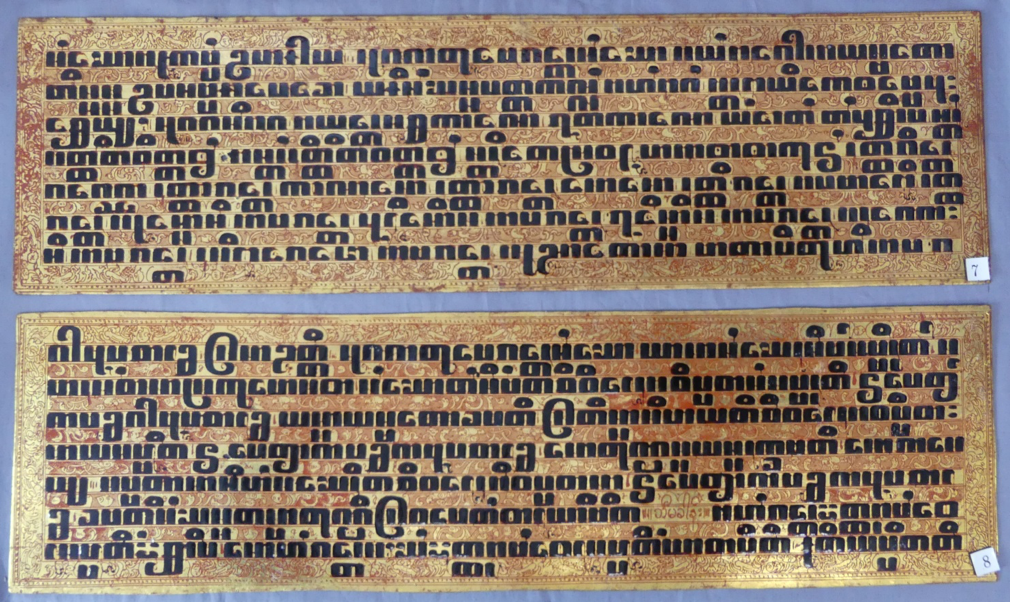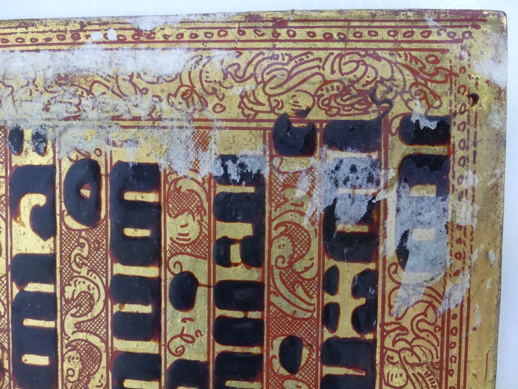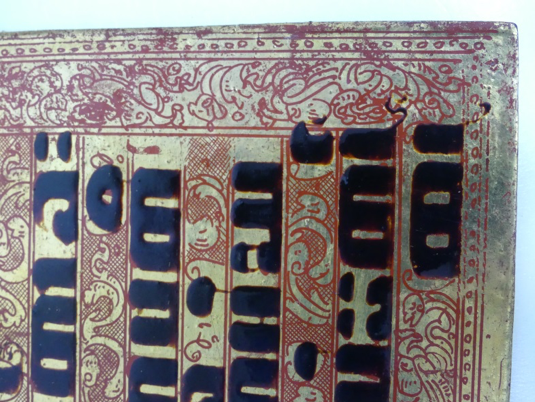 Megan Sypek has been working on a collection of Lladro figurines with multiple breakages and missing components.
Filipa Quintela had an interesting challenge with one of her private jobs, which required her to reconstruct a missing piece of a glass horse leg. The horse had six fragments broken from three of the legs and one piece was missing, between the knee and the hoof of one of the legs. After a few trials it was decided to make a cast using Hxtal mixed with kaolin and use Pinkysil silicone to make the mould from the cast. The final piece was created using a mixture of Hxtal, Ciba-Geigy epoxy dyes and a small amount of fumed silica, which was poured inside the mould. In the end, slightly pigmented Hxtal was used to adhere the piece to the horse's body and as a thin layer applied all over it to give the glossy finish and to in-fill any minor losses.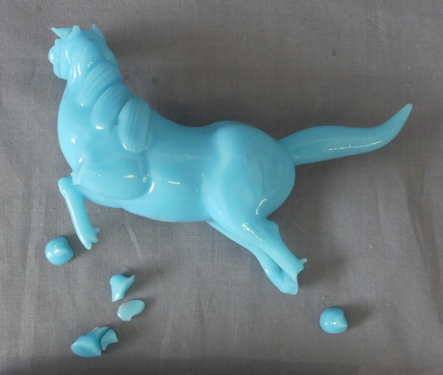 In the Textiles lab, Kristin Phillips has been undertaking the treatment and storage preparation of a series of 4 alter frontals belonging to St Hugh's Anglian Church in Angaston. The church was successful in receiving a Copland Foundation Grant for this conservation work. The cloths dating to the 1890s have been beautifully embroidered with naturalistic and stylised floral and religious symbols in silk and gold metal thread work.
Exhibitions & Loans
Artlab's Paintings team had the pleasure of condition checking the fabulous Impressionist paintings that arrived from Paris for the AGSAs 'Colours of Impressionism: Masterpieces from the Musee d'Orsay'. Checking was done beside Musee d'Orsay conservators and curators who travelled with the works from Singapore.
Rita Costabile continues the essential task of undertaking painting loan requests and exhibition preparation for AGSAs busy exhibition program.
Sophie Parker is working on a loan of John Mawurndjul barks from AGSA to MCA, and traveling the South Australian Museum's exhibition " Yidaki: Didjeridu and the sound of Australia" to Japan.
The Textiles team are busily preparing items for the Art Gallery of South Australia's upcoming exhibition of Balinese textiles which opens in June.
---
Australian National Maritime Museum
Professional
Treatment Projects
Jeff Fox, Lucilla Ronai and Nick Flood got up (not down) and dirty cleaning the Tasman Light. Working from scissor lift and scaffold, they trialled a wet cleaning method that successfully let them clean the object without stirring up dust. The Tasman Light once sat in the lantern room of the lighthouse on Tasman Island, off the south east coast of Tasmania.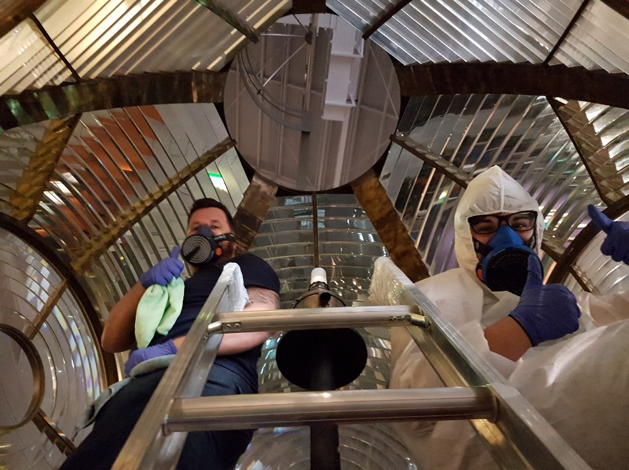 In March, we had a weeklong visit from Bethany Holland (Norfolk Island Museum) as part of the Marit
ime Museums of Australia Project Support Scheme. During this time, Bathany, Jeff Fox and Nick Flood undertook treatment of the Sirius Anchor, an object that is on loan to the ANMM from Norfolk Island.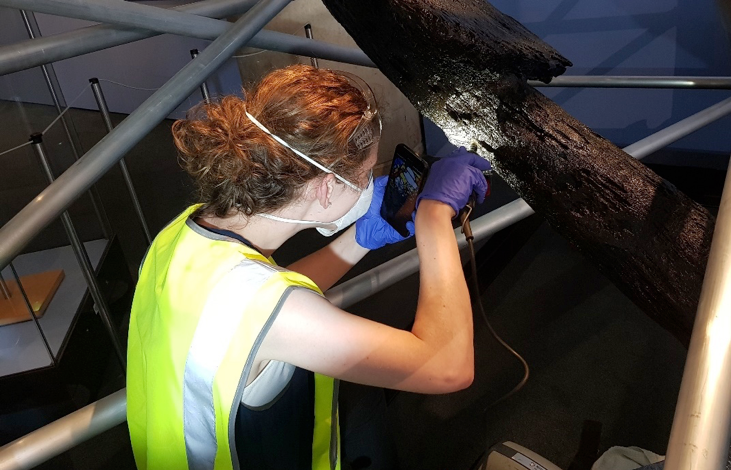 Conservation volunteer Jan Russel created numerous covers for framed paper objects to protect them from light exposure while they are in storage.
Sue Frost recently treated an embroidered "woolly". A craft of yesteryear, woollies were made by seamen during idle time on long voyages and provided them a source of extra income. This example is light damaged and extremely fragile. Sue dry cleaned the surface and couched down some of its elements to prevent unwanted movement.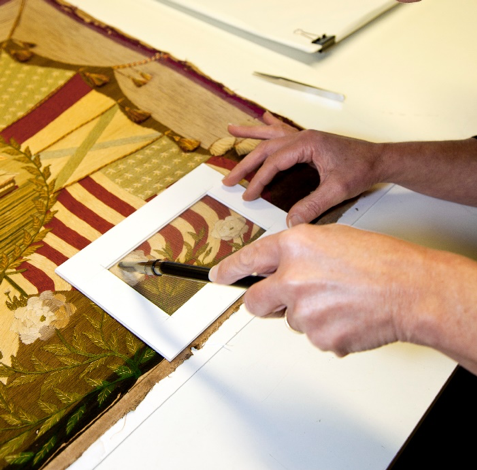 Exhibition preparation
Coming from the Natural History Museum in London, the Wildlife Photographer of the Year exhibition opened in April. Supporting the stars of the show (i.e. the photographs) were 23 objects selected from the Museum's Ron and Valerie Taylor collection.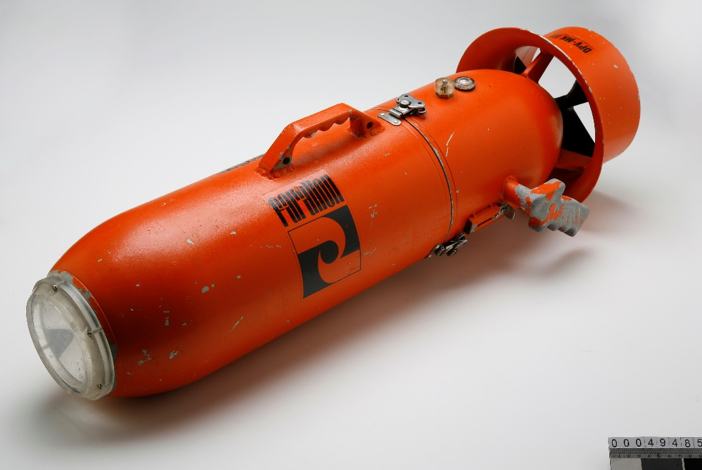 Workshops, symposia and media
Agata Rostek-Robak and Lucilla Ronai presented at the Women in Science Symposium held at the ANMM. The event was attended by almost 500 high school girls, all of which toured the conservation lab throughout the day.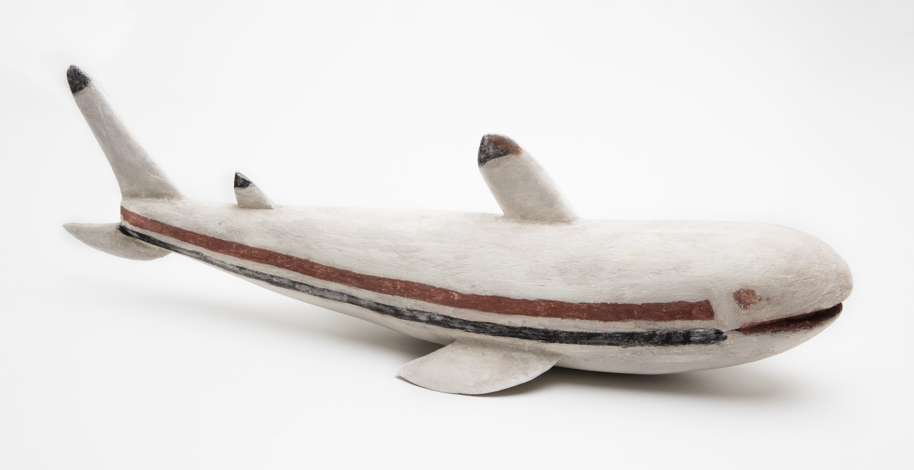 Conservation made a visit to Dr Elizabeth Carter at the University of Sydney's Access Sydney Analytical facility. There we saw the range of infrared, near infrared and Raman instruments available for use.
Social News
During the Classic and Wooden Boat Festival, MCA Conservator Kasi Albert took the stage name Myra Christmas and joined a troop of 1920s dressed ladies and gents that strolled and danced their way around the Museum foreshore adding extra atmosphere to the event.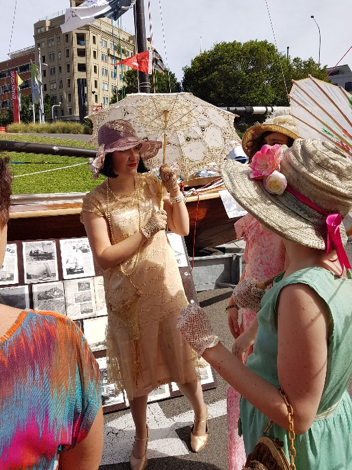 Undoubtedly the most exciting thing to happen at the ANMM for quite some time was our entry in the Museum Dance Off competition. Conservation's Luci Ronai was Head Choreographer and Assistant Director. During the filming, her voice could be heard across Darling Harbour counting time and giving instructions. We were fortunate enough to make it through our first heat, but were beaten by the talented people at the NSFA in the Australian final. ANMM's video is can be seen at: https://www.youtube.com/watch?v=0rUg8yJqslo.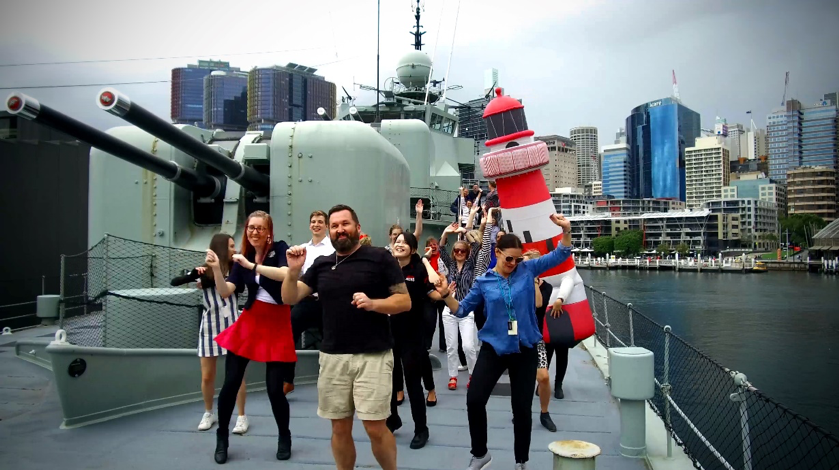 During Rose Maurice's recent stint at the AGNSW she took time to visit the ANMM Conservation Lab. She even got to meet Bailey the Museum's dog. Thanks for popping by Rose.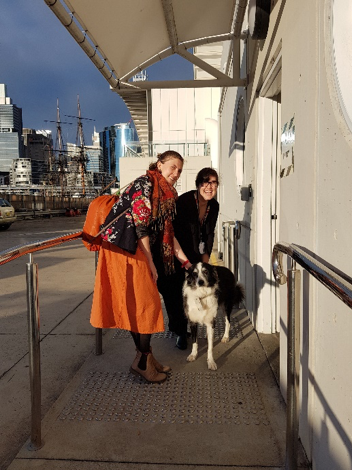 ---
ICS
Professional
Conservation projects that arrive out of the blue and provide work on wonderful collections in exotic locations are always to be cherished. Thus Julian Bickersteth found himself at very short notice surveying the extraordinarily rich ethnographic collections of the National Museum and Art Gallery of Papua New Guinea (NMAG) in Port Moresby. A major new exhibition space is being created at the Museum, largely funded by the Australian Government, and NMAG needed assistance in preparing artefacts for the exhibition and also dealing with the effects of the building works.
Within a week, ICS had Frances Paterson and Annick Vuissoz on the ground laden with suitcases full of supplies and ready to lead an NMAG team in the cleaning of the collection. Staff of NMAG responded enthusiastically, and in the first fortnight over 2,000 artefacts have been cleaned. All this work was undertaken in conditions where the internal temperature reaches the high 30s, with relative humidity over 90%, due to the air conditioning not operating during refurbishments. Frances Bafmatuk, the Head Conservator at NMAG and his team could not have been more helpful, with the NMAG production line including up to twelve people at times. In addition to cleaning a large number of objects during the two weeks, the building of local capacity was an important outcome. The Museum holds over 80,000 artefacts, so there is more to do. ICS is looking forward to continuing to assist with the training of NMAG staff in the care of this important collection. The APEC Forum is due to be held in Port Moresby in November 2018, with the US President likely to be present, so the Museum is preparing itself for VIP visitors.
Various other major projects have kept other ICS departments busy. Wendi Powell and Katie Wood have been working on plans for the Department of Finance and the State Library of NSW, and Adam Godijn has been managing a major private collection of artworks in Hobart that was damaged in the recent heavy storm.
Meanwhile the Butterfly Room at the State Theatre nears completion, with all the overpaint now stripped and the detailed task of inpainting well underway. A rolling crew of Arek Werstak, Matteo Volonte, Amy Jackson, Christian Eden, Rob Williams and Annick Vuissoz have been working there, joined (to our delight) by Anna Diakowska Czarnota who is home from Poland for a few months.
Lauren Keating continues to build ICS' work and profile in Melbourne. In between work on site as the dig conservator at one of the City Metro station sites on Swanston Street, Lauren has also been documenting a major Sidney Nolan mural in a city foyer.
We are pleased to welcome Eden Christian to the Paintings Department.
Personal news
Who would not wish upon a child the charmed opportunity of having not one, but two conservators as parents? We are delighted to announce the birth of a baby boy to Claire Heasman and Oliver Hull.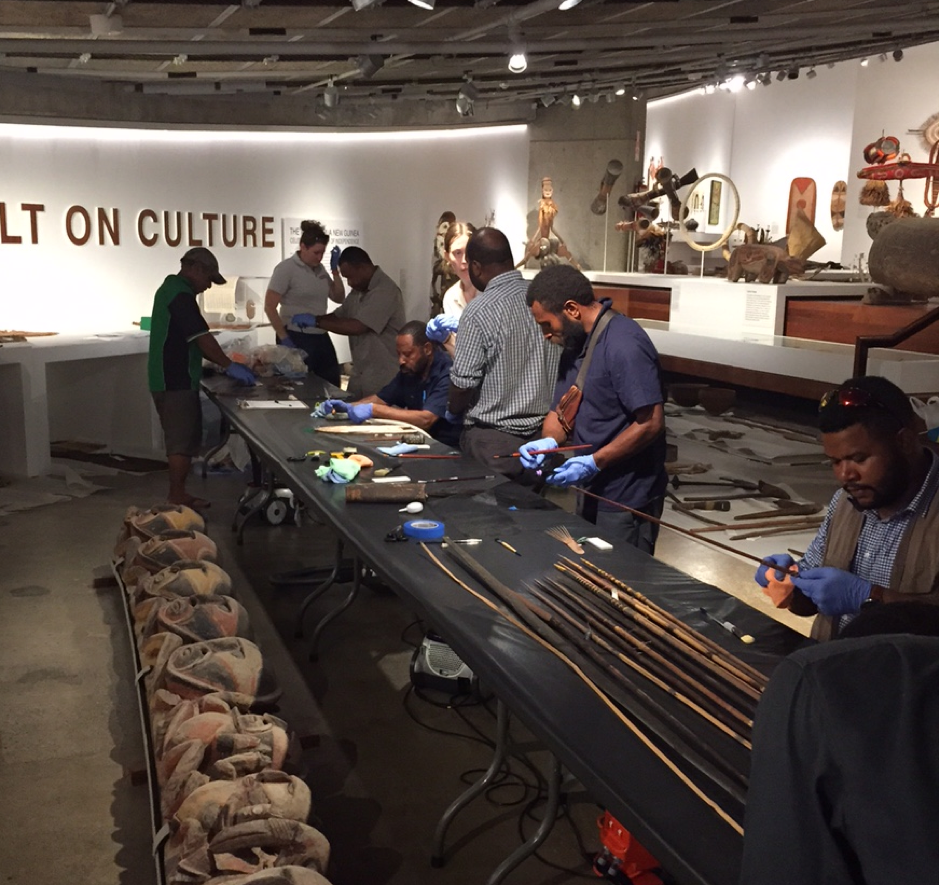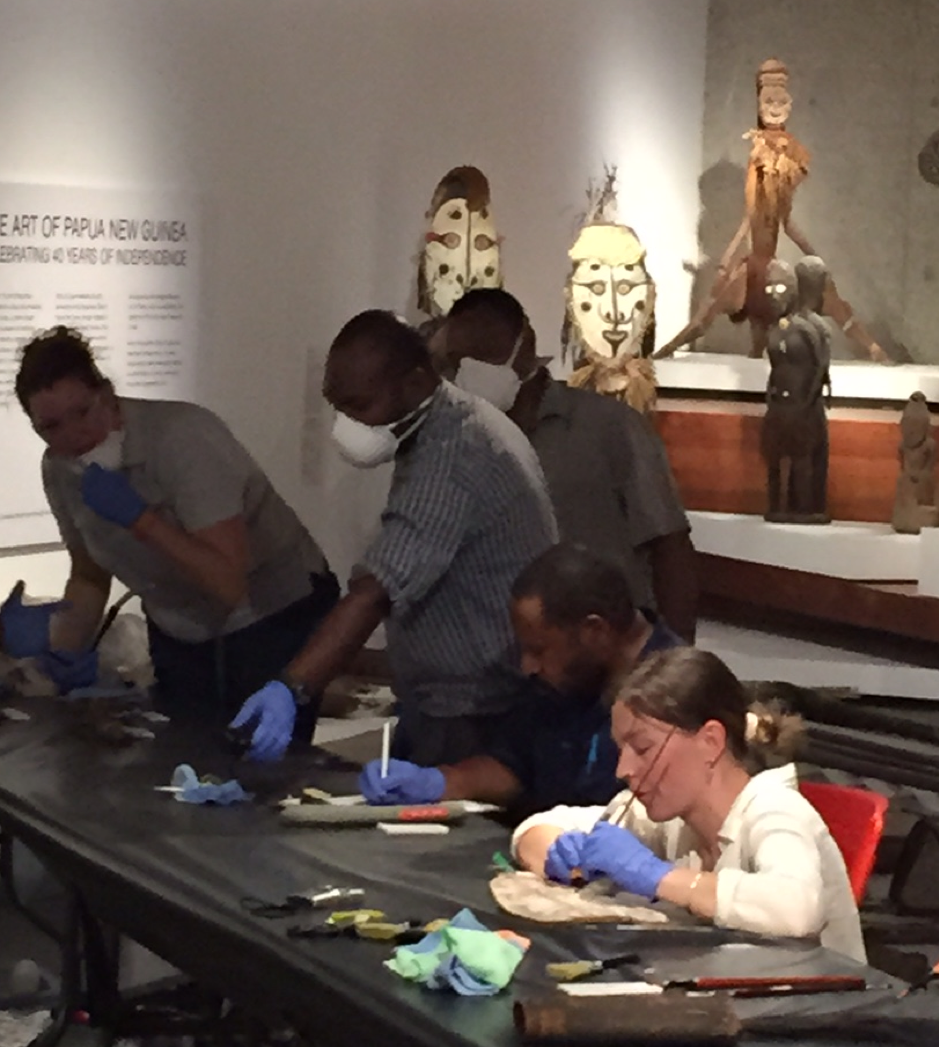 ---
Museum of Applied Arts and Sciences (MAAS)
Powerhouse Museum
Sadly, we say good bye to Jonathan London who has left to take on the role of Manager, Collections Care at the State Library of New South Wales. Jonathan was Conservation Manager at MAAS since January 2015 and played a key role contributing to major collections conservation and management projects and leading the Conservation Unit. He achieved many important milestones while at MAAS including the redevelopment of the Museums Discovery Centre project, implemented a wireless environmental monitoring system across all three sites, developed and fine-tuned the Conservation Policy and helped shaped the emergency response plan and approach to integrated pest management. We will miss him and wish him well at the State Library.
There has been much media attention regarding the Powerhouse Museum move to Parramatta in recent weeks. After 30 years since the doors opened, it is now confirmed MAAS's new headquarters will be in Parramatta with a new museum due to open in 2023. The new museum will feature a Planetarium and a dedicated learning space devoted to STEAM (science, technology, engineering, arts and mathematics). Another museum under the MAAS umbrella will be devoted to design and fashion and is ear-marked to remain in Ultimo. It will showcase the MAAS collection of Australian and international practice across fashion, design and architecture. What stands as the Powerhouse building now will be redeveloped into a 1500 seat Broadway-style theatre. To house the Strategic Collections staff and collection, the Museum Discovery Centre (MDC) precinct in Castle Hill will be enlarged with new building works in the plans.
In collaboration with Los Angeles County Museum of Art (LACMA) the exhibition Reigning Men Fashion in Menswear 1715-2015 is on display from 2 May – 14 October. This comprehensive exhibition explores 300 years of fashionable dress, featuring over 130 outfits worn by aristocrats, dandies, hippies, punks and rappers to name a few.
The first half of the year has been very busy for the conservation team. We launched Common Good, an exhibition looking at contemporary design from Asia-Pacific region and their responses to social, ethical and environmental challenges by a new generation of socially engaged designers. Media personality Tim Ross was our guest curator for exhibition Design Nation drawing from MAAS's collection of Australian industrial design. Our yearly display SHAPE showcasing HSC technology works highlighted the creative energies of students in the areas of design technology, textiles and industrial design.
Opening soon will be a display of MAAS's collection of Asian decorative arts aptly named, Reflections of Asia. It will be the first in the Museum's history to profile its Asian collection, a collection spanning over 140 years.
Professor Robert Burford presented a talk on Why rubber fails to Conservation staff. The different types of rubber were outlined, causes of their degradation and collection case studies were discussed.
We would like to congratulate our volunteer Elizabeth Reed for receiving the National Trust of Australia (ACT) prize 2017 for the highest academic graduate in the Bachelor of Heritage, Museums and Conservation. Well done Lizzie!
Museum Discovery Centre (MDC) news
Work continues with the Rolled Textile Project at the MDC. We are nearly half way through the large project of photo-documenting 1600 flat textiles. We have finished photographing the large textiles and are now using a copy-stand for the medium and smaller textiles. We have a group of dedicated volunteers that help us each week.
The Australian Dress Register (ADR) team and some volunteers are working their way through the updating of the ADR Resource book. I have completed a handout on how to make a bespoke, cloth strip mannequin which should be published shortly.
Sydney Observatory
The Munz metal time ball at the Sydney Observatory is undergoing restoration after 160 years of continuous use. The time ball was very important for ships to keep accurate time and at precisely 13:00 EST each day, the time ball drops from its mast.
---
Museum and Art Gallery of the Northern Territory
MAGNT conservation team were thrilled to host visiting conservators Andrea Wise and Fiona Kemp from the NGA whom performed a complicated paper treatment with Sandra Yee on our Charles Blackman work Alice with Rabbit and Bird. This work has remained framed since acquisition in the 1990's which exacerbated the micro climate environmental conditions causing stearic acid to leach from the alkyd resin paint causing blooming and friability. Andrea and Fiona did a fantastic job humidifying, relaxing, removing soluble discolouration and relining the work on paper. The treatment has increased physical and chemical integrity and we're very excited to finally have it stable and ready for display.
The MAGNT team have been busy preparing collection material for upcoming exhibitions Out of the Dark and Unruly days: Territory life 1911 – 1921. Eliana Urrutia-Bernard carried out a label adhesive residue removal utilising a Wolbers gel formula Sandra Yee collected from the recent gel workshop hosted by the State Library of Victoria. Nadine Lee and Lisa Nolan have been consolidating painting Wiritji Rockhole by artist Eubena Nampitjin and several barks with new favourite consolidate Lascaux 4176.
MAGNT have also been pleased to receive grant funding from the Copland Foundation to have Jamie Robertson shipwright conservatorand Will Robertson shipwright technician perform a treatment project on our much loved painted Indonesian vessel Terima Kasih's starboard hull.
Lisa Nolan undertook professional develop in March this year attending two different workshops in Europe the 'Tempera painting between 1800 and 1950 Experiments and innovations from the Nazarene movement to abstract art' and 'Modern Resins for varnishing and retouching workshop' see MAGNT blog link for full details on Lisa's escapades:
https://www.magnt.net.au/single-post/2018/05/03/CONSERVATION-ADVENTURES-IN-NINETEENTH-CENTURY-TEMPERA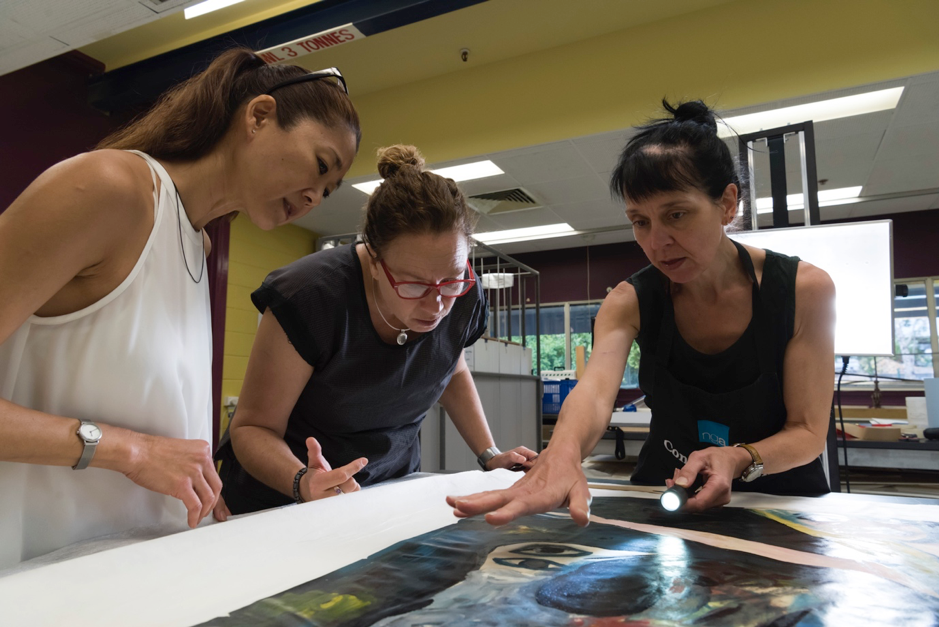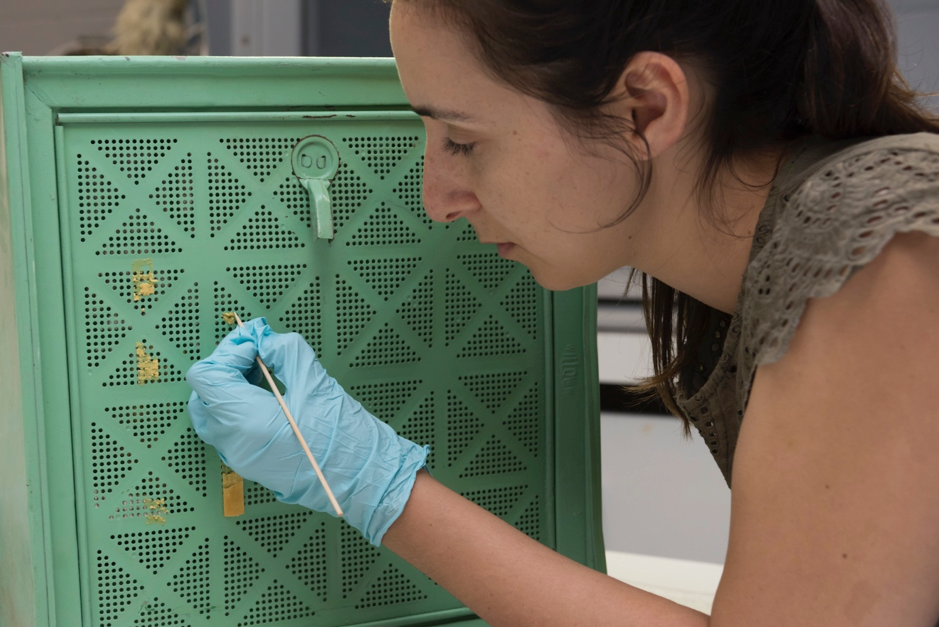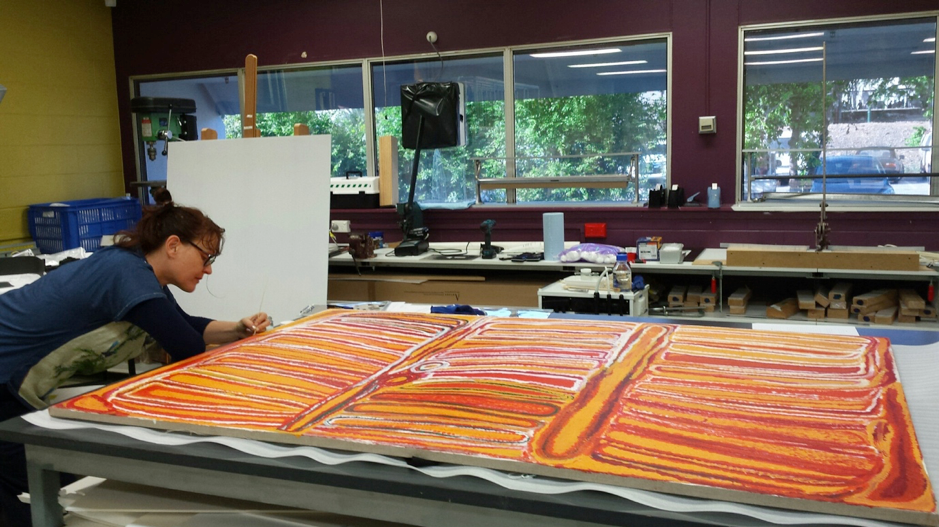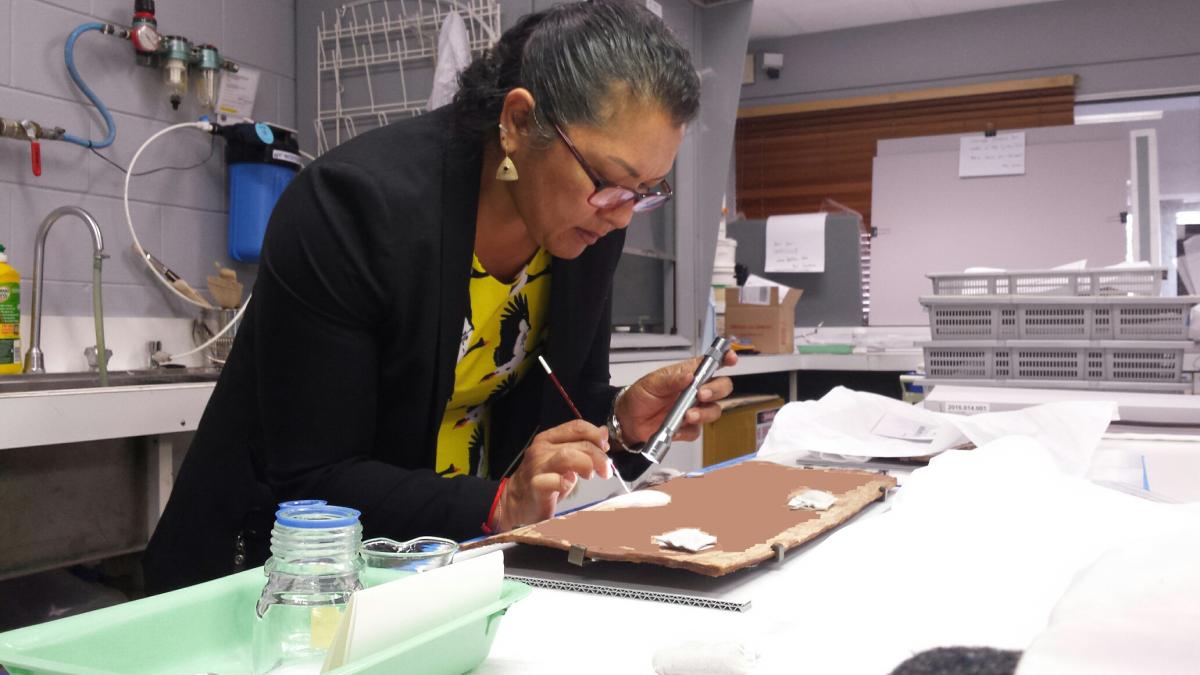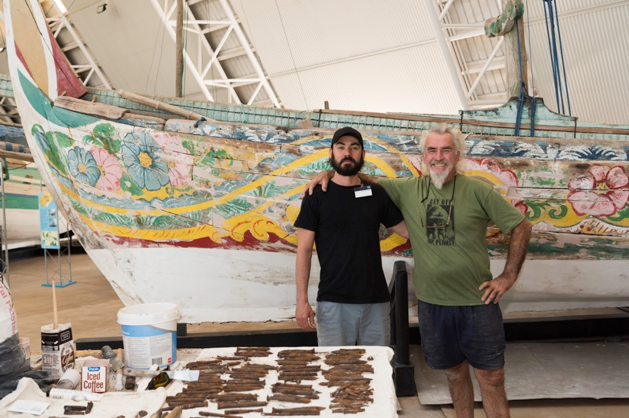 ---
State Library of NSW
Social: Comings and goings of staff
The Collection Care branch would like to welcome Jonathan London in the role of Branch Manager. Jonathan has joined us after an extended period as Manager of Conservation at the Powerhouse Museum. The branch would like to thank Caroline Lorentz for her extended period acting as Branch Manager throughout a very busy period. Caroline will continue in her role as Registrar.
The branch would like to welcome frames conservator Barbara (Basia) Dabrowa as well as paintings conservators Michelle Wassall and Andrea Nottage. Basia, Michelle, and Andrea have undertaken an extensive assessment of frames and paintings and are now treating a multitude of works in anticipation of the opening of the upcoming paintings that will be hung in our new gallery spaces.
Professional
Treatment projects
Cath Bartley has been cleaning 20 ca.1900 glass plate negatives to be digitized for an upcoming exhibition.
Kate Hughes has completed the treatment of a hand coloured portrait photograph for digitisation and exhibition. The photograph had extensive graffiti and losses through the face which have been cleaned and retouched.
Book Conservator Guy Caron completed the conservation treatment of A Specimen of the Botany of New Holland + Zoology of New Holland by J.E. Smith, George Shaw, James Sowerby, Printed in London 1793-1794.
A Specimen of the Botany of New Holland, was the first published book on the flora of Australia. Written by James Edward Smith and illustrated by James Sowerby, it was published by Sowerby in four parts between 1793 and 1795. It consists of 16 colour plates of paintings by Sowerby, mostly based on sketches by John White, and around 40 pages of accompanying text. It was presented as the first volume in a series, but no further volumes were released.
The work began as a collaboration between Smith and George Shaw. Together they produced a two-part work entitled Zoology and Botany of New Holland, these appeared in 1793, although the publications themselves indicate 1794. The collaboration then ended, and Shaw went on to independently produce his Zoology of New Holland. Smith's contributions to Zoology and Botany of New Holland became the first two parts of A Specimen of the Botany of New Holland, a further two parts of which were issued in 1795.
Three copies are in the rare books collections of the SLNSW but copy number 3 was in very poor condition with text block and leather spine split all over needing conservation treatment.
All sections were pulled apart with all traces of glue and leather removed before being dusted and dry cleaned to remove any surface dirt. Paper was repaired with Kozo Japanese tissue and wheat starch paste. Sections were reconstructed and sewn all-along with two ply linen thread on double linen cords. Spine was gently rounded but not backed before being lined with a laminate of 2 layers of thin Kozo JTP and WSP. Minimal treatment approach for the binding was to consolidate the boards corners and repair with Japanese tissue toned. Boards were reattached as previously with the new slips pasted on the inside of the board. A new spine of pared and toned calf leather was made and put back on a hollow and adhered under the old leather sides. Finally, a custom-made clamshell box covered with cannapetta book cloth was constructed to protect and rehouse the volume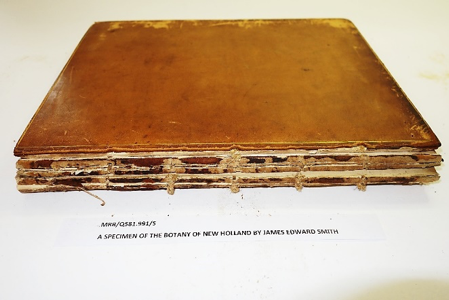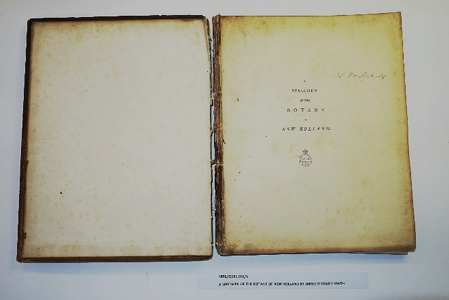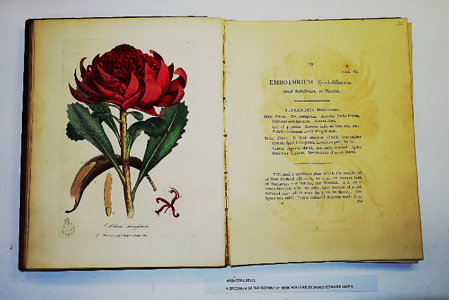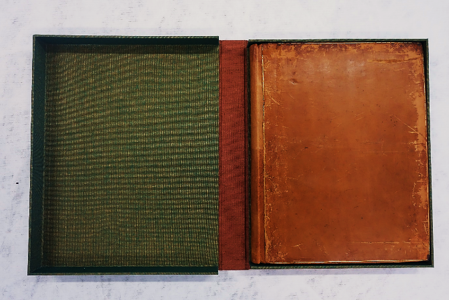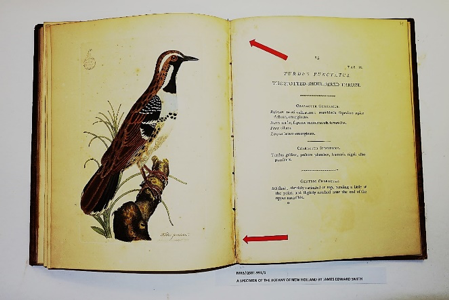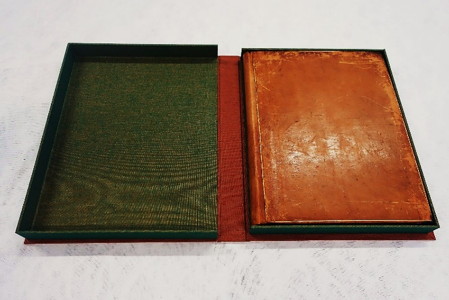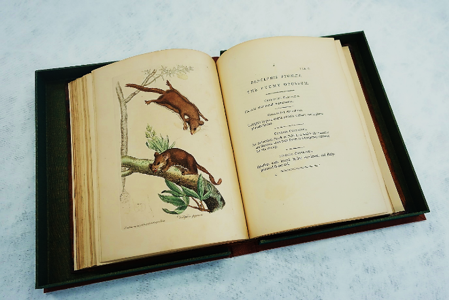 Exhibitions
Helen Casey has recently returned from London and a courier trip to the British Library. SLNSW has lent 9 items to the British library's current exhibition: James Cook: The Voyages, 27 April-28 August.
Bronwen Glover recently couriered a loan of 20 items to the National Gallery of Australia. This was for their exhibition The National Picture: The Art of Tasmania's Black War, which will be on display until July 29, 2018.
---
State Library Victoria
Social: Comings and goings of staff
Conservation recently welcomed two professional placements from The University of Melbourne, Tristan Congreve and Ruth Drayson. Tristan is working with the book conservators to further develop his understanding of book structures and broaden his hand skills. Tristan is also investigating alternative materials for custom book supports. Ruth is working with the paper conservators on the conservation treatment of an oversized Coppin theatre poster. To date this has involved dry surface cleaning the poster, removal of pressure-sensitive adhesive (PSA) tape, and testing various methods of paper tape removal with a rigid gel (gellan gum) emerging as the preferred method.
Social media highlights
This quarter saw many interesting posts in the @libraryvic #presconslibraryvic Instagram feed including Preservation's story of the Shaw collection (MS 16125), which was acquired after a chance conversation at a garage sale and includes such curios as a cigarette tin containing Egyptian shabti (miniature worker mummies to help one in the afterlife). Other highlights included Preservation's rehousing of writer Morris Lurie's typewriters (YMS 13454) and Conservation's insights into 'The laws and acts of the first Parliament' (RAREEMM 525/38) from the Emmerson collection based on examination of the book structure as depicted in one image alone.
Professional
Conservation projects
Conservation treatment priorities continue to focus on the Library's many digitisation projects. This includes the 18th century papers of ethnologist and explorer Alfred William Howitt, early British and Australian theatre playbills from the George Coppin collection, and architectural drawings from the Grounds, Romberg and Boyd Archive. The Howitt and Coppin collections in particular have provided the opportunity to make use of materials and techniques learned in Richard Wolbers' workshop on new methods in paper bathing and stain removal. For example, with paper conservation volunteers Josh Cassidy and Nick Baylart testing gels and emulsions for the reduction of extensive PSA tape stains on a large map from the collection. The paper conservation team are also utilising Wolbers' washing solutions, particularly the 'B' solution, to separate the Coppin playbills from disbound album pages.
Other interesting treatments for digitisation include that of George Moore Sinclair's diary, 1877-1888 (MS 8166, Box 966/5), which was just completed by Jessica McElhinney. This required tear repairs, reduction of adhesive residues, adhering components and interleaving of artworks. The diary gives an account of the Scotsman's experiences as a seaman on the "County of Peebles" during its voyage from Gravesend in the United Kingdom to Dunedin, New Zealand. The diary is filled with wonderful paintings of life on the sea, often depicting his fellow seamen with an interesting anecdote or wry comment.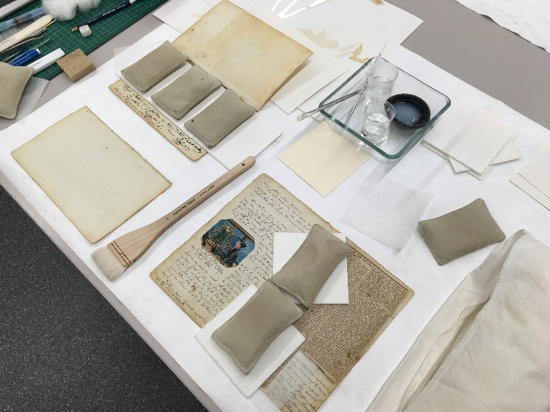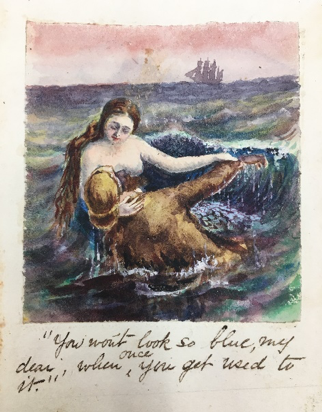 Marika Kocsis has completed the repair of our karibari board, with ten layers of paper and nine layers of aged persimmon juice. We look forward to using it on the 19th of July 2018 when the coating will have finally dried!
Preservation projects
Over the last two years Preservation staff have sorted and rehoused over 170 Manuscripts collections, some of which have lain undiscoverable for many years. During this process Preservation have discovered a number of interesting Victorian collections that have since been recommended for digitisation, ensuring that these materials will be accessible to the public. With collection spaces soon to close in preparation for our building redevelopment, we have the opportunity to survey larger and more complex collections.
In other projects, Emily Keppel is rehousing Robin Boyd architectural plans, separating the working files from the folded and damaged drawings, which are currently being treated in Conservation. Selections of plans will be digitised to celebrate Boyd's works in the lead up to the centenary of his birth. Kate Holloway and Leah Williams have started work sorting, rehousing and listing the large archive of Marion Page, on which they will present for the 10th AICCM Book, Paper & Photographic Materials symposium in November. This Manuscripts collection includes many different formats and varying levels of condition – from mould-affected diaries to curly negatives and photographs. Living to 99, she was an amazing woman with an amazing life.
Preservation staff are also busy with the assessment and preparation of Victorian serials and newspapers for image capture. This ensures high use titles and vulnerable editions – such as 'The Building, Engineering & Mining Journal' are captured and then safely stored. They contain many interesting advertisements and social commentaries of the time.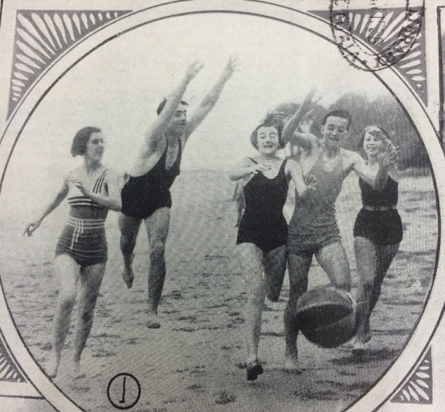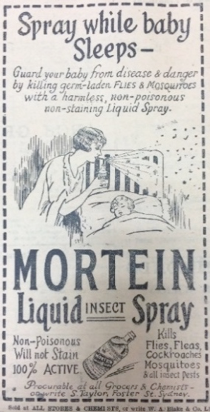 Research projects
In July 2017, Katrina Ben and Emily Keppel attended an Islamic Bookbinding Workshop at the Islamic Arts Museum in Kuala Lumpur, Malaysia. Katrina and Emily have a new understanding of structure, materials and terminology of Islamic bindings and are using this to review and expand on Emily's original survey of the 50 Islamic manuscripts in the Library's Michael Abbott collection. This work will provide invaluable information about this collection, making it further accessible to researchers.
Exhibitions
Conservation has been busy preparing material for the May changeover of the Dome Gallery exhibition Changing face of Victoria. This changeover includes a design changesand the use of EchoPanel® (100% PET) as dress panels in the showcases. Some highlights in the changeover include; new stories on detective John Mitchell Christie (1845-1927), who was known to boast a range of exciting disguises, and a section on mountain guide Alice Manfield (1878-1960), aka 'Guide Alice', who designed her own 'trouser suit' for the task (to the chagrin of women's groups of the time).
Workshops and conferences
15-19 January – Conservation hosted two workshops in 'New methods of paper bathing and stain removal' led by Associate Professor Richard Wolbers. With funding received through the Gordon Darling Foundation, we were able to deliver this workshop to forty two book and paper conservators from across Australia and New Zealand. Drawing upon materials adapted from the food and cosmetics industries, Wolbers' cleaning systems proved to be simple, highly effective and environmentally conscious.
29 January-3 February – Ian Cox attended a 5-day course by Professor Michelle Brown, hosted by the Library during Rare Book Week, on the making of medieval manuscripts, terminology, and a survey of scripts and codicology. During the course, Ian presented a talk on his conservation treatment of one of the Library's manuscripts, The Pilgrimage and the Life of Man.
2 March – Second-year paper conservation students from The University of Melbourne spent a day with book conservators learning how to fabricate phase boxes with Ian Cox and Helen McPherson, and discussing book structure and terminology for condition reporting with Katrina Ben.
7-8 March – Albertine Hamilton attended the Collecting the Now symposium at NGV International.
23-27 April – Katy Glen attended the workshop 'Compensation for Loss in the Conservation of Photographic Materials' held at George Eastman Museum, Rochester, NY.
---
David Stein and Company
Social
Our Senior Paintings Conservator Sian Griffiths has headed off into the wilderness for a month of much-deserved long service leave. She is trekking along the 300km long Coast-to-Coast walk in Northern England, a lifelong dream, and we wish her an amazing trip!
The studio hosted a successful evening for the Art Gallery of NSW Benefactors in May. The night included a tour of our studio spaces, with a discussion of current treatment projects by David and our conservation team. We also had privileged access to our neighbour's private gallery space, featuring artworks by James Gleeson and Robert Klippel; and the adjoining project gallery space with an exhibition of works by Freddy Timms. The evening was a great success and we would love host to another as an AICCM event for NSW Division later this year.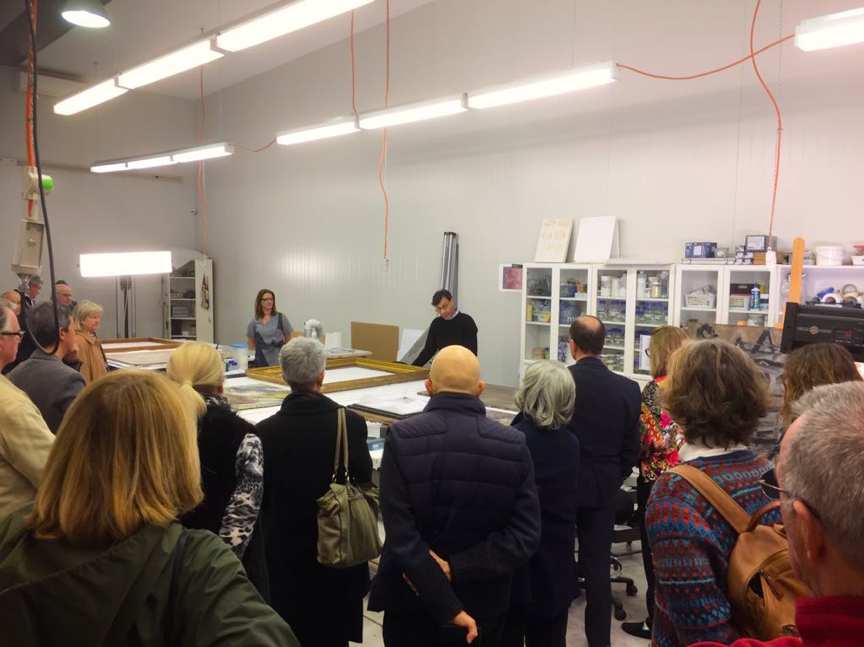 Professional
Conservation Manager Julia Sharp completed a thread-by-thread repair of a complex canvas tear measuring approximately 20cm in length. She has also been preparing a lovely John Peter Russell oil on canvas for the upcoming retrospective exhibition at the Art Gallery of NSW.
Our Senior Paintings Conservator Sian Griffiths has treated an exquisite portrait by E Phillips Fox with a sensitive strip lining, re-stretching and cleaning treatment. She has also been busy preparing a number of early paintings by Alexander McKenzie for his upcoming survey exhibition at Hazelhurst Regional Gallery.
Selina Halim has had some complex varnish removal treatment in recent months. Removal of extensive overpaint and discoloured varnish has revealed previously unseen details such as a flock of sheep on a Nineteenth century oil painting from a College collection. She has also cleaned a series of paintings by Clarice Beckett of their heavily discoloured wax varnish coatings; and is currently in the process of cleaning tests for a complex varnish and overpaint removal on a Nineteenth century portrait from the State Library of NSW.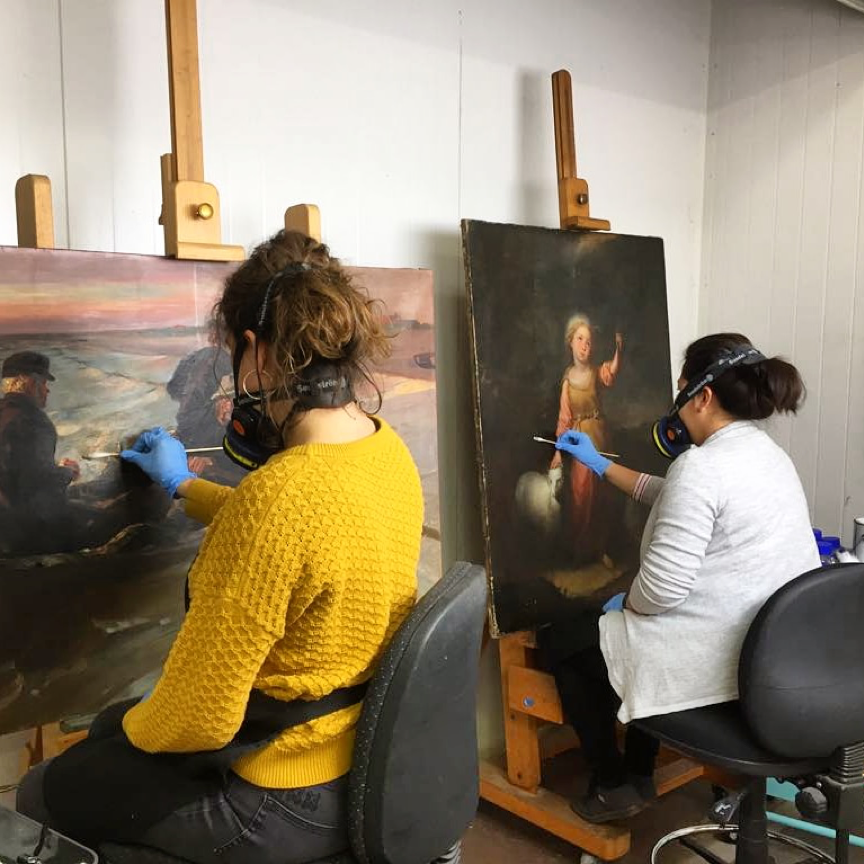 Sandi Mitchell has been dealing with the issue of the bubble wrap impressions on a various contemporary oil paintings. She also put her knowledge of Wolbers gels to work, exploring the use of water based gels to remove dirt and varnish layers from sensitive paint surfaces.
Anne Perrin has carried out a consolidation treatment on a bark painting using Jun Funori and nebulisation. She is currently treating a painting by Stanislaus Rapotec, which an extensive network of disfiguring drying cracks.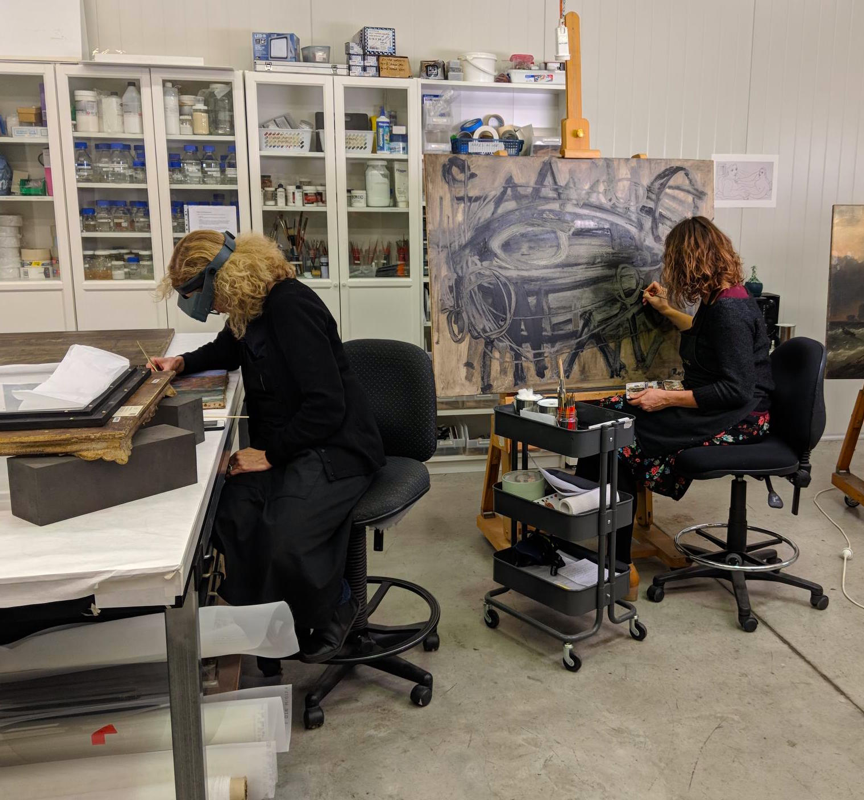 With the assistance of Sian Griffiths, Lucy Tedder undertook a complex lining treatment of a Nineteenth century oil and tempera painting for a College collection. She was also busy cleaning a contemporary oil painting with a very sticky surface.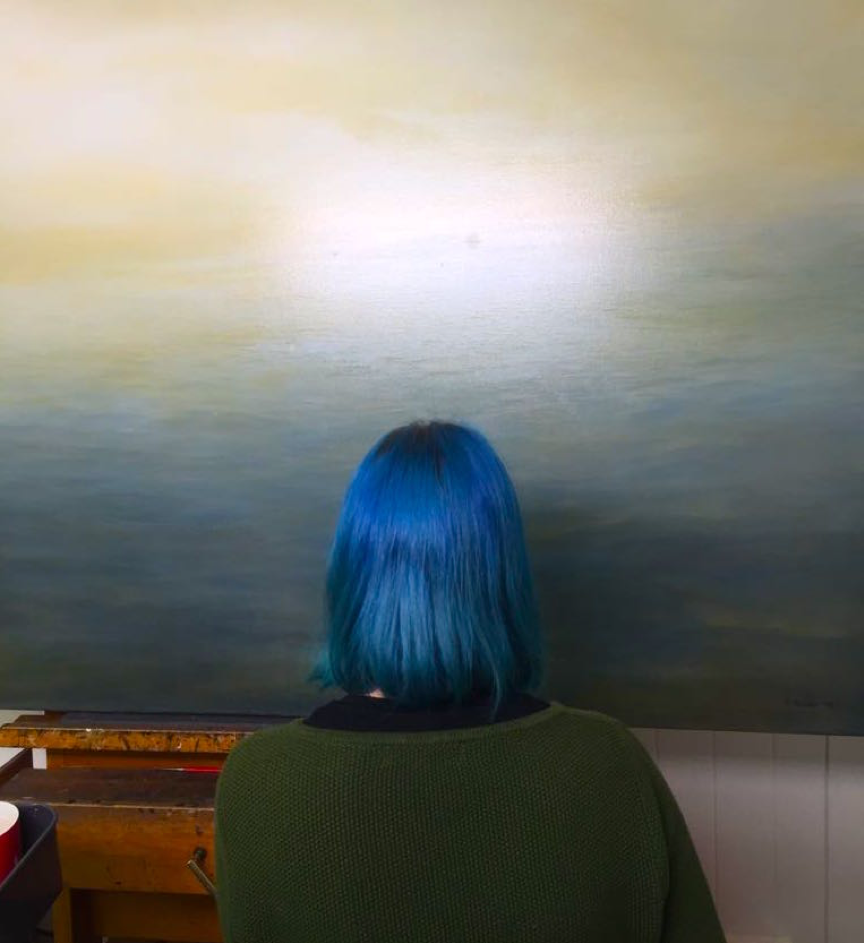 Professional development
Sandi Mitchell will discuss her experiences from the recent gels workshop with Richard Wolbers at an AICCM event to be held at the Art Gallery of NSW at the end of May. Her knowledge gained from the workshop has allowed us to explore new potentials for cleaning in the studio and will present some recent treatment successes.
---
Tasmanian Museum and Art Gallery.
Nikki King Smith and Cobus van Breda are very pleased to welcome TMAG's new Painting Conservator, Jennifer O'Connell. Jennifer moved from Sydney and started work on April 30th, she has already settled into the Lab and Hobart. Lisa Charleston joined us earlier in the year as Conservation Technician. Lisa has worked at the State Library of Tasmania and the Art Gallery of New South Wales.
Nikki, Lisa and Cobus have been busy preparing loans to the National Gallery of Victoria's 'Colony' exhibition and the National Gallery of Australia's 'National Picture' exhibition. This has included the preparation of some of our most significant and fragile works, including Benjamin Duterrau's 'Conciliation', Thomas Bock's portraits of indigenous Tasmanians including 'Mathinna', the Hamilton Inn Sofa and plaster reliefs.
We look forward to seeing 'The National Picture' exhibition and the return of our works in August.