Newsletter Issue Number:

Author:

Cash Brown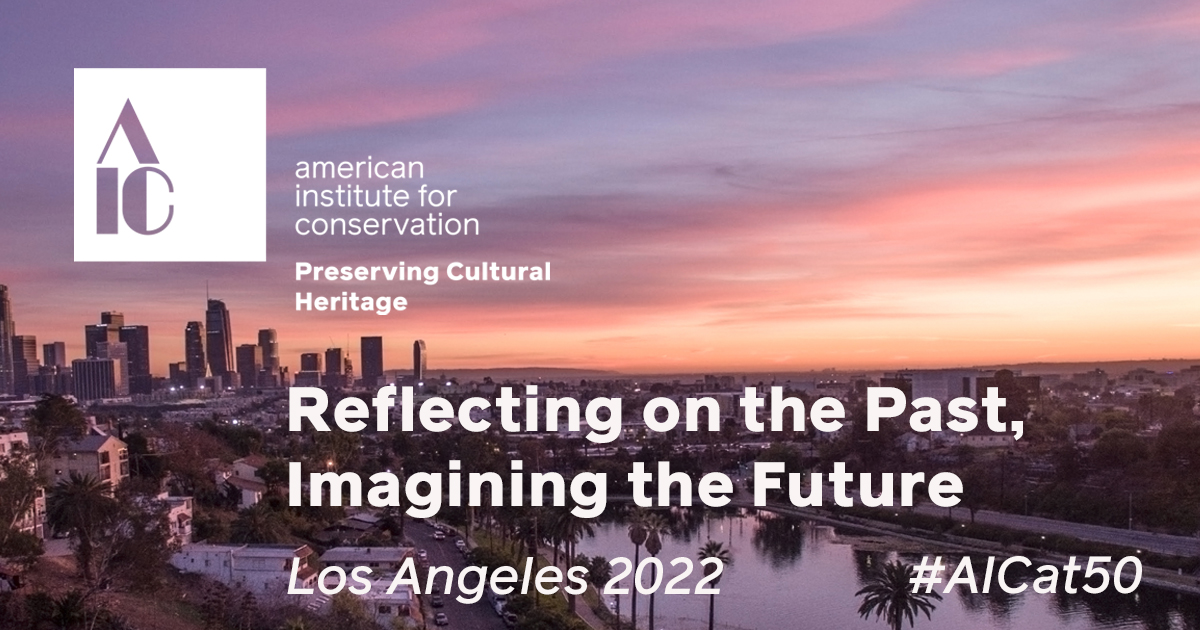 What an adventure!
In mid-May I packed my bag with great excitement, and with a skip in my step headed to Los Angeles on a blissfully unremarkable Qantas flight. Once there I went straight to Pasadena and visited the Huntington Library, Museum of Art, and Botanic Gardens, the Norton Simon Museum, and the USC Pacific Asia Museum. This was a self-guided taster, which included diving into a South American supermarket before heading downtown to the Westin Bonaventure Hotel for the 50th Annual AIC Conference.
My first two days were spent mastering infills and inpainting, a super course offered by James Bernstein, a private practice conservator from San Francisco. While there was no hands-on component, the hints and tips he gave as well as solid practical advice was well presented and very useful. This information has been collated in a manual, which is made available to attendees both virtual and in person. It is not too late to register for the virtual sessions, which are broken down into chapters.
It looked as though there were over 1000 attendees, mostly Americans peppered with a few international presenters. Over three jam-packed days of general sessions, specialty concurrent sessions, seminars, posters, meetings, drinks sessions, tours, cruising the exhibitor's hall and consuming a lot of carbohydrates, there was no shortage of fun.
The opening reception was held at the Getty Centre on a beautiful night with a massive moon. The food and wine and conversation were flowing, and I felt extremely privileged to be there. There were also specialty group evening drinks and lunches on top of a wonderful selection of tours.
I was fortunate to bunk in with the rather marvellous Robin Hodgson, and through her generous camaraderie was introduced to many well respected and, dare I say it, quite famous faces of the conservation world. Now I can name drop at parties, thanks Robin!
In addition to evening drinks and lots of sessions, I attended the Annual Mistakes Lunch, which was genuinely hilarious, and the Conservators in Private Practice Lunch, which was about contracts and agreements. AIC has a standard agreement for private practice conservators and this luncheon was a two-way discussion with the two pro-bono lawyers who answered questions from the attendees with a view to amending their basic document.
Many of the sessions were recorded, which helpfully meant I could attend sessions out of interest that don't necessarily relate to my own specialty. The posters were plentiful, and I was really impressed with the openness and professionalism of the mainly student-led research and presentations. The Exhibitor's Hall was also excellent and, apart from coming home with a lot of samples of materials, was an opportunity to mix with other conservators and chat with exhibitors about some of the latest innovations in available technologies and materials.
I bought an amazing Inspectalight UV LED torch from Talas, which I highly recommend, and a stainless-steel swab disposal cannister from Konserval. Of course, RH Conservation Engineering from Australia was the best stand there but Bruker did offer selfies on somewhat edible cookies so there was some stiff competition!
After the conference and an incredible motorcycle road trip to the High Desert courtesy of Robin Hodgson, we visited the Getty Centre. Robin was there on a technical visit, and I was treated to a few hours in the conservation labs chatting with the conservators and eyeing off their equipment, tools and current treatments. A career highlight to date.
The next week was spent visiting every art collection I possibly could, and LA certainly has world-class collections including The Broad, LACMA, MoCA and the Getty Villa. The obscure but incredible Frederick R Weisman Foundation, which has a great conservation back story as well as a remarkable collection housed in a residential street, was one of the strangest yet memorable museums I have ever visited. No photos were allowed but I suggest checking it out online. I even met Billie Weisman, who is the late founder's wife, curator and conservator, which made the experience extra special.
As for the conference, spoilt for choice with so many concurrent sessions, I admit I am still catching up on a few before the recordings become unavailable and it will take me until the next one for some of it to really sink in. The best part though is connecting with so many enthusiastic, likeminded, fun and generous personalities and making new friends. It is with this in mind that I look forward to the AICCM 50th Conference—see you there!!
Until 10 October.