---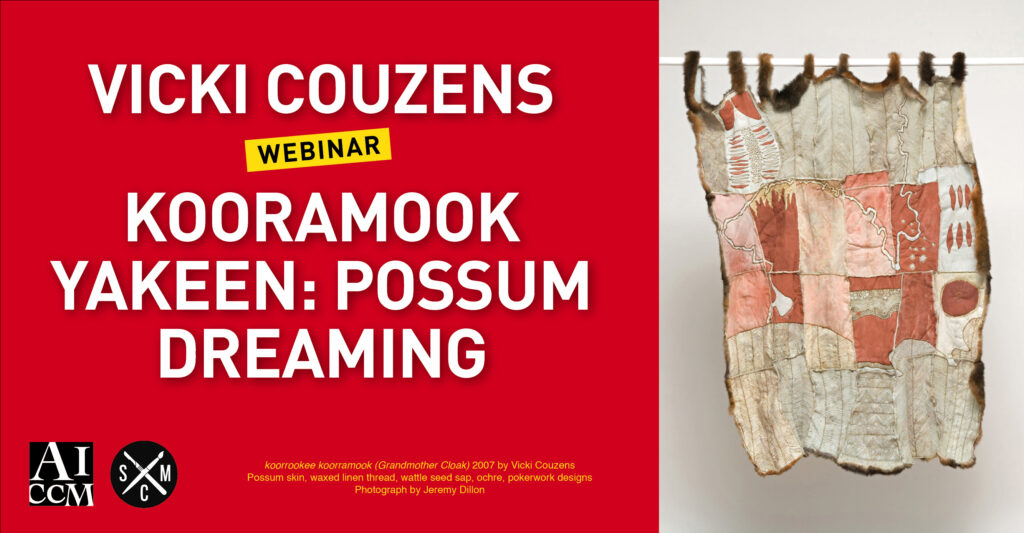 Due to technical difficulties the Vicki Couzens: Kooramook Yakeen: Possum Dreaming webinar has be rescheduled to 3 September 2020
For our next webinar, AICCM Emerging Conservators x SC@M are honoured to host Dr Vicki Couzens of the Keerray Wooroong language group of the Gunditjmara of Western Victoria. Vicki has worked to regenerate and promote Victorian indigenous culture for over 40 years, earning her national recognition as a fellow of the Australian Council of the Arts. She will speak about her artistic practice, traditional culture, and work with museums and government. Vicki's perspective provides unique insight into how local indigenous culture is managed and represented by major institutions.
Free event, RSVP: here
Dr Vicki Couzens is a Senior Gunditjmara artist, designer, curator and consultant. Known internationally for her contribution to the regeneration of Australian Indigenous cultural practices, work with Possum Skin Cloaks, and the Victorian Aboriginal Corporation for Languages. Vicki's interdisciplinary arts practice—possum skin coat making, painting, installation, printmaking, performing arts, language, ceremony and teaching—is represented in major collections. She has worked closely with the Koorie Heritage Trust and Museums Victoria as a cultural consultant, and participated in major public art projects such as Birrarung Wilam on the banks of Melbourne's Yarra River. As the RMIT Vice Chancellors Indigenous Research Fellow, her project 'watnanda koong meerreeng, tyama-ngan malayeetoo (together body and country, we know long time)' will develop pathways and resources to reinvigorate Aboriginal ways of knowing, being and doing, with a special focus on language revitalisation.