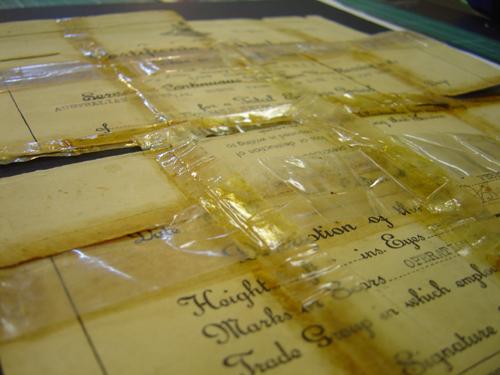 What's this?
A certificate of discharge from WW2, Australian, on heavyweight machine-made paper.
What's happened?
The document has been folded and unfolded many times in its life, leading to breakage of paper fibres along the fold lines, and separation of the document into multiple pieces.
Rubber-based self-adhesive tape (sticky tape) was applied some time in the past, on both the front and the back of the document, to stick the different pieces back together.
Over time, the adhesive (the sticky) from the tape has migrated into the paper, where it has caused staining as it has oxidised (and also caused oxidation in the paper itself).  The plastic carrier (the tape) is no longer adhered as the adhesive has deteriorated, so it is popping off.
Can the damage be repaired?
The plastic carrier was easily removed as it was no longer adhered to the document.
The staining from the adhesive could possibly have been reduced using a combination of solvents and suction equipment, but in this case the time involved in such a treatment was not considered to be warranted.
Instead, the item was repaired using wheat starch paste and Japanese paper along all the tear lines, and placed flat in a clear polyester sleeve for ease of viewing.  A rigid archival-card wallet was made to support the item and enable safe storage and transport.
What could have been used instead?
A paper conservator would have used a long-fibred tissue paper and wheat starch paste to join the two pieces together. These materials have been used for a long time and are known to be inert and easily reversible, if necessary. However, it's not easy to do this kind of repair yourself, as wheat starch paste is quite wet when applied and can cause staining and distortion if not applied properly.
Sometimes the least invasive option is to put the damaged item into a storage sleeve or box, so that all the separate pieces can be kept together.
If a tear must absolutely be repaired and you can't make it to a conservator, a gummed tape (moistenable with water) is a better option than an acrylic or self-adhesive tape, as it has a better chance of being reversible later. Use as small and thin a piece as possible and put a paperweight over the repair as it dries.
From Prue McKay