Newsletter Issue Number:

Author:

Katy Glen
In June 2019 I travelled to Paris to participate in the Spring School 'Recent Advances in Characterising and Preserving Photographs.' The event was organised by the Centre de Recherche sur la Conservation des Collections (CRCC), which is jointly supervised by the Ministry of Culture, the National Centre for Scientific Research and the magnificent Museum of Natural History, which it sits alongside in the Jardin des Plantes in the 5th arrondissement (Latin quarter).
Fifteen participants were selected from around the world, though most came from European countries. The group consisted of conservators, curators and collection managers, all concerned with the care of photographic material. I was ecstatic to be included amongst this group of like-minded professionals for eight days of lectures, workshops and site visits led by some of the leading figures in the field. The relatively small group allowed a blending of participants and instructors in a casual atmosphere that spilled over to the extravagantly catered breaks and weekend sightseeing. A chat group for participants has since formed, 'Des Conservatrices,' where we can share articles and experiences, stay connected and support each other.
Bertrand Lavedrine, Director of CRCC, opened proceedings, his expansive charm making everyone feel immediately welcome. We then launched into a session relating to the analysis of photographs, led by Art Kaplan, a scientist working on a project at the Getty Conservation Institute that aims to develop an objective way to identify photographic materials. XRF and FTIR were explained in theory, as well as their differing capabilities. XRF can be used to obtain information on inorganic materials such as imaging and toning metals and residual processing chemicals, while FTIR may detect the presence of organic binders and coatings. A combination of the two techniques can provide a lot of information. Practical sessions guided by experts in the use of these techniques was a valuable opportunity to work through some of the problems encountered as well as the time required—the first day concluded well into the evening. The following resource is an indispensable aid to the interpretation of analytical data and the identification of photographic material: Dusan Stulik and Art Kaplan (2013) The Atlas of Analytical Signatures of Photographic Processes. Los Angeles, CA: Getty Conservation Institute. http://hdl.handle.net/10020/gci_pubs/atlas_analytical.
Paul Messier was present throughout the course and delivered some fascinating lectures on some of his areas of research. Paul is the founder and director of the recently formed Lens Media Lab at the Institute for Preservation of Cultural Heritage at Yale that is focused on the interpretation of large datasets derived from museum and reference collections of artists' materials. Over several years Paul has amassed a personal collection of around 7000 silver gelatin photographic papers. The metadata on the packaging, emphasising gloss, texture, tone and thickness shows how meaningful these elements are in contributing to the visual impact of a photograph. Paul aims to measure and contextualise these four expressive dimensions of photographic paper in order to address questions of attribution, working practices, stylistic development and social and historical reasons for market trends. Damon Crockett, a data scientist working together with Paul at Yale, presented a summary of his work into developing computational methods to visually represent the data. The goal is to move from a single object perspective to gain data from whole collections so that it can be interpreted. I found these sessions fascinating, and so colourfully illuminated by Paul's stories of uncovering forgeries and one case of a murder conviction that was over-turned.
Paul is interested in standardised methods for photographic documentation using near UV-Visible fluorescence. This can be a useful tool for dating and characterisation, with the challenge being to make it repeatable and interoperable between labs. Vai van den Heiligenberg, from Munich, presented a session on her PhD that is looking at optical brightening agents in silver gelatin papers, using Paul's historic paper collection as a dataset. Detection can be an important aid for authentication, thus linking back to Paul's endeavour to develop a system of producing objectively comparable images using UV-Vis fluorescence regardless of variables such as UV source and camera differences. The aim is to increase the consistency and evidentiary value of UV-Vis fluorescence images. To this end, a UV-Vis target has been developed as a calibration reference to control colour and intensity.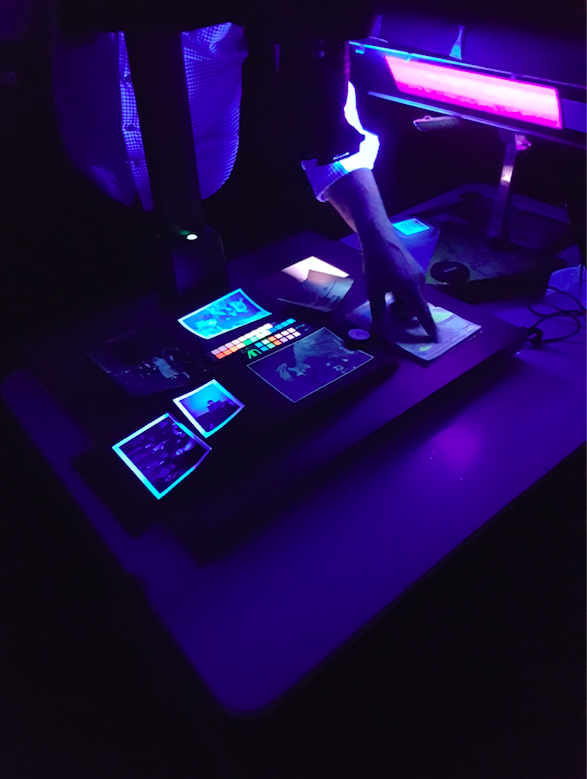 Adrienne Lundgren, Senior Photograph Conservator at the Library of Congress, presented lectures on topics of process and technology and how they impact our understanding of the history of photography. She has been involved in a research project on F Holland Day for eight years, culminating in a materials-based catalogue raisonné. The Library of Congress has the largest collection of Day's prints, predominantly platinum, that came directly from his estate when he died. This solid provenance makes the collection a key dataset spanning his career. Interpretations can then be drawn from this accumulation of data, enabling, for example, a process timeline and a thickness timeline to be loosely established. Prints embedded in the Clarence White collection (Day's close friend) have now been reattributed to Day as a result of this project. Another of Adrienne's projects has involved uncovering the value of 19th-century photographic manuals that were under threat of destruction or relocation. A pilot project analysed the attributes of tipped-in samples in 1500 manuals, though there are an estimated 78,000 in the collection. There is the opportunity to establish a dataset with huge research potential. Adrienne's work demonstrates the manuals are important individually but collectively they offer a lot more and can redefine our understanding of photographic processes and production methods. She warned us to be alert to 19th-century redundancy in our own collections and is very interested to hear from collections of photographic manuals around the world that could widen the scope of the project.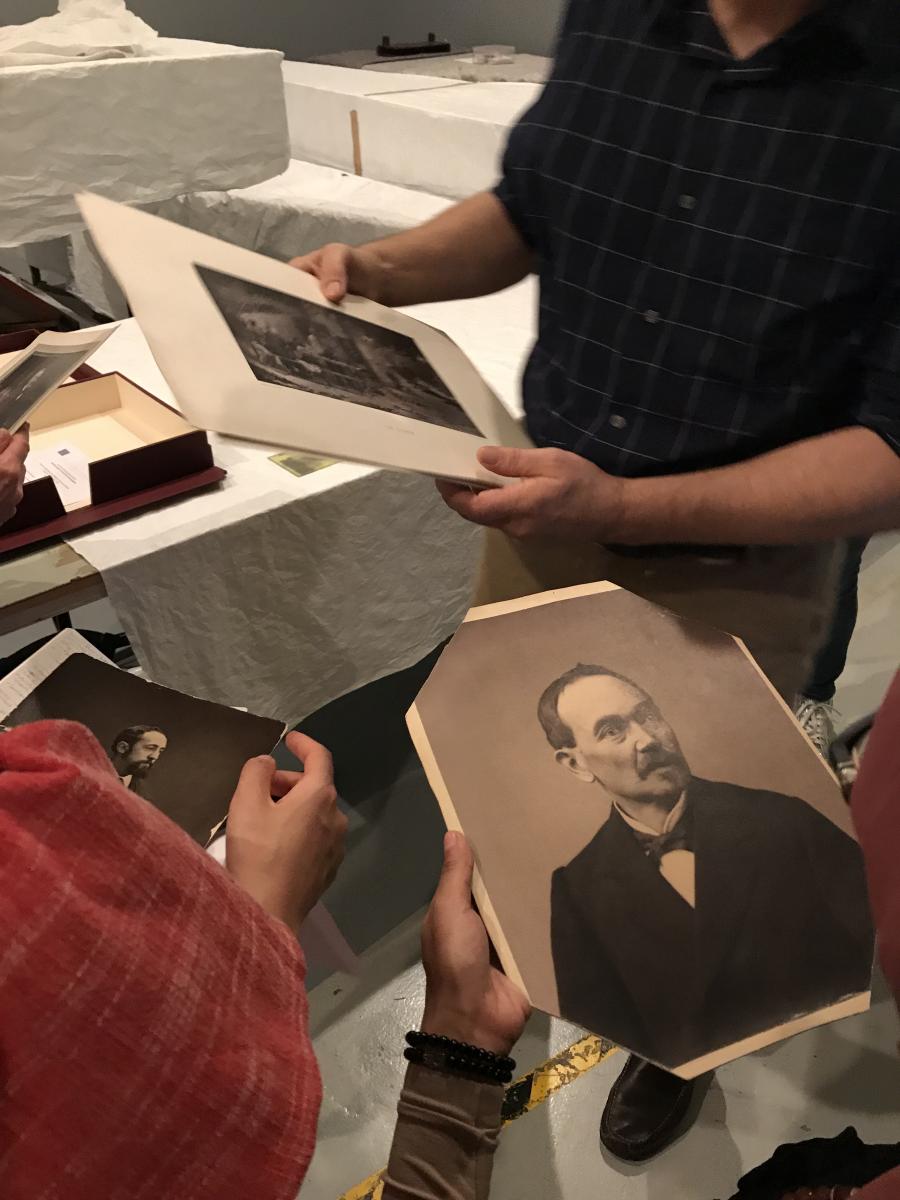 The weekend brought a welcome pause and an opportunity to see some Paris sights. The focus was food, museums and flea markets, as well as a group excursion to Bry-sur-Marne, on the outskirts of Paris, to pay homage at Louis Daguerre's grave and see the recently restored diorama he painted in 1842 that adorns the apse of a small church.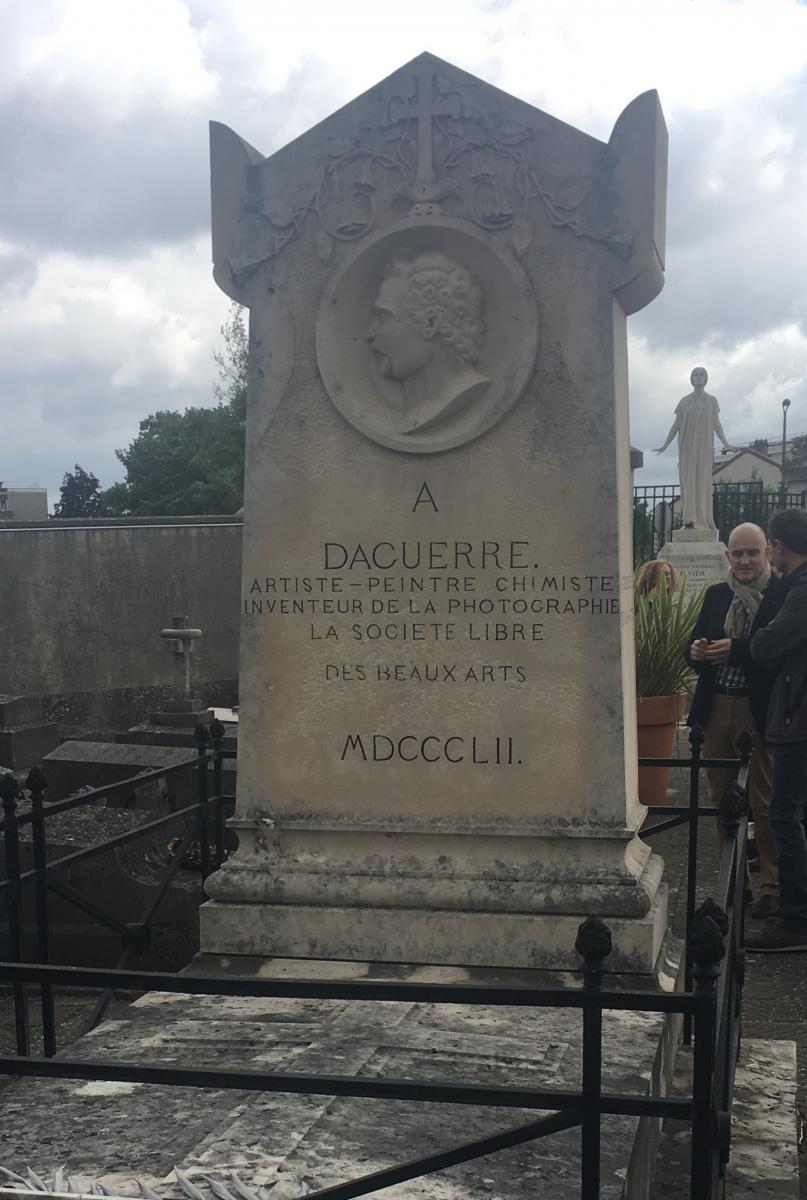 Aspects of lighting dominated the next few sessions. Bertrand presented a concise summary of the damage light can have on different types of photographs, as well as how to assess the risks and set policies for exhibiting photographs. Éléonore Kissel, conservator at the Musée du quai Branly – Jacques Chirac, presented an impassioned session on the predicament of the photographic collection that is subjected to an exhibition and loan schedule that seems to steadily increase in terms of duration, venues and items. Éléonore's response has been to acquire micro-fading equipment and provide training in its use to the in-house conservation team. Micro-fading testing provides data that can help to guide objective decision-making for individual items required for exhibition and loan. The responsibility for the decisions can then be shared between conservators and curators. Sarah Freeman from the J Paul Getty Museum then took us through the theory and practicalities of micro-fade testing equipment. The Getty has embraced MFT as a safe, rapid, qualitative method for predicting change and have tested approximately 150 objects so far. This was followed with practical sessions in small groups using different methods—the Whitmore, Christal Pesme and Jacob Thomas models.
Constance McCabe, head of photograph conservation at the National Gallery of Art in Washington DC, had the audience swooning in front of images from the Clarence White School and the Photo-Secession as she discussed aspects of the Platinum and Palladium Project, a six-year collaborative research initiative investigating these complex processes. Connie sought to demonstrate that the conventional wisdom concerning the central characteristics of these processes is not necessarily accurate. An afternoon spent in the print room of the Musée d'Orsay examining some stellar examples from the collection helped to illustrate her points.  
The final two days were devoted to lectures delivered by James Reilly, founder of the Image Permanence Institute and author of several key publications in the field of photograph preservation. It really was a great privilege to hear the personal perspective of an individual with 40 years' experience, whose work has had such an impact on the preservation of photographs. Jim based his series of lectures on the main areas of research for IPI, namely, the development of the Photographic Activity Test (PAT), the importance of identification, colour fading and the deterioration of film. Comprehensive presentations covered each of these topics.
Jim considers the complex phenomenon of silver image deterioration to be one of the oldest and least widely understood issues in photographic preservation, stressing the impact of the chemical environment at the particle surface and the detrimental effect of moisture. The realisation that chemically inert surroundings would slow down the deterioration of silver led to the development of the PAT, enabling the evaluation of storage and display materials. James considers process identification as the core skill of the profession and it has long been the mission of IPI to develop educational tools in this area, most effectively realised in the Graphics Atlas website. A key piece of advice for those teaching process id is to know your audience and judge how deeply they need to be taken into the discipline, decide what aspects really matter for preservation, and make it fun!
IPI was created in order to generate independent test data to inform the photographic industry that was reeling from the crisis of colour fading in the 1980s. Using accelerated aging, lifetime predictions are possible for colour material and film because their decay is thermally driven. The Storage Guide for Color Materials (1998) told the shocking truth that rapid fading of colour can occur at room temperature. The development of the Color Wheel was an ingenious way to present information in a fast and digestible form, communicating the results of the research in a practical way. The infectious behaviour of acetate decay inspired the next bout of significant research for IPI and led to the development of A-D strips as a diagnostic tool for acetic acid off-gassing. It was Jim's idea to include the reference pencil in the kit, printed with the four bands of colour, and they are still produced by a small company in Brooklyn. An incredibly productive and influential period of 30 years of work can be briefly summed up—know the material and understand its deterioration mechanism, store it appropriately to buy time and monitor the condition of the material and the collection environment. These tenets may seem obvious to us now but this belies the wide-reaching success of the message.
My attendance at the Spring School was endorsed and supported by Grimwade Conservation Services, with assistance provided by State Library Victoria where I am also employed. I am extremely grateful and would like to thank both for their generosity.