---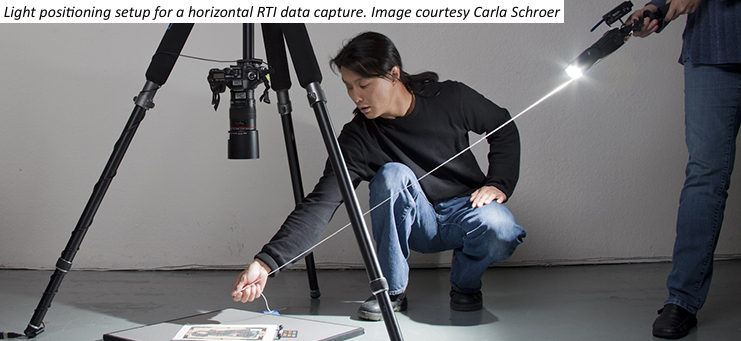 AICCM, with generous support from the Gordon Darling Foundation and from the ADFAS Patricia Robertson Scholarship Fund, presents one four-day Reflectance Transformation Imaging (RTI) Workshop. The workshop, led by experts from Cultural Heritage Imaging (CHI) in San Francisco, will take place at the Grimwade Centre for Cultural Materials Conservation at the University of Melbourne from 28 June to 1 July.   Unfortunately due to low interest in the Perth RTI workshop we have had to cancel this event but we are working on alternative options in Melbourne.
RTI is a computational photographic method that captures a subject's surface shape and color and enables the interactive re-lighting of the subject from any direction. RTI also permits the mathematical enhancement of the subject's surface shape and color attributes. The enhancement functions of RTI reveal surface information that is not disclosed under direct empirical examination of the physical object. For more information about RTI, applications and CHI see http://culturalheritageimaging.org/Technologies/RTI/.
This workshop is a combination of lecture, demonstration, and lots of hands-on work. As a participant you will:
Learn how to apply highlight Reflectance Transformation Imaging (RTI)
Grasp the latest research in the multiview technique, RTI with microscopes, and using multispectral imaging with RTI
Become familiar with related computational photography techniques, such as algorithmic rendering and photogrammetry
Apply what you learn in small teams: instructors break the class into groups of three-to-five people for hands-on work
After attending this class, you will know how to set up, capture, process, view, and disseminate RTI images on the Internet.
Ideal participants include:
Museum, library, and photographic staff working in conservation and education
Archaeologists, historians, and anyone working with collections who wants to learn about emerging digital imaging techniques
Anyone interested in Reflectance Transformation Imaging technology and its practical application
You will learn:
Comprehensive coverage of RTI digital imaging work flow, from planning to archiving and publication
Practical information about equipment, image capture setups, and software
Examples of RTI from different areas of cultural heritage and the natural sciences including museum objects, archaeological sites and artifacts, conservation usage, and paper collections
Step-by-step processing of the images
How to use different viewing modes to examine details of the image
Registration:
AICCM Member Early Bird $1900
AICCM Member $2100
Non-member $2200
Early bird registration will close at midnight on 15 May 2016. No refunds from 7 days prior to the beginning of the workshop.
Places are strictly limited to 10 participants at each venue. For more information please contact Helen Privett, AICCM Event and SIG Coordinator on 03 8341 7235 or hprivett@museum.vic.gov.au.