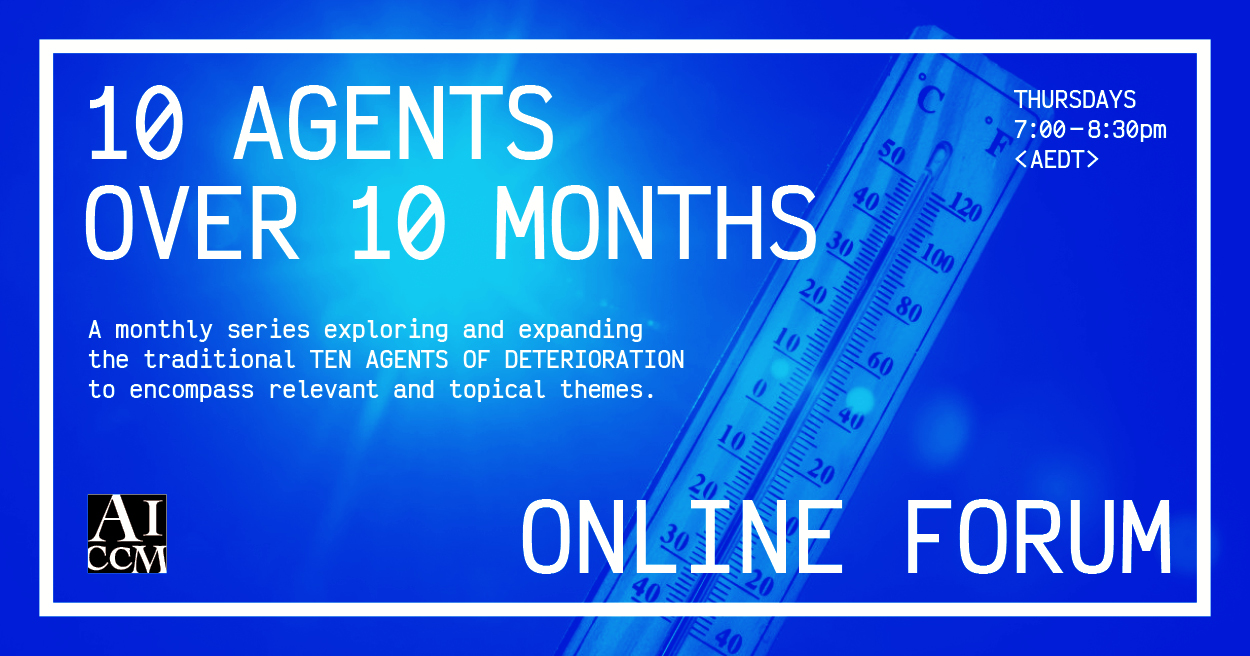 AICCM Preventive SIG Online Forums 2021
The AICCM Preventive Special Interest Group is proud to announce a new series of online forums. Following on from the successful 2019 conference Managing Risks to Collections, 10 AGENTS OVER 10 MONTHS will explore and expand the traditional 10 Agents of Deterioration to encompass relevant and topical themes – such as the climate change, bushfires, repatriation, and COVID.
The series will run from March to December covering one Agent per month, and have been developed to enable our Conservation community to continue to share knowledge, insights and experiences virtually through talks, presentations, workshops, panel discussions and hybrid events throughout 2021.
The program has continued to develop and we would like to share some of the new speakers for the upcoming months. We have Amber Xavier-Rowe, English Heritage discussing pests in the moth of July with our own Australian conservators Rehan Scharenguivel, Australian Museum and Jessica Gray, MAAS presenting on new developments in pest treatments. In the month of August, Jean Tétreault, CCI and David Thickett, English Heritage will be joining us to discuss pollutants. There are more engaging experts for the future months so keep checking the website for updates.
Amanda Pagliarino and Ainslee Meredith will discuss their research mapping climate change and risks for Australian cultural collections.
Thursday 25 March 2021
7pm–8.30pm
John Marshall and Rhiannon Walker will be discussing how previous damage caused by physical forces has led to the development of innovative and unique custom mounting solutions. Focussing on three large and vulnerable works from the QAGOMA collection, they will share how the workshop team collaborated with conservators to design and fabricate safe and secure mounting systems, allowing these works to be moved, installed and displayed with much less risk of damage.
Thursday 22 April 20217pm-8:30pm
Conservation relies on material evidence and continuous assessment of the materials and techniques being used for monitoring or treating heritage. Dr Athanasios Velios will discuss the barriers for sharing documentation records alongside the ethical responsibilities of conservation organisations towards the profession and the public.
Dissociation Thursday 13 May 2021
7pm-8:30pm
David Saunders, Scott Rosenfeld and Ian Langston will each explore the topic of Light and managing its impact on collections, with a Q&A session following the three presentations.
Light Thursday 17 June 2021
7pm-8:30pm
Collaborative approaches to Integrated Pest Management in Museums, Galleries and Historic sites will be explored in this session. Australian conservators Rehan Scharenguivel (they/them) and Jessie Gray (she/her) will share their separate institutional experiences in collaborating with commercial operators and Amber Xavier-Rowe will provide an update to "Operation Cloths Moth" from English Heritage. We have also created a survey to better understand the state of IPM in our organisations. Link will be shared shortly.
Pests Thursday 22 July // 7pm-8:30pm
Pollutant is a mysterious agent. It is infiltrating your museum from the outside, but can surprise you by been in your display case or even been released by your loved objects. It shows up as old known problem but can hit on the back of your ego with unexpected damages on objects while you have done everything to prevent it. Three speakers from different time zones will talk about their experiences on pollutant control and monitoring followed by a Q&A session.
Pollutants Tuesday 31 August // 7pm-8:30pm
Registrations open now
Theft, Vandals, Repatriation Date Thursday 16th September//7pm-8:30pm
Registrations opening soon
Our country, like others, is experiencing more frequent and more intense natural disasters. This session will revisit the devastating 2019 bushfires, the past (and perhaps recent) floods, and uncover the community response. We are working with Dr Dolapo Fakuade to provide a series of workshops, webinars and panel discussions around this important topic.
Disasters Thursday 28th October//7pm-8:30pm
Registrations opening soon
This session will explore how the conservation profession has been affected by COVID at an International, State and local level. We are engaging Dr Jane Henderson to present a paper from the UK and are looking to include State and local organisations to provide input and perspectives.
Covid Thursday 18th November//7pm-8:30pm
Registrations opening soon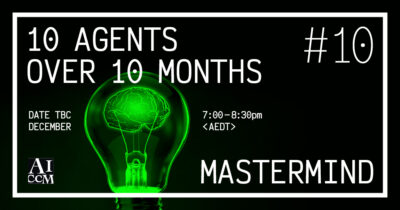 #10 MASTERMIND
Mastermind Date TBC December//7pm-8:30pm
Registrations opening soon