Newsletter Issue Number:

Author:

Alice Cannon
Keeping up with new materials and modern printmaking processes is one of the big challenges in paper and photo conservation and I have always found it difficult to keep 'digital' printing methods straight—everything I learn tends to fall out of my head again. I was therefore very keen to take advantage of the Digital Print Preservation workshops held in conjunction with the AICCM 10th Book, Paper and Photographic Materials Symposium, and hosted by the National Gallery of Victoria.
The AICCM was able to bring out Daniel Burge, Senior Researcher at the Image Permanence Institute (IPI), through the generosity of the Gordon Darling Foundation. Daniel has spent many years studying interactions between imaging media and storage enclosures and the last 10 focussed on digital print stability. Two full workshops were held, one on the weekend immediately following the symposium (for out-of-towners) and a repeat workshop during the week afterwards. I attended the second workshop.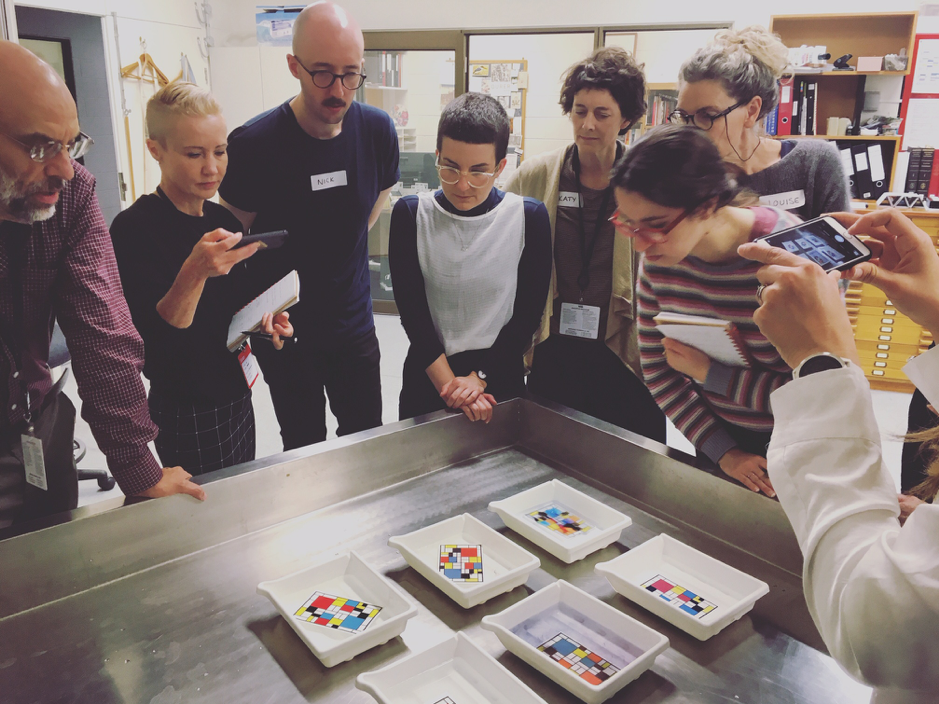 Daniel's style is structured, energetic and full of practical exercises and discussion. Part of what he wants to teach is a way of categorising and describing 'digital prints' more accurately (in fact he finds that term unhelpful), and I found this a really useful framework to help cement the different methods in my head. (Though I admit to secretly being a fan of John McElhone's 'what's on the wall' approach to categorisation—i.e. 'some ink on some paper'—as it seems harder to be wrong).
Workshop participants were divided into teams (Cyan, Magenta and Yellow) to complete print identification exercises, of prints in IPI's specially-designed sample set and various ephemera Daniel had collected. (Also it was fun to go home and rifle through my junk mail to practice my identification skills). We finished the two-day lab-based session with a custom game of 'Jeopardy'; teams could choose harder questions from the four categories on offer, for more points—the categories were Nothing Lasts Forever, On My Terms, Who I Am, and Made Of. Magenta team came last, not that we are sore losers or anything. The workshop finished with an extra morning session in NGV's print viewing room, to look at various prints from their collection. Not unexpectedly, fine art prints were often harder to identify than junk mail!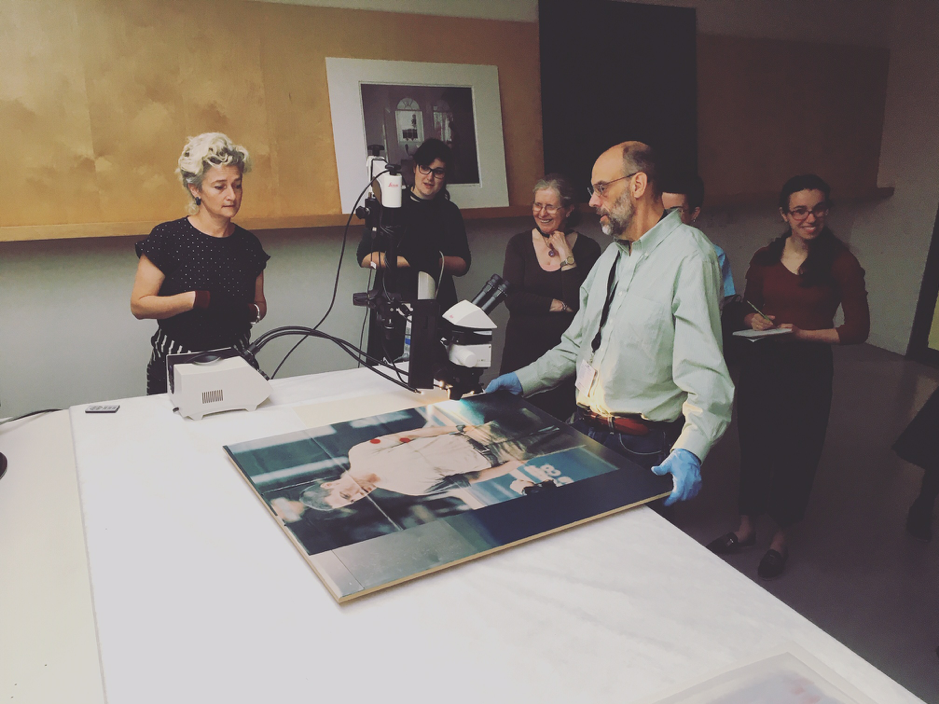 Daniel often presents these workshops to a mixture of curators, registrars, collection management and conservators, so talking about what we even mean by 'digital print' was an interesting part of the workshop and a topic we kept coming back to. For example, one of the contenders for the 'first digital print' is an image of Mars captured by the Mariner 4 spacecraft in 1965—composed of strips of teleprinted numbers (indicating different values of grey, plus white and black) sent by the spacecraft's television camera, which were then coloured with crayon to convert the greyscale image to brown and red tones (see http://www.directedplay.com/first-tv-image-of-mars for a description of how they did this). A teleprinter is essentially an electromechanical typewriter; materially the finished objects are the same (plus crayon, for the Mars image). However, the image itself was captured and communicated digitally. Do we preference the image capture method or the image production material, in our definitions?
Daniel's research has also found that inkjet prints are generally the most sensitive of these newer print formats. Inkjet prints are highly vulnerable to damage from water (so don't sneeze on one, and maybe store them separately to other prints in case of water damage) and can bleed and blur when exposed to high humidity (keep below 65% – prints exposed to over 80% RH can show noticeable bleed in less than 24 hours). Additionally, if you have any space in cool storage for print material he would prioritise inkjet prints over dye sublimation and electrophotography formats. All print types can be vulnerable to atmospheric pollutants and contaminants in storage enclosures (causing fading and colour shifts), and can be easily abraded (especially pigment inkjet prints). For this reason polyester (e.g. Mylar) is usually a better option for interleaving than paper tissue, and stacking and rolling prints should be avoided.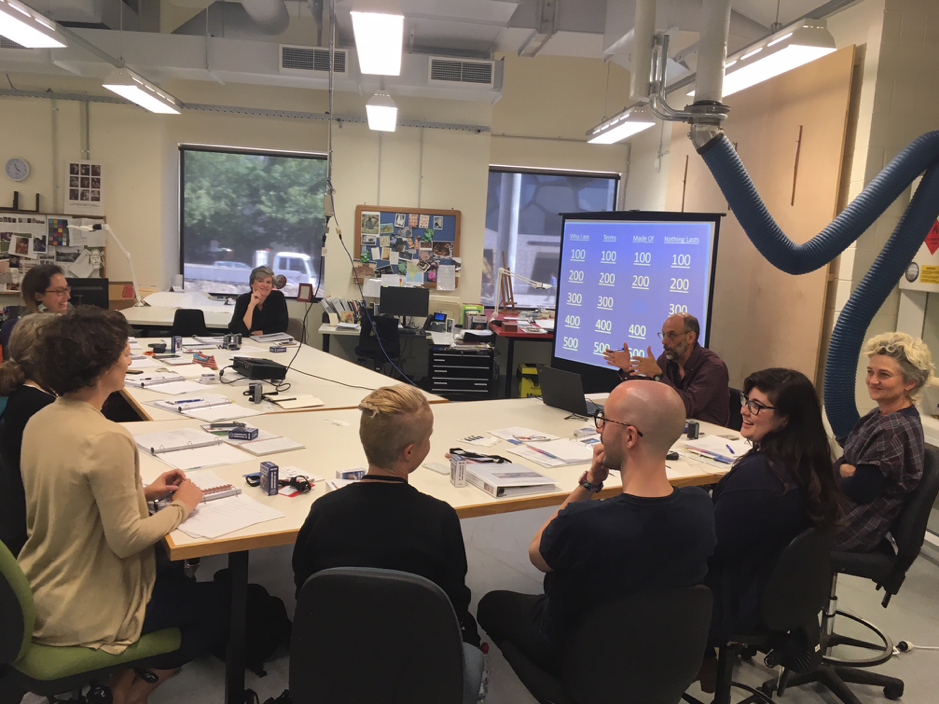 The cost of the workshop included several IPI publications: IPI's Guide to Preservation of Digitally-Printed Images, their new Digital Print Sample Set and The Atlas of Water Damage. Each participant also received their own Microbrite Plus 60-120x LED Lighted Pocket Microscope, which is my new favourite thing. Other cool tools were the LED-powered pen-sized Larry Lights (with flat sides for easy benchtop raking light), the Anna Griffin Heatwave Pen (we used these to make marks on thermal paper, they are designed for foil-embossing craft projects and so far I can't think of a valid reason to buy one but maybe someone else out there can), and a number of us were highly impressed with participant Lucilla Ronai's Universal Foldable Keyboard (Microsoft, Part GU5-00001) that connects to tablets or phones via Bluetooth allowing you to merrily type away without a bulkier laptop.
I am always impressed with the quality of IPI's research and their generosity in freely sharing so much of it. The Digital Print Preservation Portal is an amazing resource that allows users to compare different print methods under varying magnification and lighting conditions. At their Digital Print Preservation Portal (http://www.dp3project.org/) you can find a deterioration gallery, suggested naming conventions, a process timeline, handling guidelines and many other resources. They even have a suggested class outline for people wanting to take what they have learned from the course back to their workplace. Of course, having Daniel himself on hand to help make sense of it all was invaluable—if you have an opportunity to do this workshop I highly recommend it.
Many thanks to Ruth Shervington, Pip Morrison and Louise Wilson for hosting us at the NGV's beautiful paper lab, and to the Gordon Darling Foundation for sponsoring the program.