Author:

Helen Merritt, GCCMC
In July 2015, I attended a 4-day workshop on the Conservation of Plastics, hosted by Museum Victoria in Melbourne and led by Yvonne Shashoua.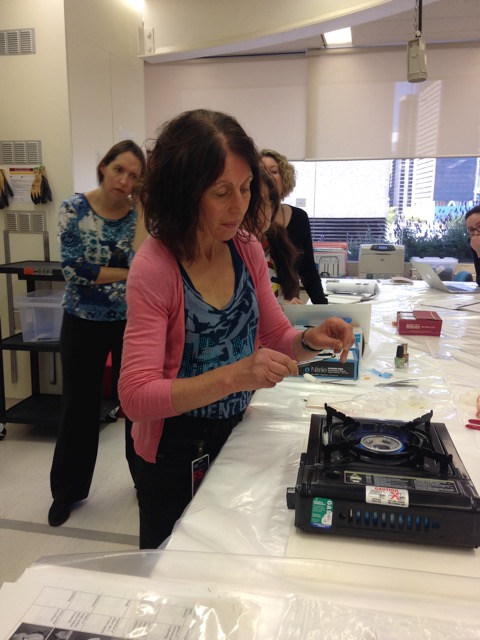 Yvonne is the Senior Conservation Scientist at the National Museum of Denmark and a leading expert on plastic degradation and care. She has over 80 publications in this area, including the most comprehensive book on plastic conservation to date, Conservation of Plastics: material science, degradation and preservation, published by Butterworth-Heinemann in 2008. With the generous support of the Australian Decorative & Fine Arts Societies, two workshops were organised by the AICCM, at Melbourne Museum from 21-24 July, and at the Queensland Museum from 27-30 July.
The workshop was aimed at conservators, conservation scientists, curators and collection managers with an interest in plastics but not necessarily experienced with this modern material. Course content did not assume any prior knowledge and provided a useful introduction to this material. Around 20 people attended the workshop in both locations. Participants were primarily mid-career professionals, working in both private and public conservation practice, and students. We were provided with lecture notes, readings and references prior to the workshop.
In general the format of the workshop involved lectures in the morning and practical sessions in the afternoon.
Day 1

Covered the fascinating historical development of plastics and their chemical and physical properties. Polymeric science can sometimes feel daunting but the content at the workshop was beginner's level chemistry and the delivery was concise and clear. In the afternoon we moved to the conservation lab at Melbourne Museum to identify different types of commonly encountered plastics using a variety of non-destructive and destructive methods.  During the practical we undertook a variety of simple tests to identify a range of plastics. These included assessing hardness using our thumbnails, checking density, the Beilstein flame test for PVC (where chlorine turns the flame green), burning (where thermoplastics melt and thermosetting plastics burn), smell and solubility tests. It was a good opportunity to compare and contrast the benefits and disadvantages of each test for different plastics and to familiarise ourselves with the results.
Day 2
Focused on plastic degradation and preventive conservation methods. Several fascinating case studies were presented illustrating the physical and chemical deterioration of plastic. Four main types of problematic plastics found in museums, cellulose nitrate (CN), cellulose acetate (CA), polyvinyl chloride (PVC), and rubbers and foams were covered in more detail. It was shown that taking preventive conservation measures can extend the life of the object. However it was important to understand that once degradation was visible it was irreversible. Preventive conservation measures ranged from creating oxygen free environments, using passive and active adsorbents, to storage in freezers. Participants discussed which adsorbents they were familiar with and why their institutions had selected them.
Day 3
Investigated cleaning of common plastics. The methodology and results from testing various mechanical cleaning techniques, equipment and solvents were presented. Although mechanical cleaning has been 
considered the safest option for plastics scratching and changing surface gloss are now known to be a problem. In the afternoon lab session we examined various cleaning tools and solvents. Our notes included helpful flow charts produced by the POPART (Preservation of Plastic ARTefacts in museum collections) project created for a range of plastic types to help us with selecting appropriate cleaning agents.
On the final day we covered adhering and infilling plastics, especially PVC, and ended with examining future challenges in plastic conservation. Through case studies from the PRIMI (Plastics Research and Innovation for Museums and Industry) project, the benefits of working with industry and artists to improve plastic conservation were demonstrated. In addition common industrial approaches to joining PVC like laminating and solvent welding were presented. Future directions looked at the potential application of bio-plastics as replacements for traditional plastics in conservation including packaging materials, adhesives, consolidants and fillers. Increasing use of 3D printing plastics was also touched upon. A final practical session involved participants sharing their experiences with plastic objects in their institutions. We were treated to several intriguing examples of degradation and their possible causes.
---
I would like to thank Yvonne Shashoua for generously sharing her time and knowledge with us all, and Helen Privett for organising this event. My gratitude must also go to Michelle Berry and Anne Carter for permission to use their photographs in this review. I am also grateful to Dr Petronella Nel for her comments on this review. Finally, I would like to thank the other workshop participants for sharing their experiences. It was an invaluable opportunity to gain a greater understanding and confidence with plastics. I have already drawn upon what I learnt on the workshop in my studies and I look forward to building upon this knowledge in the future.