National Gallery of Victoria
PROJECTS
Alex Voll has just commenced work on a large 18th Century figurative porcelain display under the supervision of Trude Ellingsen. Alex and Trude are currently immersed in a world of tiny broken and missing fingers, dirty faces and the legacy of dubious overpaint and repair campaigns from the past. Di Whittle has been working on the treatment of a group of large Hard Edge sculptures at our North Melbourne store, as well as pursuing some training and research in response to an increasing number of artworks that incorporate artist/maker technology and programming elements. Our mount making team of Eamon O'Toole and Ben Raynor have been flat out as usual creating their custom display and mount systems for anything ranging from fine gold jewellery to skateboards.
In the textile conservation lab, Bronwyn Cosgrove, Kate Douglas and Kate McLaren have completed the Culture Victoria digitisation project with the assistance of Rebecca Clark (Costume Specialist) who constructed accurate underpinnings for Australian 19th century costumes chosen for the project. View this project online. 
In paper conservation Ruth Shervington is undertaking a survey of the Development Collection and Louise Wilson is undertaking a storage project focused on the NGV's Asian scroll collection. The project includes improving the packaging of scrolls in light of insights Louise gained through her attendance at the International Course on Conservation of Japanese Paper in Tokyo last year.
Michelle Hunter conserved a 1950s Hermès riding outfit and assisted with numerous storage and display systems for an array of textile projects. Bronwyn has been working on a challenging yet satisfying collective project, developing the NGV's storage and new compactus units which have changed the landscape of storage out at North Melbourne. Kate Douglas has developed ergonomic systems with Ruth Stuckey and Phillip Meyer, and will be presenting this work at North American Textile Conservation Conference in New York. Bronwyn Cosgrove and Kate McLaren are working on papers for AICCM TSIG in Sydney 2016 covering a previous project that required the development of novel systems.
CONFERENCES
Suzi Shaw presented a paper at the Second International Conference on Study of Oriental Lacquer Initiated by H.R.H. Princess Maha Chakri Sirindhorn for the Revitalization of Thai Wisdom on work undertaken with Karen Fisher (Museum Victoria) on Japanese armour (see Conference Report). She has taken on some frame making and treatment work, enjoying the practical work to make reproduction frames. Holly McGowan-Jackson has also been kept busy with completing frame-making projects, in particular a frame for the newly acquired double-sided painting by Erich Heckel – a great opportunity to use traditional techniques of grain filling using shellac and pumice powder. Merit Kahl has completed a treatment to remove old discoloured wax fills on a Riemerschmid chair c.1902 that has recently been acquired.
In the Paintings studio Raye Collins' extensive treatment of Fred McCubbin's The North Wind is in its final stages. After tending to much of the substantial abrasion to the sky and foreground, she is currently focused on resolving the worn form of the horse and the pentimenti that surround it.
Since completing the large-scale treatment of Zoffany's Elizabeth Farren portrait, John Payne has cleaned the fine British neo-classical Portrait of a Flower Painter. Carl Villis has returned to work after a month's leave and has completed treatment of William Orpen's Portrait of George Beresford. He will shortly commence work on the large sixteenth-century painting by Paolo Veronese Nobleman between Active and Contemplative Life. 
EXHIBITIONS
Catherine Earley is planning the conservation aspects for Andy Warhol/Ai Weiwei opening in early December, a major co-ordination project engaging private conservators from around the world. 
---
State Library of Victoria
PROJECTS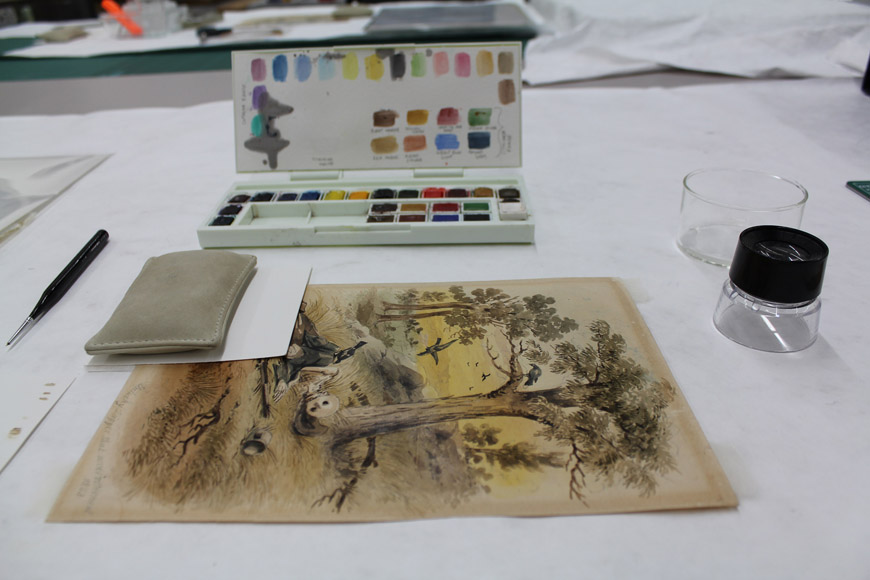 The last six months has seen the preparation and completion of a number of exhibitions and loans. In May the permanent Dome Gallery exhibition Changing Face of Victoria underwent a major changeover under the guidance of Senior Exhibitions and Loans Conservator Amanda Wild, with the next changeover quickly approaching in December.
Registrar Sarah Haselton coordinated the June de-install of Inspiration by Design: Word and Image from the National Art Library and the Victoria and Albert Museum, while organising incoming loans for the S.T. Gill exhibition that opened in July. Marika Kocsis who has recently been appointed Senior Paper Conservator,and Albertine Hamilton, Paper Conservator, completed the treatment of 104 works for S.T. Gill exhibition, some of which required extensive washing, resizing, stain reduction and paper repair. Read the blog.
The book conservation team – Jean Holland, Katrina Ben, Ian Cox and Helen McPherson, with volunteer Yvonne Hearn, have until recently been working towards the October changeover of permanent Dome Gallery exhibition Mirror of the World. Content in this year's changeover includes South East Asian manuscripts and Korans from the Abbott Collection, material celebrating the 150 years of Alice in Wonderland, and works from the Australian Print Council.
The paper conservation team with the invaluable help of volunteers Jessica McElhinney, Leah Williams and Noni Zachri have been working on a variety of projects for the digitisation program; stabilising materials from the Burke and Wills collection, the Coles Centenary Project, Alistair Knox architectural plans, early Victorian parish plans, and pre-1920s theatre programs. Noni has since moved onto a part-time position at the Melbourne Museum as Conservator of the Kodak Collections, Leah has taken up a contract with the Library's Preservation team, and Jessicais soon to depart temporarily for CCI in Canada where she will take up an internship. Carolyn Fraser, Senior Conservation Technician has developed customised housing for three 17th century embroidered bindings, two from the recently donated Emmerson Collection. Yvonne Hearn continues preparing items for the external binding program under the guidance of Helen McPherson. In June we welcomed Alexis Townsend as an intern from the University of Melbourne's Master of Cultural Material Conservation program. Alexis worked on collection items for exhibition and digitisation and undertook a research project focusing on the lithographic practice of S.T. Gill.
LOANS
Fiona Wilson, Assistant Registrar has been busy managing a full outward loans program. This includes a large loan from the Howard Arkley Archive for the exhibition Howard Arkley (and friends…) opening at the TarraWarra Museum of Art in early December, for which the Conservation staff has been busily condition reporting.
CONFERENCES
Our staff continue to participate in professional development activities. Jane Hinwood and Amanda Wild attended a seminar Lighting and Exhibition Hardware for Museums and Galleries at Library at the Dock in Melbourne. Marika Kocsis returned independently to the Museum fűr Asiatische Kunst in Berlin, Germany to complete the intensive in Advanced Conservation and Restoration of Japanese Folding Screens. Katrina Ben gave an in-house workshop for our book conservators, demonstrating vellum repair techniques using gelatine mousse and gold beater's skin, which she used when carrying out the treatment of a small 13th century Vulgate Bible. This complex treatment now features on the State Library's blog.
PRESERVATION
The Preservation team has continued to work on a variety of large collections from the Manuscript, Pictures and Arts Collections. Leah Williams, Preservation Technician recently completed the re-housing of over 4000 120mm and 35mm negatives taken by naturalist photographer Ern Mainka. Nick Devlin, Preservation technicianworked on the final stages of the Coles Myer Archive which is the largest single collection held by the Library measuring over one linear kilometre. Nick completed the rehousing of all uncatalogued photographic and manuscript material, disbinding and rehousing advertising scrapbooks, and assisting with the listing and rehousing of large format flat works.
Savina Hopkins, Senior Preservation Technician continues to work on the Committee for Urban Action (CUA) collection of 35mm black & white negatives reels from the 1970s that capture the streetscapes of metropolitan Melbourne and parts of regional Victoria. Having finished the Fitzroy and Castlemaine Savina has begun work on the larger South Melbourne sequence. The collection is being selectively digitised and images of the streets of Fitzroy are now available online. Savina is also working on the interesting court pastel and pencil drawings recently donated by Melbourne court artist Fay Plamka.
Other collections in progress include the large State Electricity Commission Victoria (SECV) negative archive and the even larger collection of negatives belonging to Mark Strizic – currently being worked on by Senior Preservation Technician Michelle Lim. The enormous collection of 36,000 music singles from the Australian Broadcasting Company (ABC) is under the care of Preservation Technician Jeff Harrison. The Library now has the complete vinyl collection from the ABC, which has given Preservation the opportunity to develop effective packaging solutions for the various sizes of records.
Preservation Coordinator Kate Holloway continues to work on the large Dromkeen collection of original children's illustrations. With over 2000 individual works accessioned, labelled and rehoused, Kate is halfway through the project. George Matoulas is working on collections from Manuscripts, concentrating on personal papers and diaries, medals and other objects brought home from WWI. This project has presented opportunities for developing specialised boxing and support systems for a wide range of collection items and formats from the Manuscript collection.
Our Quarantine Program continues to receive large numbers of collections for assessment and cleaning. To the end of September, we have received 135 different collections, totalling approximately 1125 items that are being checked and treated for mould, dirt and pest activity. In September, Kate Holloway completed a two-year long treatment project of the 19th-20th century artist John Hennessy. Such work completed in Quarantine ensures that the collections entering the Library are clean and safe to handle, and can safely enter the collection stores.