Newsletter Issue Number:
In September, some 18 Australian conservators took the 30+ hour trip to travel to Turin. The attraction? Beyond the beautiful hills of the Piedmont region, striking series of Piazza and Palazzo and incredible food and wine, they converged on the stunning historic city to attend the 5-day IIC Turin Congress Preventive Conservation: The State of the Art.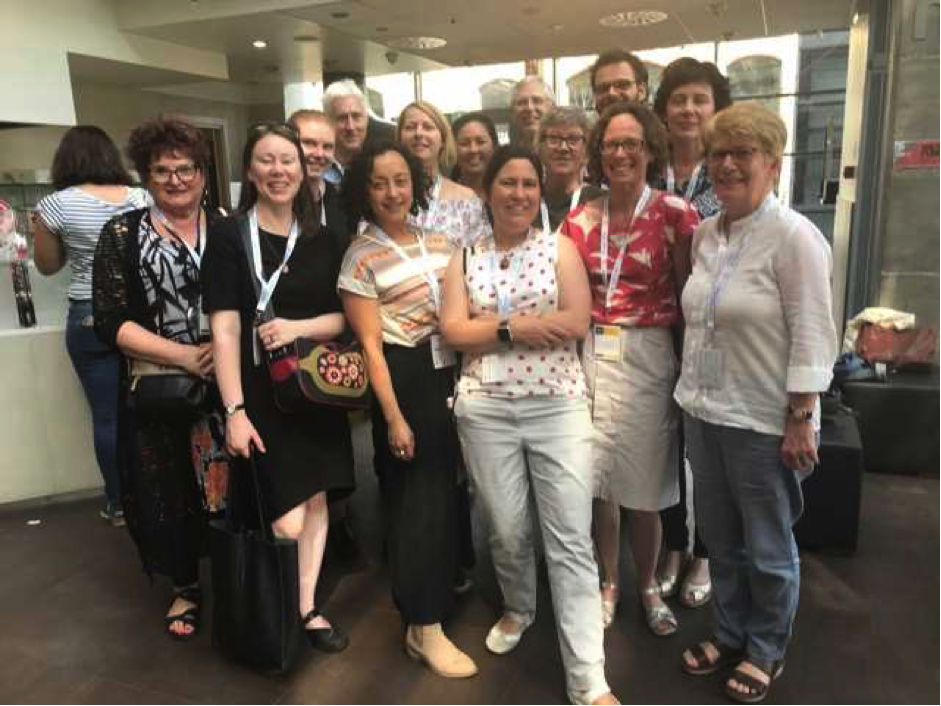 It had been almost 25 years since the legendary 1992 Ottawa IIC with its focus on preventive conference and IIC Turin, sought to capture developments in conservation practice, changes in scientific understanding and local responses to pressing issues of sustainability and strategic collections management. The following reflections offer some insight into the delegate experience.
Fiona Tennant
Principal Collections Manager
International Conservation Services
For a 5-day congress with 48 presentations, there was something for everyone: from technical detail for those who could rapidly digest deterioration function ratios, to big picture thinking about decision making and embracing uncertainty. Eight weeks later, as I sift through the memories of a once-in-a-24-year congress, there are so many papers to highlight; here are three.
'Spread or sacrifice — dilemma for lighting policies' by Agnes Brokerhoff et al conducted an experiment to understand if there was a preference for spreading fading across a group of identical items, or sacrificing one. Results found that the public and museum professionals participating in the experiment all initially preferred to spread the damage until the colour changes became clearly visible (approximately 5 just noticeable fades). Once the fading became noticeable, both groups changed their preferences and wanted to sacrifice one item in order to preserve the rest. A paper of interest for all those tasked with writing exhibition and lighting policies, or risk assessments that incorporate loss of value ratings.
Another paper of significant interest was on the work underway at the Getty Conservation Institute 'Managing Environments for Collections: the impact of international loans on sustainable climate strategies.' This research is looking at how loans and loan contracts could be the harbingers of change in regard to the debate around allowable environmental parameters. Watch this space. Well, watch that space…
And lastly, a paper that resonated with me for some time was 'Vision and vulnerability: thoughts on leadership and conservation' by Hannah Clare of the British Museum. This was the only paper in the congress that had no PowerPoint presentation, just 480 delegates listening to Clare and her thoughts. Her research discusses four main challenges for conservation leadership in a twenty-first-century creative economy, namely 'lack of diversity, lack of confidence, the strength of voice and perception and issues around support, for our decision-making and for the profession as a whole'. She offers a range of options for changing both the way we lead the profession and simultaneously, our sphere of influence.
Matteo Volonte
Senior Paintings Conservator
International Conservation Services
Let's talk about the positives of the IIC congress in Turin 2018.
Let me start by saying it was my first time at a conference focused solely on the topic of preventative conservation. It was wonderful to see a collective effort between conservators and other professionals in the field, all focused on the need of creating guidelines and continuing a conversation regarding preventive conservation opened years ago.
The variety of talks presented at the congress touched many aspects of preventive conservation and sustainability is the key factor that came out in many of them.
Some of the papers have taken a pragmatic approach to historic sites in specific environmental conditions like the windy and sunny island of Tasmania or the dry and harsh environment of the desert in Egypt, compared to cold and more humid conditions of some northern countries.
It was also of critical importance the discussion around historic sites with an extremely high number of visitors like the archaeological site of Pompeii and how to face the potential damage that crowds can cause on these fragile sites.
Disaster preparedness and emergency management for the rescue of cultural heritage was also considered with a fabulous panel discussion organised in collaboration with ICROM, lead by key members of emergency services and security from different countries who presented their approaches to the topic.
Sustainability and financially viable projects focused on "Methods of low energy storage of museum and archive collections" or "The Cost-effectiveness of Preventive Conservation Actions" were all highlights of the conference as well as the clever use of media by the English Heritage Trust to create public engagement on the topic of Integrated Pest Management.
Everything, back dropped by some amazing venues that the secretly kept city of Turin could offer!
Denyl Cloughley
Assistant Director, Preservation
National Library of Australia
Attendance at a Congress with 49 papers on preventive conservation presented over 5 days, with the opportunity to network with practitioners from across the globe, was a highlight in itself. The IIC Congress was of particular relevance to me as I am leading the establishment of what we, at the National Library of Australia, are calling the Strategic Preventive Conservation Program. This program is part of an 18 workstream change agenda currently underway. Two themes that kept coming up during the Congress were highlights for me. Communication and the collection and use of data are directly relevant to the work we are doing at the NLA and both have their own workstreams on our change agenda.
Communication and soft skills for conservators were the focus of several papers, particularly in discussions around training. I was most interested to hear that the National Gallery, London, and Historic Royal Palaces introduced successful Preventive Conservation Working Groups or 'Agents of Decay' Boards, to collaborate on preventive conservation issues. While it took time for these committees to gain momentum, over time they became a powerful way to advocate for preventive conservation outcomes. The committees are part of the governance structure and decision-making process within the organisation, to truly integrate preventive conservation within their organisation.
As Gael de Guichen noted, preventive conservation today is so much more than environmental monitoring. But data collection continues to be at the heart of preventive conservation. What we do with the data is the difference; it is not enough to simply collect the data for data's sake. Several papers, such as those by Bill Wei and Helen Lindsay, argued for preparing an action plan to ensure that the data is used. This data is key in the evidence-based decision making that was the approach taken by many of the presenters, whether they were investigating vibrations in churches like Anna Henningsson, or the effects of visitors on Pompeii in work by Enrico Rinaldi's team.