Newsletter Issue Number:
NSW
State Library of NSW
Exhibitions
The branch has been busy preparing several loans recently, with work co-ordinated and overseen by Senior Conservator, Exhibitions and Loans, Helen Casey, and Conservator, Cath Bartley, along with Registrar Caroline Lorentz and Assistant Registrar Lauren Dalla. The creation of a large quantity of book supports, as well as the mounting and framing of many of the items, has been undertaken by Assistant Conservators Aileen Dean-Raschilla, Bronwen Glover, Nicholas Beckett, Paula Thorby, and Silvana Volpato-Hammond.
Kate Hughes and Wendy Richards completed the preparation of 33 significant colonial artworks on paper for loan to the National Gallery of Victoria's exhibition Colony: Australia 1770-1861. This has included the treatment of Panorama of Newcastle drawn by Edward Close in 1826. The panorama is 3.5 meters long and its treatment has included removing a linen backing, repairing tears, replacing losses (one of which was found stuck to the back under the linen) and retouching. This work is part of a much larger selection of items that SLNSW is preparing for the loan. Book Conservator Steve Bell has undertaken the treatment of the books for this loan.
26 sketchbooks and accompanying artworks have been prepared for loan to the Art Gallery of Ballarat for their upcoming exhibition: Eugene Von Guerard: Artist-Traveller. The treatment, re-housing and condition reporting of the sketchbooks was undertaken by Book Conservator Guy Caron. The exhibition will run from the 24 March to the 27 May.
Conference attendance
Nichola Parshall presented a paper at ICOM-CC, Copenhagen. The paper "Rebuilding Holtermann's triumph: From Plate to Pixel" was written by Nichola Parshall, Catherine Thomson, Lang Ngo and Anna Brooks. Catherine Thomson also attended the conference. Another paper on this significant project will be presented at the AICCM Book, Paper and Photographic symposium later this year
Social: comings and goings
In October, Bronwen Glover returned from two years of study at West Dean College in the UK where she earned an MA in Conservation Studies, specialising in book conservation. Felicity Corkill has taken up the role of Senior Conservator, Books, Objects, and Paintings. Lang Ngo has taken up the role of Senior Conservator in the Library's Digital Excellence Program.
Art Gallery of New South Wales
Treatment projects
Analiese Treacy is carrying out treatment on a large and significant group of prints by Sydney Ure Smith.  Smith was a leading figure in Sydney's etching revival in the early 1900s and his works depict scenes of old Sydney including, the Rocks, Windsor, and central Sydney with its colonial buildings and haphazard streets. Many of these areas were under threat of demolition as the growing city developed, and Ure Smith, amongst other artists including Julian Ashton and Lionel Lindsay, recorded the older quarters and colourful street life to advocate for their preservation.
Emma Rouse has begun conserving the frame for Thomas Miles Richardson Jnr 'Eagle Crag and Gate Crag, Borrowdale, Cumberland' (1875), which was the first commissioned artwork for AGNSW. Funds to support this treatment were provided by a benefactor upon seeing the artwork in The Victorian Watercolours exhibition last year.
Tom Langlands has started the manufacture of a frame for the Henry VIII portrait (circa. 1540), to be displayed in May this year.  The frame will be made in oak and based predominantly on an original Tudor frame on another Henry VIII at the National Portrait Gallery, London. It requires an imitation tortoise shell effect along the central band, which will be an interesting challenge.
Celine de Courlon has just finished the conservation treatments of October by Dick Watkins. The painting is ready to join the NGV for the Field Revisited exhibition in April 2018.  This conservation project was made possible by the generous support of the AGNSW Conservation Benefactors.
Intern Laura Guilluy is finishing up six months in the Paintings lab, helping with conservation treatments of paintings such as Woman in bath IV by Brett Whiteley and Rialto Bridge and San Giorgio Maggliore by William Marlow. The latter were part of the recent rehang of the Old Courts.
Sarah Bunn is assessing and treating the 3000 second-hand journals, collected over three years and spanning 1949-1999, that make up the installation artwork Chinese Bible by Yang Zhichao, which is proving to be both a huge task with complicated logistics, and a fascinating and moving experience.
Carolyn Murphy completed the treatment of Sara Hughes Torpedo in preparation for display working with Paper and Objects conservation staff, technical assistants and Installation staff to develop a new installation method for this wall-mounted work made from hundreds of paper luggage tags.
Melanie Barrett has finished a treatment project for the Brett Whiteley matches Almost once, thanks to funding provided by the AGNSW Conservation Benefactor's, a treatment and logistical challenge complete with scaffolding – a triumph with a visibly apparent result.
Exhibitions & Loans
In addition to preparation of works for an abundance of outward loans, Conservation have worked on the preparation and installation of several exhibitions and displays since the end of last year including Rembrandt and the Dutch Golden Age: masterpieces from the Rijksmuseum.  The exhibition has been wildly popular with the public and has been complimented by an informative installation titled 'The matter' of masters by Australian artist Janet Laurence.  Inspired by research and analysis that Rijksmuseum conservators have performed on their collection, Paula Dredge has been working with her in collecting relevant minerals and artist materials as a part of the display, some of which were generously loaned by the Australian Museum.  The Rijksmuseum exhibition was further complimented by a series of live performances that combined dance and music from the Brandenburg Orchestra and directed by John Bell.  Conservation worked with the artists and other Gallery teams in developing a risk assessment and providing input on vulnerabilities and how spaces are used to ensure that the artworks remained protected without diminishing the visitor experience.
Melanie Barrett worked for the past several months on preparing collection works to complement the series of six tapestries, circa 1500, in The Lady and the Unicorn exhibition.  She and Frances Cumming also worked on the install, along with several couriers from the Cluny in France.
As we enter February, we see a major changeover of the Contemporary gallery spaces, with Melanie Barrett heavily involved in the deinstallation of the Mikala Dwyer exhibition.  On the other end of the changeover, we have the 21st Biennale of Sydney opening on the 16th of March, and Paula Dredge, Analiese Treacy, Asti Sherring, Kerry Head and Frances Cumming have been working in preparing a variety of AGNSW collection, archive and inward loan works and working out the often complex installation needs of such works.
Kerry Head is in the final stages of preparing for the installation of a large woven textile installation from the seventies by Ewa Pachucka, and Melissa Harvey is currently working on preparing a 168 panel Imants Tillers work to be displayed at the Latvian National Museum of Art for the Imants Tillers 'Journey to nowhere' exhibition.
Workshops and conferences
In November 2017, Emma Rouse presented the talk 'The Victorian Era, Watercolour painting at its peak: An investigation into works from the Art Gallery of NSW Collection' on behalf of her co-authors Analiese Treacy, Margaret Sawicki, Basia Dabrowa and Tom Langlands. This presentation was an AICCM Gilded Objects Special Interest Group (GOCSIC) Event presented during the Victorian Watercolours exhibition that closed in December.
Project Report
Sarah Bunn was awarded an Art Gallery Society staff scholarship in 2017 and is planning her trip to Arnhem Land to partake in a cultural exchange program with the Mapuru community, then travel to Milingimbi Island to develop the relationship between Milingimbi Art Centre and AGNSW conservation department – we look forward to hearing more on this when she has completed the program.
Carolyn Murphy has been working with the project team on the development of the Sydney Modern Project, a transformational Gallery development that will see a new building opening in 2021 on a site adjacent to the current Gallery building.
Social
AGNSW Conservation were sad to say goodbye to Kasi Albert, who has now moved on to an amazing opportunity as Conservator with the MCA.  She will be greatly missed, but despite this, we wish her all the best.  As a bonus, she will be well-prepared for some inward loans to the MCA in the coming months that she herself prepared for loan.
Since taking on the role of Reproduction Frame Maker three days per week, Tom Langlands has been setting up a new frame-making studio at AGNSW.  Tom continues working in Mountcutting the other two days per week, with Jonathan Dennis working the remaining three days.
Paper conservation hosted two Masters conservation students from Melbourne University for their internship, April Kim and Rebecca Barnott-Clement late last year, and welcomes Bec back as a volunteer this year when she will work with Asti Sherring on time-based art, Analiese Treacy on the Ure Smith collection, and Sarah Bunn on the treatment of installation work Chinese Bible.
Australian National Maritime Museum
Treatment Projects
Preparation for major construction works in the Museum have kept the whole Conservation team busy. We demounted and checked the condition of all objects in the USA Gallery, moved the 1.5 tonne Sirius anchor, wrapped the Spirit of Australia to protect it from construction dust and are returning a whale boat to its American owner (Mystic Seaport) after 27 years in Australia.
Agata Rostek-Robak and the Australian Radiation Protection and Nuclear Safety Agency (ARPANSA) have been working to manage radiation hazards in the Museum. So far, ARPANSA's recommendations regarding storage, signage and access have all been implemented and efforts to formulate policies and procedures have commenced.
Conservation's survey of the National Maritime Collection has reached a total of 28000 objects! Well done to Luci Ronai, Jeff Fox, Nick Flood and all those who have been involved in the past.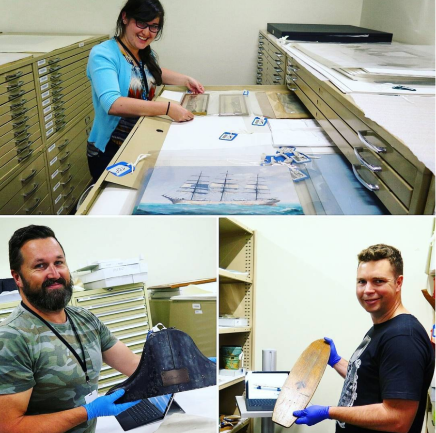 Nick Flood undertook an investigation into two of the Museum's most prized objects: A View of the Town of Sydney Punchbowl and the Charlotte Medal. The Reflectance Transformation Imaging (RTI) technique was used to document inscriptions, tool marks and damage. Amazingly the remains of a monogram was revealed on the exterior surface of the punchbowl, see below.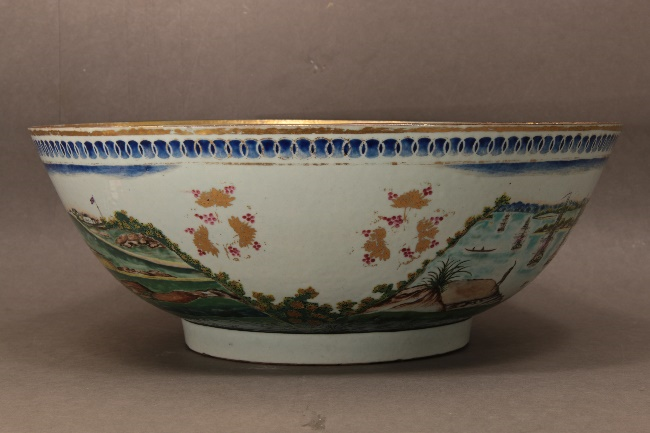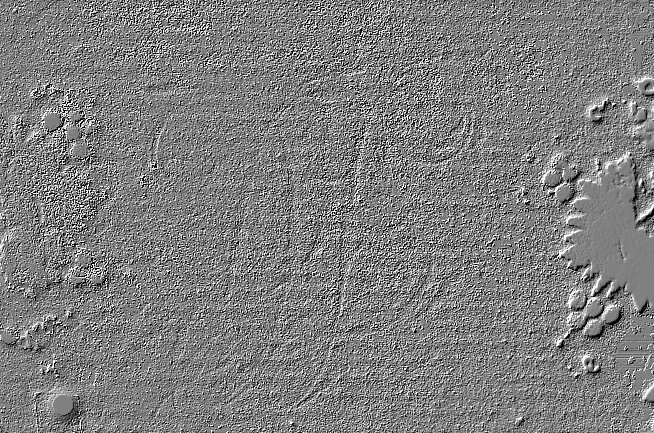 Sitting in front of the museum on Darling Harbour is the Cape Bowling Green Lighthouse. In December, she received an early Christmas present when for three weeks Matt and Teresa McKinlay (Allpoint Shipwrights) and others (Matt Daaboul, Andy Trenear and Pat Evans) carried out intense, backbreaking work to remove hazardous paint from the lantern room and base ring and to repaint those areas. Additionally, the Lighthouse platform was waterproofed.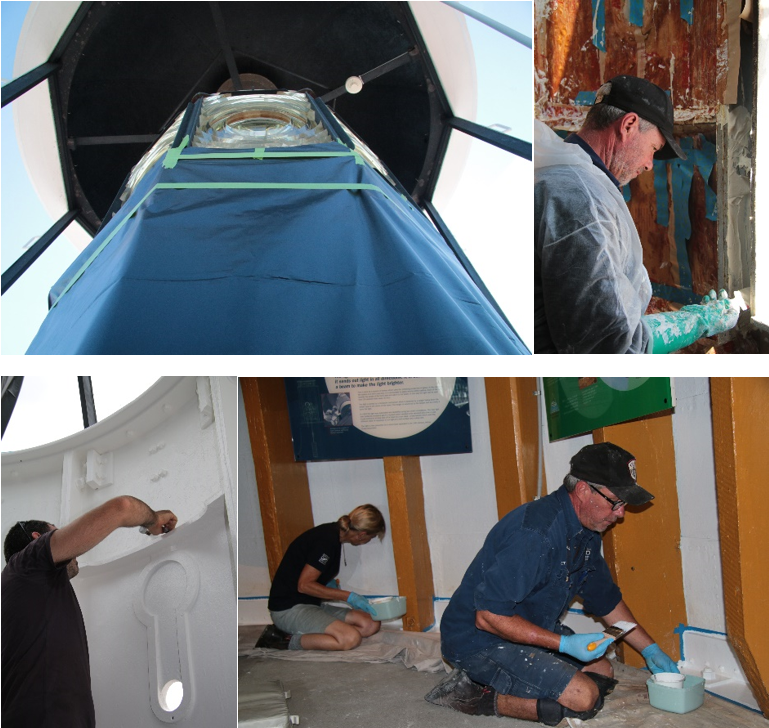 Biannual maintenance of the Seafarers' Memorial Anchors was carried out by Jeff Fox and Nick Flood. Areas of paint failure and corrosion were stripped, cleaned and repainted.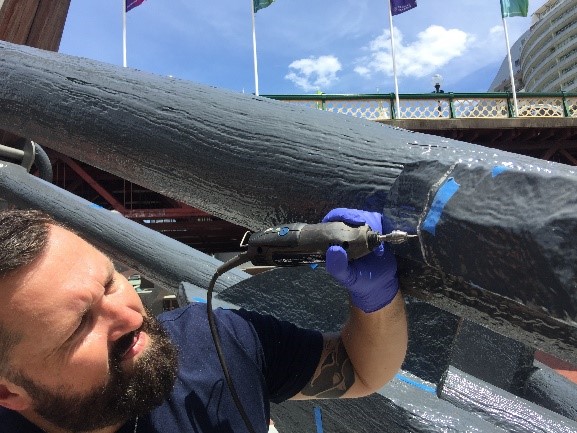 Exhibition preparation
With much fanfare and a huge advertising campaign, the Artic Voices exhibition opened to the public in December. In preparation Jeff Fox was asked to condition checking two polar bears (not seen below) that came on loan to the Museum.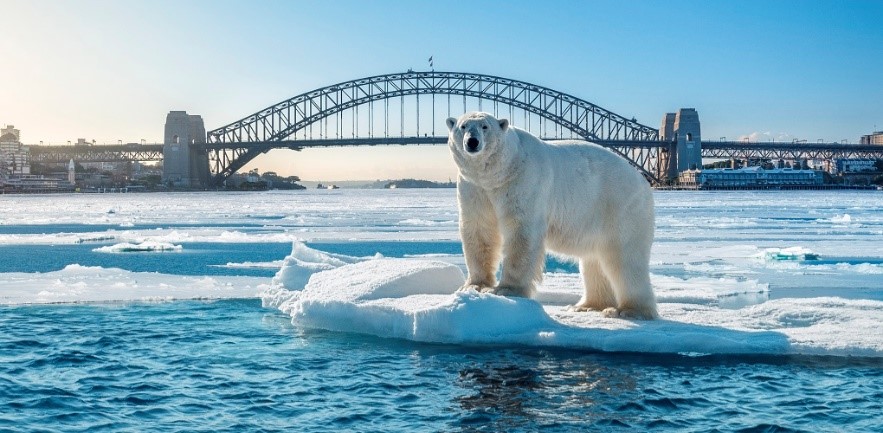 Twenty-seven of ourfinest objects (including the Charlotte Medal seen below) were sent South the NGV to be part of the Colony: Australia 1770–1861 exhibition (opening in March). Agata Rostek-Robak, Rebecca Dallwitz, Luci Ronai, Nick Flood and Kevin Bray were instrumental in preparing, packing and travelling these objects for loan.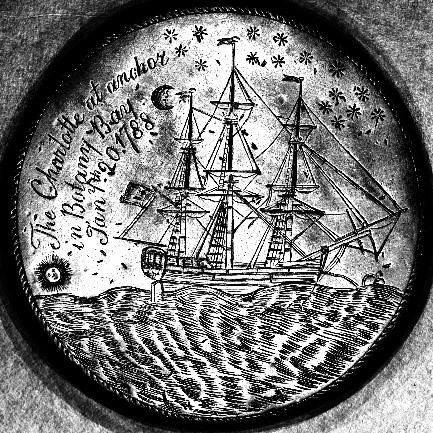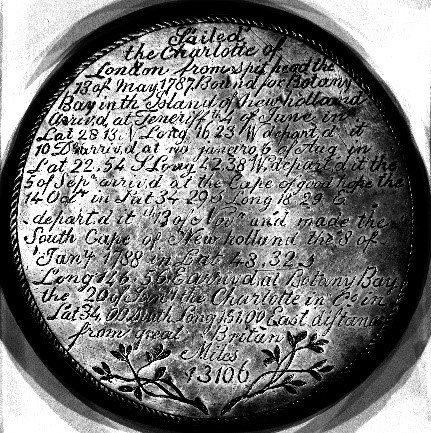 In mid-December, Waves & Water: Australian Beach Photography was installed. This exhibition showcases iconic beach photographs that are on display at ANMM for the first time. A small collection of Museum objects are displayed alongside these photographs. Preparation included Sue Frost dressing 11 swimsuits (part of the Museum's fantastic swimsuit collection!), Nick Flood treating and documenting beach buckets and surfboards; Kevin Bray mounting 3D objects for display; and Luci Ronai (with the help of Jochen Letsch and Amanda Edds of ASA Framing) mounting and framing 54 photographs and postcards.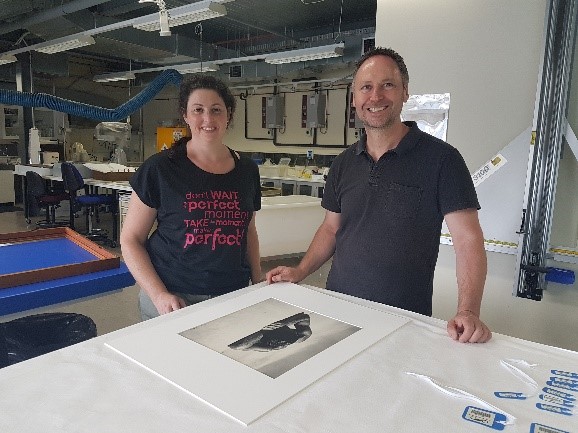 Nineteen objects were sent to the South Australian Maritime Museum (SAMM) as part of Leviathan: An Astonishing History of Whales. Luci Ronai prepared the ten paper and textile items and Nick wrangled nine, including one very prominent item that featured in SAMM's social media as a "mystery object". Upon arrival in South Australia, Artlab's Justin Gare was soon to discover the "mystery object" for himself, see below.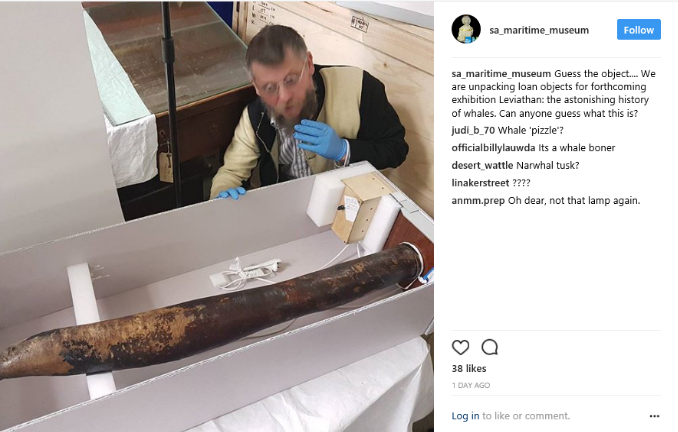 Workshops, symposia and media
Luci Ronai is now a card-carrying "Wobbler" after spending three-days in Richard Wolber's Gels in Paper Conservation course hosted by the State Library of Victoria in January.
Nick Flood has just returned from Los Angeles (although some would say that he's still in "La La Land"). He visited the Getty Conservation Institute for their Surface Treatment Strategies for Outdoor Painted Sculptures workshop. He'll provide more details in an upcoming e-News article and AICCM NSW event, so stay tuned for more.
In Conservation we were so happy to welcome Sue "Frosty" Frost back into the fold after several months of long service leave.
The ANMM has this year expanded its Footy Tipping competition to include the AFL Women's season. We'll let you know how Conservation (Jeff Fox and Nick Flood) fare against the rest of the Museum. G-o-o-o-o Cons!!!
As promised, we have photos from the annual ANMM fancy-dress Christmas Party. The party theme was Back to the 80s. Agata Rostek-Robak and Luci Ronai went as the "material girls" that they are, Jeff Fox was Indiana Jones for the night (who knew the Indy was such a mover on dance floor!) and Nick Flood was everyone's favourite tennis player from the 80s, Pat Cash.

In November, ANMM's Nick Flood and AGNSW's Kasi Albert were married in a small ceremony on a wet Saturday afternoon in Melbourne. Congratulations to the happy couple!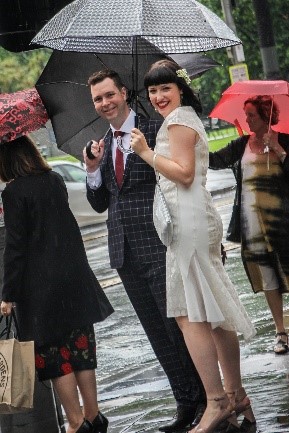 David Stein and Company
Treatments
Conservation Manager Julia Sharp and Senior Paintings Conservator Sian Griffiths have recently completed complex treatments on a number of John Peter Russell paintings. The works belong to private collections and the clients were thrilled with the result of the treatments in preparation for upcoming loans to an institution.
Julia Sharp also recently completed a joint treatment with Sian Griffiths of a significant colonial portrait for the State Library of New South Wales.  Sian attended to the structural elements of the treatment whilst Julia completed the aesthetic treatment steps. Sian has had a very busy start to the year carrying out two complex treatments; a colonial landscape for the State Library of New South Wales and a large portrait for Sydney's Government House.
Social
After a very busy pre- Christmas period our team had a very restful break during the two-week closure of the studio over Christmas. We are now rearing to go and have many exciting projects in the works for 2018.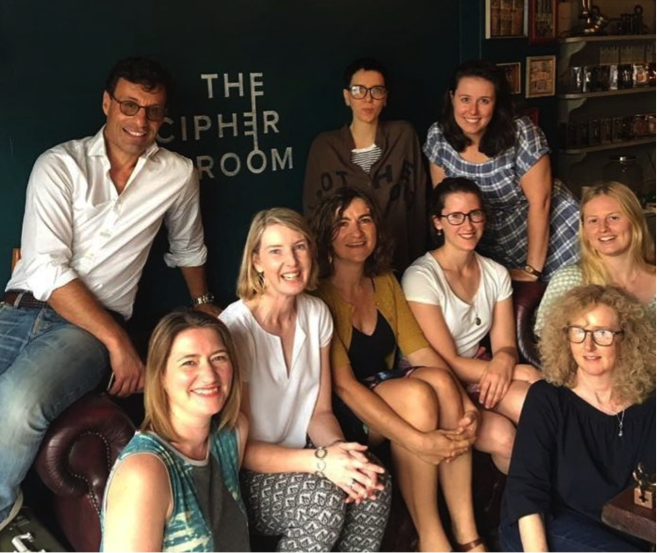 Heights Heritage Conservation
Treatment Projects and Exhibitions
This quarter has seen a larger than normal selection of privately owned objects which has meant a great variety of projects from a small and very fragile Theo Procter hand painted silk fan, a selection of heavily metal thread embroidered Kiswah sections from the Kaaba in Mecca, a Pakistani wedding dress, two stunning Japanese hand painted scrolls, collected during the War and never mounted, to 'Foreign Affairs' an exquisite petit point art work by  Narelle Jubelin and Byonce's gold lame tuxedo worn in the 'Love on Top' music video.
Social
The holiday season extended through most of January for Tess Evans with a constant stream of house guests visiting from all over the world to enjoy Sydney's beaches at their best. In mid-February Tess managed to find time for a well-earned break in Vanuatu.
Heights Heritage also introduced a new team member, Tara Regan. She has been tasked with assisting with administrative tasks, upgrading the technology supporting the business, and helping organize the 2018 TSIG Symposium which will be held in 11th to 13th July, at the Sydney Jewish Museum. For more information on the symposium refer to the TSIG professional news section or online.
International Conservation Services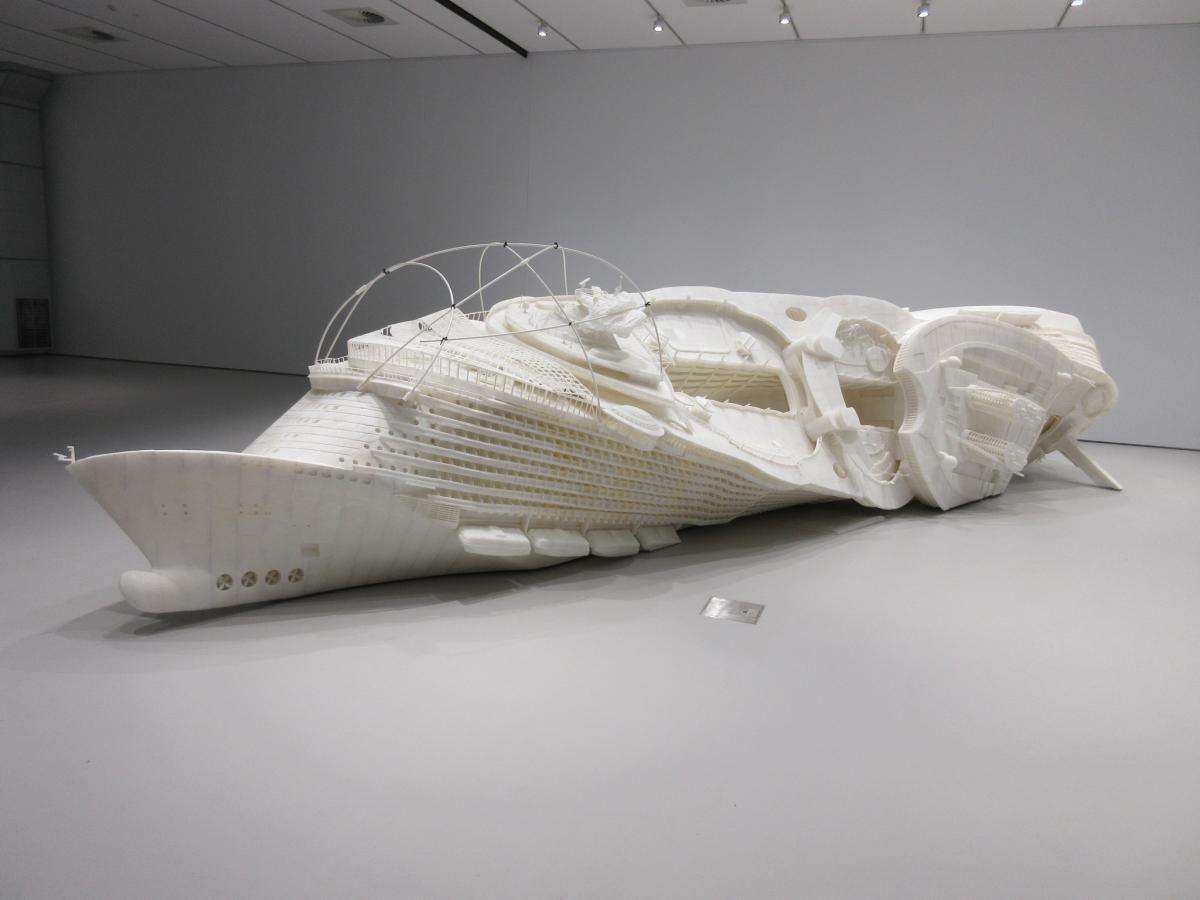 ICS continues its proud support of professional development, with two staff members attending valuable workshops in December and January.  Katie Wood and Matteo Volonte attended the Wolbers gel courses for paper and painting conservators in Melbourne. Katie Wood also attended an infilling and inpainting paper conservation course in Spain. Matteo is already putting the Wolbers gel course to use, removing overpaint from historic artworks at the NSW State Theatre. We are looking forward to disseminating this knowledge amongst our team members.
In contemporary art, Annick Vuissoz has been helping with preparation for an upcoming exhibition at White Rabbit Gallery titled "The Sleeper awakes".  On display will be the world's largest 3D print, 'The Deluge – Noah's Ark (2014)', created by Peng Hung-Chih. The 8m long 3D print (pictured) is made of over 5000 pieces and required stabilisation of broken elements prior to its display in early March. Annick has been using her experience with materials and methods developed on smaller 3D prints to achieve great results.
In addition to the 3D print, Annick Vuissoz has also been working on a variety of interesting smaller objects from the White Rabbit Gallery collection, along with other in house projects.
In late 2017 Karina Acton, Katy Ross, James Kleppen and Frances Paterson from our Objects and Outdoor Heritage team, undertook a significant condition assessment of over seventy sculptures at Australian National University, Canberra.  Frances has also been involved in consulting work at the Temora RSL Sub-Branch, and more recently worked with James at St Patrick's Cathedral in Parramatta. Separately, Katy has been managing the conservation and reinstall of a number of memorials for Liverpool City Council.
To kick-start 2018, the whole Sydney OOH team completed conservation works of the Queen Victoria and Prince Albert statues at the Royal Prince Alfred Hospital – a great team effort with a very successful result!
In Melbourne, Lauren Keating has carried out work on a number of archaeological projects within the CBD.
The ICS Paintings Team continues to work with Artbank, and are pleased to be working with new Artbank staff member and conservator Lucy Willet.  Most recently they have conserved a painting by Nuha Saad.  Claire Heasman carried out a complex treatment on a very large and significant contemporary painting "Left" by Tang Song, which took 2 months to complete. Jennifer O'Connell has been working with New England Regional Art Museum to conserve some important paintings from the collection from Armidale.
Wendi Powell and Katie Wood in the ICS Paper Team continue to work on historic Department of Finance plans, ably supported by two students, Lily Monk and Lisa Sharp.   In addition they have worked on jobs for private clients, galleries, the National Trust, Government House and NSW Parliament House Archives.
Australian Museum
Exhibitions
Our summer blockbuster, Mammoths was installed smoothly, Michael Kelly and Heather Bleechmore continue to monitor the sensitive ivory specimens.
Heather Bleechmore has been working on a selection of Indigenous artefacts and new acquisitions from New south Wales for the upcoming Gadi exhibition. Gadi is the major exhibition of the AM's month of culture focusing on Aboriginal and Torres Strait Islander and Pacific Islander cultures. A main focus of the exhibition is the in house weaving of 4 tied bark canoes by community elders.
Kate Jones has been preparing material for the 'Spiders' touring exhibition and for the National Gallery of Victoria for the exhibition 'Colony'. Additionally, Kate has been working on material to prepare for a loan to the National Library of Australia, also objects regarding colonization. In regard to collection care, Kate has been rehousing a collection of shields and undertaking a storage upgrade.
Megan Dean-Jones prepared the loan of a Narwhal tusk to the AGNSW for the current exhibition entitled 'The Lady and the Unicorn'. This rich exhibition of French medieval tapestries feature unicorns as well as other fantastical creatures. Sadly for the Narwhal, their tusks were once collected and displayed to provide proof of the existence of unicorns.      
Treatments/Projects
A large-scale rehousing project for all of our specimens containing Iron Sulphides is underway. Brooke Randall is carrying on the work of this project to deal with rapidly decaying Pyrite specimens. Pyrite (Iron Sulphides) can auto catalyze and form sulphuric acid which destroys the specimen and surrounding labels. Brooke is making custom boxes for several hundred mineral specimens which are then enclosed in high barrier plastic with oxygen scavengers inside. Once the pyrite specimen is in a low oxygen, low humidity environment, the reaction is greatly reduced.
Rebecca Barnott-Clement has begun a massive condition assessment of our Natural Sciences collections. Sheldon and Rebecca have devised a system of recording preservation issues specific to the separate collections. This project is connected to a large-scale audit to count our largest collection areas, such as the estimated 6 million insects or 4 million shells. Jack, who has some knowledge of Entomology to offer, assists with this project one day a week. 
Rehan Scharenguivel has joined the team as a volunteer one-day a week and is mainly working on projects with Sheldon Teare. He has assisted with the Pyrite rehousing and cleaned a very large Python skeleton for display.
Megan has also been creating custom-made housing for difficult and oversized specimens such as a Peregrine Falcon nest and Narwhal tusks. And in her down time, she is working on an in-house Disaster Preparedness training package.
Social
Rebecca Barnott-Clement has returned to the Conservation department after completing her Conservation training. Rebecca is working with Sheldon Teare undertaking a Condition Assessment of the Natural Science Collections.
Rehan Scharenguivel has begun volunteering with the department while he completes his second year of the Conservation course in Melbourne. Jack Rutherford, a recent graduate of Honours in Biology, University of Sydney, has also begun volunteering with the department.
Museum of Applied Arts and Sciences
Conferences and workshops
Suzanne Chee attended a 9-day textile conservation workshop organised by the International Institute for Conservation (IIC) and The Palace Museum, Beijing. The workshop was designed to give conservation professionals a deeper insight into current approaches to preventive conservation and non-destructive analysis of textiles. Following the workshop, Suzanne and colleague Bronwyn Dunn attended a 2-day symposium at the Polytechnic University, Hong Kong, Unroll and Unfold: Preserving Textiles and Thangkas to Last.
Projects
Bronwyn Dunn and Kate Chidlow have relocated and re-established the photographic studio for the continuation of the Rolled Textile Project. This involves documenting, assessing, photographing and re-rolling the MAAS rolled textile collection which contains over 1600 objects. For the last year, Bronwyn and Kate and a group of 6-8 volunteers have been photographing the large textile component of the collection. For the smaller textiles, we have now set up a professional copy stand so we can shoot directly above the textile.
Preventive
Being summer, the presence of insects has been noted in some of the insect traps in one of our Castle Hill stores. This requires extra vigilance; additional monitoring and cleaning to ensure the insects aren't on the increase.
Exhibitions
To commemorate the 40th Anniversary of the Sydney Gay and Lesbian Mardi Gras we have prepared costumes for 2 different spaces: one internal display and an external loan to the National Art School. A team of many assisted in this outgoing loan including Frances Fitzpatrick, Kate Chidlow and Bronwyn Dunn. This was an interesting opportunity to revisit our collection of Mardi Gras costumes objects displayed 20 years ago in our own Absolutely Mardi Gras Exhibition.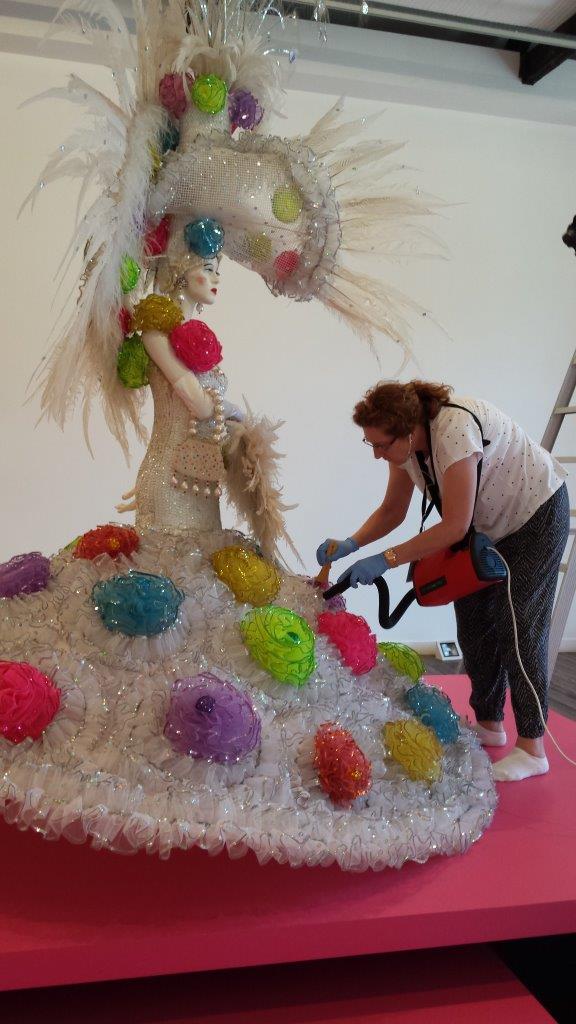 Despite the ephemeral nature of many of the costumes and the fact that they have been worn previously in parades, they were in reasonable condition. This has also given us the opportunity to further document the often complex dressing process.
Tim Morris supervised the display of two collection vehicles at CARnivale in Parramatta Park on Australia Day. The International Auto Buggy (B1135) and 1959 Ford Prefect converted to electric power (B2522) were part of a large contingent of vehicles from private and public collections on display.
The Thirlmere Festival of Steam (4 & 5 March) and Maitland Steamfest (14 & 15 April) are annual events in which the Museum participates. This year, two operational steam vehicles are attending the events under the supervision of our Steam Education Officers, Ralph Boesel and Chris Eagle. The 1920 Aveling & Porter steam tip wagon (B1509) and the Aveling and Porter Steam Road Roller (B2275) will be displayed under steam at both events.
The recent successful MAAS Ball required a significant input from the Conservation Unit – preparing dressed mannequins for display in an existing exhibition, movement of display cases to enable guests to occupy a gallery space, supervision of contractors during the bump-in of the event and bump-out, and supervision of the guests during the first part of the event to ensure that champagne or other beverages did not come into contact with vulnerable collection objects.
Northern Territory
Museum and Art Gallery of the Northern Territory
Events
Over the Christmas lull MAGNT conservators had time to address collection care issues and treatments that had been put on the backburner. Roofing works were undertaken in our off-site store which despite the promises of the contractors resulted in surface rust falling into the storage areas. After the refit Eliana Urrutia-Bernard undertook surface cleaning of our 1942 Willy's Army Jeep that had suffered significant surface dirt build-up and small ceiling fragment debris as a result of the ceiling works. This store does not have climate control and is hot and sweaty at this time of year, making for in her words "a very intense brush vacuum workout."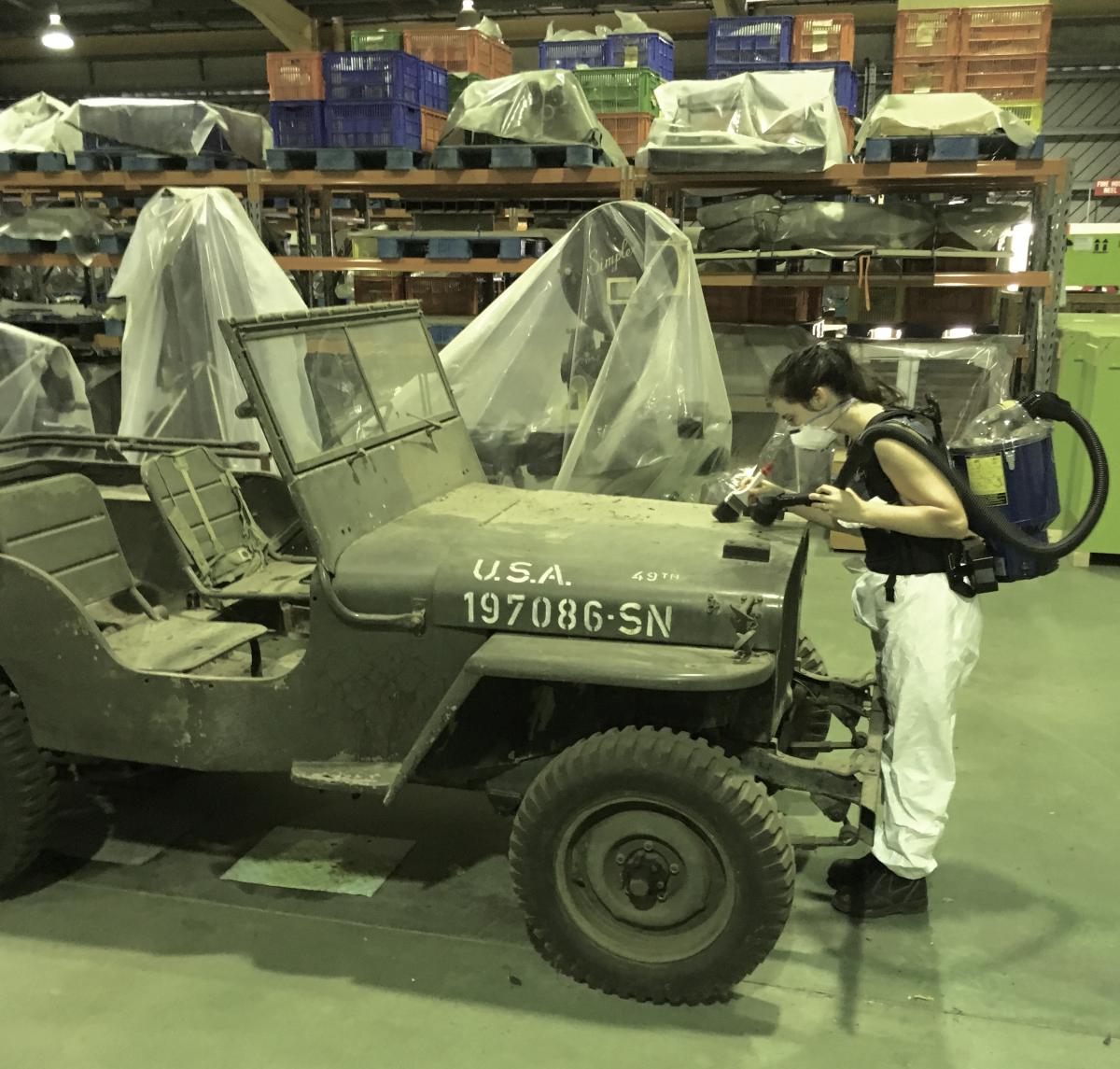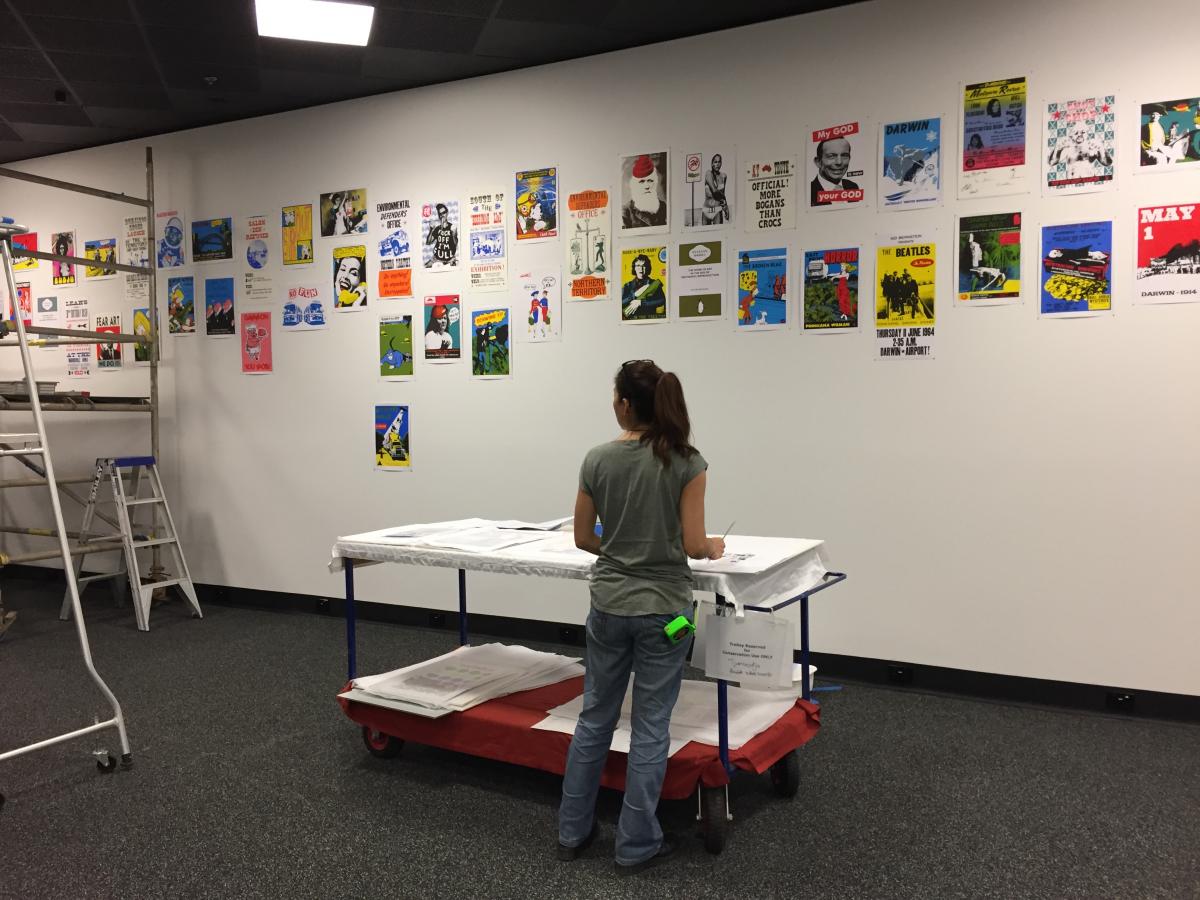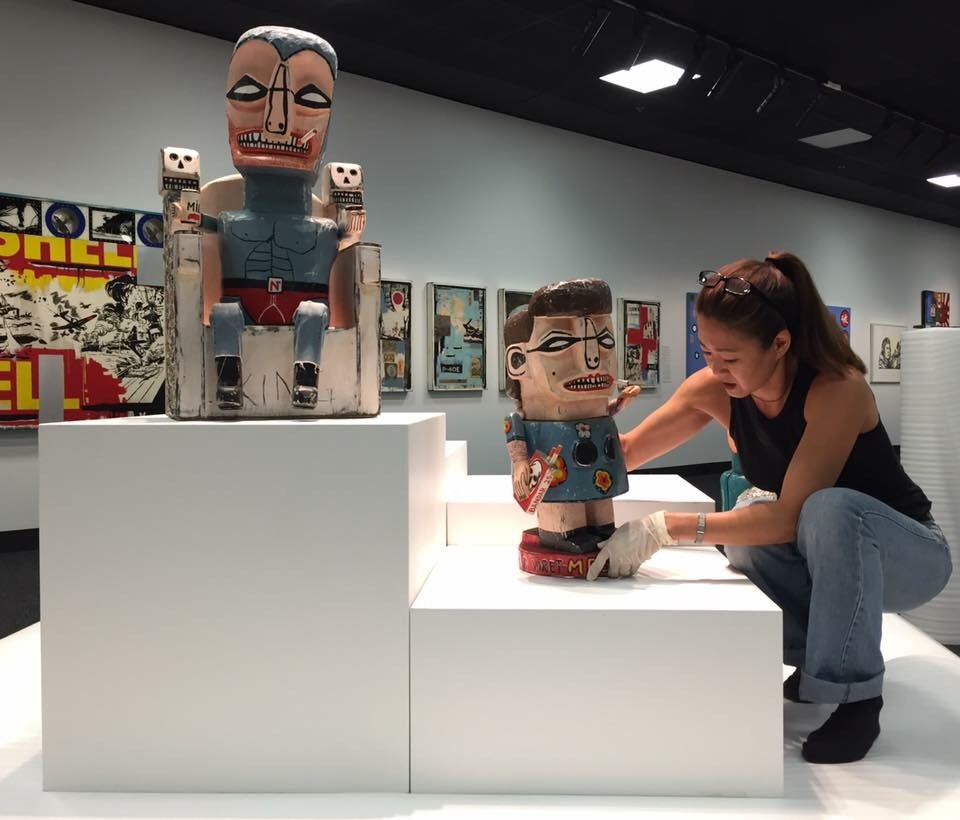 Eliana Urrutia-Bernard and Sandra Yee also performed a paper wash treatment via vacuum table. The work was a private loan that arrived to the conservation lab rolled up with velcro tabs adhered to recto and verso, mildew staining, black mould, surface dirt and a mud-wasp nest embedded on the verso. Mud-nesting wasps are a common problem in the territory, frequently nests are found in high-up corners of outdoor veranda's and garages. Nest removal is a constant ongoing process every Territorian is acquainted with. Removal of the mud nest from the paper's verso required only water and a bamboo skewer to lift adhered particulates. After a dry clean and aqueous clean with water/ethanol on our vacuum table a significant amount of surface dirt and accretions were removed and staining reduced.
MAGNT opened its newest exhibition Franck Gohier; A Thousand Miles from everywhere on the 2nd February 2018 to a crowd of over eight hundred people. Sandra Yee spent three days installing over ninety prints on the expansive "poster wall".  All the posters are held in MAGNT's collection but due to a generous loan of duplicate works by the artist only 9 collection posters needed to be used for the display. New plinths were purchased for the exhibition which were tailored by conservation to have objects at 600mm arms-length from visitors.
Sandra Yee also squeezed in time to head down south and attend the Richard Wolber's paper course held at the state library of Victoria. She returned home with a new perspective on paper treatments and a variety of gel's we're keen to utilise in upcoming projects.
Social
In the new year we welcome Trainee Conservator Nadine Lee into the conservation department. Nadine is a Larrakia/Wadaman/Karajarri woman who has volunteered and consulted at MAGNT over the last six years.  This year she will begin her Masters of Cultural Materials Conservation at the University of Melbourne part time during her traineeship with MAGNT.
South Australia
Artlab
Treatment projects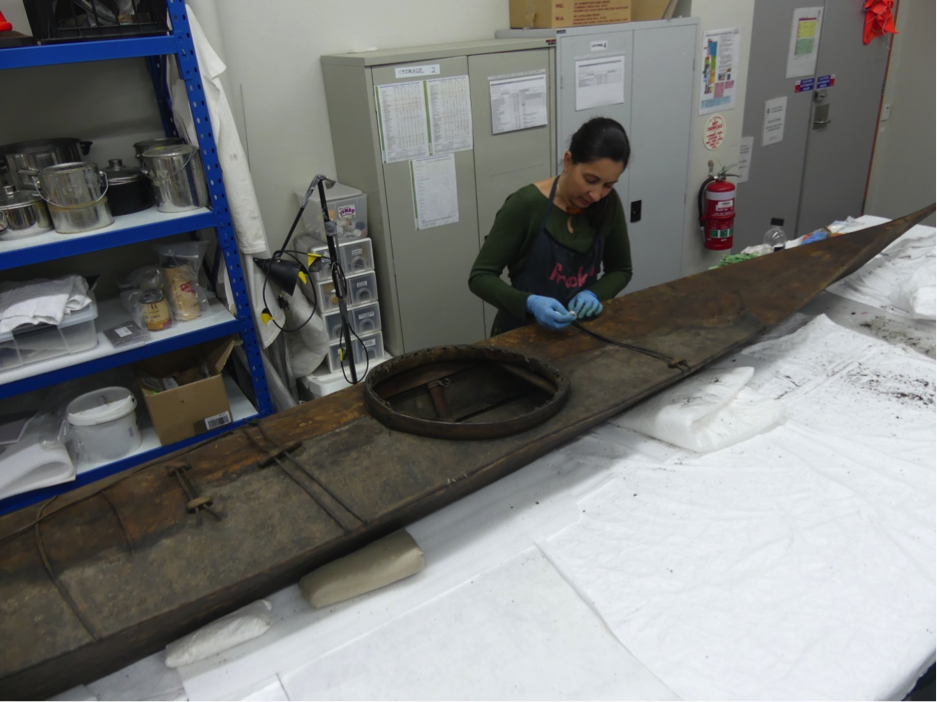 In the Objects Lab, an Inuit Kayak which was used by Polar Explorer John Rymill, has been conserved and prepared by Sophie Parker for exhibition at the South Australian Museum's Mawson Gallery redevelopment. It was a "shed find" as it had been stored for approximately 70 years on a Rymill family farm at Penola, SA. A thick layer of dirt and farm debris had solidified on the seal skin surface, strongly bonding with the fatty waterproofing of the hide. Solvent poulticing, careful scraping and swabbing has, over a number of weeks, dramatically transformed the appearance of the hide to reveal the beautiful seal skin patterning and stitching beneath (see photo above)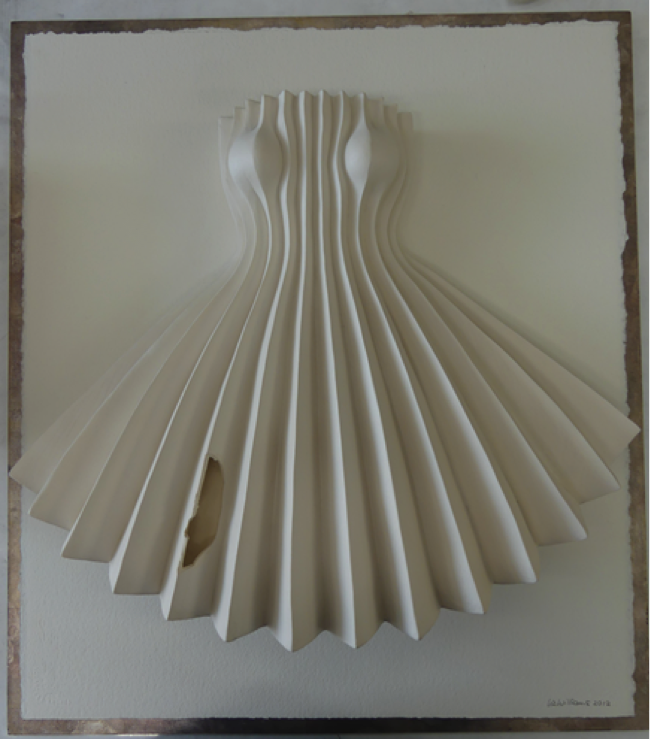 Jo Dawe has been completed work on a Liz Williams sculpture," Dress to Dance In", 2012. The privately owned, large ceramic item was damaged whilst on display in the owner's home (see images ????).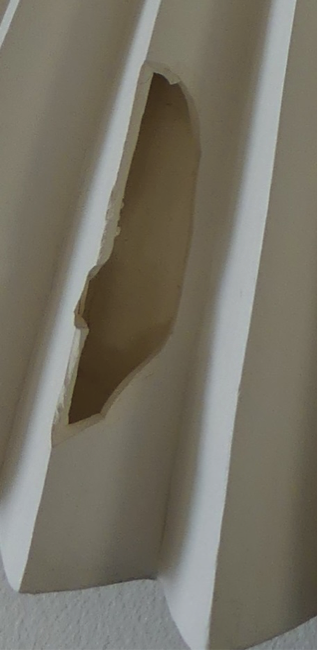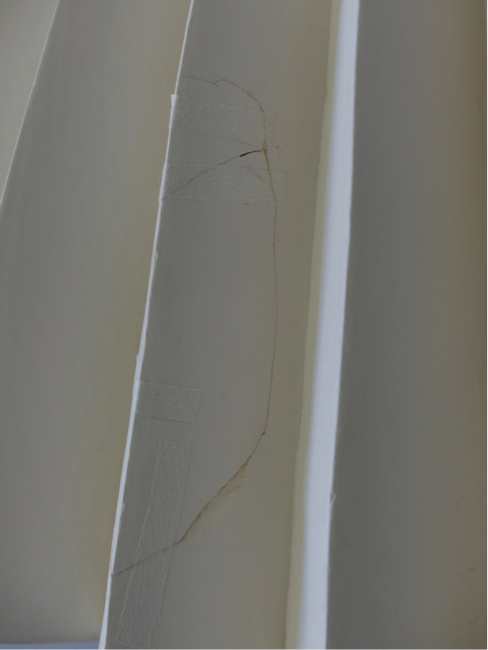 Fortunately the owner collected all the detached white stoneware shards, which were re-instated into position. Minor areas of losses at break edges were filled, shaped and inpainted to blend with surrounding media.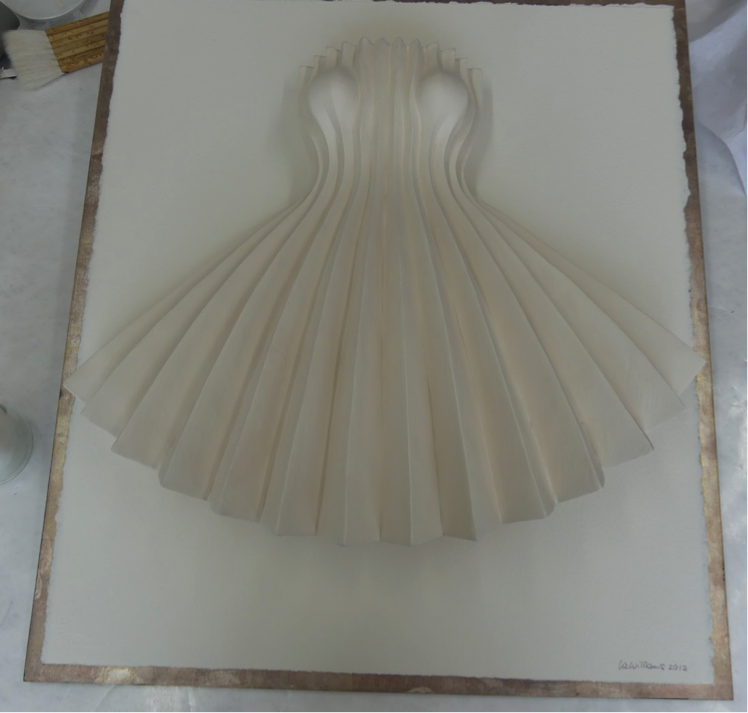 A purpose-built Perspex box-mount is being manufactured and will be attached to the repaired artwork before it returns to the owner's home as a wall-mounted display.
It was a hectic end of 2017 for the Textile Lab completing Paolo Sebastian: X  and China and the World exhibitions for the Art Gallery of South Australia so we have been enjoying the (relative) peace of the last few months.
In December Artlab Director Andrew Durham and Kristin Phillips travelled to Penang, Malaysia to run a 2 day workshop on Textile Conservation in partnership with George Town World Heritage Incorporated.  Ten very keen locals learnt some of the basics of preventive conservation and textile conservation skills.
Kristinand Mary-Anne Gooden and have been completing work on 2 small Chinese banners for the Burke Museum in Beechworth, Victoria. Much couching and patching has been taking place. They will return to the museum to be displayed with a large Chinese banner worked on by Artlab in 2015.
Exhibitions & Loans
Justin Gare has prepared AGSA's Big Mother by Patricia Piccinini for loan to MONA.
Workshop Attendances
Megan Sypek, Rosie Heysen and Jodie Scott spent a stimulating and exciting week in January at the AICCM Cleaning Painted Surfaces workshop by Richard Wolbers in Melbourne. They are now endeavouring to set up the Objects, Paintings and Paper labs with Gels cleaning kits. The lure of using fewer solvents with better treatment results is a very exciting prospect.
Assistant Director of Paper and Books, Heather Brown attended the Blue Shield Symposium in Canberra where she also presented a workshop on Integrated Disaster Planning. 
Social
Laura Daenke has been warmly welcomed back to the Paper lab. Laura has been put straight to work assisting with a very busy paper & book conservation program. This is a return visit for Laura who undertook her internship with us following her conservation studies at the University of Canberra.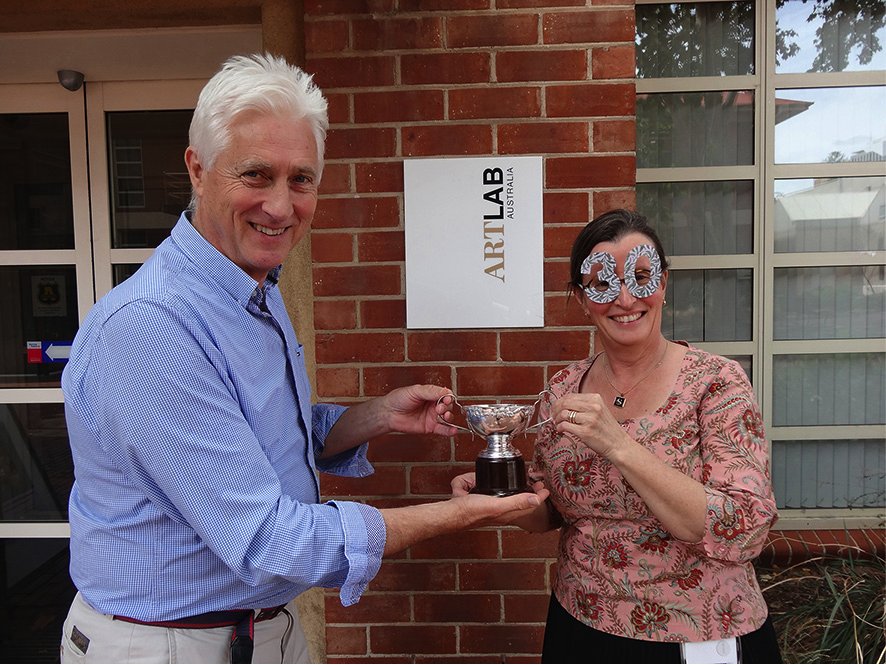 In Mid-January Artlab staff gathered with tea and cake to celebrate Principal Textile Conservator Kristin Phillips 30th anniversary at Artlab! She was presented with the Artlab 30 Trophy, her name freshly engraved beside fellow "club 30" alumni Anne Dineen and Eugene Taddeo (see Image 1).
Australian Capital Territory
National Film and Sound Archive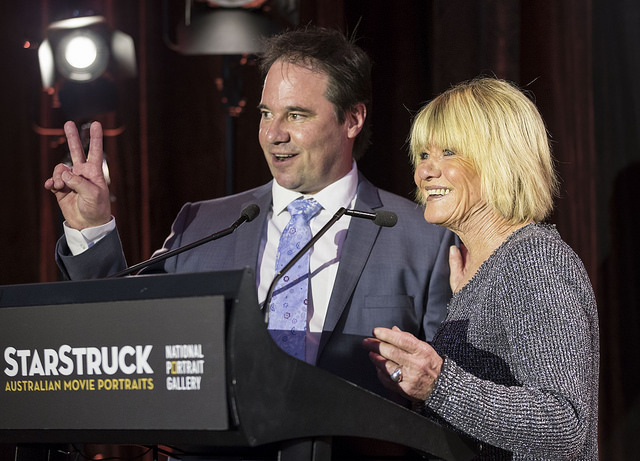 The National Film and Sound Archive and the National Portrait Gallery recently launched a new exhibition called Starstruck: Australian movie portraits on the 9th of November.  The exhibition was opened by special guests Margaret Pomeranz (NFSA Ambassador) and actor Paul Mercurio (star of Strictly Ballroom).
This project was funded by the National Collecting Institutions Touring and Outreach Program'. It was three years of planning after curators Penny Grist from NPG and Jen Coombes from NFSA came up with the initial idea of working together to create an exhibition about portraits from Australian movies.  This was the first time both institutions were involved in collaboration on this scale.
Along the way Curatorial staff from both sides were involved in selecting the stills, scrapbooks, posters, daybills and costumes from the NFSA's superb collection. The team included Dr Jenny Gall, Belinda Hunt, Jill McKenzie, Tenille Hands and Jess Bolton working at the NFSA and Dr Anne Sanders and Felicity Harmey at the NPG.  Senior conservator Shingo Ishikawa from NFSAwas also involved with repairing and stabilising fragile Cinesound casting books, enabling it to be digitised, while at the same time working on over 150 Condition reports for the loan.  The NFSA Imaging Specialists Tony Rowley and Darren Weinert digitised every page of 11 scrapbooks and over 200 stills, posters and costumes.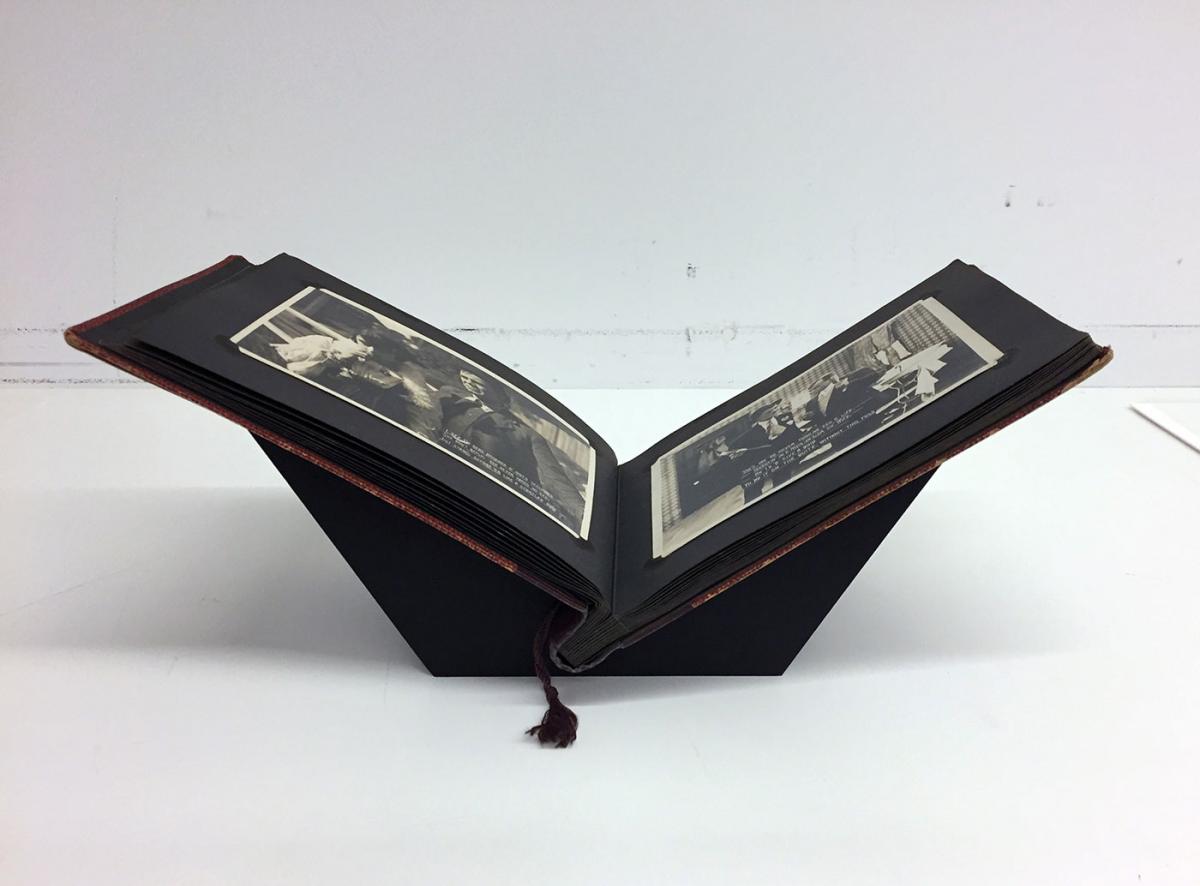 Clearing the copy right for the photographs was a challenging process as the photographer was not always credited with the image.   Associate registrar Maria Ramsden at NPG worked hard to sort out the logistics, exhibitions designer Aaron DeSmet finalised overall look of the exhibition while Heidi Elliot framed all the prints and created beautiful book mounts for each album and scrapbook on display.  It was a massive group effort from both sides, with each job involving tight – and changing- deadlines that affected staff from both institutions. We've learned a lot throughout this process.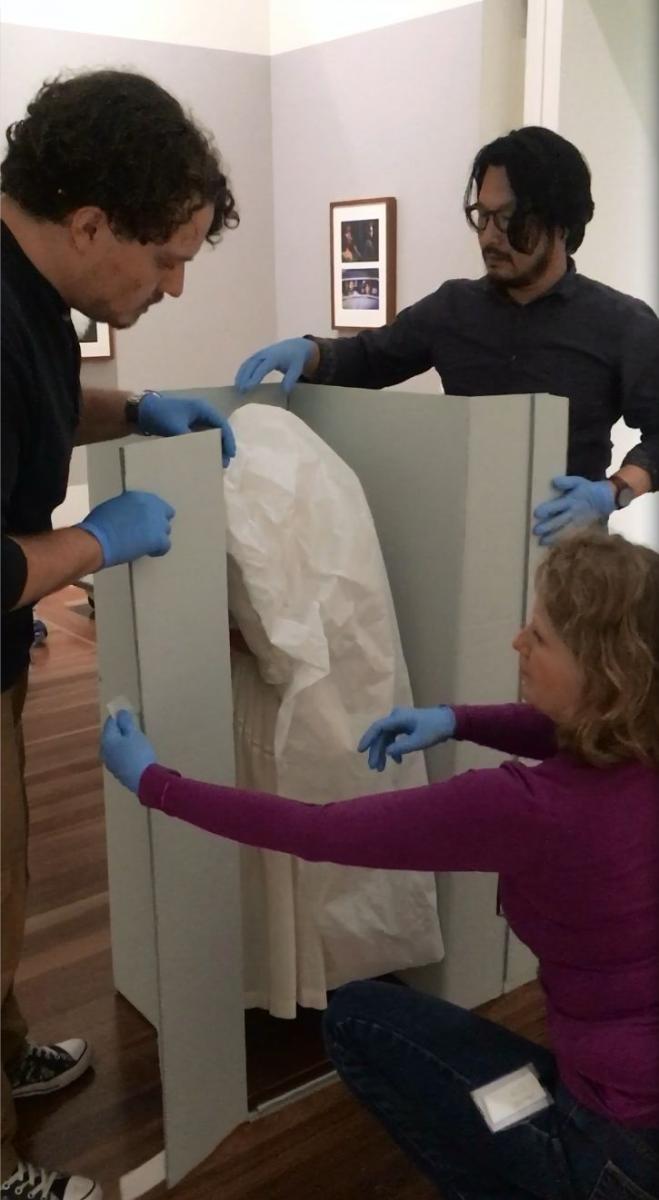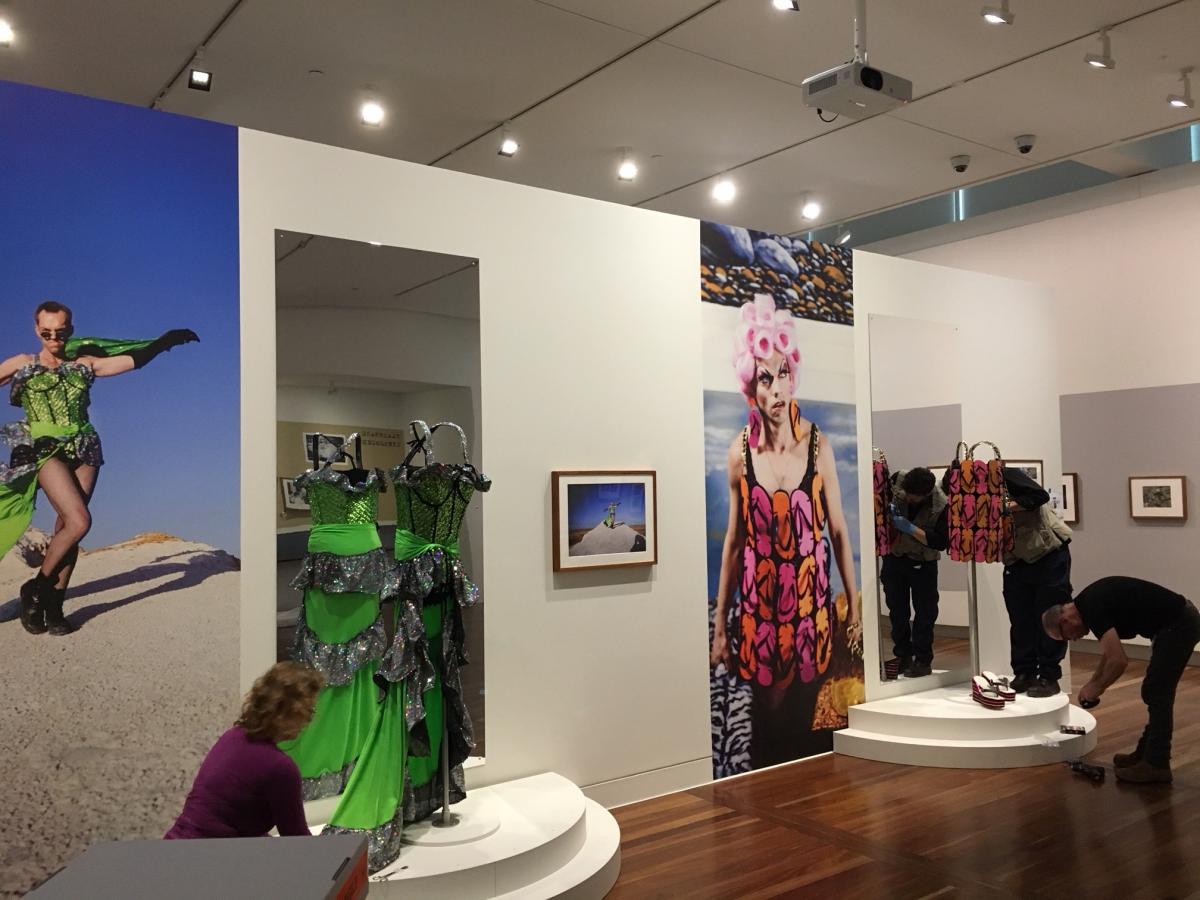 The Starstruck exhibition is a unique and wonderful exhibition that celebrates the combined efforts and skills of both institutions.  It was wonderful to work closely with NPG staff and we appreciated the opportunity to showcase some of NFSA's collection some of which has never been displayed before.  I'd like to thank all the senior managers and other staffs from both institutions involved in this project that was not mentioned here, this was truly a group effort!
Victoria
National Gallery of Victoria
Treatment and Exhibitions
Paintings
In January, Raye Collins and Carl Villis finished off their respective major conservation treatments on Amedeo Modigliani's Portrait of the Painter Manuel Humbert and Arent de Gelder's King Ahasuerus Condemning Haman.  Raye has also completed a minor treatment of Thomas Clark's Falls on the Wannon.  Preparatory work for some major exhibitions are also underway: The Field Revisited, Frontier Wars and Colony.
Paper and Photographs
In the Paper and Photographs studio conservators are preparing works for upcoming exhibitions and new acquisition submissions.
Ruth Shervington has been assessing a range of Asian artworks including a series of Yokohama-e Japanese woodblock prints by various Japanese artists. These prints depict a variety of foreign people who entered Japan via the Yokohama port opened from 1859 and detail the curiosity of strangers from around the world entering Japan for the first time.
Louise Wilson has been assessing and rehousing a large collection of intricate Chinese paper-cuts recently donated to NGV. The art of paper-cutting originated in China and these delicate artworks were often attached to windows and walls of homes to mark special occasions such as New Year's celebrations, childbirth, funerals, festivals and weddings. This ancient folk-art form traditionally depicted auspicious symbols and animals based on the Chinese zodiac calendar. After the founding of the People's Republic of China in 1949, Mao Zedong declared that art should serve the people and new themes such as workers as social role models, modern rural life and gender equality were incorporated into the designs of paper-cutters. In 2009 Chinese paper-cutting was added to the UNESCO Representative List of Intangible Cultural Heritage of Humanity. A selection of paper-cuts depicting women involved in various vocational pursuits have been included in the current display in the Asian galleries at NGVI.  This proved to be a delicate and challenging mounting job for Louise and Bonnie which utilised small discs of Mylar and fine entomological pins with tiny silicon tubing sleeves to mount the paper-cuts in frames.  This display method enabled the paper-cuts to cast shadows on the backing boards behind them, enabling their technical virtuosity to be fully appreciated.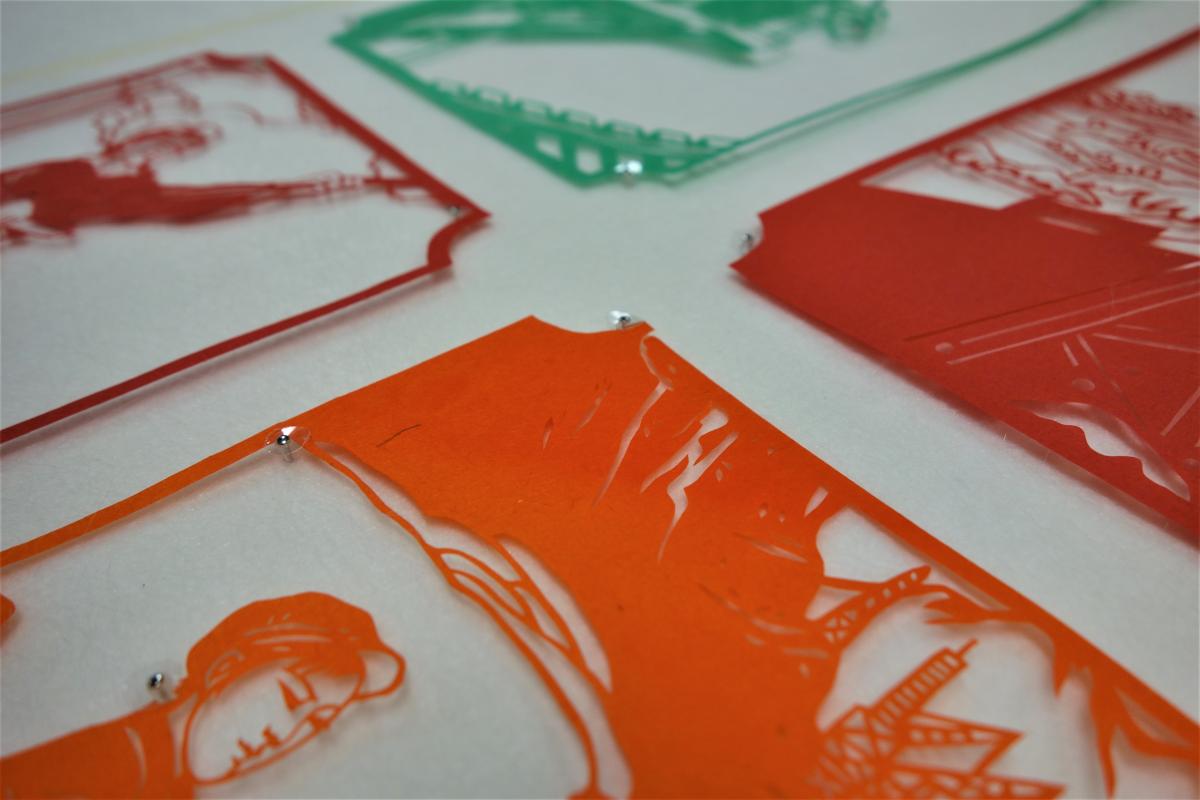 Pip Morrison is in the midst of preparing many photographic pieces to go on display in the upcoming exhibitions Colony: Australia 1770-1861 and Colony: Frontier Wars shown between 15 March 2019- 15 July 2018. Pip has assessed many daguerreotypes, ambrotypes and salted-paper prints to go on display, as well as treating daguerreotypes that required cleaning and re-sealing of cases. In contrast to working with mid 19th Century photographic materials, Pip has recently [re-tensioned?] three Leah King-Smith cibachrome photographs to be shown as part of Frontier Wars.
Bonnie Hearn has been treating a sketchbook of Australian Impressionist E. Phillips Fox drawings in preparation for digitising. The pages have become very brittle with age and are being stabilised at the edges with toned 'Tengu' (very fine and light-weight Japanese kozo paper). Comparing the lively sketches within the book to Fox's resolved oil paintings has been an enjoyable task between the many repairs!
Frames and Furniture
In preparation for Colony: Australia 1770-1861 Holly McGowan-Jackson is treating a sideboard by William Hamilton (1835), while Suzi Shaw, with the assistance of a contractor, is repairing, supporting and re-upholstering a sofa probably made by German immigrants around the 1840s. The sofa came to NGV in 1996 and Suzi has recently had the opportunity to investigate the piece with x-radiography, FTIR and UV examination, revealing at least 5 different upholstery schemes.
Textiles
Kate Douglas and Ellen Doyle have been making a replica stomacher for an 18th century robe and petticoat which came into the NGV's collection without one. They have been using digitally printed silk to match the silk on the gown.
Ellen, Kate Maclaren and Kate Douglas will continue to work towards achieving the publication photography for 2019 exhibition on works donated to the gallery by Krystina Campbell-Pretty. Presently the two Kates are providing condition assessments and beginning to conserve works while Ellen is busily making the many underpinnings and slips needed for photography and later display.
Objects
The objects team are keeping themselves busy with vomiting heads, shiny touchable mirror surfaces, bonneted sphinxes, and parchment puppets. Alongside that, they are prepping for the upcoming shows at NGVA, with large massed installations, and precarious contemporary pieces to install, as well as the new decorative arts passageway at NGVI, focusing on mid-20th century homewares.
Workshops
Raye Collins recently attended the five-day intensive course 'New Methods of Cleaning Painted surfaces' instructed by Richard Wolbers and hosted by Museum Victoria in January this year. Having attended Richard's last workshop in Australia, Raye is enthusiastic about the new methods and techniques introduced since then.
Louise Wilson and Bonnie Hearn also had the opportunity to attend one of Richards workshops in January, 'New Methods of Paper Bathing/Stain Removal' hosted by State Library Victoria. The Paper and Photographs team are very excited to trial and test these newly learnt processes and techniques!
Social news
In late December the paintings conservation studio farewelled our Senior Conservator John Payne, who has retired after 35 years of unstinting and inspirational leadership within our institution and across the profession.  John's massive contribution cannot be summarised in a few words, so we will leave the formal tribute for another time, but suffice to say, his absence will be keenly felt by all those who have come to know him over the length of his career in his various guises as master conservator, frames historian, public speaker, mentor and friend.  We wish him the happiest of times ahead, confident that he will bring his extraordinary talents to everything else he encounters in the years to come.  It was both timely and appropriate that as his career at the NGV came to a close he was made a Member of the Order of Australia in this year's Australia Day Honours List in recognition of his contributions to the profession.  Bravo John!
After 15 enriching years as the NGV, we also farewell Senior Conservator of Textiles, Bronwyn Cosgrove. Bronwyn has been awarded an Australian Research Council Scholarship to undertake a PhD with the University of Melbourne, on the preservation of plastics in Australian textile collections. She will be missed greatly by the Conservation department and many more throughout NGV. We would like to congratulate Bronwyn on her Scholarship and wish her all the very best for this exciting project ahead!