Newsletter Issue Number:
Australian Capital Territory
National Gallery of Australia
The Conservation Department at the National Gallery is back on-site after lockdown and into the swing of things with a busy program of loans, exhibitions, and travelling exhibitions. It is great to be on-site again, caring for the collection and seeing visitors in the building.
The Objects Conservation team has been busy working on the travelling exhibition Ever Present: First Peoples Art of Australia, which is to go on display at the Art Gallery of Western Australia opening in December. The team has also been treating and installing works for the redevelopment of the Australia Galleries opening in December. There have been some staffing changes. Courtney Crane has joined the team as an objects conservator and comes to the Gallery with several years' experience from the National Museum of Australia. Alysha Redston has moved into a new and exciting position as Time-Based Media Conservator.
Paintings Conservation has been busy preparing artworks for the touring exhibition Ever Present and checking loans for the in-house Jeffrey Smart exhibition as they arrive. Jocelyn Evans has been enjoying attending the AICCM PSIG 'Australian Made 2021' virtual forum and presented a paper entitled 'Know my Name: Australian women artists 1900 to now'. She wants to thank and congratulate the convenors, Raymonda Rajkowski and Raye Collins, for their wonderful work in putting together an excellent program.
Paper Conservation and Mountcutting have been preparing works for the extensive redevelopment of the Aboriginal and Torres Strait Islander and Australia galleries, including the large 20-panel Dufour wallpaper. Paper Conservation is also finalising a submission for the upcoming AICCM Book and Paper Group, focusing on the conservation of Asian scroll paintings from the NGA study collection, previously considered untreatable.
The Preventive Conservation team has been very busy pest treating large volumes of loans that returned during and post lockdown prior to their return to storage or display. They are also heavily involved in capital works projects providing history of light levels and condensation points, and developing preventive measures for activities within art areas. As the NGA is implementing seasonal variation into the areas of storage, they are developing analytical techniques to measure efficiencies and monitor the collection during these changes.
 Since being back on-site the Textile Conservation section has been preparing textiles for various loans and exhibitions. This has included several batik textiles for Ever Present, a 1930 Chanel evening ensemble for loan to NGV, and planning the care of Skywhale and Skypapa on their 2022 tour. The team has also taken delivery of several new mannequins and is excited to see them used in fashion displays at the Gallery.
National Library of Australia
As of the start of November, our team has been back on-site split across A & B teams. We are all very happy to be back in the building and at the bench. During our work from home, we have been focusing on updating our procedures and streamlining processes for project management and timekeeping.
Staff changes
In August our team welcomed Nicki Smith. Nicki is backfilling Denyl's position of Assistant Director, Collection Care, whilst Denyl is on secondment at the Department of Parliamentary Services as Director of Design Integrity. Nicki joins us from the National Museum of Australia (NMA) and is an established objects conservator with extensive experience managing the preventive, objects, paper, textiles, and large technology labs at the NMA.
We've also recently farewelled Camielle Fitzmaurice, who has been on secondment for the past 11 months with Grimwade Conservation Services. She will be greatly missed, and the team wishes her all the best on her next adventure.
Exhibitions and loans
Since being back in the building, the team has dived straight into treatments. We are making great progress with the preparation of two upcoming exhibitions: Circus, featuring our Vivan James Carter Collection, opening in December, and On Stage: Spotlight on our performing arts planned to open in March 2022. Both Circus and On Stage include an array of historical and contemporary collection material relating to performance in Australia, including oversized posters, ephemera, photographs and objects. This has kept our team busy flattening, repairing and condition reporting the 180 objects selected for display.
We have had a number of loans return and have also been busily preparing some new loans to travel, including a collection of Tony Rafty illustrations for the Rijksmuseum, and the Lord Warden of the Cinque Ports uniform worn by Sir Robert Menzies [realia] for the Menzies Institute. Adele recently visited the Prime Minister's Office at Parliament House to condition check on an oil painting on loan.
Digitisation
Our preservation for digitisation conservators, who work on our philanthropy-funded digitisation projects, have been treating ephemera collections of JC Williamson and manuscript material relating to Sir Robert Helpmann, Miriam Hyde and Melba Conservatorium.
At the start of November, they celebrated the achievement of completing work on the Sir Robert Menzies collection, with the last item preserved and final image captured. Over the past year and a half, Collection Care has treated more than 200 items in support of this digitisation project. Treatments included tear repairs, adhesive removal, and flattening and separating of pages that had become stuck together.
Prioritised Treatment Program
Since returning to on-site work, Cheryl has been leading our team in the treatment of a collection of lantern slides from the Joyce Evans Archive. Joyce Evans (1929–2019) was a landscape and portrait photographer and lecturer based in Melbourne. One part of her archive is a collection of nearly 1000 lantern slides used in her lectures. The slides are poorly housed at this time, so the whole Collection Care team will be working through them to clean, replace or repair broken glass and rehouse the slides into archival containers. The original packaging will be retained.
Preventive
During the latest lockdown, the Capital Works Program has continued to progress even while the Library is closed to readers and staff. Lisa, our Collection Care Preventive Program Manager, has been on-site to assist with the program, assessing risks and taking action to minimise any damage to the collections during this major construction work.
Outreach
Our team joined forces with the Library's Social Media team, and Libor Coufal from Digital Preservation to take part in International Ask a Conservator Day and World Digital Preservation Day on Thursday 4 November. Our team welcomed questions from the public, such as 'How do you become a conservator?' and 'What surprising discoveries have you made within your own collection?' across the Library's social media channels including Facebook, Instagram, and Twitter.
A blog post compiling some of our answers is available here
Overall, the day was a great success! We had more than 20 unique questions across all platforms, resulting in 18,164 impressions and 268 engagements. There was great engagement on Twitter, with questions about how to become a conservator, and how we deal with obsolete carriers.
New South Wales
Art Gallery of NSW
The Conservation Department bids farewell to Paula Dredge, Margaret Sawicki and Lily Yang, who have accepted offers of voluntary redundancy made by the Art Gallery. The team wishes Paula, Margaret and Lily well with their future careers, and acknowledges their individual and combined contributions to the Art Gallery over a 30+ year period, and their contribution to conservation scholarship and practice more widely.
Paintings & Frames
The Old Courts rehang has kept the Paintings and Frames teams very busy. Prior to the end of lockdown, the conservators and technicians were back on-site working on the artworks that still required treatment before the opening of the courts. The major projects on The lady in blue by Hugh Ramsay, the frame of Waiting by Gordon Coutts and a Hilda Rix Nicholas new acquisition resumed recently and we are hoping these artworks will join the Old Courts very soon.
The teams have also been involved in the preparation and installation of several exhibitions such as Matisse Alive and Matisse: Life and Spirit .
We are now getting ready for next year's major project including the Modern Galleries rehang and the opening of the Sydney Modern Project (SMP).
Paper/Photographs & Mountcutting
The Paper team is excited to welcome Julia Bavyka, who will be working as a Conservation Technician two days per week to assist conservators Analiese Treacy, Sarah Bunn and Lois Waters with upcoming work in preparation for SMP. Over the last two months, the team has been involved in a number of activities including the installation of 116 works included in the touring exhibition Brett Whiteley – Drawing is everything at Bathurst Art Gallery (opening 22 November). The team has also been busy preparing a selection of works on paper, photographs and archival material for inclusion in the Grand Courts rehang. These inclusions are significant as light sensitive works have not usually been featured in the Courts to date, but a recent upgrade of the space including the lighting system have made this possible.
The team has also been fortunate to be involved in the preparation of a number of works from the AGNSW Collection and archive including the Jazz series for inclusion in the Matisse:  Life & Spirit exhibition. In addition to this, a number of works by artists Patrick Caulfield, Antonio Morandi and Helen Johnson, to name but a few, have been prepared for inclusion in Matisse Alive, an exhibition showcasing the influence of Matisse's style on contemporary artists. Finally, the team has been preparing works from the Asian art collection including a number of scrolls for inclusion in The Way We Eat changeover in the lower Asian Galleries.
In Mountcutting, the team bade farewell to Jonathan Dennis, who is taking on a great new role as Technical Assistant TBA (Time Based Art team). The mountcutting position will now be filled by Grant Hawkes, whom we warmly welcome to the team!
Australian Museum
Collection Care and Conservation
Staff change  
Having first walked through the doors of the Conservation unit of the Australian Museum in 2002, almost 20 years ago, Megan Dean-Jones has decided to hang up her lab coat for the last time. No, she doesn't have any firm plans yet as to what better things she may spend her time doing but has every confidence that, after a well-earned restorative break, she will. Megan will particularly miss her exceptionally clever and interesting colleagues (she wrote that bit) and the aardvark. Working for the Australian Museum has been a weird, wild and wonderful ride. And never ever dull.
Megan and I (Sheldon) have worked together for nearly 10 years. Together we have navigated the strange, fascinating and at times completely bewildering world of natural science conservation. Megan has been an excellent colleague and friend over these years, stoically putting up with my random requests and mad thought patterns, and interpreting my nonsensical sentences. Nothing has phased Megan, exploded aardvark noses, missing vulture wings and rhinoceros pedicures have all been accepted as normal work tasks. Megan's attention to detail established her as reigning storage queen and a talented treatment conservator. While we have hopefully not seen the last of Megan – maybe we can tempt her back for some contract work – I will sorely miss having my right-hand buddy around. We wish Megan all the best for her future endeavours.
Professional news
Treatment project
Sophie Phillips has started working as a conservator in the Natural Sciences team under Sheldon Teare on a backlog of specimen treatments. Sophie has flown into a range of treatments from repairing broken feathers, deep diving into infilling insect damage on large historic taxidermy fish, humidifying and relaxing fish study skins, and taking a deep breath while making low oxygen microclimate enclosures for pyrite-affected minerals.
The relaxing of the fish skins has revealed some interesting old repairs done using textile strips covered with sand to blend into the skates' (like a manta ray) skins. There is no floundering around with this treatment as the old repairs all need to be removed as they are distorting the fragile skins, so Sophie had better get her skates on!
Sheldon continues to break down our understanding of specimen preparation by working with Taxidermy staff in assessing composting as a preparation method for skeletal specimens. This work is getting to the bare bones of preparation and will add to the (bio)diverse knowledge of the Australian Museum.
Michael Kelly continues to work on the Early Correspondence (1880s) treatment and rehousing project. The treatments involve cleaning, stabilisation, and re-housing of the material.
Melissa Holt has begun work as a contract conservator on an AMF-funded project to conserve (and resurrect) four cartonnage objects including three masks. So far work has been done to stabilise two of the objects, and has included humummification and reshaping, consolidation and adding Japanese tissue repairs. A blog series has started on the Australian Museum website that details the treatment and unmasking of the history of their construction. The rest of the team sphinx they look great and Mel should be very shroud of herself!
Projects
Sheldon and Sophie have been rocking out with the Geosciences collection to relocate a collection store prior to renovations to improve the space. The team's out-of-this-world knowledge has enabled several hundred oversized specimens and meteorites to be rehoused and moved so far. Sheldon has been prospecting the collection to provide advice and support for thousands of fragile specimens that are to be packed and relocated, upgrading the building environment, and selecting new storage furniture.
Kyra Kim is working with the World Cultures Collection to rehouse Indonesian textiles, paintings, and puppets. This project will reduce overcrowding and improve the storage conditions for collection items into new standardised plan-file cabinets.
Collection enhancement project
Clare Kim is investigating ways to apply best labelling practices for AM's Natural Science wet collections by liaising with other museums and different suppliers. Materials testing and non-scientific experiments are being undertaken to test the longevity of new materials and labelling technology in three diverse types of fluids: ethanol, formalin, and glycerol.
Exhibitions
Sheldon and Sophie have dived into the lengthy process of transferring fish and shark specimens from ethanol into aqueous glycerol for display. Specimens will swim from ethanol into a ladder of glycerol and water, with the pool's glycerol concentration being increased over time (several months).
Sophie has taken on the Minerals exhibition work from Megan and is steadily working through the specimens selected for display.
Collection Care
The Collection Care program schedule has not been bare, with the low-temperature IPM treatment of a bear specimen from the Wild Planet Gallery. This grizzly treatment was no picnic, requiring the Museum staff to clamber out of our lockdown hibernation. The large bear specimen barely made it out of its case without careful planning from staff; luckily, however, the team is smarter than your average bear and we're happy to bear down on a challenge. The good news in this situation is that while the bear was undergoing low temperature treatment the public didn't miss out as they were able to still enjoy a bare case.
Australian National Maritime Museum
Staff news
It is with great pleasure that we announce that Jeff Fox is now officially off the market, having gotten married on 4 November! We wish Jeff and his partner, Brendan, an almighty congratulations on their nuptials and all the best in their years to come.
The entire conservation team is now officially back in the labs and on-site.
Siobhan Elliot returned to us on 1 December when the Museum was officially reopened. Siobhan is one of our long-term student interns who has been a huge help in the documentation and treatment of the Rice Collection.
Treatment projects
Conservators Nick Flood, Amy Walsh and Emma Hayles undertook the large-scale consolidation of the Tasman Light Lens litharge (the putty used to hold the lens prisms in place) in September. Lead testing of the litharge, done during the yearly maintenance clean, returned a positive result. The project aimed to negate the lead risk through the full consolidation of the hazardous material. With the 2021 COVID-19 closure of the Museum, it was an optimum time to undertake such large-scale work. Using a solution of Aquazol 500 in ethanol, the work took five days, with plans to monitor the material closely in the future.
Amy Walsh and Emma Hayles extended their conservation skills under the guidance of Jeff Fox by undertaking the humidification and flattening of a piece of parchment. Using a Gore-Tex and blotter sandwich, the piece was gently humidified over two hours and reached 90% relative humidity. It was then removed and stretched out using bulldog clips with mount-board spacers attached to pins in a corkboard via elastic bands. Whilst the large tear in the upper right corner wasn't brought back together, the parchment is now flat and easier to read, and can be housed more safely. The final step was to produce a UVA-induced visible fluorescence photograph of the document, with the help of Nick Flood, so that the signatures, largely illegible, could be documented and better read.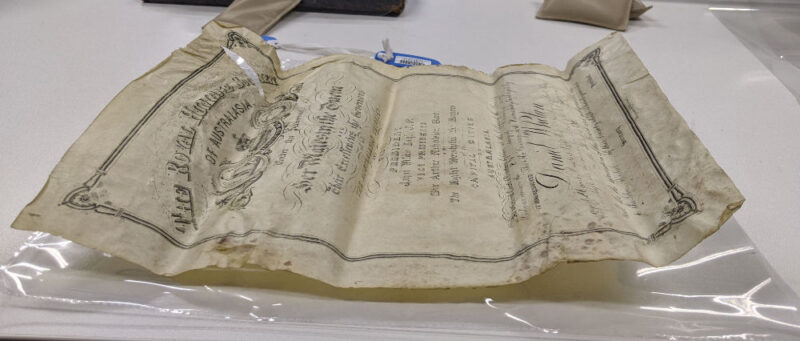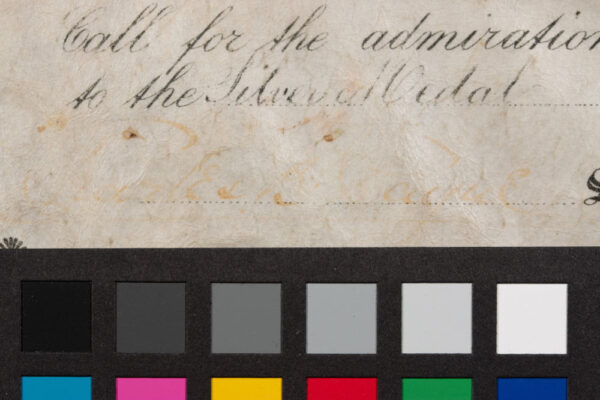 After years on permanent display, 11 silver coins from the Batavia shipwreck were treated by Emma Hayles, Amy Walsh and Nick Flood. To help improve their tarnished appearance, the coins were treated in a bath of 5% w/v sodium carbonate solution that was slowly heated to 30°C in glassware lined with aluminium foil. This approach results in an electro-chemical reaction that causes the tarnished (oxidised) silver to undergo reduction back to its silver form. The treatment is safe, easily controlled and avoids the material loss associated with mechanical cleaning and polishing.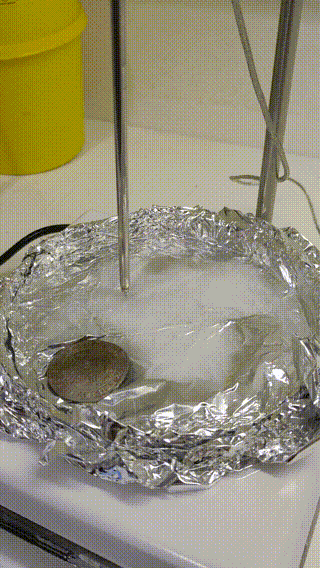 Tu Do, our 1975 Vietnamese refugee vessel mentioned in the last newsletter, has been taken out of the water and was at Sydney City Marine before coming to the Museum on 3 December. Many thanks to Agata Rostek-Robak, Manager Conservation, for organising and managing the very complex and difficult process of lifting and transporting such a vessel, the logistics of the project having been one of the biggest hurdles to overcome. The conservation process started over at Sydney City Marine where Tu Do was undergoing a washing schedule, overseen by Nick Flood and Jeff Fox, to remove carbonates and chlorides, and minor consolidation of the paint layers using a solution of Lascaux 498 in ethanol to reduce paint-loss along the waterline. Since being at the Museum, ANMM shipwrights have started structural repairs for WHS reasons, and the plastic 'skirt' has been set up for the slow drying process.
Amy Walsh and Emma Hayles have started a collection survey of the Museum's paper collections. This process will help us identify our next big projects and where the conservators need to focus their attention. With current travel restrictions, the survey has been both wonderful and depressing as large portions of the content revolve around P&O cruises and travel destinations! Thankfully it is giving Amy and Emma great ideas for future holiday destinations.
Exhibitions
The Museum decided to hold off opening until 1 December to allow more time for changeovers and installation of exhibitions. Exhibitions conservator Alayne Avis 'woke-up' the museum, removing exhibition case covers, opening books and ensuring changeovers were in place, while special project conservator Nick Flood checked the Cape Bowling Green Lighthouse and outdoor sculptures surrounding the Museum in preparation for opening.
Two new exhibitions were completed during the closure. One Ocean, Our Future and Sanyo Maru were installed and are now open to the public. While most of the items in Sanyo Maru are on loan from the Northern Territory Government, Alayne had to document and clean several of the Museum's pearl shells for display.
With these new exhibitions out of the way, Alayne has started preparation of Shaped by the Sea, our next exhibition. The large scale of some of the objects means that Alayne and Managing Registrar Cameron Mclean had to 'tape-out' the desired showcase shapes to make sure everything would fit!
Conferences
ANMM conservators 'attended' the NZCCM Annual Conference online again this year. After three days of stimulating conference papers and truly excellent workshops, we'd like to congratulate the NZCCM for running an outstanding event. It's shown us promising signs of what's to come next year, when the NZCCM hosts the IIC Congress in Wellington.
Amy Walsh and Emma Hayles attended Icon's Ceramic and Glass conference 'Fragmented Stories: Case Studies in Ceramics, Glass and Stained Glass Conservation'.
Most of the ANMM conservators have been taking advantage of lectures run by IAP and Mathew Cushman. As the conservators are hoping to use gels and emulsions for the removal of varnish layers on SS Orontes – a extra-large ship model – these talks have been very insightful.
International Conservation Services
Paper
The Paper team is pleased to welcome our new Conservation Framer, Elric Ringstad. Katie Wood has been busy preparing an oversized four-panel series for display for the White Rabbit Gallery. Work continues on the National Trust's Rescue Revive Reveal Program. Caroline Whitley and Suati Rojas undertook stain reduction and retouching of some beautiful silk wallpaper. Caroline has also recently worked on some stain reduction on two Hokusai prints, with Elric creating the float mount. Following the recent rainfall and raised humidity in Sydney, the Paper team has received a number of calls regarding water- and mould-affected items. We expect this to continue over the following weeks as the rain goes on.
Paintings 
The Paintings team has been closely following the incredibly interesting talks from this year's Painting Symposium Australia Made. Eden Christian presented on a current treatment in conjunction with the White Rabbit Gallery. The original treatment has thrown up some fascinating topics involving surfactant migration, ethics of conservation and whether strict industry environmental controls are changing in response to modern materials. The painting is a prime example of the adverse effects the standard environmental controls may be having. It is a common occurrence, and something that we in the conservation industry know little about.
Adam Godijn and Claire Heasman took part in Ask a Conservator Day at Mosman Art Gallery, where members of the gallery were invited to watch a live conservation treatment involving a complex tear repair. Our team also hosted the National Trust on Ask a Conservator Day, as they took a tour around the lab.
Matteo Volonté has been working on Midwinter Spring – James' Garden by Colin Lanceley for the National Trust. The artwork is considered by some as a Modern Australian masterpiece and was commissioned by James Fairfax for his estate at Retford Park. Some of the painted wooden elements were either broken off or sections of the paint layer were unstable. An unusual haze was also found to be present on some of the painted geometric shapes, which, after sample testing and analysis, was found to be mould. The elements and paint layer were stabilised and the entire artwork was cleaned to reduce the chance of mould returning. Discussion has taken place in conjunction with the National Trust team to determine which losses of media should be restored.
The Paintings team has also been working on the murals at the historic Bondi Pavilion theatre. The theatre was refurbished as part of the large renovation of the iconic pavilion undertaken by Waverly Council. The murals are believed to have been painted by the artist David Henry Souter before his death in 1935, as part of the Palm Court Ballroom space. People danced in this space, which would have beautifully complemented the experience of bathing in the old Turkish Baths on the ground floor. The murals were subsequently covered with layers of paint, which were partially uncovered in the 1970s. The ICS Paintings team has been working to reveal the hidden murals and preserve them, ready for the great opening.
Textiles
Despite lockdown, Yolanda El Khouri has been busy preparing six textiles for display at the Sydney Museum, where different mounting solutions were sought. Yolanda also stabilised several large leather tears in a beautiful old armchair. She worked on gently applying heat to the replacement seat to make its appearance match the aged patina of the rest of the chair.
Alis and Grace condition checked and packed four Akira Isogawa outfits for an outgoing loan. Fiona Tennant completed an assessment of Sydney Living Museums' costumes, which were in need of conservation and mounting in preparation for digitisation.
Christina Ritschel completed a light assessment of Hear the Plant Song, a tapestry by Janet Laurence, and commenced stabilisation with net overlay of two delicate and fragile silk maps with colourful embroidery.
The Textiles team was sad to say farewell to Yolanda this month but has welcomed Bella Taylor to the team as Conservation Assistant.
ICS Melbourne
During Melbourne's sixth lockdown, the team used its time to work on professional development. Kristine Allinson completed her project management training, which will assist her in her new role. She also completed a Hazards in Collections course and took classes in photogrammetry.
Bruno Bell has continued his studies in horology and is now very close to graduating from a one-year distance-learning course with the British Horological Institute. Bruno says, 'In order to offer clock conservation, one first has to understand how the clocks are made and learn the traditional methods of restoring them'. He has now restored a number of clocks including this American Ansonia. The Ansonia has undergone complete dismantling, cleaning, rebushing of several worn pivot holes, burnishing of pivots, reshaping of a wheel's tooth, fabrication of the adjusting nut, oiling, reassembling, and adjusting of its time keeping.
 Katie Smith has undertaken several condition surveys on a range of heritage assets, from furniture to stone monuments and wall paintings. Katie and Bruno also undertook some urgent works at the Fairies Tree in Fitzroy Gardens.
Objects and Outdoor Heritage (OOH)
Post COVID-19 lockdown, OOH is busier than ever! Multiple large projects are currently underway with Christmas deadlines looming. The most intriguing of the bunch is the Hornsby Water Clock Fountain. The team has been on site for a few weeks now, managing various components of the project and treating the bronze, glass, and Perspex elements. The clock, Man, Time and the Environment by artist Victor Cusack, has been a focus of public discourse since its installation in 1993. This will be the clock's first full-scale refurbishment, so our team certainly has its hands full.
Wendy Reade and Alis Jitarescu have been preparing a historically significant rope ladder with wooden rungs for storage and potential display. Found in the Hawkesbury River during the new Windsor Bridge project, the rope ladder was brought to us in a container of mucky river water. Wendy and Alis undertook treatment by removing the clay and river sediment and stabilising in a PEG 400 bath. The ladder was then realigned along a secondary support.
Claire Rowson managed conservation works on the stainless-steel shields at Wireless House, alongside the artist Nigel Helyer, who was delighted with the outcome.
The artwork consists of eight stainless-steel panels attached to the exterior of the old radio building in Dr RJ Foley Park, Glebe. Alongside the external panels, Nigel installed a sound component where sensors detect the approach of visitors and randomly select and broadcast audio sequences from local oral history archives. The building now also emits Wi-Fi to the park, reconnecting the site to its past purpose.
Claire has also been busy managing large-scale bronze conservation projects. The team has undertaken works on a selection of big bronze sculptures in the Sydney CBD. Most recently, OOH closed down lanes on the Cahill Expressway sliproad to work on the massive Edward VII sculpture. Claire and Keir donned fall-arrest harnesses and drove two boom lifts in to clean Edward's upper limits. Wendy and Alis have also done a wonderful job undertaking works to the Shakespeare Memorial, located outside the NSW State Library.
Grace Bushrod oversaw the cleaning and repointing works to the Paddington War Memorial. Alongside the installation of new chairs and paving, the memorial is now an inviting place to take a break from walking up Oxford Street.
Alis and Keir have been undertaking the cleaning and surface conservation of a series of plaques from Taronga Zoo. They all commemorate Sir Edward Hallstrom, past president and benefactor of the Taronga Zoological Park Trust. The bas relief of Hallstrom was designed and made by his daughter. Removal of the thick and failing paint layer revealed it to be made of cast aluminium electroplated in copper. It has been a pleasure to collaborate with the zoo's Heritage Specialist.
In addition, the OOH team can very luckily say it has welcomed Kristina Taylor, who has taken on the role of Graduate Conservator and Technician. Kristina brings experience from both Europe and Australia in conservation, prop making and workshop coordination. She has already proven herself to be indispensable with her help prepping and undertaking these large projects.
ICS on SBS TV
Finally, we were very pleased to see our CEO, Julian Bickersteth, in the SBS documentary Inside Central Station. Julian appeared on Episode 10, W3 Restoration and St James Tunnels, which showed him consulting on the conservation of Sydney's historic St James tunnels. Built in the 1920s, these hidden tunnels were part of Australia's first underground railway network. They were later transformed into air-raid shelters during WWII and are a remarkable standing relic of Sydney's WWII defences. Julian assessed the condition of the historic air-raid warning posters, painted inscriptions, and graffiti.
Julian, in his role as President of IIC, initiated a joint commitment between IIC, ICOM-CC and ICCROM for conservators worldwide to take action on climate change in the lead up to COP26 in Glasgow. He also provided the voice over for a video prepared for COP26 on the work that conservators are already undertaking in combatting the impact of climate change on cultural heritage. Both can be viewed here
Museum of Applied Arts and Sciences
 As we approach this Christmas season, Conservation staff at MAAS continue to work as hard as ever. We are looking forward to having time to stop and reflect on the year that was 2021.
Kate Chidlow and Teresa Werstak have guided our Exhibition teams, successfully installing another two exhibitions in recent months, bringing the total number of new exhibitions to seven for this year.
Suzanne Chee's term as Lead Conservator with the Collection Relocation and Digitisation (CRD) Project is coming to a close and we will be welcoming her back to our Strategic Collection team. Suzanne has quietly managed a vast team of conservators and assistant conservators through numerous stages of the digitisation project and we are so grateful.
Brooke Randall continues to lead the Hazards and Preventive team for both the CRD Project and our usual business of collections management, exhibitions and storage. Conservation is building strong relationships with the assessment and digitisation teams to safely handle a range of hazardous materials and has developed a range of procedures and protocols to support this work.
Staff changes  
Amy Heffernan has been appointed Conservation Laboratory Technical Officer. Amy will assist with the day-to-day management of the conservation laboratory, including chemical management, and will also assist the Hazards team with work on the CRD Project.
Megan Hall has taken up the position of Collections Manager at the Golden Dragon Museum in Bendigo, Victoria. Megan has worked at MAAS for five and a half years in a variety of conservation roles. It was very sad to say goodbye to Megan, but we fully expect to continue contact with her both professionally and personally. Congratulations Megan on this exciting new role and we wish you all the best.
We also farewelled Wajeeda (Jee) Tabassum, who accepted a conservator position at the State Archives NSW. Jee contributed to the CRD Project and to our exhibition program and we miss her quiet, efficient manner in our workplace.
The CRD Special Collections team farewelled Amy Heffernan (see above), Emilia Zambri who has been appointed to work on the Packing phase of the CRD Project, and Freya Gabbutt who is currently on maternity leave and has welcomed a baby girl. The team congratulates Caitlin Knight, who was appointed to backfill Freya's position as Deputy Team Leader, Conservation.
Events
Brooke Randall presented at the IIC Safety and Cultural Heritage Summit: 'Preserving Our Heritage and Protecting Our Health' held by the Washington Guild of Conservators and the Smithsonian Institute. The presentation will be available through the Smithsonian National Collection Program (NCP).
Dave Rockell and Tim Morris lowered Dick Smith's solo-around-the-world helicopter VH-DIK to ground level in the main entrance of the Powerhouse for the launch of Dick Smith's book My Adventurous Life. After the successful book launch, visitors were delighted to have front row seats to watch the helicopter being re-suspended in its usual position.
CRD Project and treatment update 
The CRD Project continues with a focus on preparation and digitisation of Special Collections. CRD paper conservators Karina Lavings and Beate Yule have so far treated over 1500 paper-based objects and are beginning to look at the conservation requirements of the collection archives. Karina and Beate recently attended an online seminar on nanocellulose papers and are experimenting with their use in the treatment of tracing paper plans.
In collaboration with the Digitisation and Packing phases, the Hazards team has begun the process of transporting hazardous collection items to the Museum Discovery Centre in Castle Hill. To date, the Hazards team has assessed over 12,000 items as part of the CRD Project, with a further 4,000 scheduled for assessment by mid-2021. This includes using XRF and FTIR to identify 5,178 items containing heavy metals or malignant plastics.
Tim Morris and the team have taken advantage of the COVID-19 lockdown to start some much-needed maintenance on the two domes that house the telescopes in the heritage-listed Sydney Observatory Building. MAAS contracted a specialist engineering company to work on these historic structures. The work entails lifting the domes from the large bearing assembly on which they rotate and then cleaning and repairing the bearings and drive chains.
The last major overhaul of the domes was completed in 1970. The south dome has now been repaired, the 24 four-inch ball bearings have been replaced, and the perimeter drive shaft has been cleaned, lubricated and adjusted. The north dome is next on the list and when the work is complete both domes will be ready for another 50 years of service.
Conservation research
The Conservation Department recently acquired a Bruker BRAVO handheld Raman Spectrometer. The device will initially be used to analyse the Museum's extensive collection of industrial chemical and pharmaceutical samples.
Kristyn Bullen from MAAS assisted Kerry Etherington, visiting from the Grimwade Centre for Cultural Materials Conservation, to undertake FTIR analysis as part of the ARC-funded PolyMuse Project. Development of the Museum's plastics collection began in the 1930s with the acquisition of specimens of plastic raw materials and finished products. This collection was driven largely by Arthur de Ramon Penfold (1890–1980), a former industrial chemist who worked as curator and later director of the Museum from 1927 until 1955.
Brooke Randall and Meredith Freeman, in collaboration with MAAS Research Manager, submitted an application to the Australian Nuclear Science and Technology Organisation (ANSTO) to analyse items from the Museum's extensive wool collection using IR  microspectroscopy and XRF microscopy. The wool collection held by MAAS contains over 7,000 samples collected between 1804 and 2003. In 2007, the Museum undertook optical fibre diameter analysis to assess the quality of 1,210 wool samples. IR microspectroscopy and XRF microscopy will be used to ascertain the role of individual breeding programs and climate on the quality of wool and conversely to deduce environmental conditions from wool composition.
Awareness and understanding of environmental monitoring and IPM continue to strengthen across the whole organisation. Jessie Gray, Preventive Conservator, and Brooke are sharing their knowledge of preventive conservation and hazards management through presentations and talks to internal and external stakeholders at conferences and webinars.
Exhibitions
Exhibition conservators worked through the Sydney lockdown to deliver five  exhibitions, which opened in October 2021. The exhibitions cover a wide range of interests from: Clay Dynasty, capturing 50 years of studio ceramics in Australia; Eucalyptusdom, celebrating our relationship with the gum tree; Robert Rosen: Glitterati, one of Australia's foremost social photographers; Electric Keys, covering the history or electric keyboards; Graphic Identities, documenting nine Australian graphic designers; and the adorable Microcars, a collection of the tiniest cars ever made. Rebecca Ellis, Vanessa Pitt, Tim Morris, Dave Rockell, Kate Chidlow and Teresa Werstak all did fantastic jobs of installing these exhibitions.
The Invisible Revealed connects objects from our collection with science to explore, explain and reveal the invisible. MAAS partnered with  ANSTO to scientifically investigate selected objects where analysis will contribute to an understanding of their manufacture, purpose or provenance. Using ANSTO's state-of-the-art neutron beam and synchrotron X-ray facilities combined with digital visualisation techniques, this exhibition features digital 3D models of the objects and a digital reconstruction of the missing portions of a fragmentary carpet undertaken with Artificial Intelligence. Conservators Brooke Randall, Megan Hall and Vanessa Pitt facilitated and interpreted the science of this collaboration to ensure the discoveries made were translated into information our visitors can understand. Some of those discoveries include how to identify different makers of our samurai swords and how a 200-year-old pocket watch can play a waltz.
Five Hundred Arhats of Changnyeongsa Temple has been a collaboration with the Chuncheon National Museum of Korea and is a beautiful exhibition that draws on Buddhist teachings. The exhibition features one Buddha and 50 arhat statues, each with its own lifelike expressions, from joy and serenity to anger and sorrow, representing the gamut of human emotions. In Buddhism, an arhat, or nahan in Korean, is one who has attained enlightenment. 'Five Hundred Arhats' refers to the 500 disciples of the Buddha who gathered together to compile his teachings into the Buddhist sutras.
Rebecca Ellis and Skye Mitchell established a video conference set up in our conservation laboratory and worked via video link with conservators in Korea, our MAAS curator and an interpreter to condition check and agree upon display mounts for each of the arhats.
Refurbishment of the Boiler Hall is now complete. The previous permanent Transport exhibition was deinstalled and showcases dismantled, the carpet removed and the concrete floor resurfaced to create a more contemporary space suited to the industrial interior of our amazing Ultimo building.
Dave Rockell and Tim Morris organised a high-level clean of all the suspended aircraft in the Boiler Hall, which entailed multiple knuckle booms and scissor lifts manoeuvring our conservators around these very large objects to clean every surface possible.
Kate Chidlow organised teams of conservators, assistant conservators and Visitor Services officers to clean the large and very large objects at ground level, reviving the Transport display and ensuring the Boiler Hall was ready to install Microcars and welcome visitors.
Ralph Boesel and our wonderful Steam Educators continue to service and operate the many and varied steam engines including the iconic Boulton & Watt steam engine. The Steam Revolution exhibition had a clean during lockdown and is looking better for it. There is an ongoing maintenance program to keep these engines working, in good order and available to the public to enjoy.
 Loans
Frances Fitzpatrick continues to manage the many and varied outgoing and incoming loans, despite frequent changes to timeframes and urgency of requests experienced during COVID-19 restrictions.
The 40th anniversary of the first official report of the immune illness later recognised as AIDS has seen a number of requests for loans of AIDS-related objects. MAAS receives many requests to borrow from our extensive collection of AIDS quilts, but it is rare for the venues to be able to accommodate the scale of these poignant works. We are currently facilitating the loan of an AIDS Memorial Quilt, which measures 3m x 3m, to Albury Library Museum. The quilts present multiple conservation issues due to the materials used in their construction by families and loved ones. The other AIDS-related loan includes several complex Mardi Gras costumes and accessories for the David Roche Foundation in Adelaide for its upcoming exhibition Silhouettes: Fashion in the Shadow of HIV/AIDS.
Frances has also been working on a request for loan of the installation piece Yilaalu Cont by Lucy Simpson for the State Library Victoria to display in its upcoming exhibition Handmade Universe.
Teresa Werstak is working on a collection of black-and-white photographs for an exhibition celebrating the life and career of Helmut Newton for loan to the Jewish Museum of Australia next year. She is also preparing a collection of paper-based objects including photographs, posters and papercuts for inclusion in the exhibition Sentient Paper, to be held at the Chau Chak Wing Museum. Sentient Paper will explore the communicative power of paper as an ancient enlightening technology and an embodiment of knowledge, as well as an artistic medium in both classical and contemporary Chinese art and culture.
The year 2022 is shaping up to be another busy one for the Powerhouse and I want to thank all the Conservation staff for their hard work and commitment to preserving, conserving and sharing our incredible collection and the buildings that house it.
(Meredith Freeman, Conservation Manager)
O'Sullivan Conservation
Professional news
With our Director, Eoin, heading to Cape Denison, Antarctica, as part of the Mawson's Huts Foundation expedition over Christmas, the last three months have been exceptionally busy.
This expedition is the first since 2015 and represents a fantastic opportunity for both Eoin and O'Sullivan Conservation. The project is not just a significant part of Australia's history and early Antarctic research, but also has significant heritage values for Australia's national Antarctic interests in the present day. We wish Eoin and the rest of the expeditioners the best of luck on their trip and look forward to seeing all the pictures (and not just of the penguins) when they return.
You can follow their progress on the Mawson's Huts Foundation Facebook page and their Instagram page.
Treatment projects
The quarter leading up to Christmas has seen a wide variety of projects undertaken at O'Sullivan Conservation. With the warmer weather in September, we were able to complete the conservation of the Cameron Park Fountain in Wellington and undertake a copper staining reduction poultice treatment of the white Carrara marble at the Governor Phillip Fountain in the Royal Botanic Garden, Sydney. The purple hue of the poultice when removed was particularly vibrant.
Back at the workshop, the team enjoyed working on a collection of Cambodian and Burmese pieces for a private client, as well as several small metal sculptures, including a Rosalie Gascoigne and an Antony Gormley.
During October the team reassembled two Victorian mahogany museum vitrines in the old courts at the Art Gallery of New South Wales, and early in November there was much excitement when we were engaged to undertake conservation repairs by a private client on a Triceratops skull.
State Library of New South Wales
Staff changes
Sonia Lee has joined us in a fixed-term Assistant Conservator role in the Preservation team. Sonia previously worked at the Museum of Applied Arts and Sciences and International Conservation Services, and interned at the National Museum of the Philippines.
Phoebe Clarke recently joined the Collection Care Storage team in a fixed-term Assistant Conservator role. Phoebe worked as a rare book preservation technician at the State Library of Victoria in 2012 and subsequently as a professional fine art handler, working with a variety of institutions and collections here and in the UK.
Professional news 
Digitisation
The CC-DEP team has been returning on-site steadily as restrictions ease in Sydney and returned to projects set aside during lockdown. These include the Edmund Blacket architectural plans, County plans and Town plans. The team continues to treat, pack, and receive maps and plans returning from off-site digitisation.
Keyeele (Kiki) Lawler-Dormer and the team have been tweaking a technique to release tissue-thin letterpress correspondence in the George King papers. The leaves have laced iron gall ink and are adhered in stacks with animal glue and gum arabic into volumes. Using medipacks and hot water, Kiki is adapting a classic Gore-Tex® sandwich to release the leaves. This passive heat approach accelerates treatment, making up for lost time during lockdown. The letterpress leaves will be repaired with re-moistenable 3% gelatine 5gsm tengucho tissue prior to in-house digitisation.
Kiki and Hoa also presented a poster and paper at the recent Icon Book and Paper Group 'ModCons 2021' conference. Their research focused on identifying colonial links in WD Campbell's Aboriginal Carvings volumes and collaborating with others to facilitate decolonisation and digitisation of these large volumes. Kiki and Hoa's presentations have been well-regarded by attendees, receiving excellent feedback from colleagues near and far.
Preservation
During the gradual transition from WFH to on-site work, the Preservation team – Nicholas Beckett, Silvana Volpato and Nicole Ellis – continues to review our procedures, updating and adding missing procedures to fill the gaps. We all enjoyed viewing the talks of the Icon Book and Paper Group 'ModCons 2021' conference. Catherine Thomson and Nicole completed standardising the reporting and alarm settings for our wireless environmental monitoring and have overseen the transfer of all 30 of our dataloggers to a new dedicated Wi-Fi network set up by the Library's IT people. At the end of October the team happily welcomed Sonia Lee, who is filling in for Aileen Dean-Raschilla who has temporarily joined the Storage team.
Phoebe Clarke has also joined Aileen and Collection Storage Project Officer John Kyriazis in the Collection Care Storage team. Led by Collection Storage Project Manager Mark Stevenson, the team is undertaking the massive task of relocating two floors of collections ahead of the auditorium construction beneath the Library's Mitchell Library reading room. Catherine, Nicole, Sonia and many others from within the branch and across the Library are also contributing to this impressive project. So far, the Library's complete collection of glass plate negatives, miniatures, unprocessed manuscripts, and about half of the pictorial works on paper collection have been safely relocated to our Macquarie Street wing.
In addition to these moves, the Library's Collectors' Gallery display of over 1,000 objects is to be emptied temporarily, due to its proximity to upcoming demolition and construction work. Felicity Corkill and Catherine are leading the project, with welcome assistance of registrars Caroline Lorentz and Lauren Dalla, and others within the branch. All these collection moves should be completed by 17 December.
South Australia
Artlab Australia
Objects
In the Objects lab, Kenny Monger and Filipa Quintela prepared a loan of 14 Wanupini Larrakitj from the Art Gallery of South Australia to the Queensland Art Gallery and Gallery of Modern Art, with help from Jo Dawe and Sophie Parker. This was a complex project because of the size of the artworks and the team having to come up with a solution that combined the packing into the travel crates to be used for storage afterwards.
The projects and objects collaborations continue as we undertake several projects for the City of Adelaide Council in and around the Parklands. Most recently, Justin Gare and Abby Maxwell-Bowen completed treatment on the sculpture End Divided Paths by Linda Patterson. Previous research for an adjacent artwork, also part of the same River Torrens Sculpture Park, enabled us to identify the best way to part-dismantle the structure in order to repair it, as we uncovered film footage of several of the pieces being originally installed in 1994. The film was provided by the artist, John Wood, whom we interviewed regarding both the River Markers sculpture and his fountain at the Art Gallery of South Australia, in 2020.
Composed of slate, steel and ceramic, the sculpture's treatment included cleaning, removing and resetting several large sections of slate that had dropped out of position and were now partly loose, as well as raking out and resealing joints, reinstating lost corners and re-attaching the metal 'cap'.
Textiles
In October, Mary-Anne Gooden and Victoria Thomas hosted members of the Australian Museums and Galleries Association (SA division) for a costume-mounting workshop. The half-day session focused on mounting costume for display, providing an overview of assessing historic costume for display, selecting the most appropriate mounting approach, and methods for modifying standard mannequins and dress forms to display costume in a way that is best for the objects and highlights what is most significant about them in social, historic and artistic contexts.
Attendees included staff and volunteers from local council collections and small museums and galleries from around the state. The emphasis was on accessibility for smaller collections, and all methods demonstrated were relatively low-cost, using commercially and widely available materials, as well as some second-hand mannequin finds.
The Textiles team has also been carrying out a number of in-house mounting projects. Of particular interest was a modification of the typical hanging dowel system used for robes and other wall-mounted, hanging textiles. The curved shoulders of a jacket woven by Pru LaMotte being prepared for vertical display at the Art Gallery of South Australia required the standard straight dowel to become a curved one in order to adequately support this textile. To achieve this, we used a piece of U-PVC pipe (as opposed to wooden or aluminium dowel) heated to soften the thermoplastic to a malleable state and then bent to fit the curve along the arms of the jacket. The pipe was then covered in fabric for mounting. To prevent it rotating, it was mounted directly to the wall with spacers, and fabric-covered buttons were inserted as end caps to give the bar a clean finish.
Paintings
Paintings from Balgo, one of the most famous desert art schools in the Kimberley, Western Australia, were prepared at Artlab for the exhibition Balgo Beginnings, held at the South Australian Museum. The team prepared more than 20 works by Kukatja and Warlpiri men at Balgo in the 1980s. The exhibition represents two years of Artlab's work at the tail end of nearly 40 years of history: the Balgo Art Movement began in 1981. Paintings created in workshops held in the eighties unfortunately disappeared (probably from 1986 when they were last seen) until they were rediscovered, damaged from flooding and poor environmental conditions, in a shipping container in 2019. The container had been located outdoors and subjected to occasional flooding, which, combined with heat and humidity, created an environment where mould developed so most of the paintings had varying degrees of active mould damage and staining, with sections of canvas lifting from their backing board supports.
The treatment commenced with preliminary cleaning to remove the mould. In the process, it became apparent that mould had penetrated between the canvases and the backing supports. This meant the canvases had to be separated from the cardboards to ensure that the active spores were entirely removed from their backs. The damaged card supports were discarded and replaced with Di-bond panels cut to size to fit the individual artworks.
The removed cardboards had paper backings with handwritten notes by the artists and the printed trademarks of the canvas-board manufacturer. The decision was made to treat these backing papers as an integral part of each painting, and hence they were stabilised and repositioned with their respective canvases.
The method for displaying the artworks was devised in a discussion between the Paintings team and Professor John Carty, Head of Humanities at the South Australian Museum. Prof. Carty had searched for the missing Balgo works for 20 years, and his vision for the exhibition was not to frame the paintings but to see them 'float off the wall'. The team discussed various display systems and arrived at the use of rare earth magnets with custom-designed metal brackets that were attached to the wall for display. Prototypes were made and tested to determine fixings and stress loads.
https://www.youtube.com/user/artlabaustralia
Paper
As conservators, we preserve all types of historical objects that are part of national collections and sometimes those objects have an uncomfortable and dark history. Laura and Anna have recently completed a complex treatment on a Nazi propaganda magazine, which was donated to the Migration Museum (History Trust of South Australia). The donor's grandparents and great aunt left Germany after WWI  and moved to New York State in the USA. The grandmother was one of seven sisters, five of whom stayed in Germany while two left for the USA. This magazine was sent to them in 1938 by their sister in Germany to convince them how wonderful the new Germany was under the Third Reich, to persuade them to return home, and to remind them that they were German.
The magazine is significant as an illustration of the Nazi propaganda machine and the very modern way Hitler crafted his public persona using photography and print media. The magazine presents a significant and challenging insight into Germany immediately before WWII, the conditions under and reception of National Socialism and the manufacture of Hitler's public persona. This specific copy is also interesting in that it was used to entice emigrants to return to their homeland.
The conservation of the German magazine was complex due to its fragile and damaged condition. The pages were acidic, discoloured, extremely brittle and displayed numerous significant tears and losses. Various types of pressure-sensitive tape were used in a past attempt to stabilise the cover and some of the first pages. As a result, there was adhesive residue and staining throughout the first section of the magazine. The focus of the treatment was to stabilise the magazine chemically and physically so that the information could be accessed, minimise the risk of further losses and reduce the degradation process of the paper substrate.
The first stages of the treatment were documentation, solubility testing and the removal of staples, tape and adhesive residues. The pages were then washed and deacidified in batches of ten bifolios. A half-saturated solution of calcium hydroxide was used in the deacidification process. The sections were left to air dry and then sized with a solution of 2% w/v Tylose MH300P in water. The torn page edges were stabilised with strips of tengujo tissue and large losses were infilled with Japanese tissue paper toned with acrylics. The cover and first page were lined with Japanese tissue for support. The pages were then humidified with a slight misting using a Dahlia sprayer and pressed between Bondina and 4-ply boards. Once the pages and cover had been completed, the magazine was re-compiled and a custom 4-flap folder was made. The pages were not rebound together due to the risk of damage in the folded areas. After conservation treatment, the once very fragile magazine can now be handled without risk of mechanical damage and the information can be accessed.
Tasmania
Applied Conservation Science Pty Ltd
David Thurrowgood
Recent months have been filled with extensive catch-up on projects delayed by border closure.
Project highlights have been the preparation of a Frederick McCubbin work for travel to an exhibition, treatment and reframing of an important first print of a well-known work by Tracey Moffatt, and the conservation and rehousing of a thylacine skin, which required significant reshaping due to previous mounting techniques and construction of a display–storage microenvironment.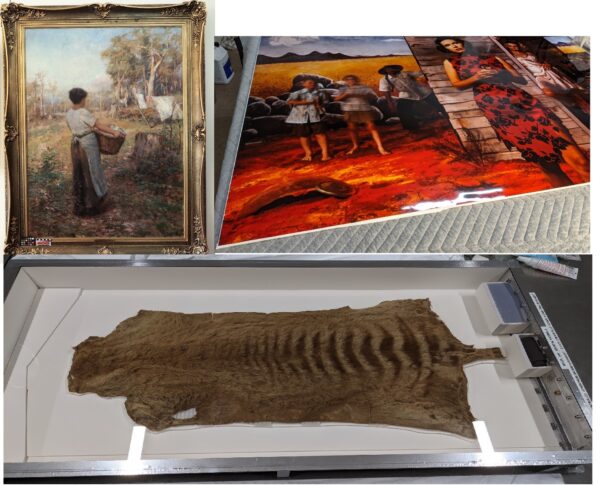 International research has resumed as COVID-19 restrictions have begun easing, and an interesting fee-for-service synchrotron X-ray fluorescence imaging outcome was achieved from an American owner's version of a work by Pieter Bruegel, delivering visually impressive results that will warrant a paper.
Academically I have been focused on my duties of acting on the ICOM-CC Metal 2022 review committee and working on drafting papers on synchrotron NIR-spectroscopy for late 19th-century Windsor & Newton paints and on the use of synchrotron X-ray tomography for imaging bronze sculpture. I have also been working with the application of nuclear decay of lead isotopes, measured at the ANSTO nuclear reactor, as a methodology for dating bronze castings from the 19th century. As usual, I'm well behind on the papers that need completing!
This December I am hoping to complete the installation of two large-format oxygen-free display cases. Based on Getty science, these cases have the impact of greatly reducing fading and of stabilising environmental conditions without the use of air-conditioning systems because of their thermal mass. More information will follow on this project; however, it has also included manufacturing custom (conservator-controlled) LED lighting and electronic control systems from scratch to meet the needs of the display case. By using the newly developed technology of spectroscopic oxygen level measurement it has become practical to continuously measure oxygen content without using the typical troublesome oxygen sensors with limited reliability and stability used by conservators. (These sensors literally change reading on the bench in real time if you breathe on them and might also be good for the debate of overcrowded offices in conservation departments with no windows.)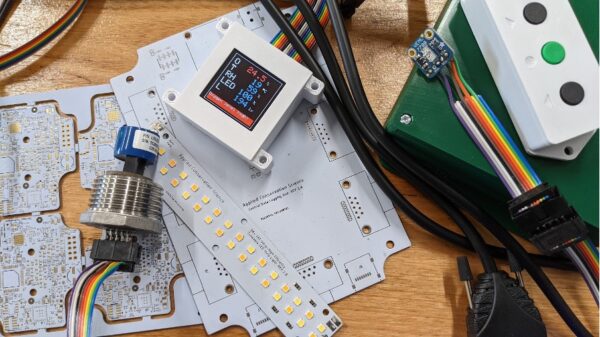 This project has resulted in the creation of an integrated system for spectrally controlled LED lighting suitable for use inside cases, in which continuous light level monitoring, continuous pressure, RH, temperature, shock and vibration monitoring have also created a form of 'datalogger on steroids' that may be further developed as a new tool available to conservators—even if it drives them crazy receiving electronic alerts every time someone turns the lights up, or the case gets bumped! It has been an interesting process to finally have a logging capacity to meet the needs of conservation, rather than attempting to adapt technology from other industry.
Tasmanian Museum and Art Gallery
The Registration and Conservation team has installed three exhibitions for the summer period, including the NGA travelling exhibition Sidney Nolan's Ned Kelly Series. Due to lockdowns, the team experienced its first foray into installing an entire exhibition with virtual condition reporting and installation. Other virtual experiences continue, with Jenny O'Connell, Senior Painting Conservator, attending the AICCM Painting SIG Symposium online and presenting on a condition survey of the TMAG painting collection. The TMAG is planning a major digitisation project of art on paper, and a few staff paid a visit to the Reprographics lab at Libraries Tasmania. The workflow and facilities were impressive and have given the project team some great information and ideas, with the conservation component being led by Cobus van Breda, Senior Paper Conservator. Behind the scenes tours continued, with Jenny and Lisa Charleston, Conservation Technician, conducting a series of three lab tours for the Friends of TMAG to show paintings and frames currently undergoing treatment.
Nikki King-Smith, Senior Objects Conservator, is working with David Thurrowgood on the installation of anoxic showcases for TMAG's collection of thylacines, which will go on exhibition in the new year. Nikki is also working on the Zygomaturus skeleton held by TMAG, which is suffering from pyrite disease. Michelle Berry, Senior Objects Conservator, has been preparing collections of archaeological material for loan to the new Parliament Square development in Hobart where they will be used to reveal the rich history of the area.
Victoria
Grimwade Centre for Cultural Materials Conservation
After another challenging semester impacted by lockdown, the Grimwade Centre's teaching staff were very glad to welcome our first- and second-year master's students back to campus and to the labs for the teaching of hands-on learning catch-up boot camps in October and for 'Conservation Assessment and Treatment 1' in November. Our students have continued to impress with their hard work, dedication, innovation and adaptability throughout the challenge of online and hybrid in-person/online studies. In this difficult environment, despite many uncertainties, several completing students have finished internship placements this semester and we are very grateful to our colleagues Danielle Smelter, Music Archive of Monash University, the Art Gallery of Ballarat, Grimwade Conservation Services and the Conservation Center at Cheng Shiu University, Taiwan. Last month Dr Nicole Tse and several master's and PhD student volunteers came together for the IIC COP26 edit-a-thon and contributed content to the AICCM WIKI (see the article in this issue).
Graduations
Several of our master's students have completed their studies this year and will have their degrees conferred next week (8 December) with in-person graduation ceremonies set to resume in March 2022. Congratulations to all of you from the Grimwade Centre team; you have demonstrated exceptional dedication, resilience and flexibility over the last two years. In the next weeks we look forward to announcing the 2021 Alexander Copland Award (https://scholarships.unimelb.edu.au/awards/alexander-copland-award) winner for the highest achieving thesis and the AICCM Conservator of the Year to celebrate the scholarly and public merit of an early career emerging conservator.
Minor thesis and PhD presentations
On 25 October, master's students presented the findings of their minor thesis projects as part of the School of Historical and Philosophical Studies Work-in-Progress Day. A Congratulations to all our students, who have completed their thesis research under difficult conditions, including our international students in the Philippines, Taiwan, New Zealand and China.
Grimwade Centre PhD students also presented their research at the Work-in-Progress Day in October. Titles of the presentations by our students Heather Berry, Murphy Bouma, Seka Seneviratne, Hohi Ikeda, Nasim Koohkesh and Diana Tay are available here.
Welcoming new arrivals
We're very pleased to announce that Dr Paula Dredge will be joining the teaching team from January 2022 as a Teaching Specialist to teach in our master's program. After 30 years with the Art Gallery of New South Wales, Paula is keen to share her research skills and evidence-based practice with the academic staff and our master's students.
We also expect to announce the recipient of the inaugural Mary Lugton Postdoctoral Fellowship in conservation later this month and look forward to welcoming an early career researcher to the team.
Student Conservators @ Melbourne online events
As always, our Student Conservators at Melbourne have been busy with online and scheduled face-to-face events. Recently Sophie Lewincamp talked about her conservation project-management experience and has recently taken up a position as the Nyingarn Project Manager with the School of Languages and Linguistics at the University of Melbourne. Victoria Thomas (Artlab Australia) presented a session on textiles conservation, and a session on leather book binding with Karen Vidler was delivered. We thank the SCAM Executive Committee members Genevieve Sullivan (President), Isabel Walker (Vice President) and Daniel Bornstein (Secretary) for their work this year, building a strong community of students and representing the cohort.
Grimwade Conservation Services
Returning to the laboratory and on-site conservation, GCS has been busy working in the Medical History Museum, and the new Arts West Exhibition, to name a few of the University of Melbourne larger projects. GSC has been addressing the importance of sustainability, and performed well at the University of Melbourne Green Lab awards:
Office sustainability – Platinum award (highest level for offices)
Lab sustainability – Gold award (highest level for labs)
2021 Green Impact Ambassador Awards – Tina Kalliakmanis, Penny Tripp, Ru Foong (our intern 🙂)
2021 Student Champion – winner Ru Foong. Ru will now proceed to the Asia Pacific awards as the UoM finalist.
2021 Team Awards (for most sustainable actions in 2021) – 2nd: GCS (Green Conservation), 1st: MSPACE.
2021 Green Impact Australasia Cup (for most sustainable actions in the month of July 2021, as previously announced) – 1st: GCS, 2nd: Monash Uni.
We continue to improve our workplace to ensure we reduce our environmental impact.
National Gallery of Victoria
Prior to being back on-site, the NGV Conservation team loaded more articles and information on projects to our microsite. Once in the studios we were off at the gate to prepare works for the Queer exhibition opening in March next year, among significant permanent collection changes in the decorative art/design galleries.
Paper & Photographic Conservation
The Paper and Photographic Conservation studio undertook over 40 treatments to prepare works for the Queer exhibition, including infilling losses. A cross-specialisation project to rehouse Andy Warhol's screenprint The star included frame maker Jason King making a new frame and Kate Douglas in Fashion & Textiles Conservation advising on the best method for securing the original fabric backing to a new archival board once the original Masonite was removed. After much hand sewing, Louise Wilson and Ruth Shervington hinged the work to mountboard using Japanese tissue and Lascaux adhesive. Finally, the mount was attached to the fabric-covered board with Velcro in readiness for framing.
A capillary wash treatment was undertaken by Ruth on a Carlo Dolci (after) etching of Sappho to Phoebus consecrates her lyre, 1787. The print required treatment to reduce the coloured acidic degradation products, and the use of both gravity and capillary action produced a highly successful result. The capillary wash process uses a slant wash table with a reservoir at the top that holds the wash solution. The print was placed on the slant table with capillary matting behind (normally used in greenhouses) and, over several hours, the wash solution was gently drawn from the reservoir down the capillary tubes behind the print. The wash solution was collected in beakers to observe the significant amount of discolouration being removed. After treatment the paper support is significantly brighter making it easier to view the image.
Photographic Conservator Pip Morrison's workload has mainly comprised assessing and submitting information on new acquisitions, including a 48-panel Gilbert & George photographic work. After 16 years working at the NGV, Pip has decided to start her own business, undertaking work for private collections and institutions. We wish her well but will miss her expertise in photographic conservation and her wonderfully dry sense of humour.
Fashion & Textiles Conservation
A small army has been involved in condition reporting and dressing mannequins for the Gabrielle Chanel. Fashion Manifesto exhibition. Since returning on-site, it was a full-on three-week installation for the Textiles team of Skye Firth, Ellen Doyle, and Kate Douglas, assisted by couriers from Palais Galliera and Patrimoine de Chanel, and American private collections, Janelle Borig and Catherine Earley from our Exhibitions Conservation team, and a wonderful team of local textile conservators and textile dressers/technicians including Kate McLaren, Laure Weir, Marion Parker, Vicki Carr and Tess Scott. It was a great opportunity to see and compare other methods for padding and fitting mannequins by the couriers, but also a joy to work with such wonderful people.
Exhibitions Conservation
Both Catherine and Janelle assisted Skye's team in the installation of the Chanel exhibition, alongside the  French and American couriers, making a welcome return and change from working remotely. Janelle worked on the Rosalie Gascoigne / Lorraine Connelly Northey exhibition, dealing with the challenges of COVID times, including bringing in interstate loans, and getting the art across borders using interstate contractors and freight logistics. Catherine Earley was all-consumed by the thousands of tiny parts that made up objects in the Golden Shells exhibition of the Pauline Gandel collection of Japanese lacquer, now open to the public.
Frames & Furniture Conservation
We welcome Bella Lipson-Smith back to work alongside Holly McGowan-Jackson on the major frame restoration treatment for Charles West Cope's The Pilgrim Fathers: Departure of a Puritan Family for New England, which includes repairs to damaged surfaces and developing cleaning options for the discoloured original glue coating. The frame has been separated from the artwork for decades, possibly undertaken as part of the safe keeping of the collection during WWII. This project will enable the painting to be displayed once again in the ornate gilded frame made in 1871 by Melbourne frame-making firm WR Stevens & Co. The classical revival-style frame is decorated with composition ornament and gilded with gold leaf. The deep cove is decorated with a fluted design embellished with domed circles and bell flowers, and the top edge features laurel leaves and berries. There were originally large acanthus leaves at the corners of the frame.
Frame maker Jason King is making a reproduction frame for Andy Warhol's The star (see Paper & Photography section above) and continues to make good progress with the production of the large frame for Annie L Swynnerton's The lady in white, in spite of Melbourne's lockdowns.
Suzi Shaw has been enjoying what seems like Christmas once a week with examining purchases to bolster our international mid-century furniture collection, in particular several Frank Lloyd Wright designs. Suzi took a road trip to several of his homes some years ago, so she's revelling in learning as much as she can from them. She has published her treatment on an early Australian Colonial sofa on the NGV Channel.
Objects Conservation
The objects team of Marika Strohschnieder, Trude Ellingsen and Di Whittle is currently preparing collection items for display in several upcoming exhibitions: Bark Ladies, Queer, Who Art you: Australian Portraiture and Transforming Worlds. For the past few weeks, the team has been making its way through the assessment and treatment of a number of recently acquired Indian polychrome wood sculptures and traditional Indian vernacular items. These include rare examples of early Kondapalli figures, The avatars of Vishnu. The 120-year-old paint layers are extremely challenging to clean, with the delicate matte paint being highly mobile in solvents, and peeling metal foils and old repairs a challenge to work on. The sculptures have also suffered losses, which provides the team with opportunities for reconstruction of missing parts.
In other news, Trude has noticed that when using potassium iodide when testing for volatile acids, for example in exhibition display materials, the literature has differing views of the made-up solution's shelf life, with some saying six weeks and others only two weeks. False positives can occur if the solution is older than two weeks.
Eamon O'Toole and Adam Mills continue to respond incredibly efficiently to the constant stream of requests for exhibition mounts and security fittings.
Paintings Conservation
In late October the NGV Paintings Conservation team returned to work as Lockdown 6.0 restrictions began to ease, with Carl Villis and Caitlin Breare eager to return to the unfinished business of treatments to El Greco's Portrait of a Cardinal and Marie-Victoire Lemoine's A young woman leaning on the edge of a window, respectively. Raye Collins and Raymonda Rajkowski were largely devoted to ensuring that 'Australian Made', the AICCM Paintings Special Interest Group's 2021 Virtual Forum, became an outstanding success, as many readers will already know by now. It took many hours, days and months of paid and unpaid work for the co-convenors to organise the content and master the art of staging a conference on a new digital platform with minimal technical glitches. On behalf of the paintings conservation community, we'd like to offer our sincere thanks to Raye and Raymonda for their efforts.
There were other projects that moved forward in the past few months. The collaborative study between the Getty Conservation Institute (GCI) and the NGV to use Acoustic Emissions (AE) technology to monitor a collection object during the transition to revised environmental conditions is now installed in the gallery. Caitlin and Michael Varcoe-Cocks, with assistance from MaryJo Lelyveld, installed the system on the 16th century Flemish Carved retable of the Passion of Christ with remote guidance from GCI scientists in Los Angeles. The AE monitoring will continue for over a year to capture seasonal change, and will help determine any change in object response to the new conditions, which could indicate increased damage.
Finally, between June and September this year Carl and Caitlin carried out a questionnaire survey relating to the use of X-ray machines in cultural heritage institutions around the world, enquiring about the equipment currently in use and the users' satisfaction with their systems. The survey was the first part of a research and publication project regarding the application of digital radiography for works of art. The authors hope to provide cultural heritage collections with some useful guidelines and information resources for future investment in digital radiography.
Other news
In October we said goodbye to Conservation Project Officer Jessica Lehmann after three years working with us, greatly improving our systems and processes as well as leading the charge to set up our Conservation department microsite amongst other web projects. Jess is now working at ACMI as Coordinator, Exhibitions and Curatorial, and we wish her the very best in her new role.
Since the state has opened up, Michael Varcoe-Cocks has been able to travel to regional galleries to present lectures as well as continue the PGAV outreach program. His new role as Associate Director, Conservation, involves work as part of the selection committee for the NGV Contemporary architectural competition, now in its final stages. Due to the role's increased responsibilities, a new position has been created to assist with managing the Conservation department.
State Library Victoria
Social news
Collection Care has been particularly active across the Library's social media channels lately. We kicked off our A–Z series on 21 September, showcasing a different Collection Care activity or material for each letter of the alphabet every fortnight. Most recently we posted about our environmental monitoring program with 'E is for… Environment!' Look out for 'F is for… Freezing' on 30 November.
Collection Care also participated in this year's Ask a Conservator Day. The media team put out a call for questions on 19 October, which we answered in the Library's Instagram story on the day (4 November). This story inspired many fabulous questions from the public across Instagram, Twitter, and Facebook, which we answered with both pre-prepared and real-time responses. The day was a great success, and we are happy to share further details with anyone who is interested. We will be publishing all content as a FAQ-style blog soon.
Staff news
We are excited to welcome Jessica McElhinney (Conservator, Paper) back from parental leave earlier this month. We haven't seen Jess in-person since March 2020, so it is especially wonderful to have her back on-site and we look forward to meeting her little boy, Karlo, soon! Collection Care is also pleased to share that Emily Keppel (Conservator, Paper) and Christine Mizzi (Preservation Technician) have been extended in their roles until the end of the financial year.
In other news, Amanda Wild (Senior Conservator, Exhibitions & Loans) recently stepped into the role of Secretary on the AICCM's National Council. Congratulations Amanda!
 Professional
Collection Care made the most of working from home, delving into research projects, updating policies and procedures, engaging in public outreach, and attending online training opportunities locally and internationally.
During this time our staff took the opportunity to reform the Collection Care Sustainability Working Group (CCSWG) with the purpose of investigating and applying principles of environmental sustainability to core activities and processes. Meeting monthly, the group has already identified and implemented effective ways to reduce and recycle waste generated by collection-based activities, including recycling programs for nitrile gloves, metals and Corex plastics. Plans are underway to explore more cross-branch initiatives (training, collection environments, exhibitions) and advancements in green chemistry.
Collection Care also recently acquired the Print Council of America Paper Sample Book: A Practical Guide to the Description of Paper (eds Elizabeth Lunning & Roy Perkinson, Boston, 1996). This is a fantastic resource that outlines how to describe different paper types, in particular ascribing standard definitions for colour, thickness, and texture characteristics, and includes a great sample set for enhanced understanding. Our book and paper conservators are already using it to help with condition reports and collection surveys.
Preservation projects
Preservation has returned to on-site work filled with relief and enthusiasm to be back with the collections. Despite some initial bewilderment – 'What was I doing with that?' – staff are back in the swing of things, working through backlogs of quarantine collections and continuing with the preparation of Victorian newspapers for digitisation. With the possibility of more sophisticated camera capture equipment, our stabilising treatments may become less interventive and resource hungry, which would be a great development.
Big thanks to George Matoulas (Senior Preservation Technician), who carried out weekly collection checks during three months of lockdown. We also had some wonderful security staff checking environmental conditions in specific spaces—a truly collegiate approach to protecting our collections.
And apart from catching up with partially started rehousing projects, looking into metal recycling and paper/plastic waste at our offsite stores and resuming preventive conservation projects, such as our hazards register and cool store survey, we're making sure there's still a little bit of wardrobe co-ordination.
Conservation projects
While working from home, Katrina Ben (Senior Conservator, Books) completed the enormous task of transcribing a registry from the Library's Bindery, which predates the Conservation lab we work in today. The registry is an internal record of books that were treated between 1976 and 1986 and we hope the transcription will provide insight into historical conservation work undertaken. Work has now begun on the first of several 'Paper Registers'.
Albertine Hamilton and Katy Glen (Conservators, Paper & Photographs) are preparing to stabilise two 18th-century Qur'ans (manuscript codex format) for digitisation. The Qur'ans are in poor condition due in large measure to embrittlement of the burnished paper, which has been exacerbated by historic paper repairs. We would welcome any information relating to the handling and paper conservation treatment of sacred Islamic manuscripts. Please contact Albertine Hamilton.
In other news, Bonnie Hearn (Conservator, Books) has been working closely with the Digital Production team to review technical and analytical photographic processes used in-house. We hope to streamline our conservation documentation methods and look forward to viewing Library collection material in a new (spectrum of) light!
Exhibitions and loans
We have seen a flurry of loan returns from exhibitions around the country that closed while we were in lockdown. Thank you to all the borrowing institutions who looked after our loans for an extended period!
Conservation and Registration are working towards our next exhibition, Handmade Universe, which is due to open in early 2022. The exhibition design has taken place during lockdown without access to the collection items, so there has been a flurry of activity assessing, treating, and preparing items for display since returning on-site. Handmade Universe explores the intersection of craft and technology, and will centre around Sarah Spencer's extraordinary donation, the oversized machine-knitted star map entitled Stargazing (see June 2021 AICCM Newsletter for more details). The exhibition will feature a selection of Library collection works, commissioned artworks, and loans from cultural institutions and private lenders.
The book conservators are simultaneously preparing some beautiful volumes for temporary display in Queen's Hall to time with the Library's LEGO exhibition (10–24 January 2022), including this fabulous copy of Alice's Adventures in Wonderland by Robert Sabuda (RAREJ 823.89 D66AS, Rare Books Collection, State Library Victoria). Installation will occur in early December.
Our Exhibitions & Loans team has also been busy in public outreach activities. On 10 November, Sarah Haselton (Senior Registrar) and Amanda Wild (Senior Conservator, Exhibitions & Loans) presented at the Royal Historical Society of Victoria seminar. With the impending launch of a new Creative Victoria grant for regional museums, the event was a great opportunity to discuss lending practices at the State Library Victoria and how one might go about borrowing Library collection material.
Conference attendance
Collection Care has continued to enjoy a veritable feast of online professional development opportunities. Aside from the range of AICCM offerings, which were highly attended by Collection Care staff, some recent highlights include:
Please enjoy Emily Keppel's review of the 'Mod Cons' conference also in this newsletter.