Newsletter Issue Number:
New South Wales

Art Gallery of New South Wales
Paper
In preparation for the Brett Whiteley show 'Drawing is everything' opening at the AGNSW mid Dec, Analiese Treacy and Jonathan Dennis have been busy working through the 100+ works selected for display. This project has provided a great opportunity to look more closely at Whiteley's drawing techniques and choice of materials, with many of the works coming from the Brett Whiteley Studio, and some having never been displayed before. Analiese has also been working through a number of outward loans, some including complex multipart works, to venues including Maitland Art Gallery, Dunedin public Art Gallery and Orange Regional Gallery to name but a few. 
Sarah Bunn completed 2 years of preparation of the 3000 books that make up the performance installation artwork Chinese Bible, by Yang Zhichao. This would not been achievable without the assistance of dedicated interns Isabella Ling and Karolin Wu, along with help from interns Lois Waters, Elsa Birrell, April Kim, Bec Barnott-Clement, Rachel Tan, Rose Maurice, Lucy King, Yuanyu Li, and Miranda Luo.
The artist Yang Zhichao numbered each of the 3000 books on the front cover, however the numbers were not always legible. In order to sort out discrepancies in the numbering Sarah Bunn supervised a group of 10 people to lay the books out over a 2 day period.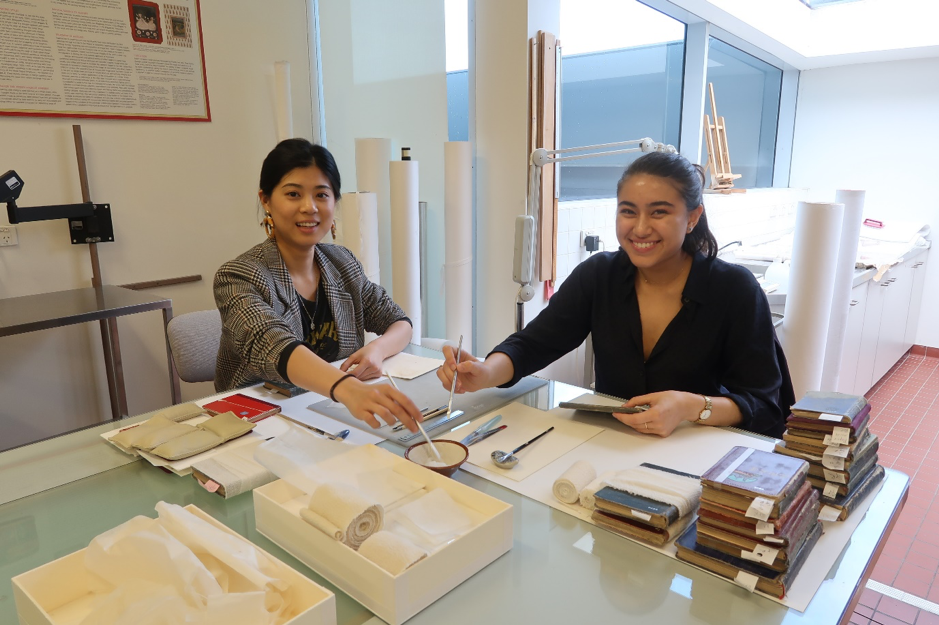 Lily Yang has been working on a collection of 9 Yao ceremonial Buddhist paintings. They are in extremely poor condition, thus far she has fully restored one of these beautiful paintings, maintaining as much of the original linings and materials as possible. She intends to fully restore the entire collection in time for the Buddhist exhibition in 2019.
Time-based art
The AGNSW time-based art team recently expanded with the addition of two temporary positions, Ciaran Begley, time-based art technician, and Rebecca Barnott-Clement, who are undertaking an ambitious project to assist time-based art conservator Asti Sherring in the re-cataloguing of the collection.  The recataloguing of variable artworks and all digital preservations activities is in order to meet international best practise standards.
Paintings
Paula Dredge has been busy writing essays for the catalogues of two exhibitions; John Russell, Australia's French Impressionist and Tony Tuckson.
Simon Ives has started on a major restoration treatment of The Five Senses (c.1670), a grand baroque painting from the AGNSW collection attributed to the Bolognese master Carlo Cignani.  Simon's regular duties are being carried out by Celine de Courlon, thanks to the generous funding of a conservation benefactor.
Ellie Gifford has been working on an inventory of the studio materials of Lloyd Rees found in his Northwood studio in Sydney and donated to the AGNSW by his son, Alan. There are over 300 objects to be input into our Vernon database by Ellie, including art materials, tools, clothes and furniture. Each object is being condition reported, labelled, cleaned, professionally photographed and housed into custom-made boxes or stillages for long-term storage. We are hoping that this fascinating archive will make its way online when the new AGNSW website is ready, so everyone can enjoy this intimate look into Lloyd Rees' materials and techniques.
Objects
Kerry Head has been working on preparing and installing objects for the Melanesian exhibition and outward loans. Sofia Lo Bianco has been working on some complex new acquisitions and 2019 exhibitions. Melanie Barrett has begun working on a benefactor funded Margel Hinder maquette conservation project. Objects also have an intern, Elsa Kwok, from Sydney University working one day per week, assisting with the ARC funded Polymuse project.
Frames
While Barbara Dabrowa is still on secondment to the State Library of New South Wales until end of November, the Frames Conservation section has welcomed back Grace Barrand, who returned to join the team after completing her internship at AGNSW in July this year and more recently at the Museum of Fine Arts in Boston. Grace will work in the role of Assistant Frame Conservator on varied projects for almost a year, gaining more experience in the frame conservation field.
Margaret Sawicki has been engaged with several frame conservation projects for loans as well as for the John Russel Australia's First Impressionist exhibition and the coming 'Brett Whiteley: drawing is everything' exhibition. Margaret has also become this year's recipient of The AICCM Medal; the highest award for conservators in Australia recognising 'career long contributors to Conservation and acknowledges skills sharing across levels of seniority ensuring that skills are not lost from the profession'. 
Tom Langlands established a new reproduction frame making studio on site at AGNSW and is continuing to fit it out with necessary hand tools and machinery.  He is currently working on a reproduction 1920's Parker frame for a Howard Ashton pastel for an upcoming touring exhibition.
Conference attendance
Carolyn Murphy, Analiese Treacy and Sarah Bunn recently presented at the 10th  AICCM Book, Paper and Photographic Materials Symposium held at Melbourne Museum: Analiese presented a talk 'Not made to last'; Carolyn presented on the work, Torpedo by contemporary New Zealand artist Sara Hughes; Sarah presented 'Performing parts: exploring the installation of Chinese Bible as artwork and archive'. In addition posters were presented by Analiese 'Chinese White – the colour that divided an art community', and Sarah and Tom Langlands 'Climbing the wall: a modified hinge and split batten mounting technique for a four-metre-long print'.
Asti Sherring presented at the National Art Archives and Power Institute symposium: Heat and dust on audio-visual archives, digital preservation and loss. Asti Sherring and Carolyn Murphy presented with colleagues on the AGNSW time-based art project at the conference Duration and dimension in Melbourne. With speakers from San Francisco Museum of Modern Art (SFMoMA), Los Angeles County Museum of Art (LACMA) and The Met joining those from our national institutions, it marked an important step in Australian art museums and archives coming together to acknowledge and discuss the complexities of collections of time-based art. Asti also co-presented with Museum of Contemporary Art MCA colleague Mark Brown on the complexities of training within this area of Conservation.
Upcoming conferences
The 13th Infrared Users Group Conference will be over by the time you read this newsletter, hosted by AGNSW, organised by Paula Dredge assisted by the conservation team.
Based on the research being undertaken in the area of time-based art, the AGNSW will be holding a four-day workshop on time-based art in 2019 that will focus on the collection management and preservation of artworks with durational elements and of audio-visual archival material. We aim to hold the workshop at the AGNSW in late May/early June 2019 with the program to include representatives from AGNSW departments and other local institutions, Australian artists and an international keynote speaker. The workshop will be offered to ten institutions/organisations, whereby two participants from different departments are invited to attend. At least one representative must be working, or will be working, with a time-based art collection. Curatorial participation is highly encouraged.  We will be advertising for applications in the coming weeks.  Please direct all queries to Carolyn Murphy, Head of Conservation AGNSW, carolyn.murphy@ag.nsw.gov.au or Asti Sherring, Time-based art conservator asti.sherring@ag.nsw.gov.au
Both Barbara and Margaret are busy preparing the Frame: Concept, History and Conservation: Symposium 2, Art Gallery of New South Wales, Sydney, Australia, April 3 – 5, 2019.
ICS News
Barangaroo boat, Sydney
You may have heard in the news about the boat found in Barangaroo, Sydney: (https://www.9news.com.au/2018/11/15/16/30/sydney-metro-historic-1830s-boat-uncovered-in-excavations-at-barangaroo ). Well, ICS has the scoop, so to speak, as we have been tasked to work with the archaeologists to lift this extraordinary maritime relic. It was discovered as part of the excavations underway for the new Metro station at Barangaroo on the known site of a 19th century ship building business.
The discovery comprises of the lower timbers of a clinker built boat.  The lower part of the stern post is still present, but most of the bow structure is missing.  It is thought the boat dates from prior to 1840 making it one of (if not the earliest) surviving Australian built boat. It sits waterlogged in sediment.
Karina Acton has been leading the ICS team, working long hours on site with the archaeologists to consider every aspect of its preservation and removal. Karina has been working with Oliver Hull, Annick Vuissoz, Rob Williams and Amy Jackson.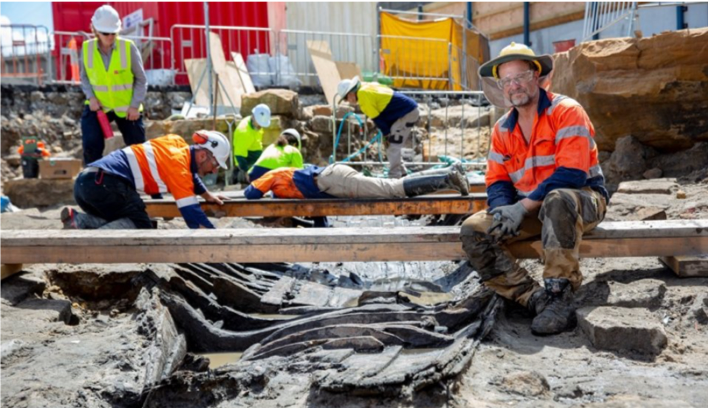 St John's College, University of Sydney
ICS undertook a major conservation project on the St John's College art collection during the Nagle Library refurbishment. Adam Godijn lead the team which included Eden Christian, Suaty Rojas and Julia Van den Burg in cleaning, revarnishing and undertaking tear repairs on the collection. Works included a rare and substantial piece by Robert Hughes, Ecce Homo, which he entered in the 1960 Blake Religious Art Prize. There is no record of whether it won, but it shows he was initially as formidable artist as he was later an art critic.
Rozelle Tramways digger
James Kleppen led the team that recently completed the restoration and relocation of the Rozelle Tramways war memorial.  The story was widely broad cast: https://www.abc.net.au/news/2018-08-26/wwi-statue-restored-for-rozelle-tramsheds/10164188.  The war memorial is interesting as it is the earliest use of the figure of a digger on a war memorial, dating from 2016. It is executed in cast cement with the digger shown in relaxed mode, resting on one leg rather than the standing to attention. The work involved extensive repair of the figure, undertaken by Annick Vuissoz and Rob Williams, and its relocation from Leichhardt bus depot to a much more prominent and appropriate location on a new plinth at the Tramsheds site in Glebe.
Lambton Gates War Memorial
The marking of the centenary of the end of World War 1 in November 2018 has led to many interesting events, one being the excavation of a time capsule placed under the Lambton Gates War Memorial in Newcastle. James Kleppen oversaw the removal of the time capsule, which in our view was actually never meant to be removed, it being a glass jar encased in concrete. A 1914 newspaper announcing the beginning of the war was revealed, plus four coins (including a groat, a 4 penny silver coin). Wendi Powell and Annick Vuissoz did a fine job unravelling the soggy newspaper and conserving the coins. Julian Bickersteth spoke about the conservation process during the rededication ceremony of the war memorial, at which a new time capsule was laid to rest.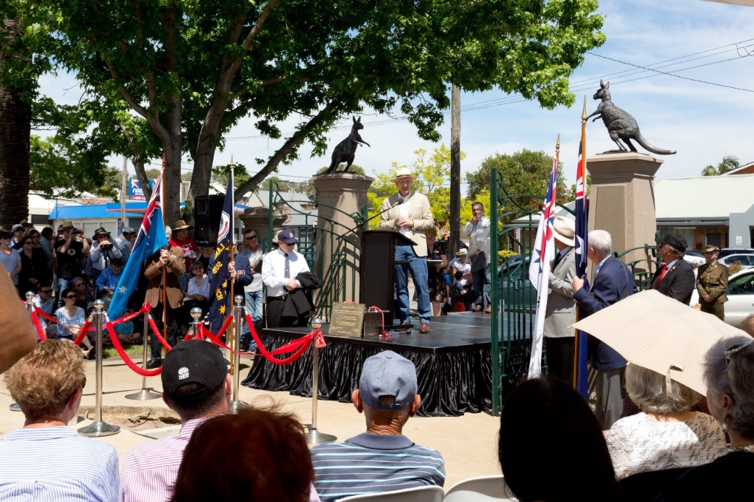 IIC Conference
IIC's 2018 conference in Turin was attended by Matteo Volonte, Fiona Tennant and Julian Bickersteth.  It proved to be an immensely useful event for catching up on the latest in preventive conservation thinking. Julian chaired one session and is travelling to India in December to commence planning for the next IIC conference which will be held in Delhi in 2020.
Staff News
Katie Wood, Paper Conservator, has taken up an opportunity to work at The Maritime Museum for 9 months from September 2018 – June 2019. In September 2018 Rob Williams, our ICS Conservation Technician, was appointed to the role of Conservation Projects Coordinator in the Objects and Outdoor Heritage Team.  Nick Baylart joined us for a brief stint as Graduate Paper Conservator from September – November 2018.  Robyn Ho, Conservation Projects Manager, is returning to Melbourne in November 2018 after being engaged on a wide range of jobs across different disciplines; we wish her well and hope to work with her in the future.  Matteo Volonte, Senior Paintings Conservator, has recently returned from Long Service Leave, which included not only the IIC conference in Milan, but walking the Camino for 6 weeks – he looks very fit!
Australian National Maritime Museum
Treatment Projects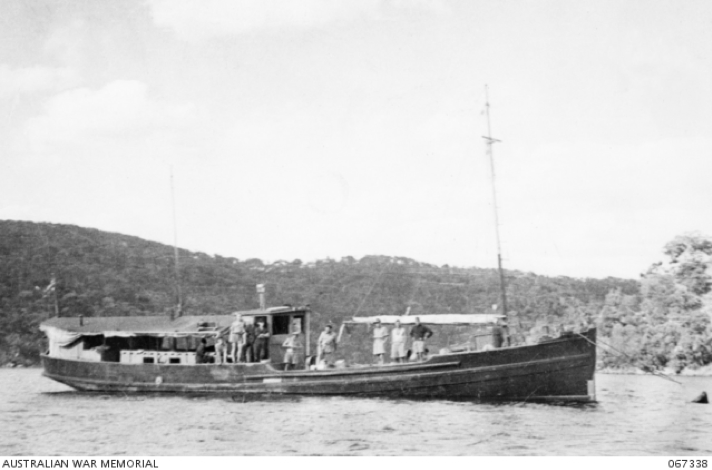 The 27 September 2018 marked the 75th anniversary of Operation Jaywick, a daring raid by Australian seamen and soldiers on Singapore Harbour during the Second World War. The vessel used in the raid (MV Krait) is under the Museum's care. In preparation for commemorations, a major restoration to the vessel was undertaken by a team consisting of curators, trades and conservators. Jeff Fox and Nick Flood's role was to identify previous colour schemes using paint samples and scrapes. Our findings, although inconclusive, contributed to discussions that led us to change the colour of the wheelhouse and engine cover from olive drab to a mid-brown.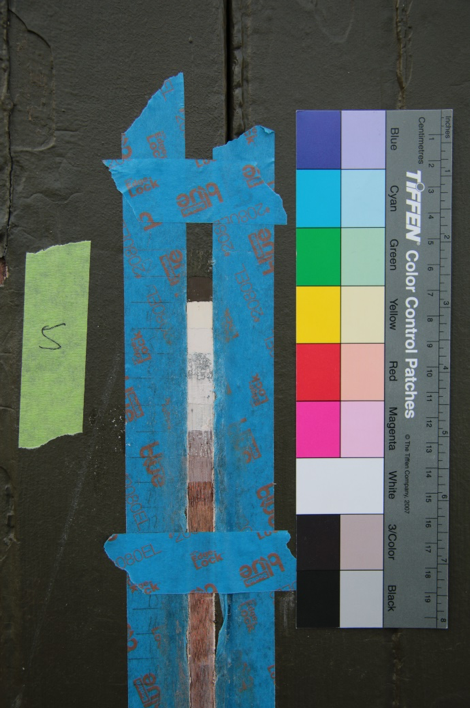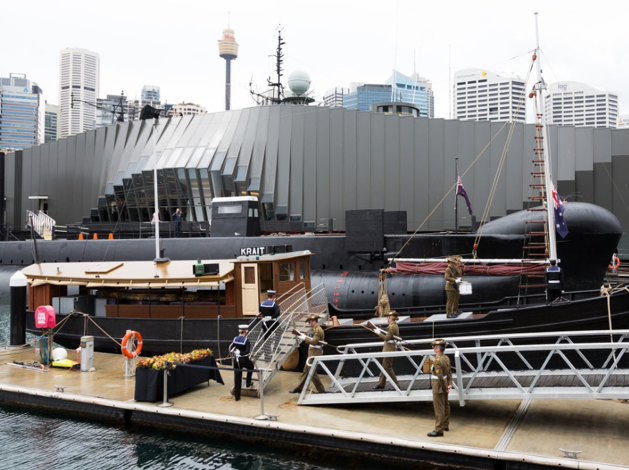 Research
Dr Liz Carter and Therese Harrison from the Sydney Analytical Vibrational Spectroscopy Facility (University of Sydney) spent several days at the Museum with their portable FTIR and Raman instruments. They focused on identifying the substrates of various photographic materials.
Exhibition preparation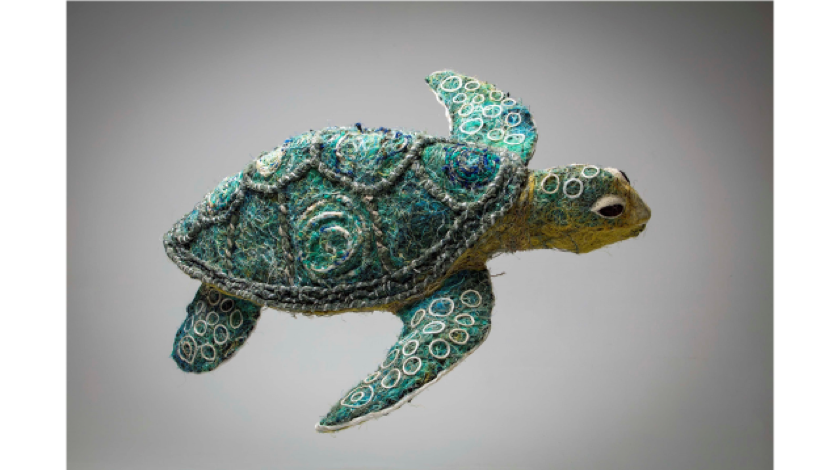 Jeff Fox, Kevin Bray and Nick Flood assisted a team from Erub Arts suspended their art installation from the ceiling of Museum's foyer. The work consists of 77 ghost net sculptures made from the rope, net, floats and sinkers that wash up on the shores of Darnley Island in the Torres Strait. This material is both a source of pollution and a resource for the community.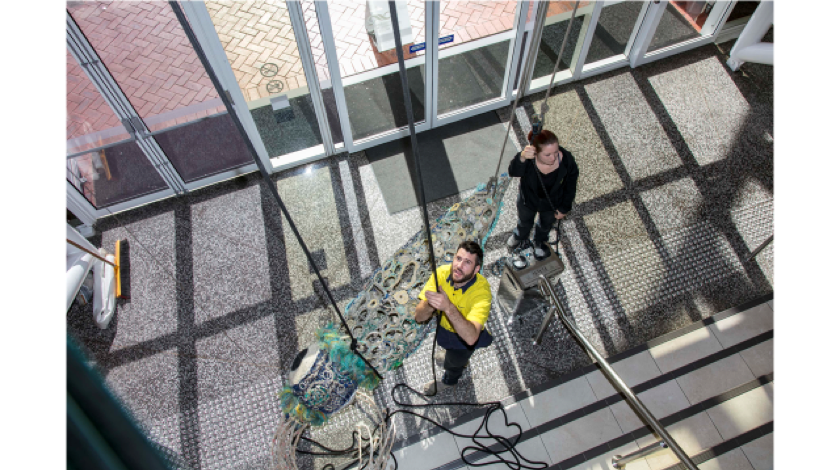 Sue Frost, Katie Wood, Lucilla Ronai and Nick Flood prepared and packed 32 objects relating to Kay Cottee's 1987-88 circumnavigation for loan to the Jervis Bay Maritime Museum and their upcoming exhibition on her achievement.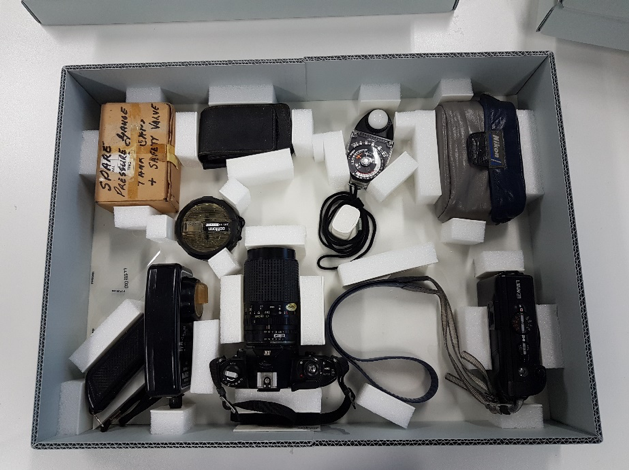 Agata Rostek-Robak and the rest of the conservation team worked hard under difficult conditions to install On Sharks & Humanity, an exhibition about shark protection that showcases work from China's leading contemporary artists and objects from the Museum's collection.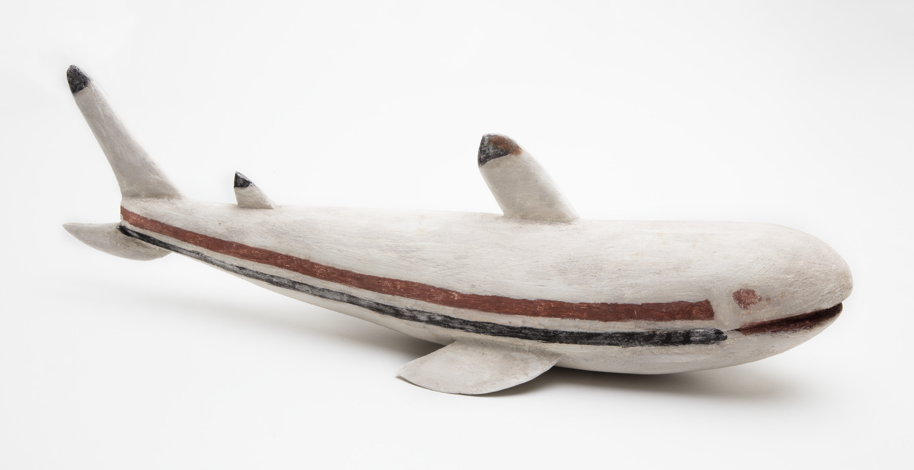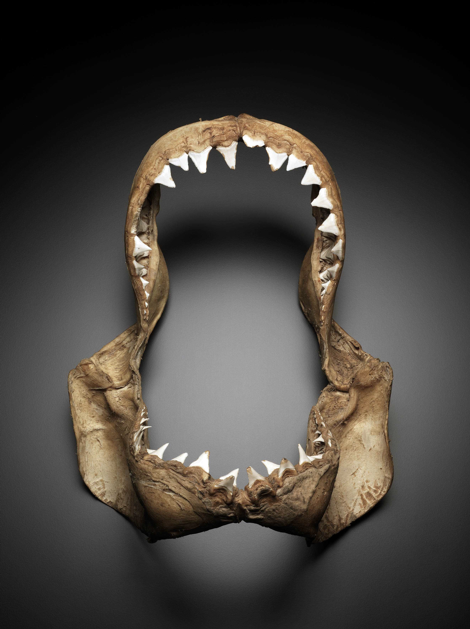 Workshops, symposia and media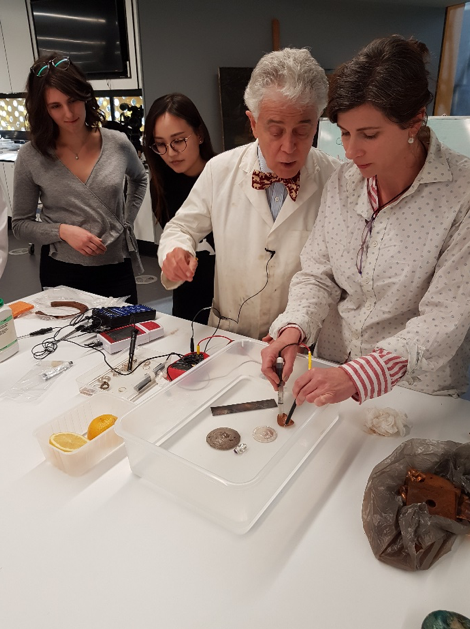 In September, Nick Flood attended the Metals Conservation Intensive at The Grimwade Centre for Cultural Materials Conservation. It was a fantastic opportunity meet a talented group of Masters students and learn from one of the profession's living treasures Dr Ian MacLeod.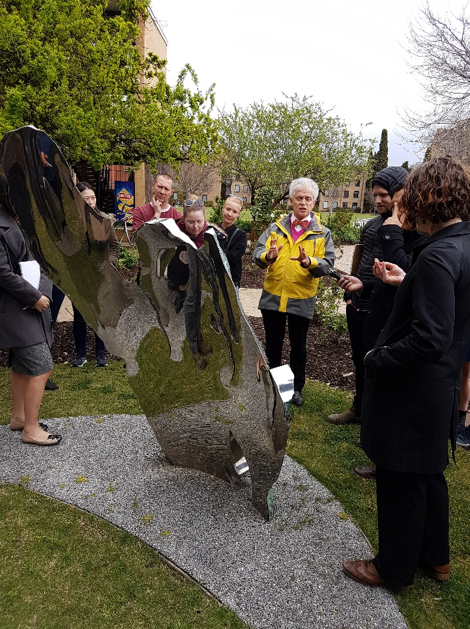 Lucilla Ronai travelled to China in October to attend the IIC – Palace Museum 2018 Beijing Paper Conservation Symposium to present a poster.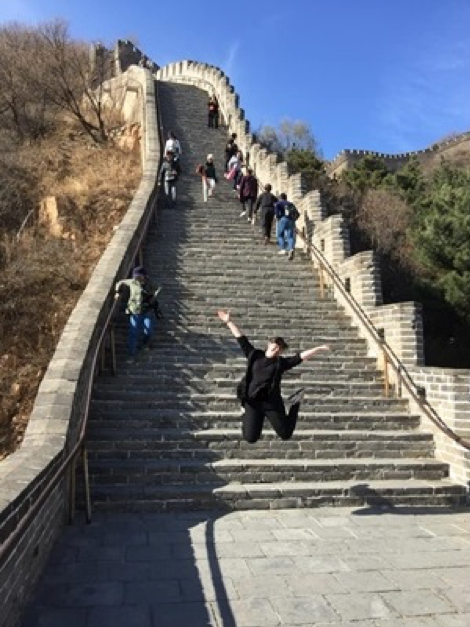 Luci and Katie Wood represented the Museum at the AICCM Book, Paper and Photographic Material Symposium held at Melbourne Melbourne. Luci delivered a presentation titled The Cellulose Acetate and Nitrate (CAN) project at the Australian National Maritime Museum. As the AICCM Membership Services Officer, Katie coordinated the 2018 AICCM Awards with a ceremony held at the symposium's opening reception.
Social News
It is withgreat joy thatwe have Katie Wood join the Museum's conservation team. Katie is on leave from International Conservation Service during her nine month contact here. Welcome aboard Katie!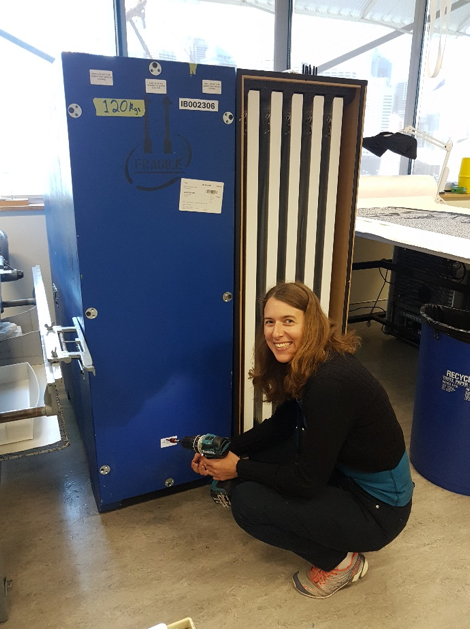 Museum of Applied Arts and Sciences
Social
We are pleased to welcome Trish Stokes as our new Manager of Conservation.
We have said goodbye temporarily to Vanessa Pitt who has taken up a contract for 9 months at the State Library of NSW. Megan Hall has been appointed as her replacement and will be assisting in the outgoing loans program.
We farewelled Chris Eagle one of our Steam Education Officers who recently resigned. We wish him well in his new ventures.
We are pleased to have Rebecca Main & Gosia Dudek back in our midst after their respective periods of leave.
Professional
Great progress is being made on the Lace Collection project, with 2 conservation interns, Rosalie Heywood and Amy Nolland undertaking a collection survey, inventory and rehousing of the collection. The Rolled Textile project continues. A team of dedicated volunteers and Kate Chidlow and Bronwyn Dunn have been working their way through the photo documentation and re-rolling of 1600 + textiles. They are about 2/3rd through the project and are unearthing some real treasures.
Rebecca Main has been working on assessment of new acquisitions of paper objects into the collection.
We have upgraded our IPM system with new and more plentiful baits across the 3 sites. A more thorough pest history of every trap location is now available through the Pest module in K-Emu.  We have also been doing deep cleans of our stores, particularly at the Museum Discovery Centre (MDC) with our furniture, Olympic and car collections. We have re-lined the shelving units with thicker Cell-Aire to make pest identification easier.
Kate has been working on a draft Disaster plan as well as an Emergency Prompt Pocket Plan. Staff training will follow shortly.
The outgoing loans team has several large loans looming. Bronwyn Dunn is working on a very large loan of our scientific collection, including eucalyptus oils, botanical specimens and botanical models. This will form a large part of a Janet Laurence exhibition at the MCA. This has given us a rare opportunity to work on this rarely seen collection. Frances Fitzpatrick has been working on a collaborative Lunar themed display between the Sydney Festival, Riverside Theatre Parramatta and MAAS.
Sue Gatenby attended the Conference: Istituto Italiano di Cultura Sydney, Italian Research in the World with keynote address: Crystallography and Cultural Heritage: Science and Passion Lecture by Prof. Gilberto Artioli.
Dr Filomena Salvemini from ANSTO presented to the department a tomographic analysis to characterize the content of several ancient Buddhist metallic statues form the MAAS collection.
"We bid a fond farewell to Lizzie Reed our conservation intern. We wish her well in her new adventures at the Australian Museum."
Workshops:
We conducted:
Disaster Preparedness sessions at the MDC presented by Kate Chidlow
Teresa Werstak and Rebecca Main hosted a visit from Berry and Gerringong Historical Societies as a follow up to a paper conservation workshop conducted by Teresa and held in Gerringong earlier in the year.
 Conservation principles workshop at Albury given by Bronwyn Dunn.
Invisible mannequin making at MDC with Suzanne Chee and Kate Chidlow from regional and metropolitan museums, presented
Kate has written information sheets on how to make bespoke mannequins with Fosshape and also with cloth strips. These will be on the Conservation Resources web page shortly.
Suzanne Chee has been awarded a Fellow for the International Institute for Conservation of Historical and Artistic works (IIC)
Sue Gatenby has provided FTIR Identification assistance to Melanie Barret and Sarah Bunn of the AGNSW for a set of Plastic diary book covers.
The department hosted a visit of Yen, Su-Fen, Director of Department of Registration and Conservation and Gian-ton Shen, conservator from the National Palace Museum, Taiwan.
David Stein & Co News Update

Social
In October, the entire studio team attended the official opening of the State Library of NSW 's new exhibition spaces. It was rewarding to see the Library's extensive collection viewed in these exciting and vibrantly coloured new hanging spaces.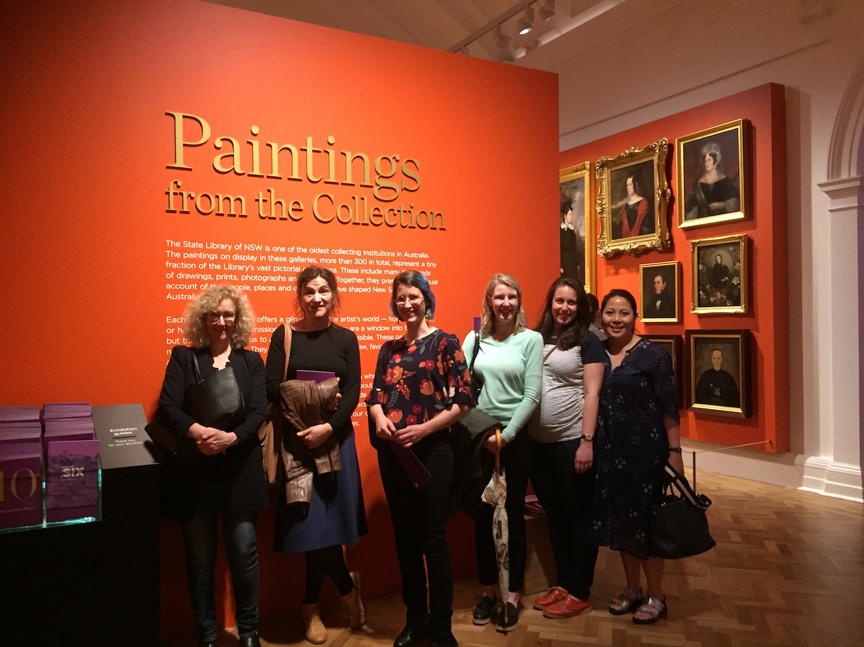 In early November, we bid a temporary farewell to conservator Sandi Mitchell who has taken maternity leave. She welcomed her new baby girl soon after! We wish her all the best in her new role as mum.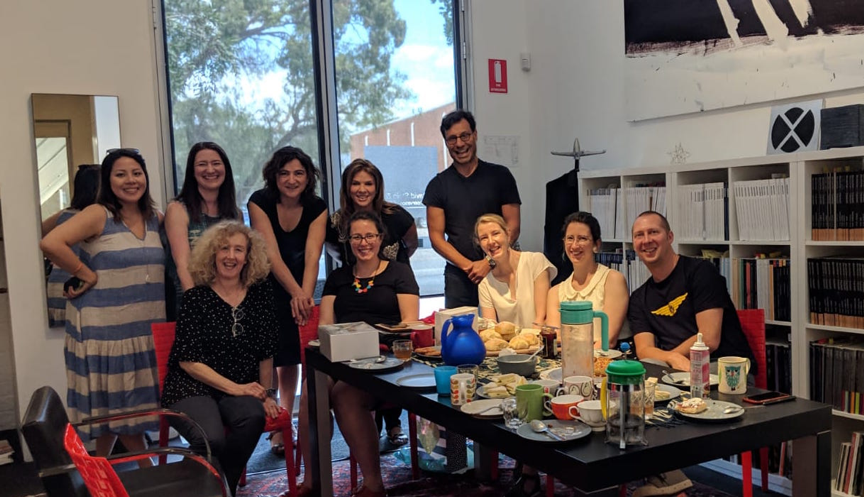 Congratulations also to paintings conservator Selina Halim who will be welcoming her second baby in early April next year.
Professional
In September David Stein visited Italy for a holiday in Puglia and later attended the IIC 27th Biennial Congress Preventative Conservation: The State of the Art in Turin. There, he became enlightened on all the multi-faceted aspects preventative conservation and returned with a greater understanding and appreciation of its importance.
Conservation Manager Julia Sharp has become something of a minor celebrity recently having appeared in two documentaries. The first being an in-house film produced by the State Library NSW concentrating on her conservation treatment of Maurice Felton's early colonial portrait of Sophia O'Brien. She also made a brief cameo appearance on the ABC documentary Australia's Lost Impressionist – John Russell.  She is now being vigorously pursued up and down shopping aisles, in the lower north shore by eager octogenarian autograph hunters.
Conservator Anne Perrin and Julia Sharp have recently completed a very rewarding conservation treatment on two matching 17th century Dutch portraits. They were painted on oak panel and were both remarkably well preserved and in original condition.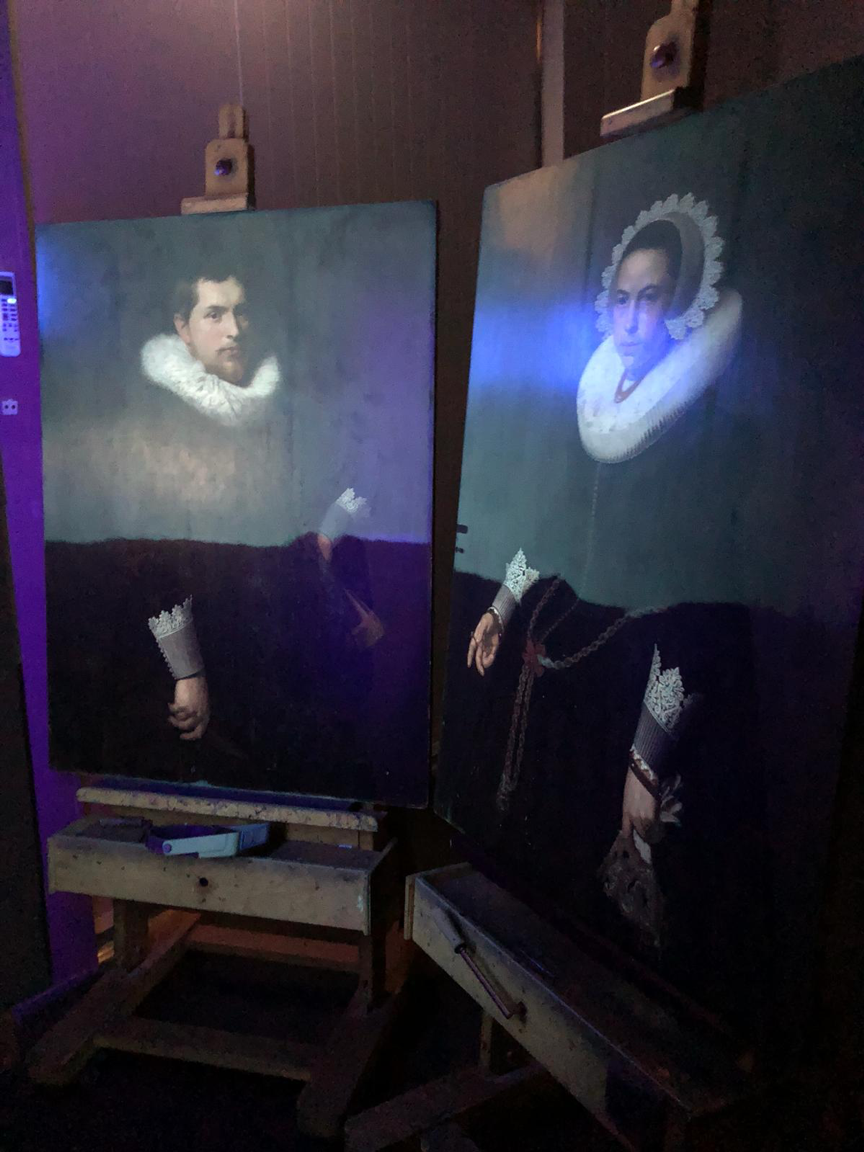 Anne and colleague Sandi Mitchell have a collaborated on an extensive conservation treatment of two large family portraits by early colonial artist Conway Hart; which involved a lining reversal, re-lining and many hours of retouching.
Conservator Lucy Tedder is busy in her new role as Project Manager, organising the logistics and preparing materials for a large conservation project for St Mary's Cathedral.
Recent graduate Kim Vernon, now having completed his conservation studies in Melbourne, has at last joined us in his new role as Assistant Paintings Conservator. We look forward to hearing his presentation Investigation into the behaviour of hydrogenated castor oil in modern oil paints. This will be delivered at the IRUG 13 conference hosted by the AGNSW in early December. Finally, the conservation team have been busy conducting research and experimentation into cold lining techniques using our low-pressure suction table.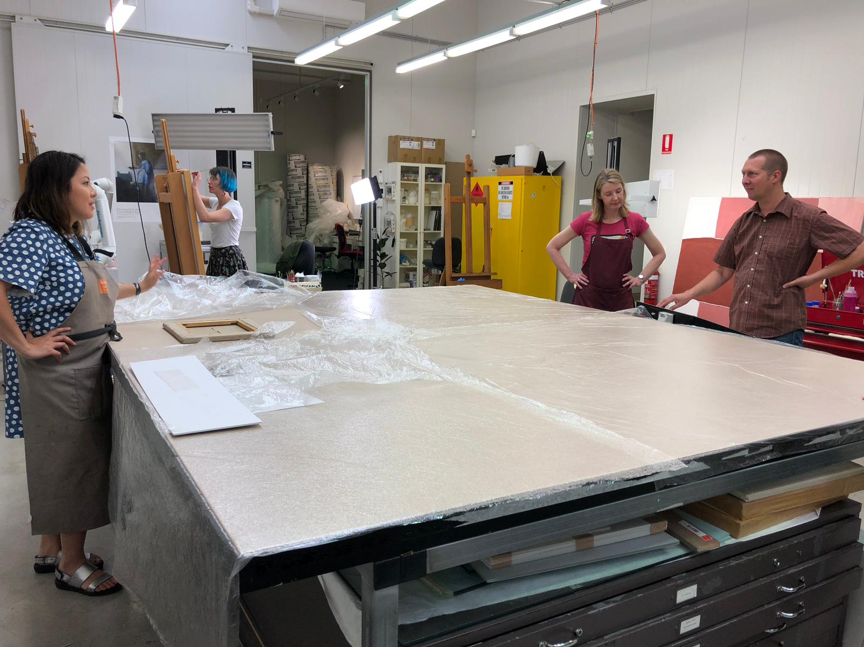 Heights Heritage Conservation
Treatment Projects and Exhibitions
August saw Tess Evans install the artwork United Neytions by Archie Moore at Sydney Airport comprising 28, 5yard flags representing the 28 Aboriginal Nations as identified by the white lay anthropologist RH Mathews in 1900 on the eve of Australian Federation. The piece hangs high above the food court in the International Terminal. It was an interesting exercise as being 'plane side' meant that all works had to be carried out between the hours of 10pm and 4am as everything had to pass through the normal airport security screening, including the flags!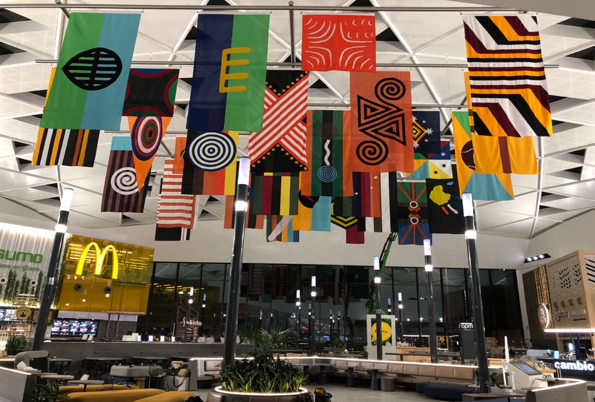 This year Tess was honored to be nominated as a Fellow of IIC and managed to snatch a very brief interlude from work commitments to attend the IIC Congress in Turin, Italy which was fantastic, even though she gained 2kgs in 4 days from all the carbs…
The majority of this quarter has been taken up with the conservation, preparation and installation of the new exhibition gallery within the new extension to the ANZAC Memorial, Hyde Park Sydney. Tess prepared more than 50 uniforms for exhibition on bespoke 'invisible' mannequins, along with mounting flags, banners, medals and various other textiles and objects, before installing them in time for the official opening by HRH Duke of Sussex on 20th October.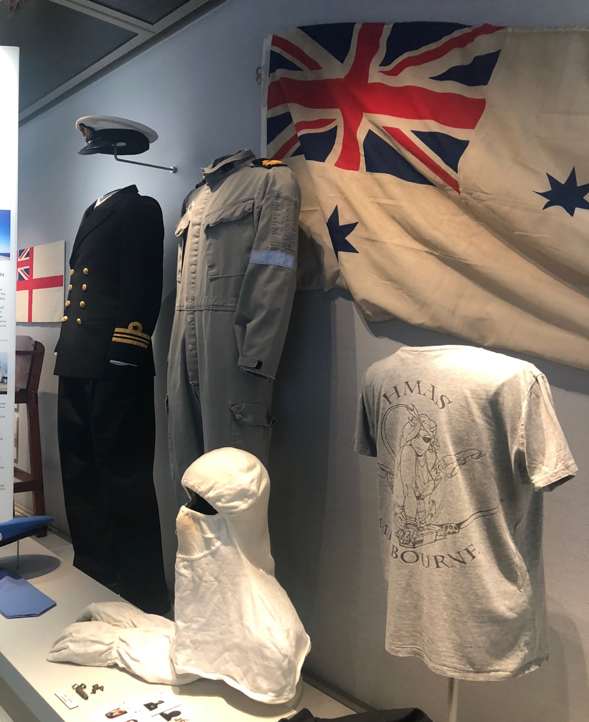 Tess has assisted Australian-born artists Anne Zahalka and Sylvia Griffin at the Sydney Jewish Museum with the installation of The Fate of Things: Memory Objects and Art, on exhibition until the end February 2019. For this exhibition the artists remember their families' Holocaust experiences through inherited objects, remnants and relics.  Very powerful.
Working with the City of Sydney Tess is preparing and installing an artwork in the form of a flag by artist Karla Dickins entitled Taking back the stars, that will hang in the front atrium at Customs House, Sydney from early December 2018.
Tess is also mounting more textiles for the Marion Hall Best: Interiors exhibition for Sydney Living Museums in preparation for its tour starting in the New Year.
TSIG
Registration is now open for the Textile SIG Symposium!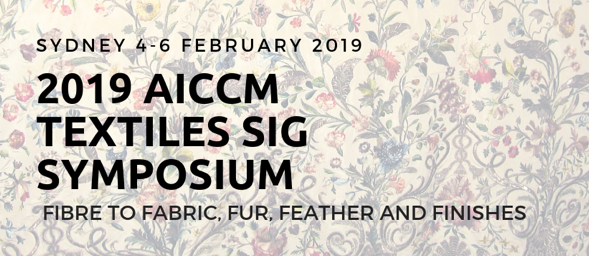 Two days of fascinating papers and talks from local and international speakers are planned, along with exhibition visits and tours.
A big thank you to Tara Regan who has been assisting Tess with the organization of the event, who has now finished her degree and sadly left to travel for 4 months before embarking on her future career.
If you are interested in being involved in any capacity, your help would be gratefully appreciated. please email Tess at <tess@heightsheritage.com.au>.
Social Pages
Once again mixing business with pleasure; Tess Evans had a quick trip back to the UK in July, mainly to visit the parents in law, now ninety-three, but also giving her the opportunity to catch up with some UK colleagues and a couple of fabulous costume exhibitions at the V&A: Fashioned be Nature, presenting fashionable dress alongside natural history specimens, and the legendary Frida Kahlo, exhibiting her personal artefacts and clothing never before seen outside of Mexico.
After a week in London, we all took an Air BNB in West Wittering and the weather was amazing. Tess even got to swim in the English Channel.
This year Tess has once again chosen to face her fear of the ocean and has signed up with Cantoo to swim the 2.8km from Palm Beach to Whale Beach in January, whilst fundraising for Cancer Research. If you would like to show your support please follow the link: https://www.cantoo.org.au/fundraisers/TessEvans/sydney-2km-ocean-swim-2019
Victoria
Museum Victoria

Social
Thank you to Sarah Babister for her excellent work as Acting Senior Conservator, Collection Development and Access over the last 4 months in a really busy and challenging time.  She finished up at the end of November when Charlotte Walker takes over the Acting role.
Treatment projects
Many congratulations to the Aborigines Advancement League Hearse Reactivation Project Team, including Sarah Babister, which very deservedly won the AICCM Conservation Treatment of the Year.
Research projects
Dani Measday and Lizzie McCartney recently spent a delightful morning visiting the Lilydale Sewerage Treatment Plant to set up some display environment experiments in preparation for displaying a piece of fatberg in the upcoming 'Gut Feelings' exhibition.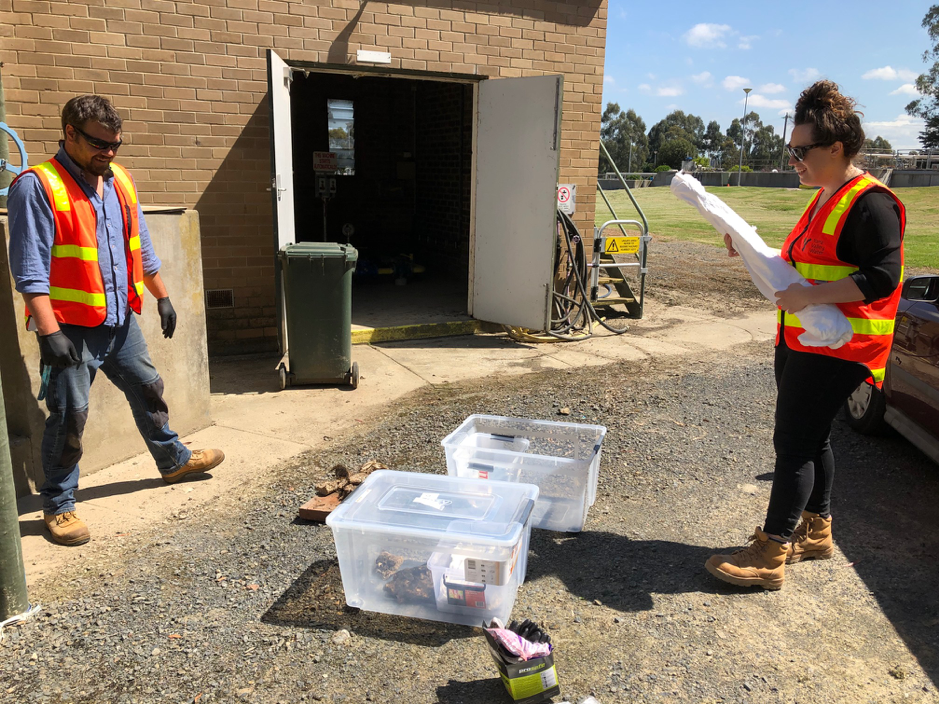 Dani has been helping with a number of public enquiries, including one novelist who wanted information about the kind of eyes used in taxidermy specimens.
Storage projects
Karina Palmer has been providing advice and assistance for the storage systems upgrade of the cool store at Moreland and working on a new report format to simplify how we report environmental monitoring statistics.
Rosemary Goodall and Dani have bagged all of the mercury minerals in the mineralogy store in order to move them into new vented cabinets, which will then allow us to dispose of three mercury-contaminated cabinets.  This work has vastly improve safe storage of and access to these minerals and those stored around them.
Exhibitions
It has been a crazy busy time for exhibitions, in particular the end of November has seen the opening of two new internally developed exhibitions at the Immigration Museum – 'Kahlil Gibran: the Garden of the Prophet' and 'Love'.  Many congratulations to Sarah for all her work as lead conservator on both these projects, and many thanks to the other conservation staff members – particularly Karen Fisher, Charlotte Walker and Belinda Gourley – who provided assistance.  Amongst a number of other touring exhibitions and loans, the last few months have also seen the installation of the internally developed exhibitions Mandela at Melbourne Museum, and Kimlik at the Immigration Museum.
Conference attendance/Presentations
Belinda helped organise, attended and presented at the recent 10th AICCM Book, Paper and Photographic Materials Symposium.  Belinda presented 'An introduction to the George Wilson Bridges Collection at Museums Victoria', drawing on Masters research she is currently undertaking. Alice Cannon, Karina and Rosemary Goodall also gave a workshop about hazards in museum collections at the symposium
Lizzie McCartney, with help from Dani, Charlotte and Karen, gave tours of the Conservation lab to students from La Trobe's Cert IV in Aboriginal Cultural Heritage Management. Dani and Lizzie presented a 3 hour workshop on the Principles of Conservation for Museums Australia. Dani gave a presentation to students at Brunswick High School about conservation and using technology in museums. And Karina and Alice presented on Museums Victoria Research as part of the PolyMuse Project at a recent AICCM Vic Division 'Off the Record' event.
State Library Victoria
Building redevelopment at the State Library continues and we are now past the halfway point. Major changes include the closure of the Swanston street entrance while the oldest part of the Library is developed, and the opening of a new entrance on Russell Street.
Social media highlights

There were many interesting posts in the @libraryvic #presconslibraryvic Instagram feed this quarter, including an introduction to the fascinating Ernest Fooks collection (MS 15523). Fooks (born Ernst Fuchs, 1906-1985) was an architect born in Bratislavia, Slovakia, who immigrated to Melbourne in 1939. Fooks enjoyed a prosperous career; being appointed the first lecturer in town planning at the Melbourne Technical College (now RMIT) in 1944, opening his own architecture firm in 1948, and later going on to be elected President of the Jewish Society of Arts. His manuscript material includes photographs of urban Melbourne documenting various lower socio-economic areas of the time, bringing to attention poor living conditions and the need for planning and sympathetic design.
Conservation project highlights
Albertine Hamilton and Jessica McElhinney were treated with two intriguing sketchbooks by Rosalind Gard to clean, repair and rehouse. Lovingly titled "My book" and "Rubbish," both sketchbooks feature caricatures of people, anthropomorphic animals and objects, and a range of demonic figures (see Figures 1 & 2).
Katy Glen continues working on the treatment of the painted photograph Williamstown from Hobson's Bay by Andrew Rider, c. mid-1860s (H2014.1082), which involves the removal of a heavily discoloured varnish using materials and techniques learned in Richard Wolbers' January 2018 workshops. Katy will discuss this treatment at the 10th AICCM BPPM Symposium next month.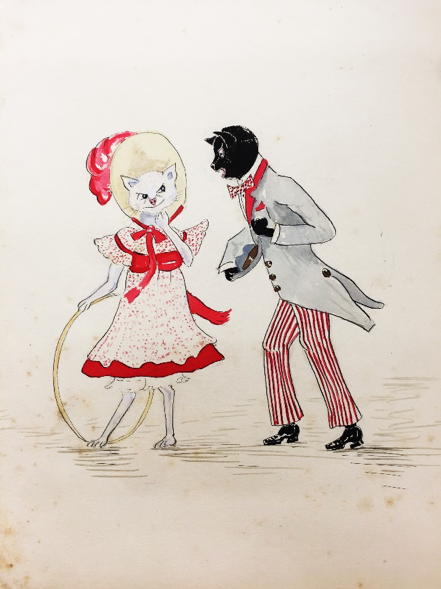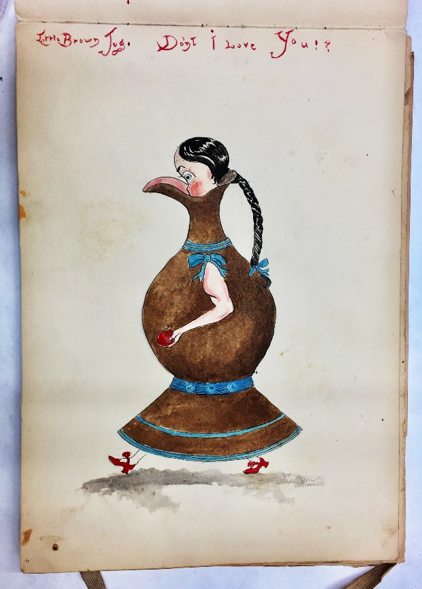 In August Rosemary Goodall from Museums Victoria agreed to conduct XRF testing of four specific items. Two manuscripts from the Michael Abbott Collection of South East Asian Islamic manuscripts were tested due to concerns about pesticides; the results indicated that a white substance in question was non-hazardous gypsum. The green coloured binding of Voyage de decouvertes aux Terres Australes by Louis Freycinet (RARELTEF 508.94 F89V) was tested to identify that the colour was based on copper not arsenic, which would have indicated safe handling was required. A rare embroidered 17th century binding from the Emmerson Collection (RAREEMM 425/18) was also tested to quantify the metallic elements of the embroidery confirming the presence of silver.
We also recently worked with Christina Ritschel and Annette Soumilas, who have completed the treatment, housing and display supports for Jessie Clarke's incredible 1934 costume celebrating the Centenary of Victoria. Each part of the costume represents an aspect of Victoria. The cloak represents State's irrigation scheme; the skirt is painted with famous buildings of Melbourne and a facsimile headdress, represents the Yallourn Power Station. It will go on display next year when we open Victoria Gallery.
As a result of the Library building redevelopment Andrew Thorn is currently treating the Queens Hall murals, before covering them. The murals will remain protected during the building works. The oil on canvas murals include; War by Harold Septimus Power (1878-1951), installed in 1923, and Peace after Victory by Mervyn Napier Waller (1894-1972),installed in 1929. This work continues on from the 2001 research and treatment, further investigating the treatment of disfiguring bloom on the Power mural, along with surface cleaning, consolidation, overpaint removal and in-painting of both murals.
Preservation project highlights
Josh Cassidy and Jessye Wdowin-McGregor are helping Kate Holloway in the preparation of bound Victorian newspapers for digitisation. The Benalla Standard from the 1920-30s, The Ouyen Mail from 1930s-40s and some older titles such as The Argus (1846-1858) and The Weekly Free Press (Jun-Sep 1841) are being prepared for capture. The quality of the paper varies enormously and we're finding the best quality paper in the older titles.
Savina Hopkins has started rehousing the archive of the bohemian artist Vali Myers. The first batch of material received by the Library includes the artist's visual diaries, jewellery and tools. Savina is currently designing custom boxes to safely house her extraordinary treasures.
Emily Keppel is rehousing some significant images from a collection of press photography recently acquired by the Library and she is also working on Robin Boyd manuscript material in preparation for the centenary of his birth next year.
Research projects
Katrina Ben and Emily Keppel continue to condition survey the Michael Abbott Collection of South East Asian Islamic manuscripts following their recent training in Islamic Bookbinding at the Islamic Arts Museum in Kuala Lumpur, Malaysia. Emily will compare the advanced findings of this project with the collection survey completed in 2012 for her minor thesis. The results will be presented at the 10th AICCM BPPM Symposium.
Exhibitions and loans
Registrars Sarah Haselton and Fiona Wilson have been working on a number of loans, including a range of fascinating collection items recently dispatched to the Bendigo Art Gallery's Gothic Beauty: Victorian notions of love, loss and spirituality. One such object is the mourning brooch made from the hair of Miss Anne Drysdale, c. 1853 (H3488), seen in Figure 3.
The Self-Made: Zines and Artists Book travelling exhibition has been on display at Murray Bridge Regional Gallery, and is due to open at New England Regional Art Museum on 9 November until 3 February 2019.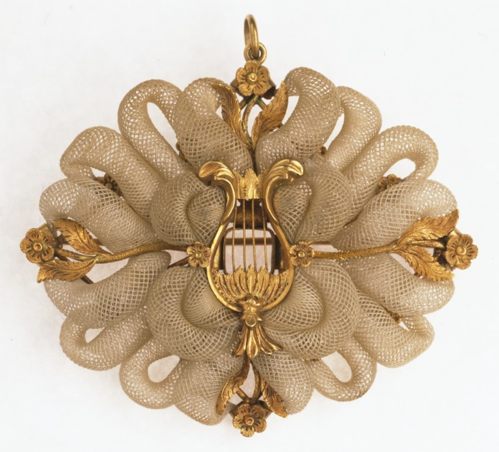 Workshops, conferences and events
August – Jane Hinwood, Jarno Coone and Enrique Tochez Anderson received training in frame rehousing with Gervais Battour, Conservation Art Technician, at the National Gallery of Victoria. These skills have been put to good use in the recent rehang of paintings in Cowen Gallery
The Conservation department will be hosting two workshops for the 10th AICCM BPPM Symposium. Katrina Ben and Rare Books Librarian Dr Anna Welch will be presenting a seminar on historical bookbinding structures and terminology with key examples from the Library's Rare Books collection. Albertine Hamilton and Marika Kocsis will be leading a discussion group to review treatments performed since undertaking Richard Wolbers' paper conservation workshops hosted by the Library in January 2018.
ACT
National Archives of Australia, Canberra Office
National Archives Preservation Facility (in Mitchell, North Canberra) was officially named The Peter Durack Building. Peter Durack was a senator for Western Australia from 1971 until 1993 and placed an emphasis on the public accessibility of information to hold government records for efficient administration and also to enhance accountability. He said of the Archives that its "accumulation of information opens up a vast wealth of research material … of great significance. The Government wishes that … this great national resource should be put at the disposal of the public through a network of archival facilities and reference services."
Tours  
Australian National Commission of UNESCO held a regular meeting at The Peter Durack Building, including a tour of the Facility and viewing Australian Memory of the World collection material in the Preservation Lab.
Two members of the Joint Standing Committee on the National Capital and External Territories inquiry into Canberra's national institutions toured the Facility and viewed iconic material from the collection, as well as material types that are posing the greatest preservation challenges to us.
The Attorney General, members of the NAA Advisory Council and member of the Durack family attended a naming ceremony for the building, then toured the facility and the preservation lab to see iconic collection material and material relating to Peter Durack.
Four members of a delegation from the National Institute of Japanese Literature, Tokyo visited The Peter Durack Building, touring the facility and spending time discussing preservation issues with us.
Treatments
Our current focus for treatment and repackaging work is on at-risk photograph material and items from the time of and to do with World War 2 (WW2). Travis Taylor is surveying material collected during WW2 with a view to identifying posters and other advertising material for a treatment project. Sally Kneebone has been flattening and scanning some very large technical drawings of Royal Australian Navy ships from the same timeframe, with the digital copies being uploaded to our website.
Suellen Bailey is reuniting dissociated medical/orthopaedic X-rays (prints on paper) with the service records of World War 1 personnel.
Other Activities
Rajani Rai attended the 2018 IIC-PM Beijing Symposium where she presented a poster about the Archives' Paper Testing Facility at attended the conference "Scientific Approaches to Paper and Photograph Conservation" from 1-2 November 2018.
Clair Murray and Travis Taylor will be hosting a Fibre Identification workshop at the 2018 Book, Paper and Photographic Materials Symposium in Melbourne in November.
South Australia
Artlab Australia
Treatment projects
In the Projects lab, Justin Gare has put his remedial wood working skills into practice by making a sloped lazy-susan for a large marble work in the interest of good OHSW practice. You saw it here first in the AICCM newsletter, patent pending!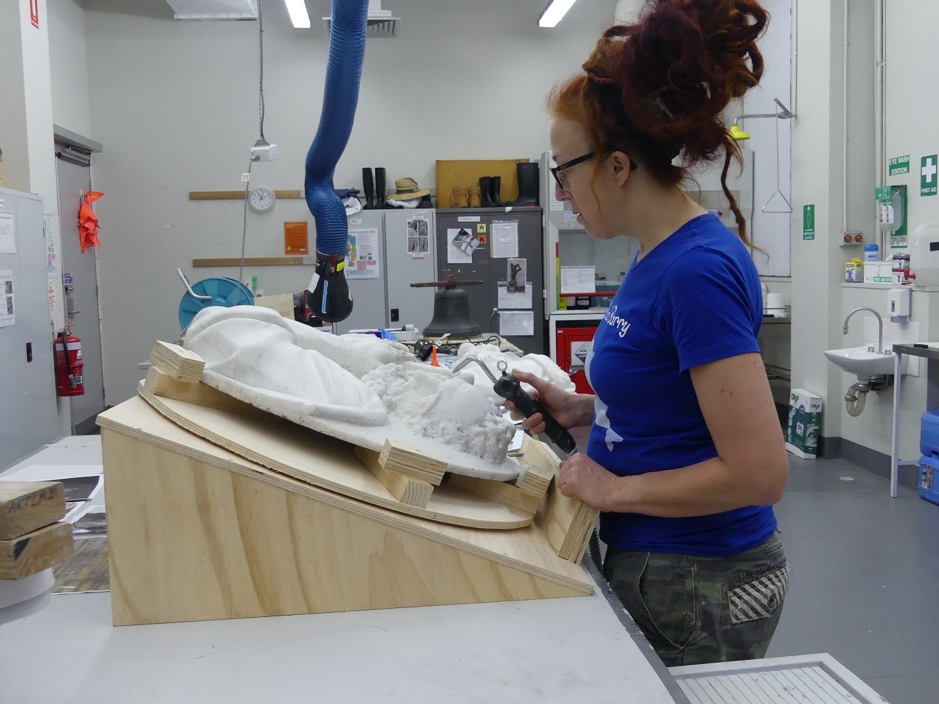 Exhibitions & Loans
The Objects Lab has gone into overdrive this last few months, mainly driven by the Art Gallery of South Australia's (AGSA) exhibition program. The AGSA's Elder wing (Australian wing) is currently being rehung after saying au revoir to the Musee D'Orsay's Impressionism exhibition. This has necessitated the removal and packing of Alfred Gilbert's "Eros" (affectionately known as "yiros").  Megan Sypek, Abby Maxwell-Bowen and Justin Gare have all being gestating conniptions whilst packing it for long term storage.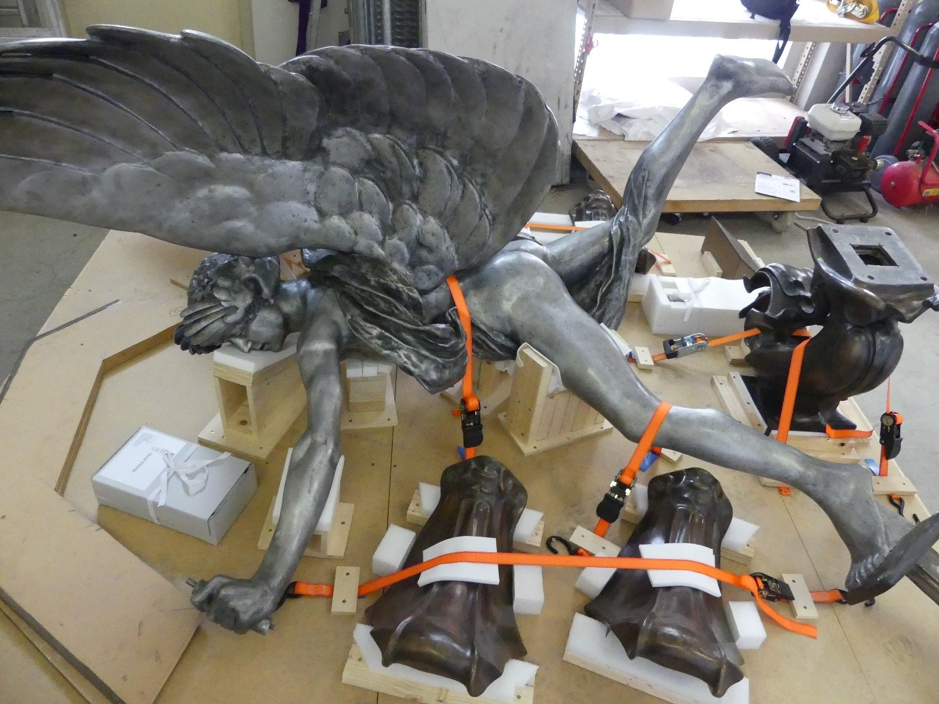 Simultaneously the AGSA has been setting up the Mawurndjul exhibition which was a combined show of AGSA and Museum of Contemporary Art. Our former colleague Kasi Albert, now Conservator at the MCA, has inadvertently dragged us kicking and screaming into the 21st Century with most of the 168 objects with digital condition reports…Thanks Kasi!
In the Textiles lab, Kristin Phillips and Mary-Anne Gooden have been busily preparing a series of early examples of Yuendumu batiks for display in the Australian Aboriginal Cultures Gallery at the South Australian Museum.
Several souvenir textiles including an Iraqi prayer mat commemorating 9/11 with images of the attack on the Twin Towers have also been prepared for the Migration Museum's exhibition Greetings From…The Power of Souvenirs.
Conference & Workshop Attendances
Jo Dawe attended the ARC (Australian Registrars Committee) conference Duration and Dimension held over two days in Melbourne in early October with national and international speakers. Discussions explored how various institutions are dealing with time-based and digital media art and data collection, the problems encountered and possible solutions for the future. The greatest message was the importance of an interdisciplinary approach and planning prior to acquisition – including conservators, registrars, curators and allied professionals and technicians – sharing information to formulate solutions for the long-term management of these collections. Yah!
Tasmania
Tasmanian Museum and Art Gallery
Cobus van Breda has been working on a donation of 43 etchings and lithographs by Lloyd Rees. He has also been involved in the de-install of an exhibition of works on paper by Thomas Bock which included loans from The British Museum, the Allport Library and Museum of Fine arts and the Queen Victoria Museum and Art Gallery.
Nikki King Smith has been preparing fossils to be put on display in conjunction with the much anticipated Dinosaurs rEvolution exhibition. 
Jenny O'Connell has treated a painting by Arthur Boyd to prepare it for loan to the Bundanon Trust for a travelling exhibition which will provide an opportunity for the work to be shown in NSW and QLD.