Newsletter Issue Number:
---
Northern Territory
Museum and Art Gallery of the Northern Territory
Exhibitions and Projects
The 34th National Aboriginal and Torres Strait Islander Art Award (NATSIAA) a highlight of the Australian cultural calendar has come to an end for another year. Bula'bula Arts art workers, Joy Burruna, Tolbert Dharramanba and Ross Dhapuruwuy came into MAGNT from Ramingining (14 hrs by road, the 9 hour road had wash outs from recent rain) to assist with the packing of artworks during the de-installation of NATSIAA. Carolyn McLennan, Independent Conservator, Poppy Searle MAGNT Registrar and Bula'bula Arts developed a Collection Management Work Experience Week in response to the Art Worker's request to visit the museum to learn more about caring for collections. Carolyn facilitated the visit by supporting the team in the work place as they worked in the different museum areas with the Conservators, Collection Managers, Photographer and Visitor Engagement Officers. There were many highlights in the week—the recognition and reconnection with family artworks in the stores, the lunch time talk given by the Art Workers on the many projects at Bula'bula Arts, the skills of studio photography, packing artworks, writing tiny accession labels and identifying problem insects. Carolyn thought she was a top videographer as she documented their visit and everyone else responded like movie stars, lots of laughs, a great week—thank you team Bula'bula for visiting MAGNT.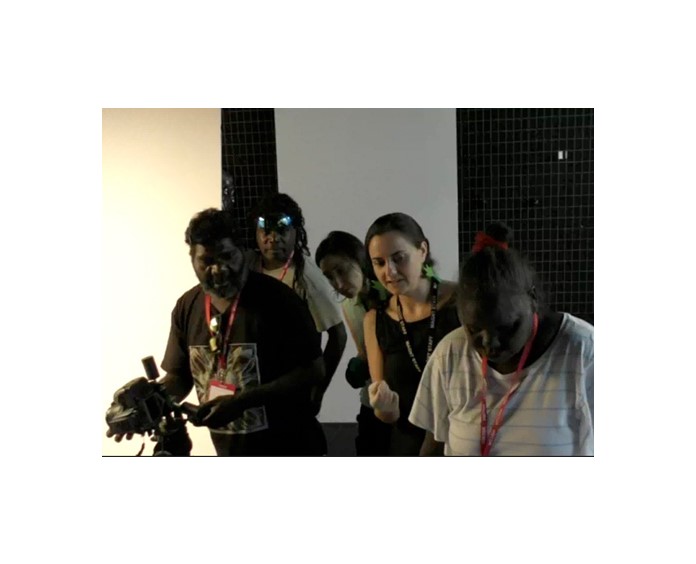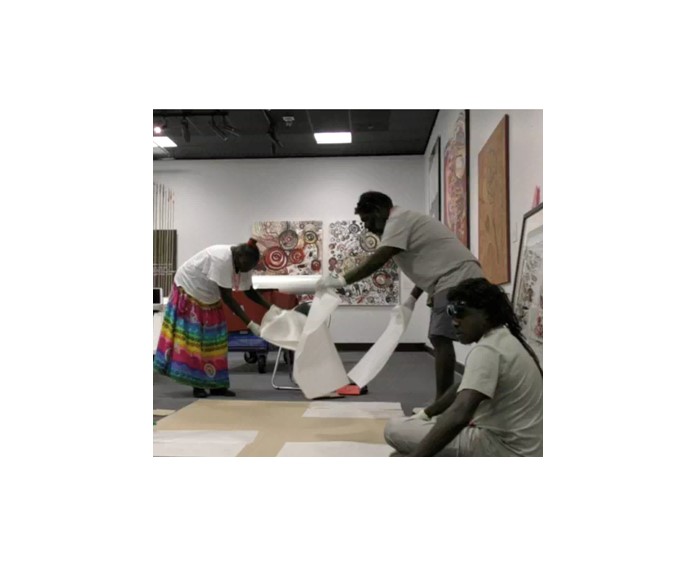 Asher Bilu's painting 'Graphite Light' c. 1970, poly(vinyl butyral) and synthetic polymer paint on hardboard was recently sent down via International Art Services to the artist's studio for repair. The painting had suffered various changes over time including water damage, abrasion and cracking. Lisa Nolan visited Asher and Luba Bilu at Asher's studio in Brighton, Melbourne. They worked together while Asher reinvigorated and repaired the painting Lisa recorded the treatment process. Both the Artist and the Conservator were very happy with the outcome. They also discussed the minor thesis Lisa wrote ten years ago based on the art installation 'Heavens' and the Poly (vinyl alcohol) material specifically made for Asher by former paint chemist Edal Marcus who claimed he was the first art materials chemist and supplier in Melbourne.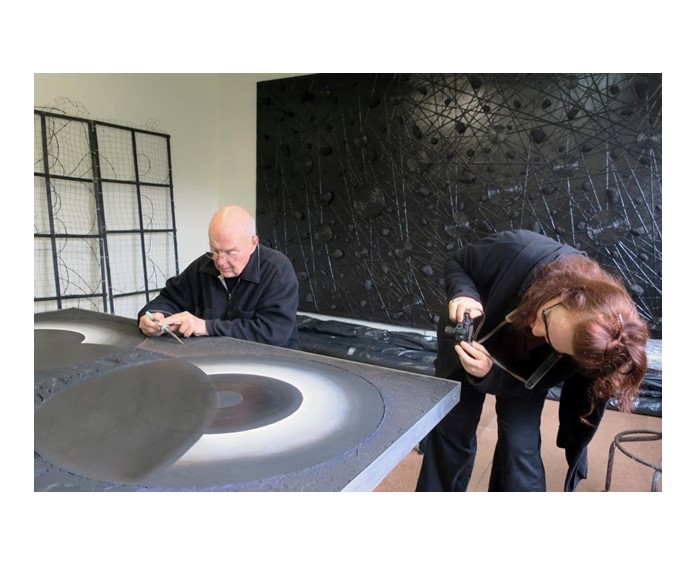 Eliana Urrutia – Bernard continues to work on the Ian Potter Digitisation Project. The Northern Territory History (NTH) collection is currently being digitised including the Widdup Collection which is one of the most significant NTH collections at MAGNT. Mrs Margaret Widdup was one of the first early residents of Darwin and their collection was donated in 1981.
Sandra Yee is preparing the works on paper and objects for the upcoming Franck Gohier survey exhibition titled Franck Gohier: A thousand miles from everywhere. Lisa Nolan is working with the artist regarding the treatment of his paintings prior to display in February 2018.
Outreach and Workshops
MAGNT conservation and AICCM NT has also carried out three public programs. The first conservation talk was on the 24th September titled 'Preparing Artwork for the Wet Season' with an ABC radio interview the day before to promote the talk. Eliana, Carolyn, Sandra and Lisa presented a PowerPoint presentation with two tables full of examples, samples and objects and then opened the floor to question time.
The second public program was on the 4th October titled, 'Meet a Conservator: Tjungunutja: From Having Come Together'. The talk was carried out in the Aboriginal Gallery where Tjungunutja an exhibition of early Papunya paintings (1971-72), artefacts and ephemera is being exhibited until February 2018. Lisa discussed excerpts of her essay in the publication for the exhibition, in particular the backing removal process of the early Papunya paintings, what was uncovered and the devastation of Cyclone Tracy to this particular collection. Sandra discussed and showed the custom-made supports prepared for the early Papunya shields so they could float without support interference.
This exhibition recently won the Chief Ministers Awards for Excellence in Partnerships with staff who worked on the project attending the awards including the curatorial team based in Alice Springs and Papunya. The curatorial team consisted of MAGNT's Curator of Aboriginal Art Luke Scholes and a team of Aboriginal curators: Sid Anderson, Long Jack Phillipus Tjakamarra, Michael Nelson Jakamarra AM, Joseph Jurrah Tjapaltjarri, Bobby West Tjupurrula.
The third public program was a Conservation Workshop titled, 'How to Care for Paper Based Objects' the participants learnt how to care for paper based objects and they also made a clam-shell box out of archival library board. Eliana and Sandra carried out the paid workshop on Saturday 18th November.
Regional and remote area NT—Carolyn McLennan, Independent Conservator
Caring for regional and remote area collections and museums across the Northern Territory involves a lot of driving and flying, clocking up thousands of kilometres in just one season of visits. At the same time there are all these extraordinary artworks heading out of remote communities, by road or barge or plane travelling around the country on their way to national and international galleries. Then there are all the artists, art workers and volunteers coming and going to exhibition openings, art fairs, having meetings and workshops. My input to this vast economy is in support, education and maintenance of cultural collections held by Aboriginal and non-Aboriginal communities, organisations and individuals.
At the Northern Territory Archives Centre I prepared the works for the National Archives of Australia exhibition Facing Two Fronts: The Fight for Respect. In Alice Springs at the Pioneer Women's Hall of Fame, I held a workshop on Preventive Conservation of Museum Collections, worked with a Signature Quilt that had lost signatures and spoke of the conservation treatment in an ABC Radio interview. At Batchelor Institute of Indigenous Education I wrote a Preservation Needs Assessment for the Centre for Australian Languages and Linguistics and at the Batchelor Museum improved the storage systems and continued the cataloguing of the collection. At Bula'bula Arts we continued the re-housing of the keeping place collection, continued fibre studies and outlined the work experience week at MAGNT. At the AICCM National Conference gave a talk on collaborative conservation treatment with Ramingining master fibre artists.
---
Tasmania
Tasmanian State Archives and Heritage Collections
Changes
TAHO is going through a re-structure – the good news is that Gaynor Tollard (Conservation Officer) will now be in Conservation full time instead of 3 days a week! We are also gaining a staff member to assist with storage and repository management. 
Exhibitions
Stephanie McDonald and Gaynor have been busy preparing items to go on loan to the NGV for their colonial art exhibition next year. This includes a number of exquisite miniatures on ivory by Mary Morton Allport and delightful watercolour portraits by CHT Costantini.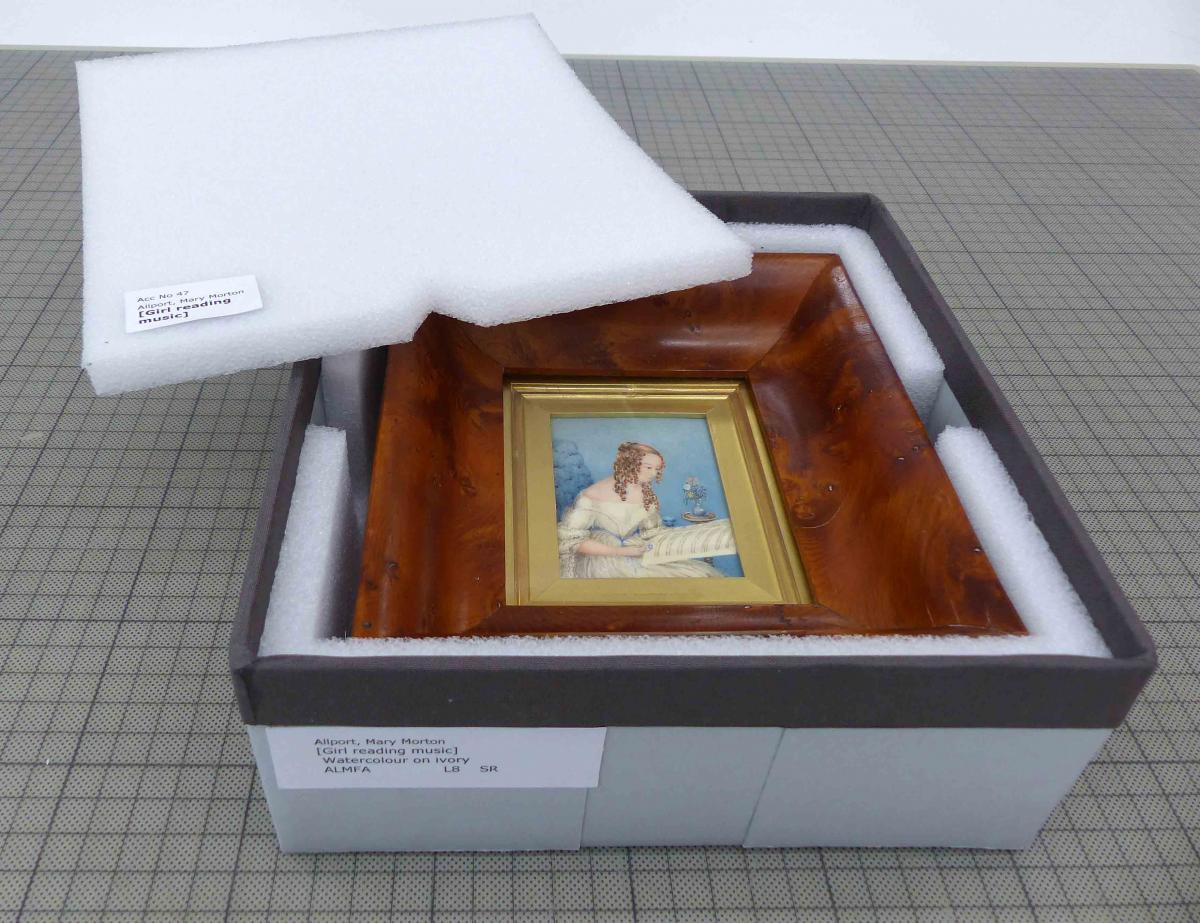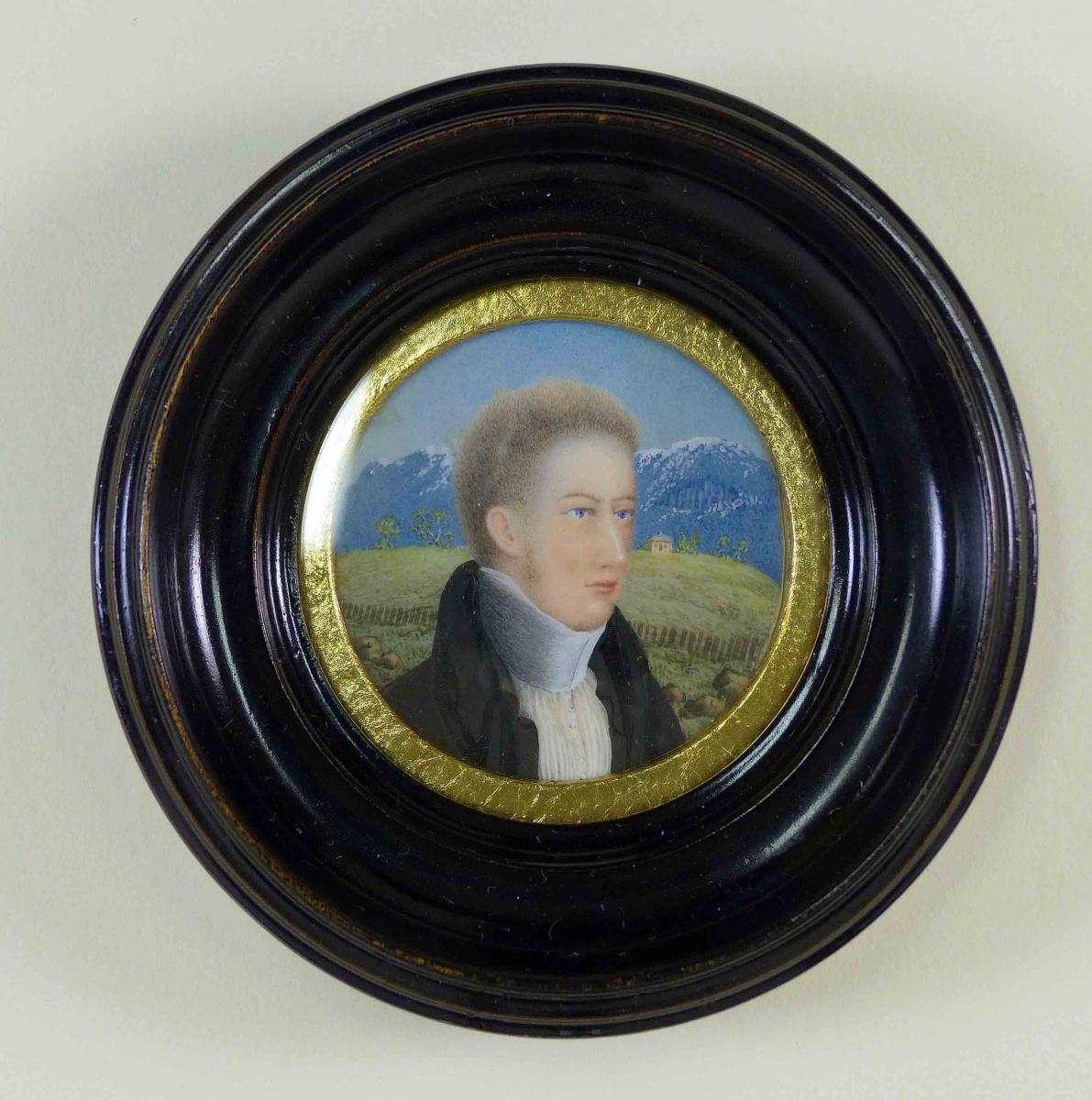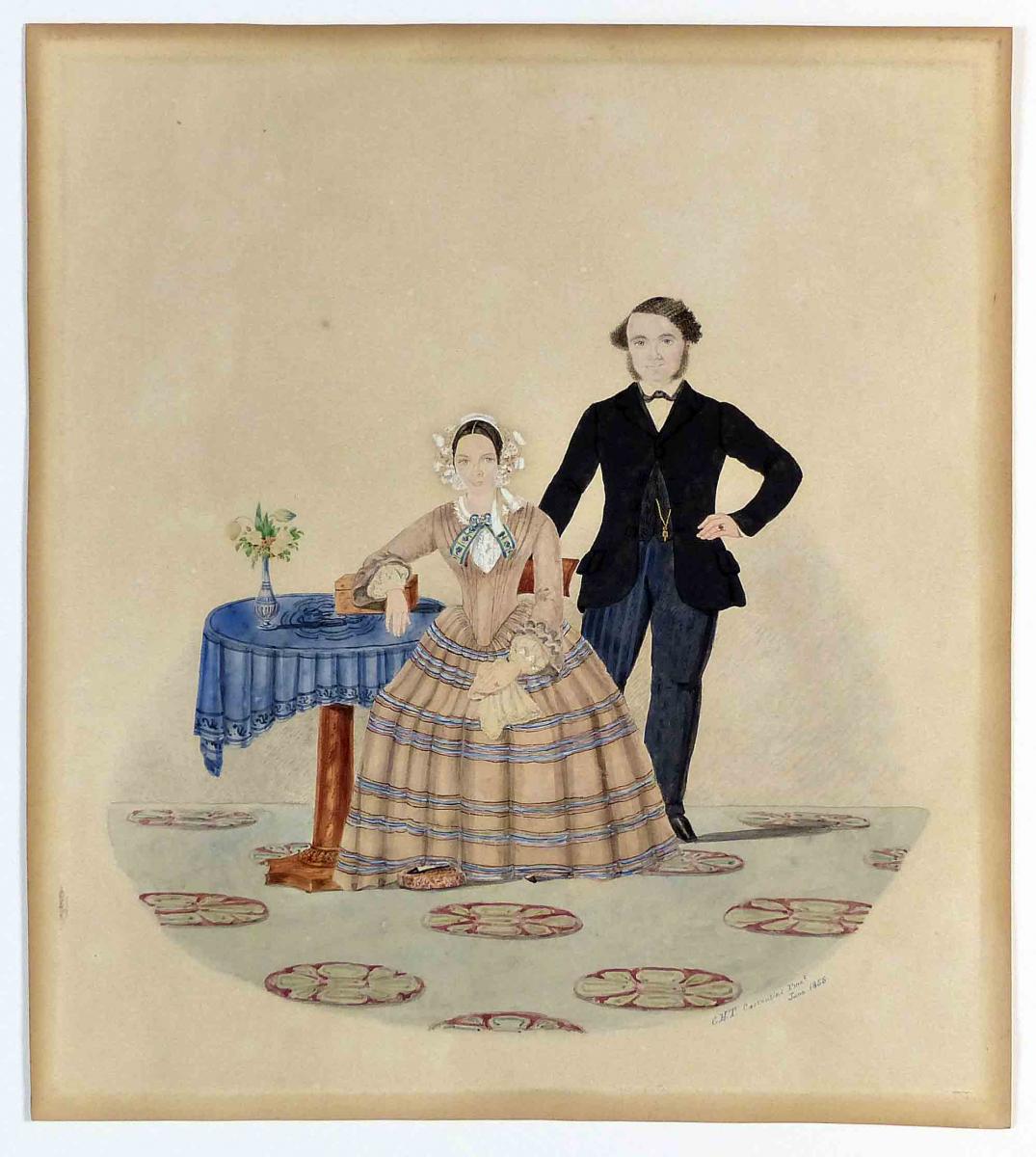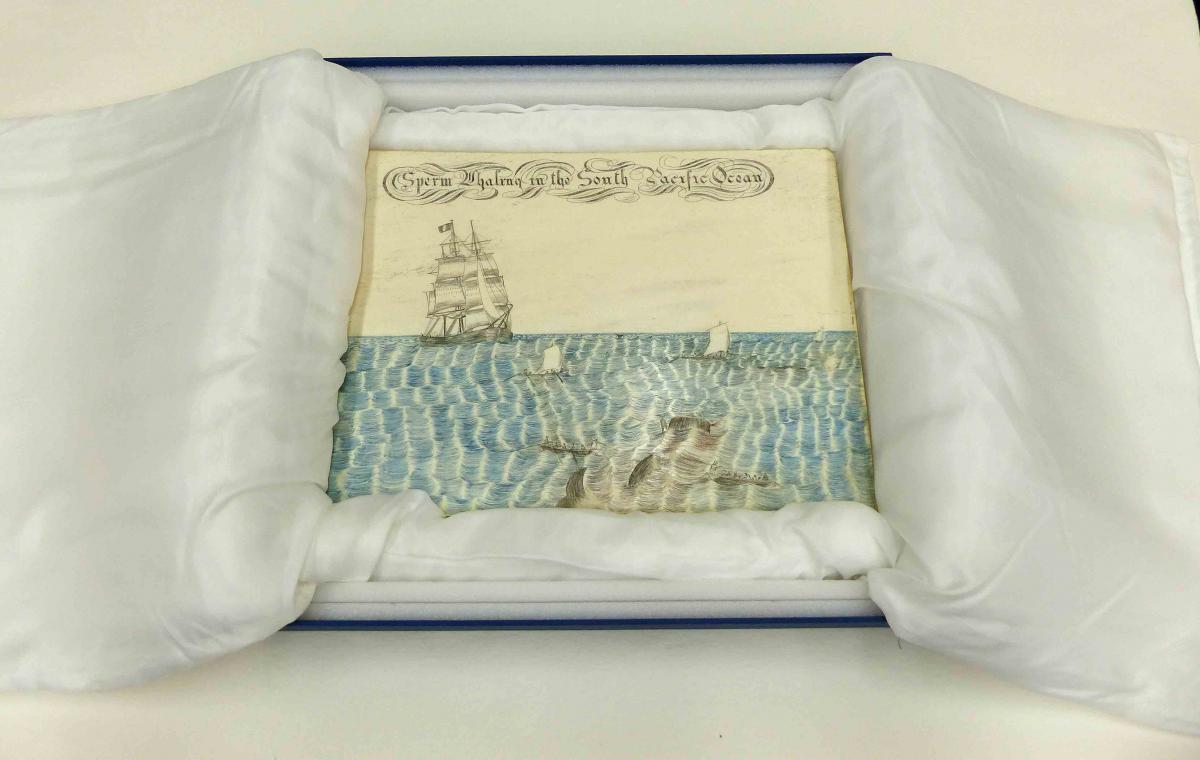 Treatments
Stephanie McDonald designed a simple protective storage system for the Supreme Court Legislative Acts (2013 – present) to ensure the wax seals are not being flexed in storage and handling. We currently have about 250 documents to re-house and receive about 50 each year.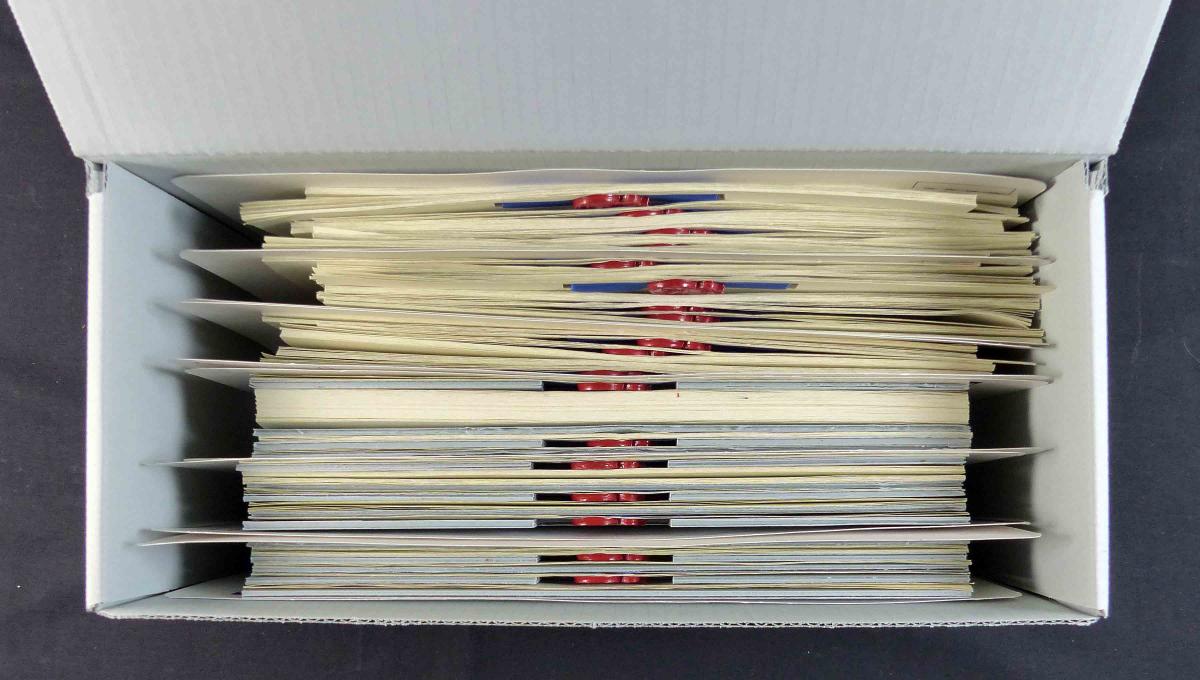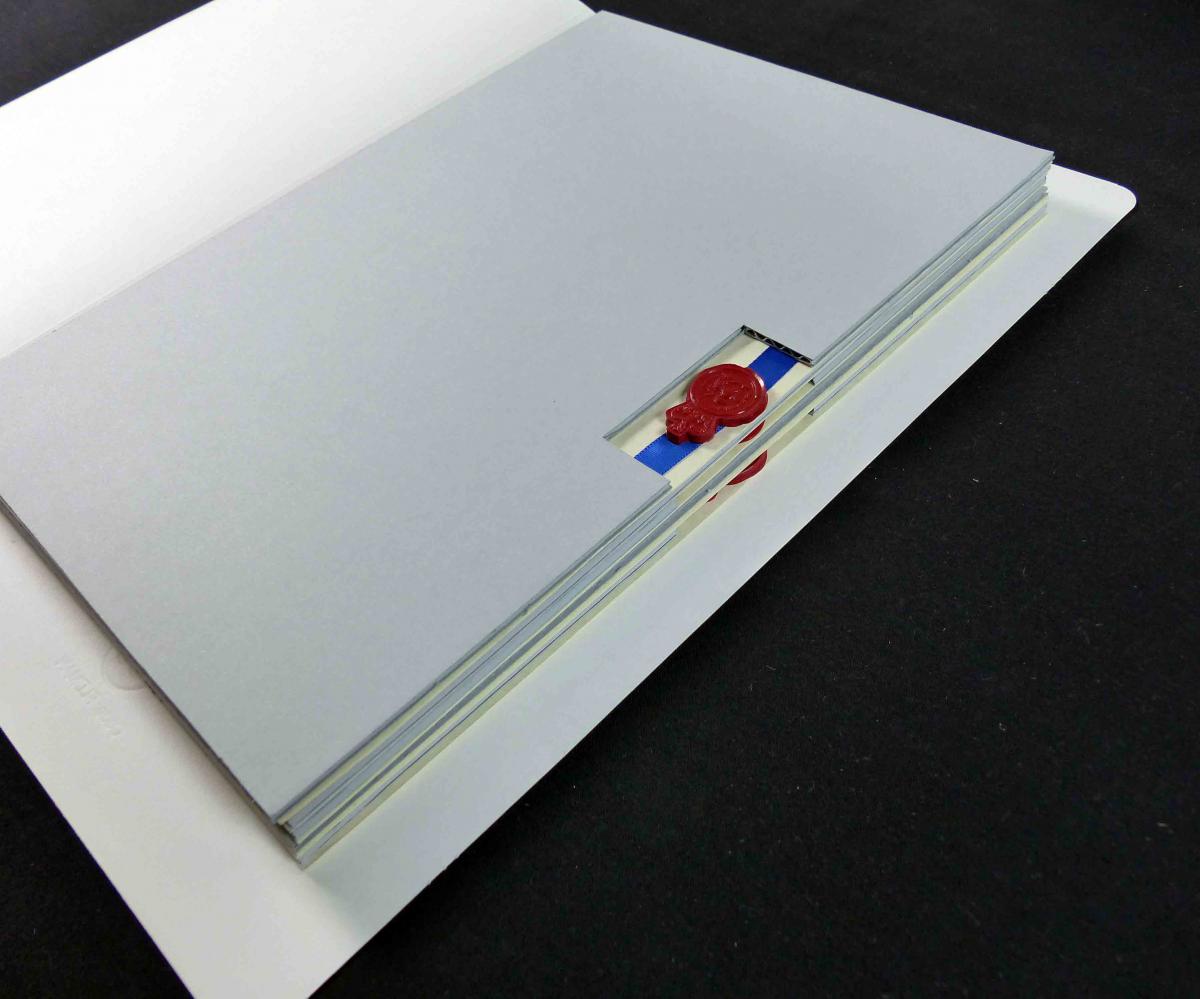 Recently we had a painting by Curzona Frances Louise (Lily) Allport re-framed in a frame custom-made by Louise Bradley. Louise brought the frame to Hobart from Melbourne and we installed the painting into it. The painting was originally found in the shed at the house where the Allport family lived and was conserved by Erica Burgess a number of years ago. It is so satisfying to see the work completed and it will be exhibited next year in a big Lily Allport exhibition that we are mounting to coincide with the launch of a book on Lily.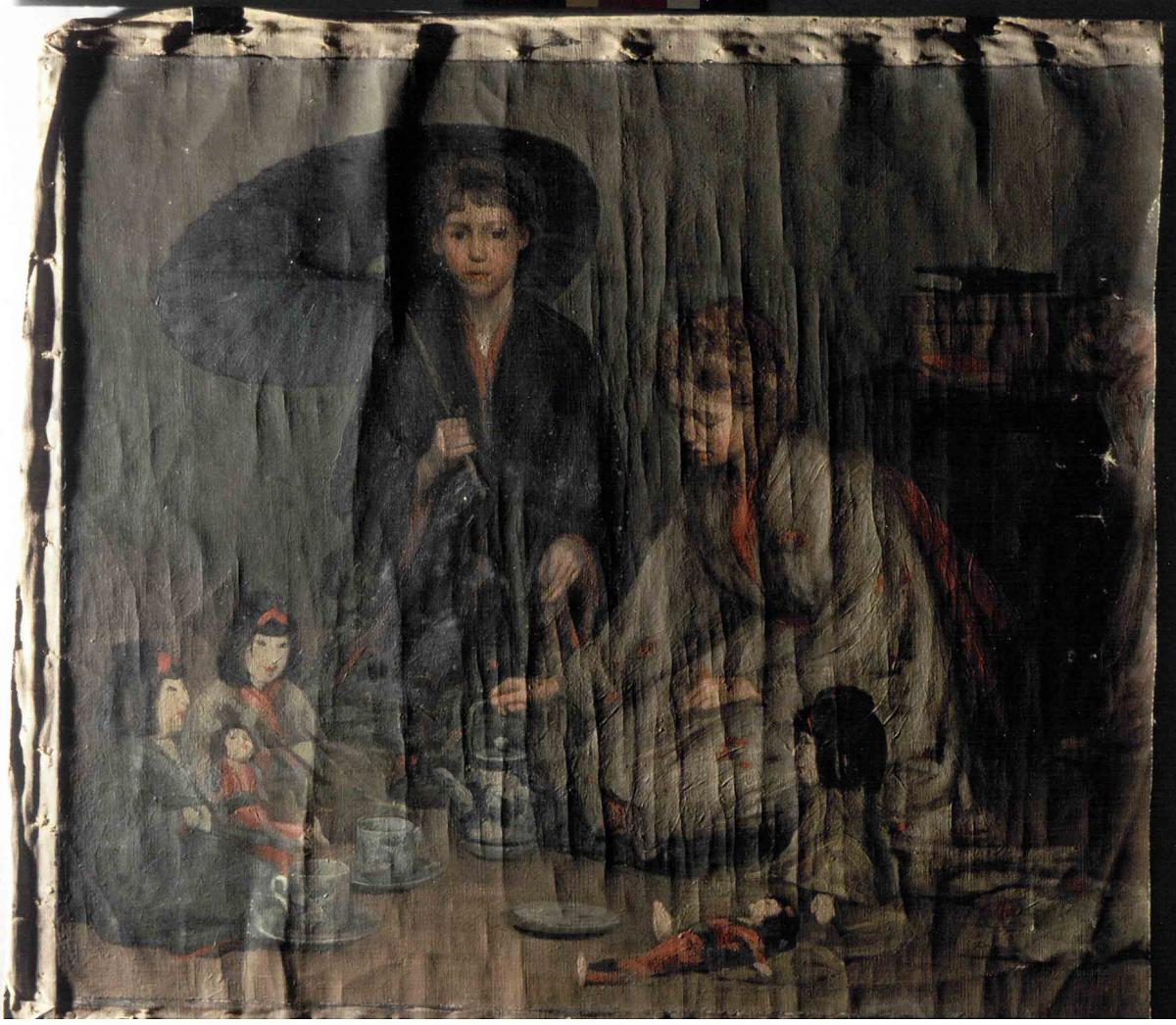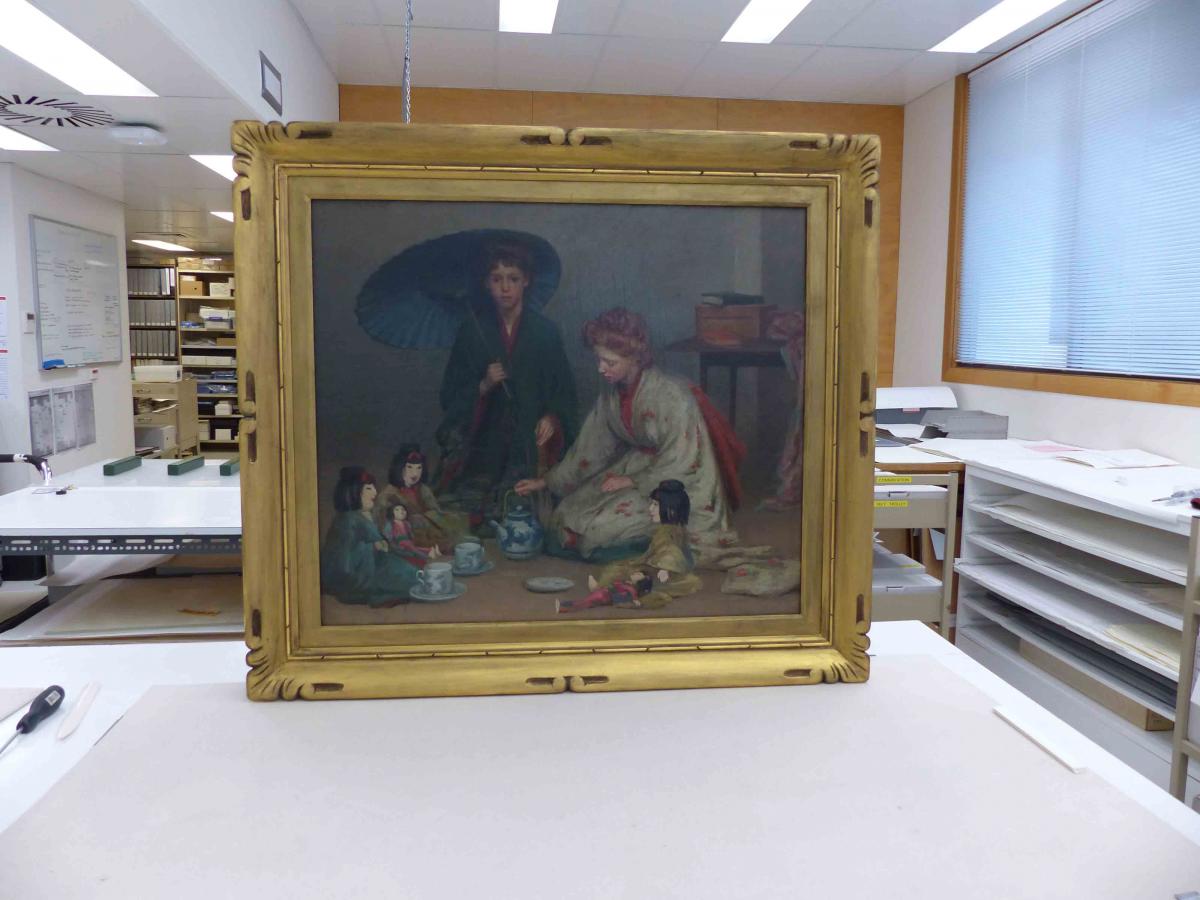 Social news
Stephanie McDonald is excited to be going to Sydney in November with the Tasmanian Symphony Orchestra Chorus to sing in Belshazzar's Feast with the Sydney Philharmonic Choirs and the Sydney Symphony Orchestra!
TMAG
Changes
Painting Conservator Erica Burgess has decided it is time for a change and will be leaving us on December 22nd. Erica has had a long relationship with TMAG, starting in the Paintings Lab between 1982-86. Upon completing her Masters in Canberra Erica worked at the National Gallery of Australia, then in Melbourne before returning to the TMAG in 1999 as a curatorial assistant and then as Painting Conservator since 2000. Erica's knowledge of TMAG's painting collection is encyclopedic and her commitment and contribution to its care remarkable. Erica has also been an active supporter of the AICCM, serving as state president and treasurer and assisting with SIG's and a national conference. Fortunately for us, Erica may be leaving TMAG but she will still be practicing in Hobart. The position will be advertised soon.
Exhibitions
Cobus van Breda has been working with Amy Bartlett from the Queen Victoria Museum and Art Gallery and Stephanie McDonald at the state Library of Tasmania to prepare an exhibition of works on paper and Daguerreotypes by Thomas Bock. The works have left for the Ikon Gallery in Birmingham, the city where Bock served his apprenticeship, and will be on display there over the Christmas period, and again on return to Tasmania.
Mentoring and Students
Object Conservator Nikki King Smith has just had the most welcome assistance from 3 students from the Melbourne University Conservation program. Grace Barrand, Lauren Acland and Petrina Killey came to Hobart for 2 weeks to volunteer in a project we have running, to re hang the military uniforms from the History collection. They were introduced to the fine art/engineering of 'padded' coat hangers. The students were given the task of making fitted foam supports for each coat, encasing a hanger to give the very heavy coats and jackets better support.
Much carving, laughter and foam fritting ensured, culminating in the successful re hanging of 9 heavy coats. The students also assisted in the ongoing program of placing shell necklaces into flat storage. They tailor made ribs to fit into trays that were then placed in a plan cabinet for safe keeping but easy visual inspection, removing the need to handle the necklaces. Each necklace was fully supported and the strands kept separate and untangled.
It was a great pleasure to have these students spend time in the lab, and I can recommend them to anyone looking for future conservation staff.
---
Australian Capital Territory
NLA
Exhibitions and loans
Our Preservation team has had a bumper year through our Exhibitions and Loans program. In 2017, the National Library had the opportunity to showcase over 1000 precious objects from our varied collections. A stunning array of rare books, artworks, manuscripts, paintings, posters, objects, and photographs were conserved and documented in preparation for display in 37 public exhibitions, covering 26 venues around the world.
One of the highlights was a loan of 19 extraordinary wildlife watercolour paintings by Australian artist William Cooper. The team also worked on 140 Japanese woodblock prints for our in-house Kuchi-E exhibition, which highlighted life in Meiji Japan. https://www.nla.gov.au/blogs/preservation/2017/06/08/melodrama-in-meiji-japan-part-one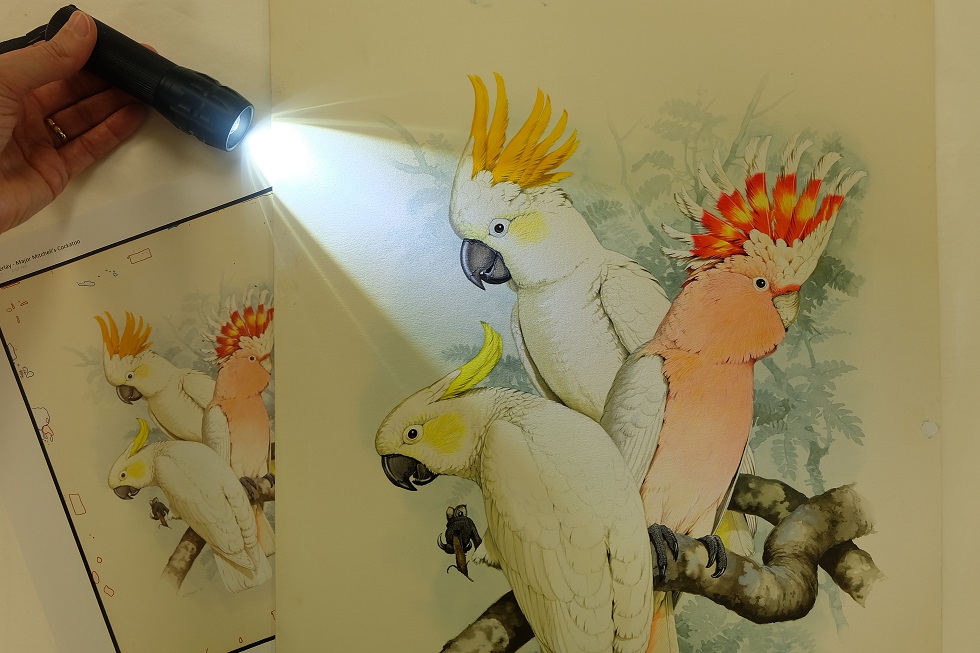 Our photograph experts Melanie Sorenson and Janet McDonald conserved hundreds of original photographs this year, including some dazzling Athol Shmith studio prints for an in-house fashion exhibition.
While Freya Merrell and Sally Kilby kept our book and paper regime on track by contributing major treatments for our in-house gallery displays including a delicatenewspaper item in preparation for our Suffragette exhibition opening in February.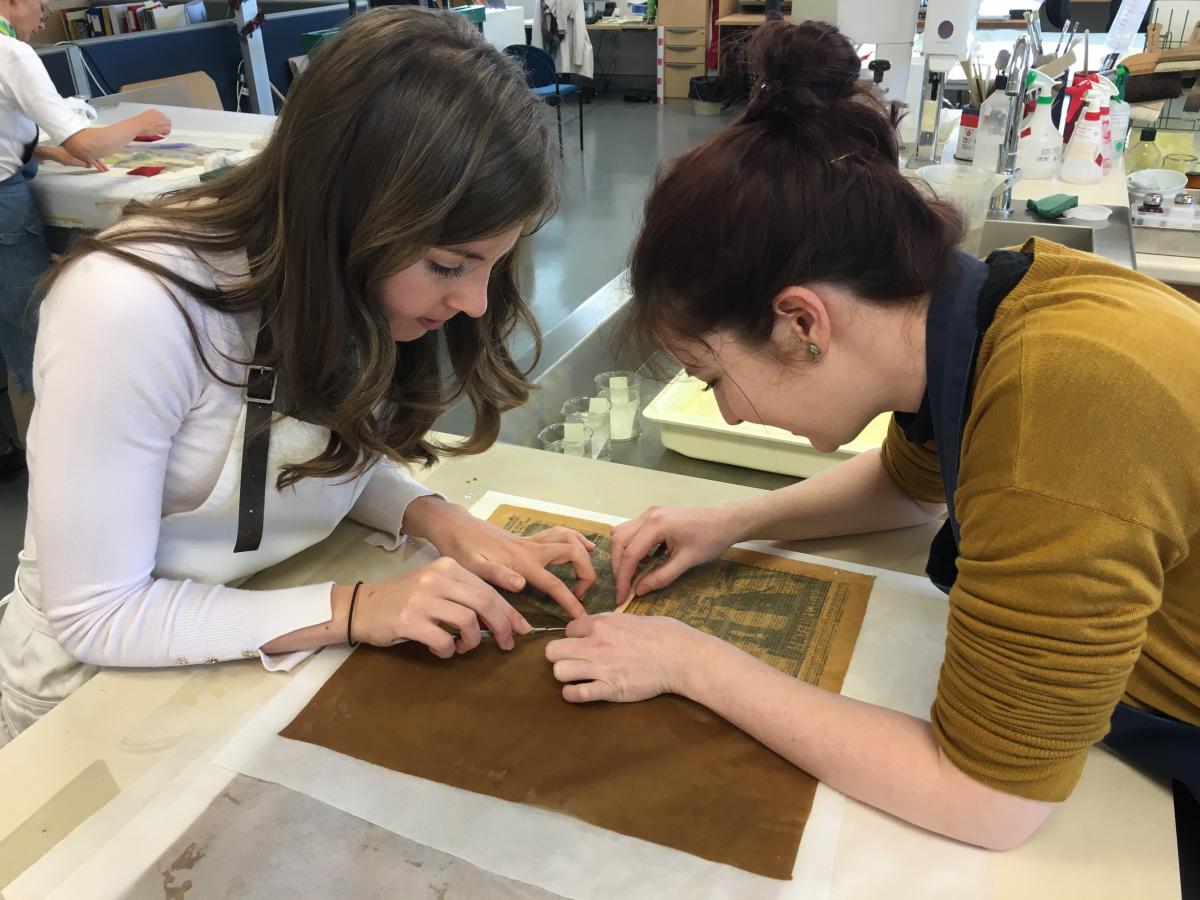 Projects
Denyl Cloughley and Lisa Jeong-Reuss brought to a close the epic cross-institutional Blaeu Map project https://www.nla.gov.au/unbound/the-blaeu-map-returns. The beautifully conserved 17th century map, Joan Blaeu's 1663 Archipelagus Orientalis sive Asiaticus, one of the rarest maps in the world, returned from the Grimwade Centre for Cultural Materials Conservation at The University of Melbourne following1150 hours of treatment. We immediately put our new X-Rite Spectrophotometer to work in order to accurately assess its long-term display requirements. The map was installed in our Treasures Gallery this week with much fanfare and media interest.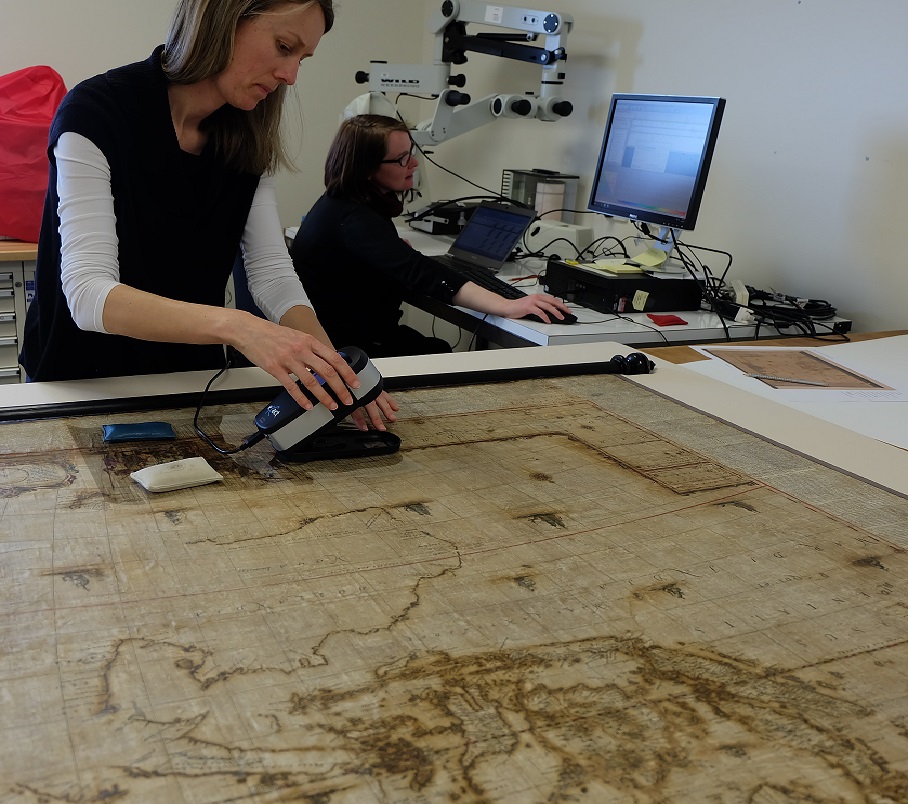 Upcoming is a project around James Cook's Endeavour journal. This major study has been timed to coincide with the upcoming major exhibition about the voyages of James Cook (1728—1779), scheduled to open in September 2018. The exhibition will bring together important international and domestic loans, and showcase the Library's strong collections of Cook material. Our preservation team's detailed examination of the journal, the most extensive in recent years, will allow the Library to better understand the history and physical properties of the journal. The results of this exciting research will be shared with the public in association with the exhibition.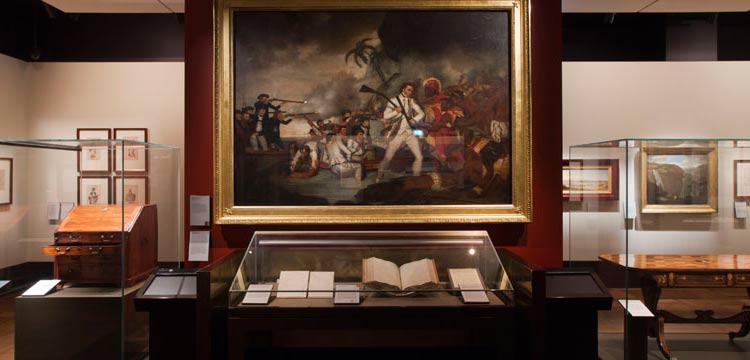 Workshops
The National Library's collection includes over 800 paintings, which are in regular demand for in-house displays and external loans. The team undertook some in-depth training with ICS Senior Paintings Conservator Adam Godijn in cleaning, retouching, and consolidation techniques for canvases and frames. In addition to being immensely enjoyable, Adam's training has greatly improved our ability to care for our paintings collection.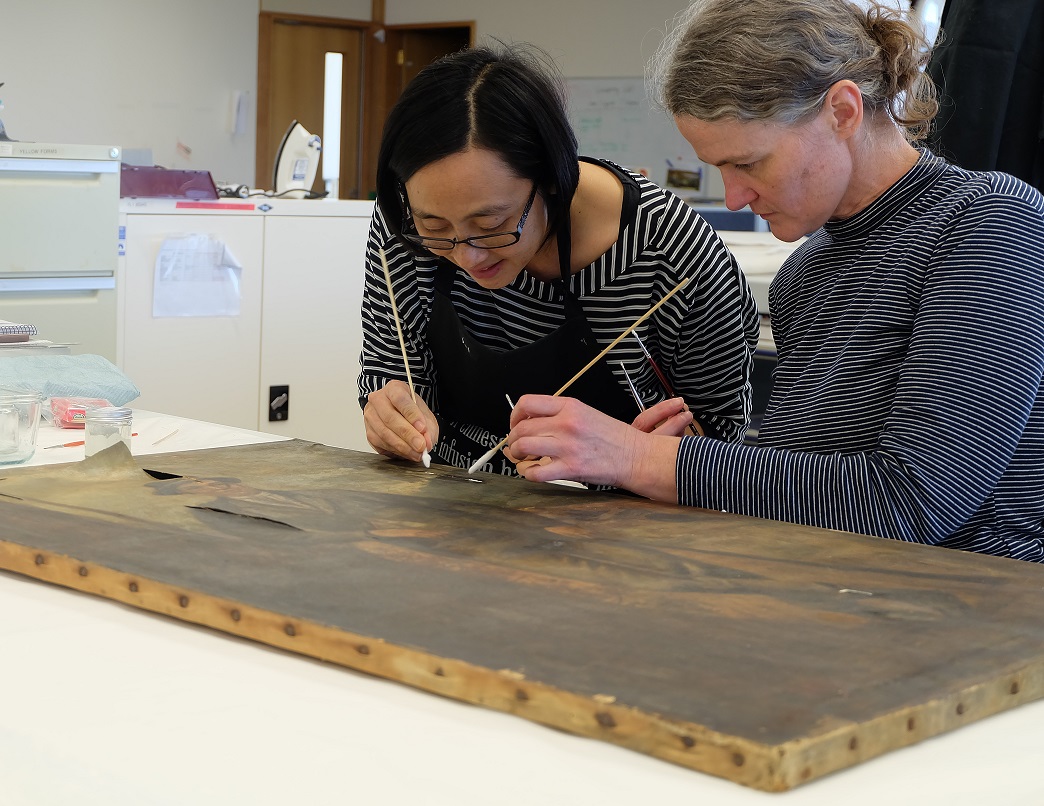 National Archives of Australia – Canberra
Changes
The team at the NAA Canberra Preservation Lab were sad to see Caroline Milne leave the organisation recently. Caroline played a significant role in the safe transportation of the collection from our Greenway and old Mitchell buildings into the National Archives Preservation Facility. Her drive, passion, attention to detail and love of cheese will be sorely missed.
Projects
The big news for the NAA recently has been the temporary relocation of all staff out of East Block and into one wing of Old Parliament House. The Reading Room is now located just off Kings Hall with a small display of Federation document facsimiles and interpretive material in an adjacent room. Preservation staff removed all items in the Memory of a Nation gallery and the Federation Gallery over two days and returned them to storage. The Parkes staff will be located at OPH for 12 – 15 months, then the move back in to East Block will begin. Once the staff are reinstalled, the Memory of A Nation and Federation Galleries will be refurbished and new material installed.
Travis Taylor and Suellen Bailey have been working closely with the Description Section to prepare a selection of ships drawings for itemised listing by a retired Navy volunteer. So far 800 plans have been condition checked and repackaged prior to use.
Workshops and Conferences
Prue McKay attended the most recent ICCROM Conservation of Japanese Paper course. She had a fabulous time in Tokyo and Kyoto and came home with her own hand made hand scroll. She then gave the Lab staff a rundown of the course and the steps involved in the manufacture of the hand scroll in one of our regular "Crafternoon" sessions.
National Film and Sound Archive
Exhibitions
The National Film and Sound Archive and the National Portrait Gallery recently launched a new exhibition called Starstruck: Australian movie portraits on the 9th of November. The exhibition was opened by special guests Margaret Pomeranz (NFSA Ambassador) and actor Paul Mercurio (star of Strictly Ballroom). 
It took three years of planning by curators Penny Grist from NPG and Jen Coombes from NFSA to create an exhibition about portraits from Australian movies. The Starstruck exhibition is a unique and wonderful exhibition that celebrates the combined efforts and skills of both institutions. 
The exhibition was the first time NFSA and NPG have collaborated on this scale. The Curatorial team included Dr Jenny Gall, Belinda Hunt, Jill McKenzie, Tenille Hands and Jess Bolton working at the NFSA and Dr Anne Sanders and Felicity Harmey at the NPG.
Senior conservator Shingo Ishikawa repaired and stabilised fragile Cinesound casting books, enabling it to be digitised, while at the same time working on over 150 Condition reports for the loan. The NFSA Imaging Specialists Tony Rowley and Darren Weinert digitised every page of 11 scrapbooks and over 200 stills, posters and costumes. Clearing the copyright for the photographs was a challenging process as the photographer was not always credited with the image in the records. Associate registrar Maria Ramsden at NPG worked hard to sort out the logistics, exhibitions designer Aaron DeSmet finalised overall look of the exhibition while Heidi Elliot framed all the prints and created beautiful book mounts for each album and scrapbook on display. 
It was a massive group effort from both sides, with each job involving tight and changing deadlines. We've learned a lot throughout this process. It was wonderful to work closely with NPG staff and we appreciated the opportunity to showcase some of NFSA's collection some of which has never been displayed before. I'd like to thank all the senior managers and other staffs from both institutions involved in this project that was not mentioned here, this was truly a group effort!
This project was funded by the National Collecting Institutions Touring and Outreach Program'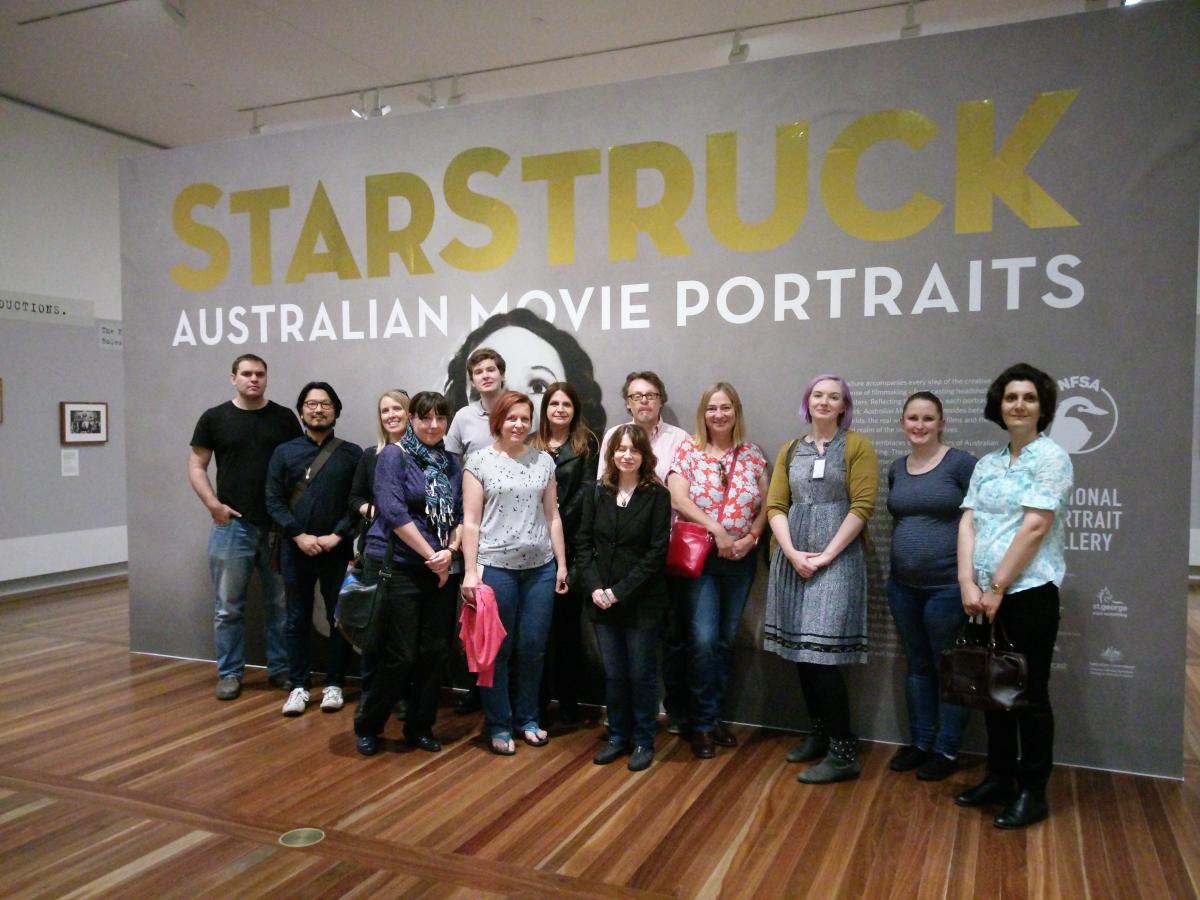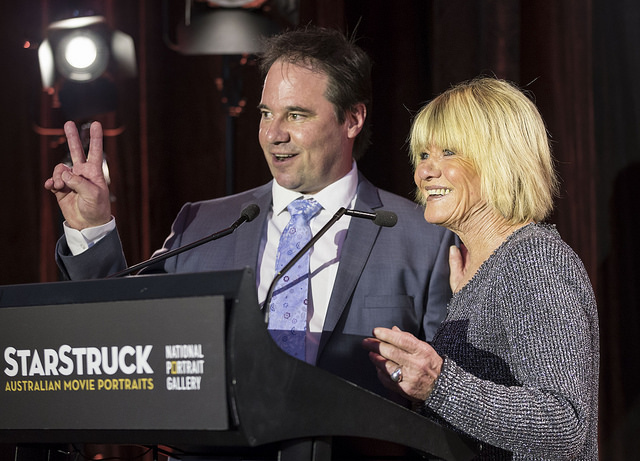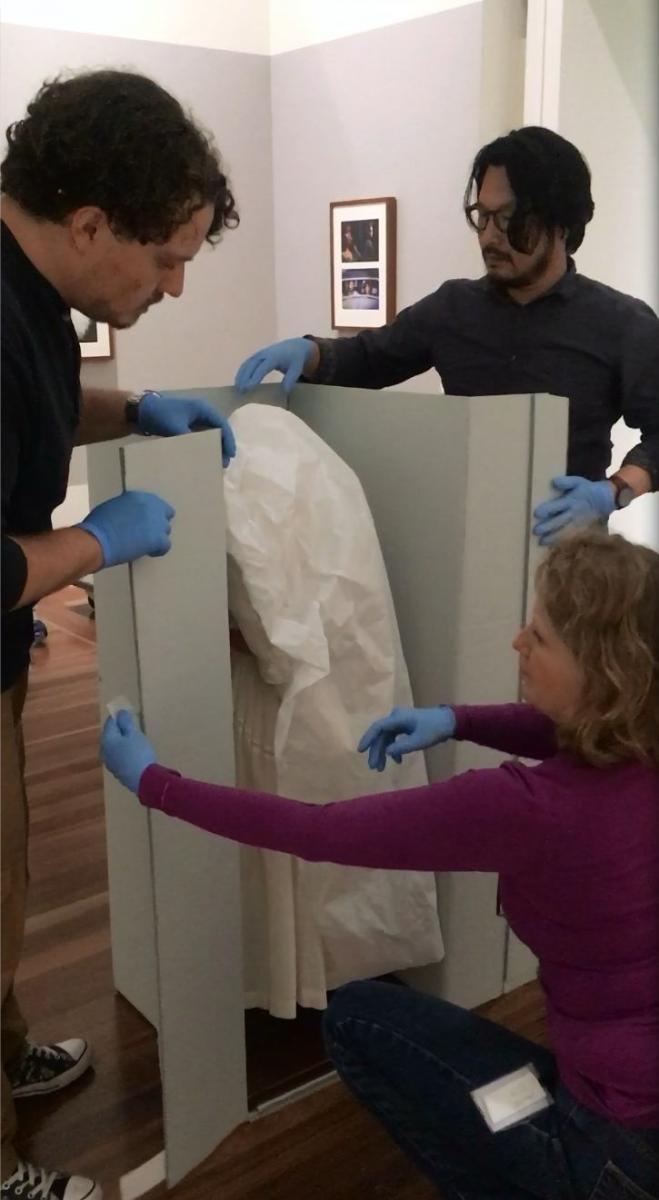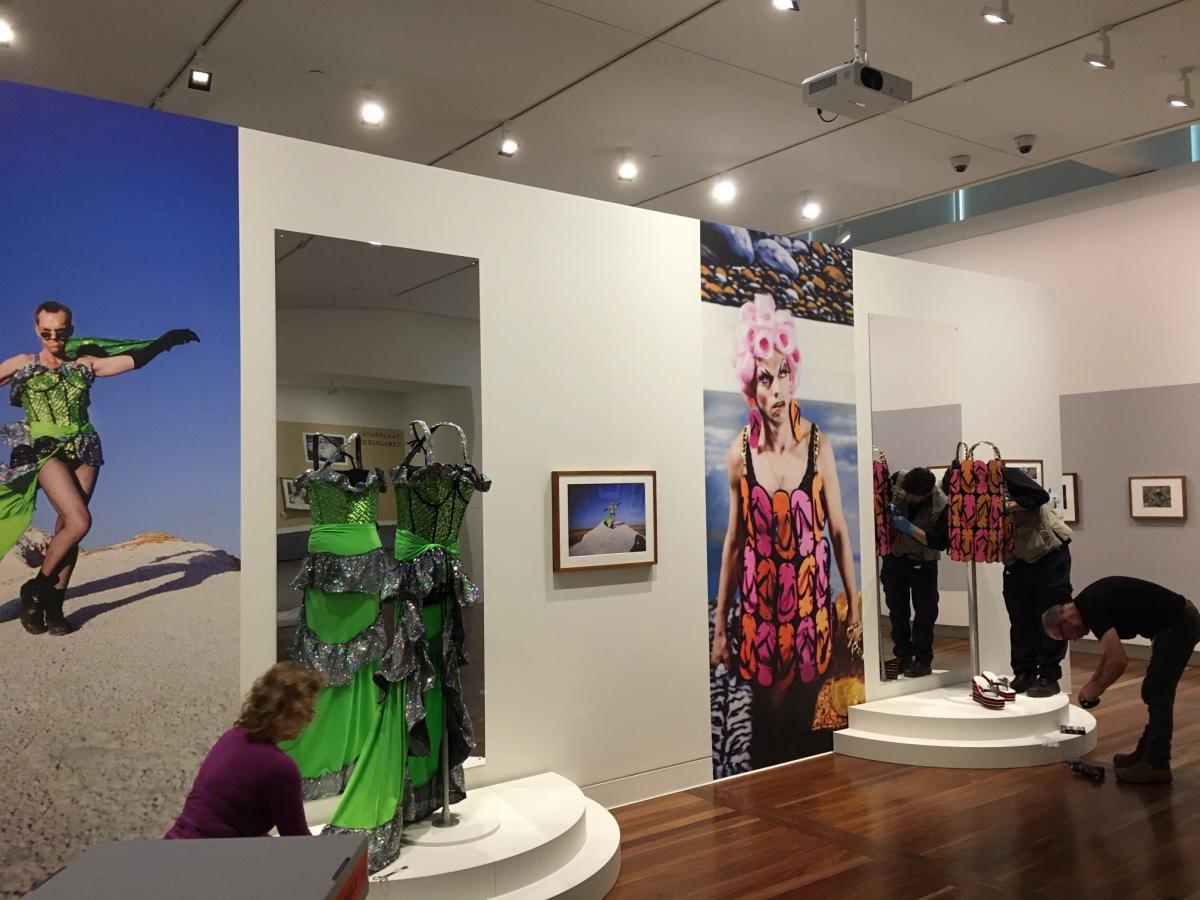 ---
New South Wales
David Stein & Co.
Treatment projects
Our 'Stella team', including Julia Sharp, Sandi Mitchell, Anne Perrin and Ellie Gifford, have signed off on the three-month long Stella Project at Grosvenor Place. Final consolidations and cleaning of the three monumental Frank Stella artworks were completed in early October. Katherine Rosenthal and David Stein have been working on compilation of the final report and recommendations for future care. We hope to put together a paper outlining the challenges and complexities of the treatment for the next Paintings SIG symposium.
Image 19: frank stella1.jpg and frank stella2. jpg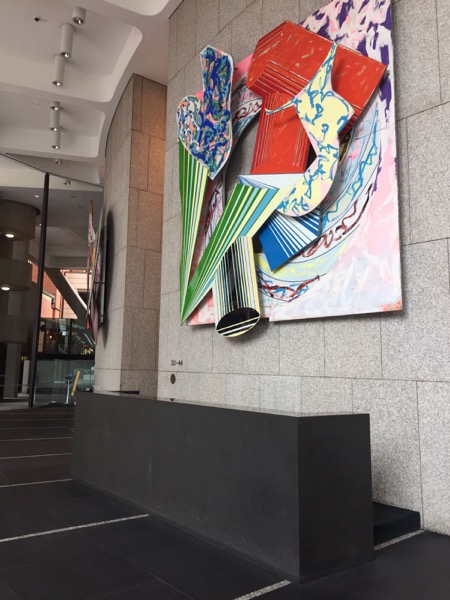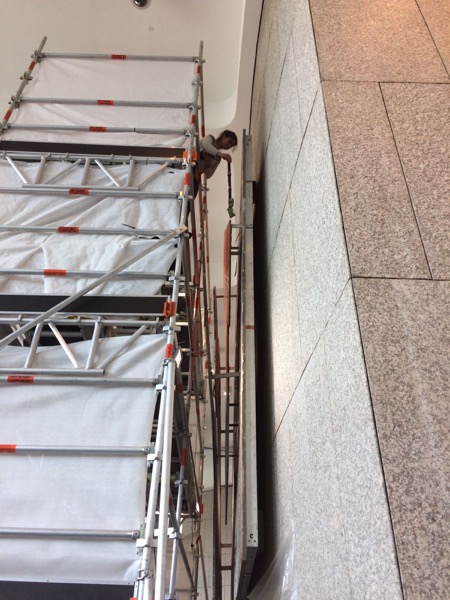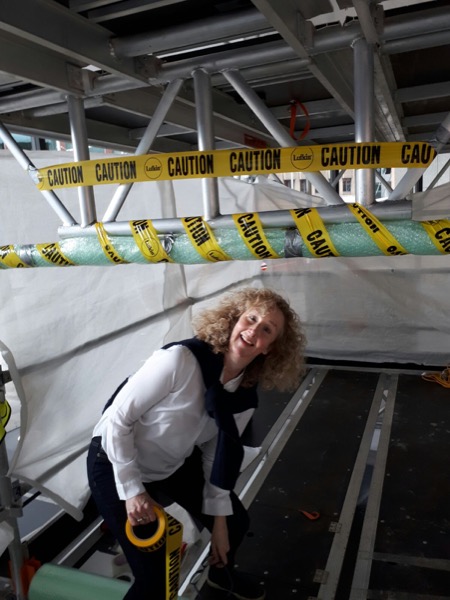 The two large William Lister Lister treatments for Newcastle City Hall were completed by Julia Sharp and Sian Griffiths, and rehoused in their restored frames. They finally left the building in early October and Julia travelled to Newcastle to see the paintings reinstalled at the Town Hall, to great praise from the curators. Sian has since been working on the varnish removal and lining treatment of another large Lister Lister for a private collection.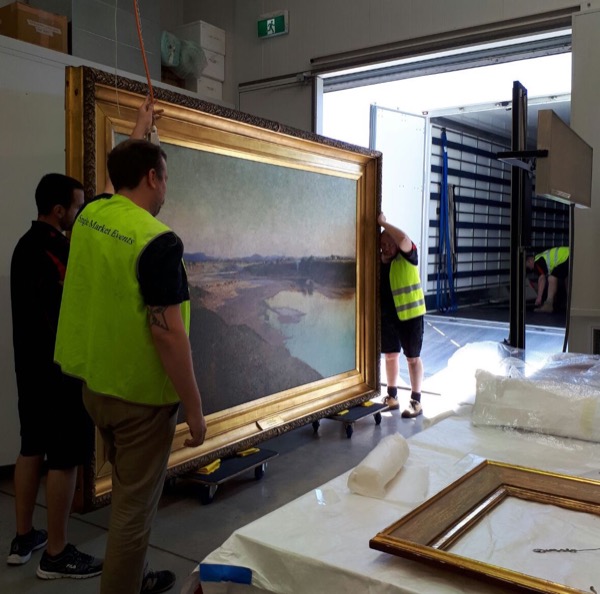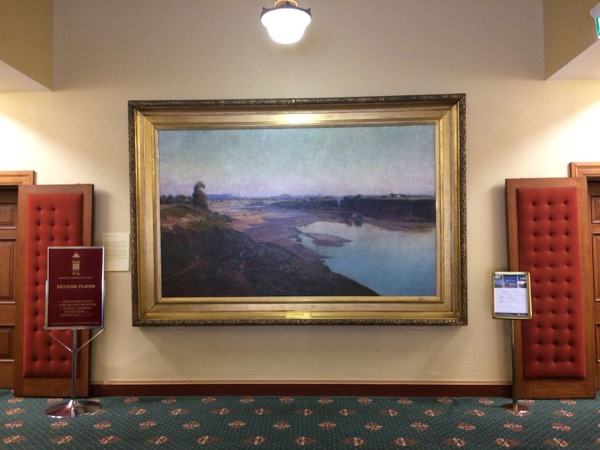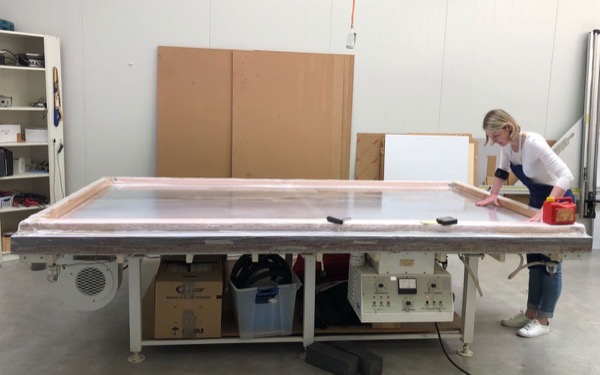 Our new hot air pen has become the most loved tool in the studio, with Sandi Mitchell and Selina Halim developing a successful technique for consolidating a number of paintings from William Robinson' s Farmyard series using the pen.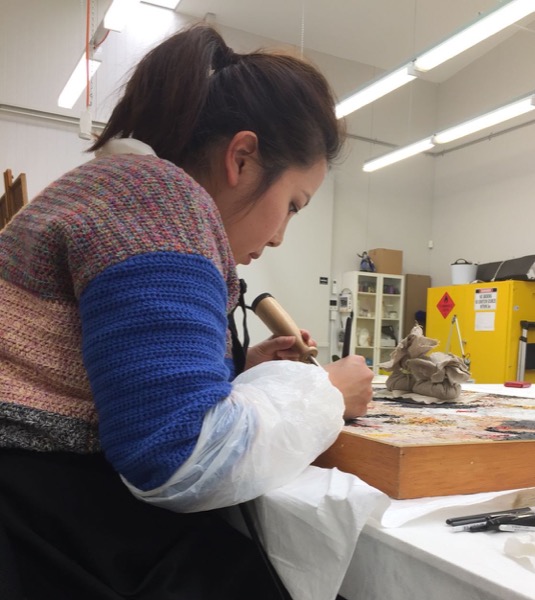 Anne Perrin has undertaken a complex varnish removal on a large painting by John Olsen. Selinahas also cleaned two large portraits of Sir Robert Helpman and Dame Joan Sutherland by Judy Cassab, to be re-installed in Sydney Opera House in December.
Ellie Gifford has been treating a large mould damaged painting and wood assemblage, and Lucy Tedder has been working on a complex consolidation treatment of a flaky painting of Sydney Harbour.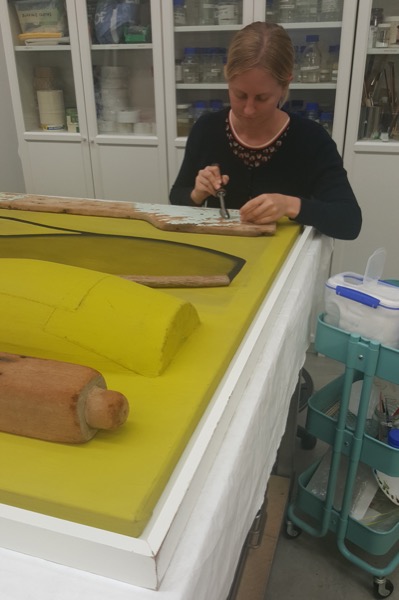 Conferences and Workshops
Sandi Mitchell and Katherine Rosenthal enjoyed catching up with colleagues at the AICCM National Conference in Katoomba in November, with Sandi also presenting a lightening talk on 'Conservation Live: The John Herbert Public Conservation Project' that she managed at NGV. Lucy Tedder attended the ICOM-CC 18th Triennial conference in Copenhagen in September.
Lucy has also had a busy month of professional training in November. Lucy and our Registrar Soleste Ponticello, attended a Museum Pest Management workshop presented by Alex Roach at Modified Atmospheres. Lucy also attended workshops on paper conservation and managing paper collections by Ian Batterham at the University of Canberra.
Social
We welcome back Selina Halim, who returned to her position as Paintings Conservator in November after a period of leave with her gorgeous baby boy, Hugo.
Australian National Maritime Museum
Treatment Projects
The work of Agata Rostek-Robak, Rebecca Dallwitz, Nick Flood and Jeff Fox on the Cape Bowling Green Lighthouse is reaching the final stages of the current project. Over the past few weeks, Hazardous paint was removed and replaced with a Surface Tolerant Epoxy (STE) primer and an acrylic topcoat.
Exhibitions
Guardians of the Sunda Strait – The World War II Loss of HMAS Perth and USS Houston exhibition travelled from the Houston Public Library, Texas to the Museum for a three-month showing. Luci Ronai and Kevin Bray (conservation preparator)undertook most of the tasks in preparation for this. The exhibition was opened by the Mister for Foreign Affairs, The Hon Julie Bishop MP.
Agata Rostek-Robak, Rebecca Dallwitz, Jeff Fox , Nick Flood, Kevin Bray and Jan Russell (conservation volunteer)havecompleted many months of treatment, documentation and mount design for the Gapu-Monuk Saltwater – Journey to Sea Country. This important exhibition was launched in conjunction with the 2017 Nawi Symposium which serves to exchange traditional and contemporary Indigenous knowledge on rivers, oceans and watercraft.
Conferences and Workshops
The conservation lab sent five of its team members to the 2017 AICCM National Conference. Rebecca Dallwitz, Jeff Fox and Nick Flood presented a conference paper (Continuity of change: Cape Bowling Green Lighthouse project). Luci Ronai delivered a lightening talk (Cellulose Nitrate & Cellulose Acetate Negatives: Preservation Management Strategies), conveying results from a recent survey across Australian collecting institutions. Both Luci (The Montefiascone Experience: An International Bookbinding Training Opportunity) and Nick (Using RTI to Connect to your Object, Colleagues and the Public) had contributions in the poster session.
Nick Flood was lucky enough to travelled to Adelaide in September to attend the Australasian Institute of Maritime Archaeology (AIMA) National Conference. In the following week he undertook the Maritime Archaeology Conservation Practicum offered by Flinders University and taught by Western Australian Museum's Vicki Richards and Jon Carpenter. The highlight of the course was the field survey and testing carried out on the Port Willunga Jetty, see image.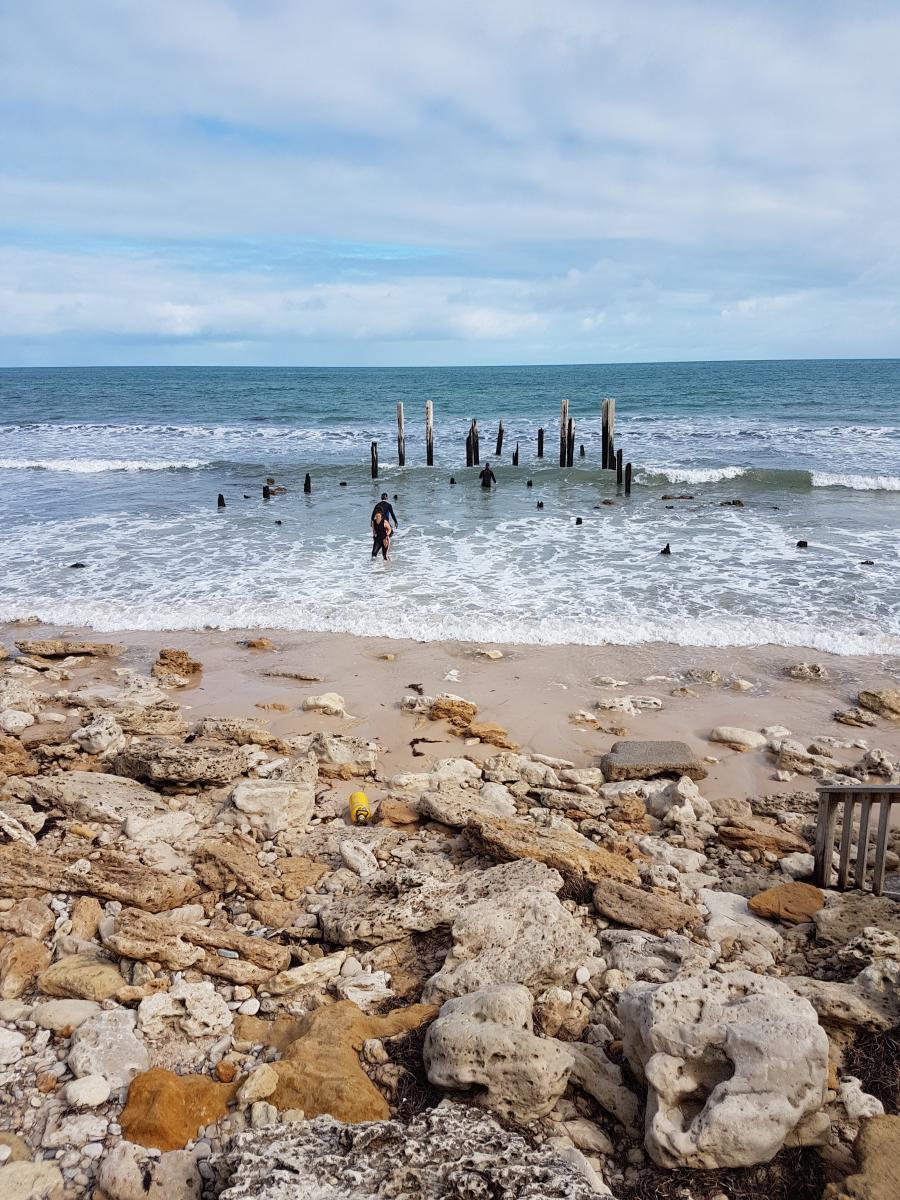 Social news
Sue Frost has taken a few months of well-deserved long service leave. She'll be back at work in early in 2018.
This year the Museum held its first AFL Footy Tipping Competition. The conservation lab scored highly in the final results, with Nick Flood and Jeff Fox finishing 4th and in 5th, respectively. Well done guys!
The theme of the Museum's annual Christmas party has been announced: Back to the 80s. We look forward to sharing photos of conservators in fashion of the era in the next edition of the AICCM e-News.
Sydney University Museums
Exhibitions and Projects
The usual crew (Wendy Reade, Dee McKillop and Alayne Alvis) are still beavering away preparing for the new Chau Chak Wing Museum. Preparing for a new lab has thrown up many interesting questions, such as what sort of fume hood is appropriate for our needs. If nothing else, our architects are getting an education in a new area.
Alayne has been working with various hazard surveys, looking at asbestos and ionising radiation.
Mentoring and Students
Rehan Scharenguivel has joined our team of volunteers, working on various projects between stints at university.
In September, Deb Peart undertook her internship with us, producing temporary mounts for Pacific masks so they could be photographed and digitised, as well as preparing a storage and display guide for Pacific Island textiles.
Workshops and Conferences
Wendy also presented a paper at the recent National Conference on her collaborative conservation work in Myanmar. A highlight was her winning the ADFAS Mid-Career Scholarship which will allow her to travel to Munich to present a paper on her recent conservation work on a painted pavement from Armana.
Social
Dee McKillop had a recent successful exhibition with her members of her talented family of her oil paintings in the exhibition "A Family Matter".
International Conservation Services
Changes
We are delighted to announce that ICS now has a formal presence in Melbourne with the appointment of Lauren Keating as ICS' Objects conservator specialising in archaeological conservation. Lauren will be working out of the Heritage Victoria labs in Abbotsford, which ICS have leased from HV. Skye Firth, ICS' textile conservator who has operated out of Melbourne for some years will continue to do so, complementing Lauren's role, whilst still regularly working out of Sydney.
Treatment projects
Karina Acton and Frances Paterson recently completed condition assessments of a large archaeological collection in Port Macquarie.
Katy Ross has been busy managing conservation works on a number of memorials for Fairfield City Council and Liverpool City Council. More recently she and Amy Jackson travelled to Newcastle to undertake an assessment of a moveable heritage collection.
Annick Vuissoz has worked on various objects from the Hawkesbury Regional Museum and various private clients. She also worked with James Kleppen to conserve the Horses of the Desert Mounted Corps Memorial, and with Arek Werstak undertaking conservation works to the Captain Cook Memorial in Randwick.
Arek Werstak, Katie Wood and Rob Williams spent most of September at Central Station restoring a vast mural depicting the NSW train system.
The Sydney Metro project iscontinuing to require the gentle hands of conservators the latest being the salvage of heritage material from a 19th Century North Sydney terrace being demolished to make way for an underground station. James Kleppen led the ICS team that fulfilled the necessary works.
Workshops and Conferences
ICS had a major presence at the AICCM National Conference in Katoomba. Our congratulations to the organisers on an excellent event on all fronts: program, venue and social events. Matteo Volonte, Oliver Hull, Wendi Powell and Claire Heasman were all on the organising committee.
Lauren Keating gave a paper on using technology to reveal the form of a heavily corroded pistol and Skye Firth held us all entranced with the story of the Birdwood Flag's conservation. Photographs of this extraordinary project which has gained much media attention are below. Julian Bickersteth presented on the implications of the diminution of manual skills training for conservators in the broader context of what skills will be needed by future conservators.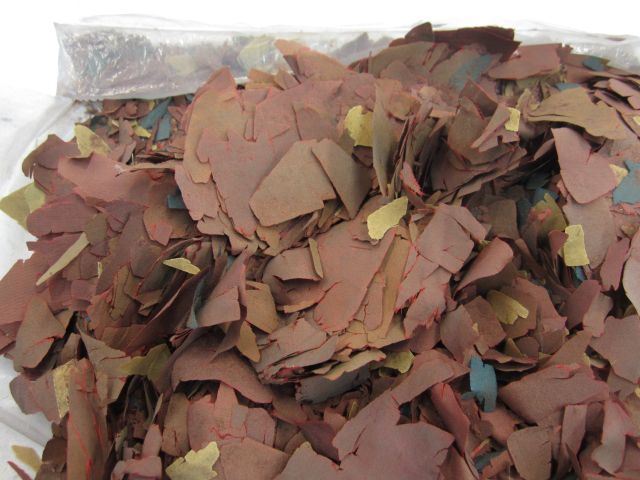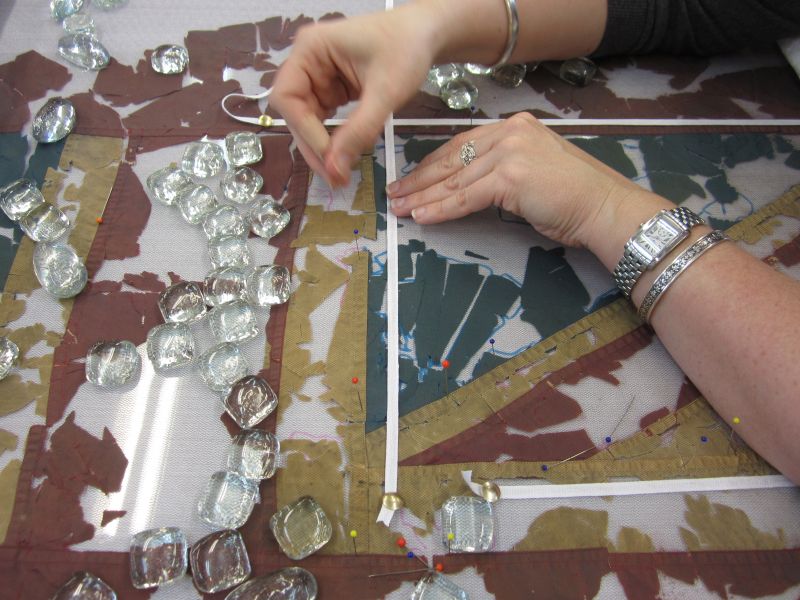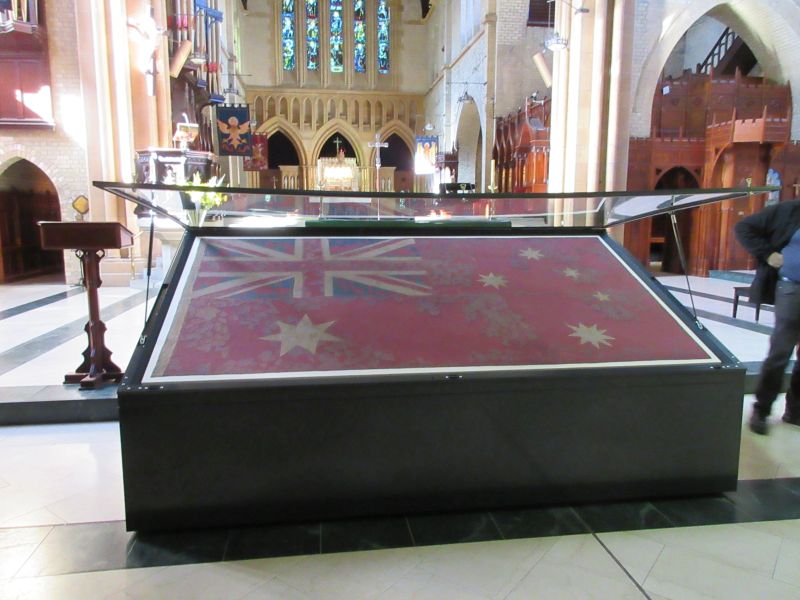 Our big congratulations to Jenny O'Connell on being elected to the role of National President at the AGM. Well done to Skye Firth for winning the inaugural outstanding treatment of the year for her work on the Birdwood Flag. Fran Paterson is now coordinating the Emerging Conservators SIG, and Katie Wood has been elected Membership Officer.
Social
We welcome Madeleine Price as our new Client Services Manager. Madeleine is a trained conservator and has most recently been working at the Auckland Museum
Eliza Penrose has been appointed Head of Conservation at Christchurch Art Gallery, NZ. Whilst we shall miss her skills and presence at ICS hugely, we are delighted for her, and wish her well as she starts her new life over the ditch. 
Welcome home to Karina Acton who has recently returned from a lovely overseas trip.
Heights Heritage Conservation
Treatment Projects and Exhibitions
Tess travelled to Bendigo in September for the opening of the Costume Designer: Edith Head exhibition at Bendigo Art Gallery. BAG once again have done a wonderful job.
The City of Sydney's Our City: 175 Years in 175 Objects exhibition opened in November. This has meant a change of scene from all textiles, with designing and producing mounts for a number of complex 3D objects as well as a few more mannequins…
Social
Tess Evans has justcelebrated 30 years in Australia since arriving in Sydney in September 1987. Memories of those halcyon days came flooding back with the first meetings of Australian colleagues and the excitement of the Bicentennary.
Then in November Tess went to Adelaide to celebrate 60 years since her aunt and uncle arrived as Ten Pound Poms with 7 children in tow to settle in Elizabeth. Her Aunt, now 94, hosted a picnic in Bonython Park for 38 family members; 4 generations, 3 interstate nieces and an international nephew.
Museum of Applied Arts and Sciences
Changes
With the move towards upgrading the museum's records systems we are assessing how we manage our condition reports and conservation files when the Records Management System transforms us into an (almost) paperless office. In addition the migration to Office 365 will allow easier access to our current corporate documents. .
We are also planning some minor changes to our conservation labs to facilitate our work and to make them more user friendly. This is likely to involve some minor internal; layout changes, removal of redundant equipment and furniture and some rearrangement of some work spaces.
Exhibitions and loans
Gosia Dudek and Megan Hall are preparing objects for the Willoughby glass display and for the coming Fashioning Asia exhibition which will display 700 items from the MAAS collection.
Vanessa Pitt returned to MAAS at the end of August after her four month secondment to the Australian Museum, and is now busily working with Frances Fitzpatrick on the numerous outward loans that are coming in thick and fast for the end of 2017 and the beginning of 2018. Frances has just returned from Arts Centre Melbourne dressing six mannequins for display in their upcoming "Australian Music Vault" exhibition.
We currently have 2 exhibitions that we encourage all to come and see.
The exhibition Love is: Australian Wedding Fashion is open and features more than 50 wedding outfits plus accessories covering nearly 200 years of Australian weddings. The exhibition includes Australia's first surviving wedding dress from 1822, gold rush fashions, elegant 1920s gowns, unconventional sixties styles and spectacular contemporary designer fashion, as well as garments reflecting Australia's culturally diverse communities. Memorabilia, photographs and letters reveal the stories and traditions behind the outfits within the context of the social, economic and political changes in Australian society. The exhibition showcases examples of exquisite contemporary gowns from well-known Australians at the vanguard of international wedding fashion.
It must have worked wonders because we have had our first proposal already!!
This is a voice is a Wellcome Collection exhibition produced in collaboration with the MAAS. Contemplate the power of voice before and beyond words and explore the human voice in this immersive exhibition. Experience the human voice, how it locates us socially, geographically and psychologically, and learn how the voice is utterly flexible and can be altered with treatment and training. Designed as an acoustic journey, delve inside vocal tracts, restless minds and speech devices to discover how meaning and emotions are conveyed through the patterns of rhythm, stress and intonation.
Blending performance, video, visuals and sound, This is a Voice presents works by artists and vocalists, punctuated by paintings, manuscripts, medical illustrations and ethnographic objects.
Conferences and Workshops
Six members from the conservation team shared two registrations and attended the AICCM National conference, 2017 in the Blue Mountains (Jonathan London, Teresa Werstak, Vanessa Pitt, Megan Hall and Frances Fitzpatrick and Gosia Dudek). It was fabulous opportunity to hear what our conservation colleagues around the country and New Zealand have been working on lately, and a great time to catch up with friends from the conservation community.
Suzanne Chee gained a place to attend IIC-ITCC 2017 textile conservation workshop at the Palace Museum Beijing. This workshop, drawing on the comprehensive textile collection of the Palace Museum will include lectures, current approaches to preventive conservation and non-destructive analysis of textiles, practical sessions and case studies. Following the workshop Suzanne will join colleague Bronwyn Dunn, a recipient of an IIC scholarship for a 3 day symposium Unroll and Unfold: Preserving Textiles and Thangkas to Last at the Polytechnic University Hong Kong.
The conservation team recently arranged an in-house FTIR training workshop by Koman Tam, Application and technical support specialist from Bruker Optics. Koman outlined the operation and use of the department's newly acquired Bruker Alpha FTIR UATR analyser. It is an invaluable tool for the identification of organic materials in the collection. We will also collecting conservation materials and samples to develop a reference library of common materials found in the MAAS collection to complement the libraries that come with the FTIR analyser.
Research and Projects
Sue Gatenby had a lightning visit from Nancy Odegaard. It was very refreshing to catch up with her during her visit to Australia and discuss conservation issues and future directions. Sue also attended an ARC-LP Poly-muse meeting at the Art Gallery of NSW. It was a great opportunity to discuss the progress of the project and talk about our achievements and plan for the future research. A comprehensive condition survey report has been drafted and each institution will sue it for their collection surveys.
The IPM is working well and we are being vigilant in addressing any pest issues, particularly at the MDC. The stores are having more efficient door seals and maintenance is being done to seal up any cracks. Unfortunately we have discovered early signs of a moth infestation in our wool collection, so it is being frozen to kill of any pests before it is inspected again and re-bagged. As an added precaution we will store the wool in our 10 degree cool room.
A Weighty Matter
Planning has been underway for some time to lower two aircraft suspended from the roof in the Powerhouse Museum to make way for a new installation in 2018. The work was planned and coordinated by Scott Winston and Conservator Tim Morris with assistance from another colleague Ralph Boesel.
The Transavia PL-12 Airtruk is one of the most significant aircraft designed and manufactured in New South Wales in terms of numbers produced, with approximately 120 made in various versions. Designed by Luigi Pellarini and first built in 1965, the Airtruk was made for agricultural use.
The Autogiro is model C30A of which 148 were made under licence from Autogiro in England, Germany and France. It was built in 1934 by A.V. Roe & Co., (Avro), at Newton Heath, Manchester, England, and imported into Australia and used as a private aircraft. Of the four Autogiros imported into Australia in the 1930s, the Museum's C30A is the only one to survive. Only eight are known to remain around the world.
A specialist contractor was engaged to lower the aircraft to the floor over a five hour period starting after hours on Monday 6 November supervised by in-house staff. Work continued in the Turbine Hall over the following two days to dismantle the aircraft in preparation for trucking them to the MDC for storage. Due to the extra wide load nature of the aircraft, trucking to the MDC was completed in the small hours of Friday morning due to restrictions on load size during the day.
The whole process has been thoroughly documented to better inform the movement of any future very large objects (VLO) The use of an interesting piece of digital technology – a wireless load shackle – enabled us to ascertain the actual weight of the aircraft as they were lifted off their suspension points.
Outreach Activities
Jonathan London travelled to Inverell in early October to deliver a day-long paper and photographic workshop to the Inverell District Family History Group.
Mentoring and Students
Elizabeth Reed recently started as a Conservation Intern and will be assisting us with our condition reporting for objects for exhibition and loan preparations as well as other conservation duties.
---
Victoria
Museum Victoria
Changes
Noni Zachri returned to the Museum to take up the role of Manager, Integrated Collection Processes. While this position isn't part of Conservation (it deals with collection risk management and other whole-of-collection programs), it's always nice to have conservators return to us! (Noni previously worked with us as part of a grant to register and conserve items in the Kodak collection).
Exhibitions
Elizabeth McCartney, Sarah Babister, Karen Fisher and Charlotte Walker have been preparing objects for two upcoming exhibitions: Inside Out (opening late December 2017) and British Migrants (opening late November 2017). Amongst other things, Karen has been washing textiles and helping to fix the Great Melbourne Telescope mirror more securely in its fittings. The mirror is made of 'speculum', which is a copper-tin alloy that was used for mirrors during the 17th, 18th and 19th centuries, as it could be polished to make a highly reflective surface. However, it is quite a brittle material, making it susceptible to physical damage. Charlotte has been preparing a number of garments for the same exhibition, including a feathered bustier and a very slinky silver dress. Our excellent volunteers Tim, Robyn and Sara have been helping Sarah to assess and treat about 90 cameras that will be displayed as part of Inside Out.
Dani Measday and Belinda Gourley have also been working on items for these two exhibitions. Dani repaired broken feathers on a cockatoo, using thread dipped in adhesive. She has also been treating more rhino-related material than you might otherwise expect: she cleaned a 19th-century Indian rhino skull and repaired the ear of a taxidermied baby rhino. Belinda worked on pamphlets and photographs required for British Migrants.
Elizabeth McCartney recently coordinated cleaning the Federation Tapestries (which are on long-term display in Melbourne Museum and which were well overdue for a vacuum!), assisted by Exhibition Assistants Emily Vearing and Hannah Stuart. Lizzie's also preparing items for Murramb-ik (Koorie comics), including original artwork by Lin Onus and two cosplay outfits (The Queen of Hearts and Captain Boomerang).
Treatment Projects
Karina Palmer has been assisting collection managers to assess and rehouse a recently acquired collection of about 300 garments from fashion designer Jenny Bannister. Some items from this collection will be prepared for an exhibition opening in early March at Melbourne Museum (called You Can't Do That!), which will also feature material by Prue Acton.
David Coxsedge has been freezing specimens from our Wild exhibition as required (the exhibition contains hundreds of taxidermy mounts on open display and is checked every six weeks for pest infestations). He's also treated a number of items coming off display from the Museum's Discovery Centre, which is being relocated to make way for a new exhibition being developed with the Victorian Transport Accident Commission (TAC).
Dani Measday has been assisting Vertebrate Zoology staff with a project to obtain an MRI of a fluid-preserved thylacine specimen, which has involved adjusting the ethanol/water ratio of the preserving fluid. Dani carried out an experiment to test how well the specimen might respond to the changes, and whether maintaining a higher ethanol ratio (better from a preservation perspective) would still produce an MRI of sufficient quality.
Dani also finished rehousing our small meteorites into anoxic storage (to prevent iron corrosion), assisted by volunteers Tim, Robyn & Sara. She presented on this project at the recent AICCM National Conference in Katoomba.
Max Strating made some amazing new roll storage units for the Conservation lab—stay tuned for some details in a future issue of the Newsletter.
Research Projects
Sarah Babister and Rosemary Goodall have been conducting some materials analysis on beaded neck ornaments from the Indigenous collections. Their research was incorporated into a presentation given by MV curators Lindy Allen and Liz Bonshek at a specialist bead conference in Canberra.
Karina Palmer, Rosemary Goodall and Alice Cannon have continued to survey plastic items in the History & Technology collections as part of the ARC research project being managed by the University of Melbourne, about the identification and management of malignant plastics. They've been involved with discussions with the eScholarship Research Centre (also based at the University) to develop a project database, which is intended to become a publicly accessible resource. Julianne Bell, a PhD student on the project, assisted us on one of our survey days.
Rosemary has also started testing the Spencer & Gillen Indigenous objects collection for mercury-based pesticide residues.
Conferences and Workshops
Rosemary Goodall attended the 9th International Congress on the Application of Raman Spectroscopy in Art and Archaeology conference in Evora, Portugal, to present on her work identifying hidden hazards in our pharmaceutical collection.
Alice Cannon presented a paper on MV's collection risk management program at the ICOM-CC conference in Copenhagen and subsequently visited conservation labs in Copenhagen, London, Cardiff and Brussels. She gave presentations to staff at the National Museum of Wales, the British Museum and the Natural History Museum in London.
Belinda presented an update on her thesis research on George Wilson Bridges' salted paper prints at the University of Melbourne
Outreach
Sarah very recently participated in the repatriation of the 42,000-year-old remains of Mungo Man, to his ancestral lands of the Willandra Lakes region. Mungo Man was transported from the Australian National Museum in Canberra to Mildura in a vintage Chrysler hearse, used by the Aborigines Advancement League to take community back to country for burial in the 1970s and 1980s. The hearse has been part of MV's collection since 1989. Sarah helped to prepare the hearse for travel, collaborating with community, curators, collection managers and the mechanics to re-activate the vehicle and make it roadworthy for the journey, while preserving evidence of its past use. It was a once-in-a-lifetime experience and Sarah and the other MV staff involved were thrilled and honoured to be able to help Mungo Man on his final journey.
The conservation lab hosted several tour groups, including a delegation from Hanoi, students from RMIT and La Trobe University, and after-hours tours for Friends of Museums Victoria.
Lizzie McCartney hosted 50 University of Melbourne conservation students for a lecture and tour about conservation for exhibitions.
Mentoring and students
Celeste Wing Young worked with Conservation during October for her industry placement— Celeste is a student from the University of Melbourne's conservation program.
Volunteers Robyn McPherson, Tim Linden, and Sara Smith have continued to provide skilled, enthusiastic and very welcome assistance to our various programs!
Congratulations!
Helen Privett (currently working as the Manager of Travelling Exhibitions) was presented with the AICCM Conservator of the Year award at the recent AICCM National Conference, for her contributions as the Special Interest Group Convenor. This is a wonderful recognition of her work, as she steps down from this position and hands over the SIG Convenor reins to Didee Knight.
State Library of Victoria
Media
This quarter saw many interesting posts in the @libraryvic #presconslibraryvic Instagram feed. Preservation shared a number of rehousing projects including historical papers from the well-known Hill of Content Bookshop at the top of Bourke Street (MS 12361), art supplies from the Scholastic Dromkeen Children's Literature Collection, and some wonderful lantern slides and glass plate negatives of the Melbourne Zoo belonging to the Le Souëf Family Archive (MS 13490). While in conservation we saw a rare example of the fully extant 15th century incunabula 'Summa de casibus conscientiae' by Astesanus de Ast, c.1476 (RARESEF 093 C743H), and the treatment of James Audubon's renowned 'Birds of America', 1827-1838 (RARESXEF598.2973 AU2).
Conferences and Workshops
Conservation coordinator Jane Hinwood attended the AICCM National Conference, 'Collaborate | Connect | Conserve', from 1-3 November in Katoomba, NSW.
Mentoring and Students
The book conservation team recently welcomed work experience students from The University of Melbourne. Cancy Chu and Jennifer Todd worked on book conservation treatment and boxing projects, as well as conducting independent research. Cancycompleted a comprehensive investigation into the significant paper fragmentation in the Library's first edition copy of Johannes Kepler's Astronomia Nova [1609]. Jenniferis working to develop instructive guidelines for the safe handling of rare book materials in the Library's Heritage Reading Room. Both reports will be valuable work.
Treatments
Treatment priorities focus on preparation for exhibitions, loans and digitisation programs. In both Preservation and Conservation, the digitisation stream has concentrated on the Library's Manuscripts Collection, with the deadline approaching for the redevelopment of this gallery. This includes a number of fascinating collections such as the 18th Century papers of ethnologist and explorer Alfred William Howitt, containing information relating to Aboriginal clan groups and their customs, languages and vocabularies; and early British and Australian theatre playbills from the George Coppin collection. With the lead-up to Robin Boyd's 100th birthday in 2019 the Grounds, Romberg and Boyd architectural archive are being prepared for digitisation. The archive represents a comprehensive collection of tracing papers in use mid-century
Preservation have been collaborating with the Library's Storage team to make sure collections are consolidated and moved safely. Preservation are responsible for the assessment and listing of all materials, culminating in rehousing and/or redirection for conservation work in preparation for digitisation. In Conservation, each collection has required a different approach. For example, varying media within the Alfred William Howitt papers necessitates the use of standard paper repairs using wheat starch paste and Japanese paper, or re-moistenable paper prepared in-house with gelatine where iron gall ink is present. The repair of architectural drawings on tracing paper from the Grounds, Romberg and Boyd archive we are using heat-set tissue prepared using Lascaux 498HV diluted with deionised water and Japanese tissue (RK-0, Paper Nao) for the best result.
Preservation technician Savina Hopkins is collaborating with Manuscripts on a comprehensive survey of the manuscripts stored in plan cabinets, to improve catalogue records, housing and labelling of individual items.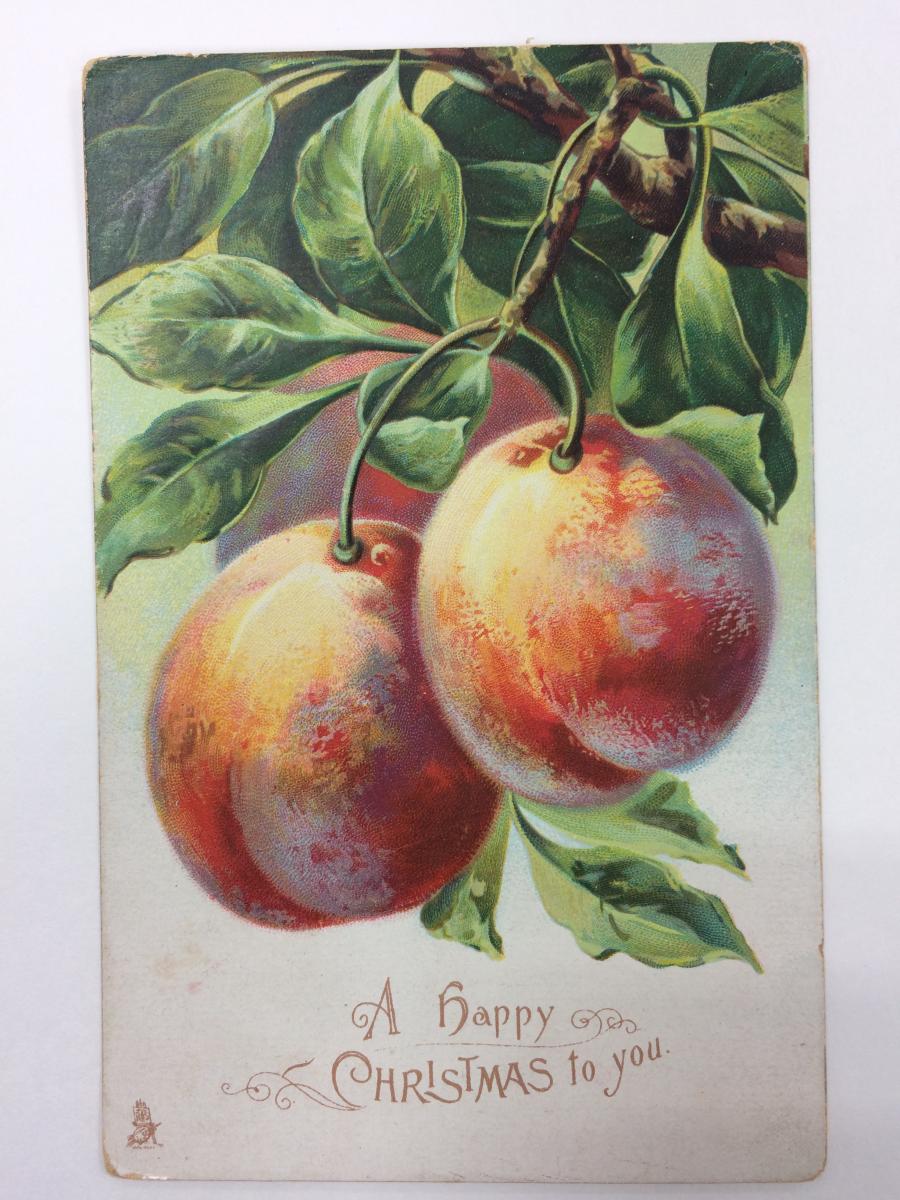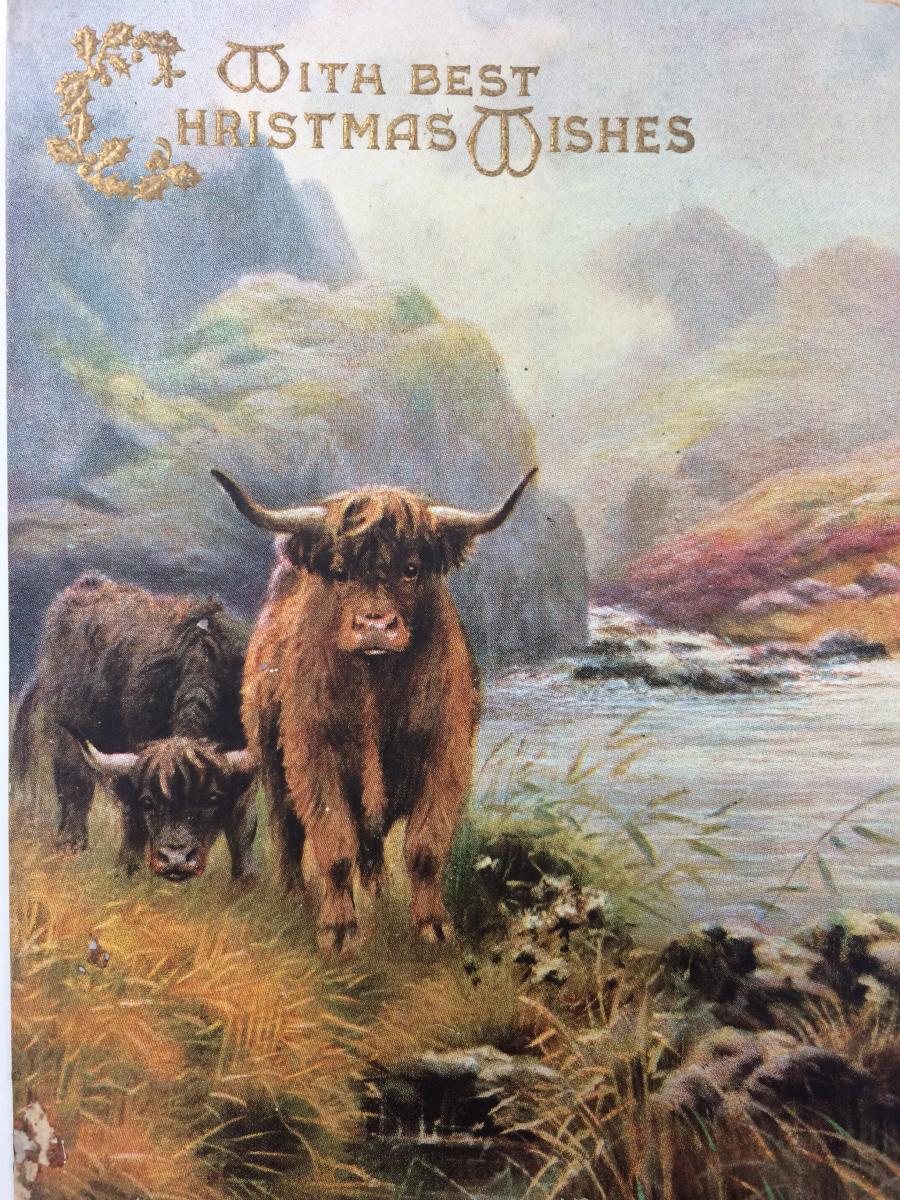 Exhibitions and Loans
The book conservation team are currently completing the changeover of collection materials in our permanent Dome Gallery exhibition World of the Book, previously named Mirror of the World. This changeover includes a major "design refresh", including the use of EchoPanel® (100% PET) as a drewss panel in showcases. A particular highlight in the changeover is the display of Dorothy Herel's Text Vest – Jabberwocky, 1991, a vest made of paper on which the Jabberwocky poem is printed.
The paper team have been busy with a number of loans for exhibition, particularly relating to colonial Australia. One interesting milestone was the recent reframing of Samuel Jackson's 'Panoramic sketch of Melbourne Port Phillip from the walls of Scots Church on the Eastern Hill, July 30th 1841' (LT 1043) in preparation for loan. The panorama measures over 6m and required a new frame to be constructed and assembled in two parts, the two sheets of acrylic glazing held together with a hand-made acrylic H-rod as the acrylic is not made in lengths this lone. The frame was made by Chapman and Bailey, Melbourne, to conservation specifications.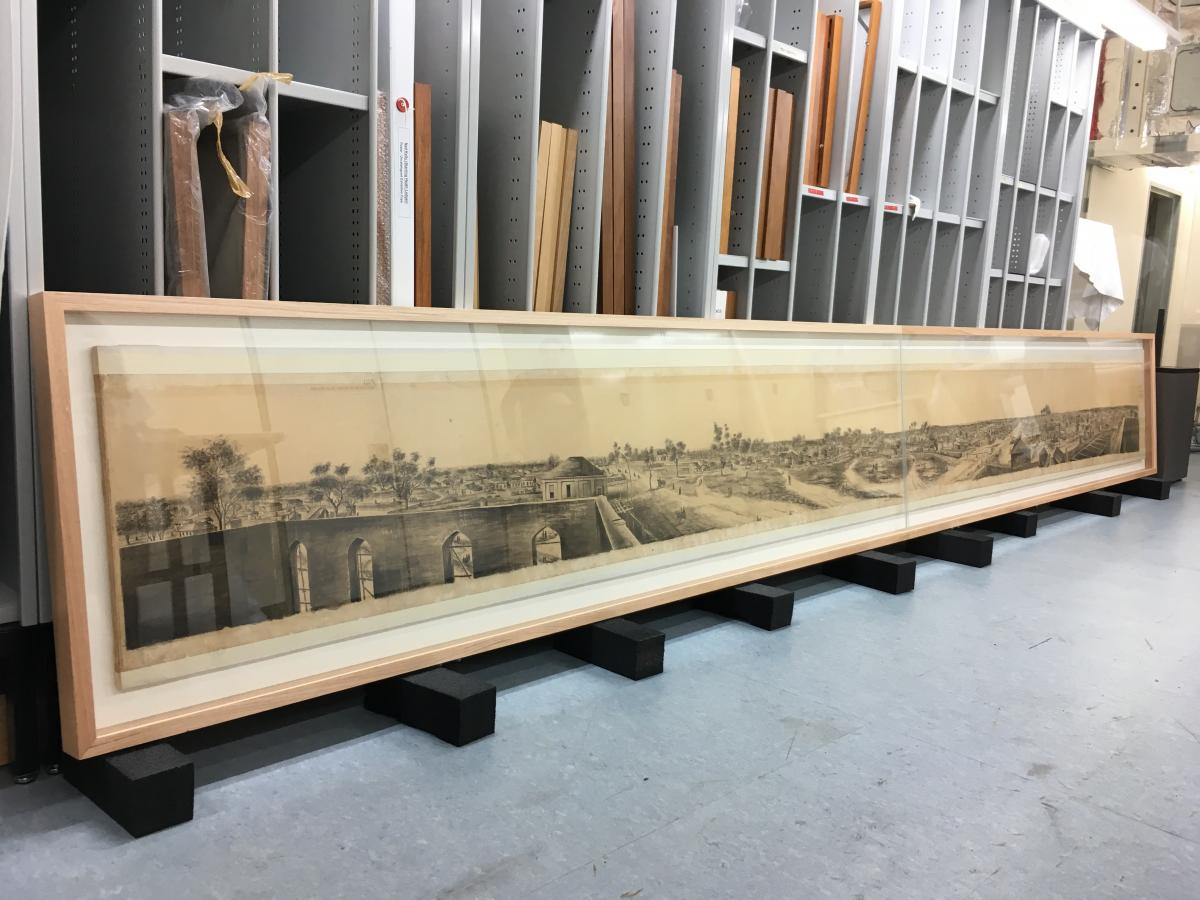 National Gallery of Victoria
Treatments and Projects
In between the busy exhbitions and loans demands we have kept the treatment programme ticking over, with ongoing treatments on Amedeo Modigliani's Portrait of Manuel Humbert (Raye Collins) and Arent de Gelder's King Ahasuerus (Carl Villis). John Payne has also cleaned Eugène Delacroix's The confession of the Giaour.
Inspired by the Hokusai exhibition, Bonnie Hearn has been researching the materials and techniques of Hokusai's prints and comparing matching impressions owned by both the NGV and JUM.
Exhibitions and Loans
The NGV paintings conservation studio has been kept busy with an ever-increasing number of loans, gallery changeovers and new acquisitions. 
Like all the conservation departments the Paper and Photographs studio have being preparing works of art to be included in the NGV Triennial this December. In particular Ruth Shervington has devised a hanging mechanism for four large scale collages (made of PVA and poster paper torn from billboards), by South African born artist Kay Hassan. The works are large undulating pieces requiring custom made stretchers that will be hung flat against the wall for the exhibition. 
The Hokusai exhibition was de-installed at the end October and the paper conservator staff have been condition checking each work before packing the collection bound for Matsumoto, Japan. Louise Wilson will courier the works back to Japan Ukiyo-e Museum (JUM) where she will condition check items a final time.
Pip Morrison is currently assessing some of the NGVs daguerreotypes for an exhibition next year exploring Colonial art.
In the Objects Lab preparations continue for the onslaught of works arriving for the 2017 NGV Triennial with material types ranging from recycled ghost net wall hangings to 3D printed UV cured resin death masks, a 12 tonne, 18m sculptural installation work and piles of giant fibreglass skulls. So many issues, so little time. Once we get through therapy there could be some interesting papers.
Preparations continue for the new Indigenous show early next year, and plans to fit in stabilisation and treatment of a large plaster figure will be nestled in around ongoing exhibition work.
Exciting Triennial works in the furniture lab include a suite of fifty highly polished stainless steel Manga Chairs, woven PETlamps, and a large dome work, Victoria Amazonica (2017), a collaboration between Estudio Campana, Yarrenyty Arltere Artists, and Elliat Rich. This is a work commissioned by the NGV, and will sit behind the waterwall at the front entrance, a spectacular opening to the exhibition.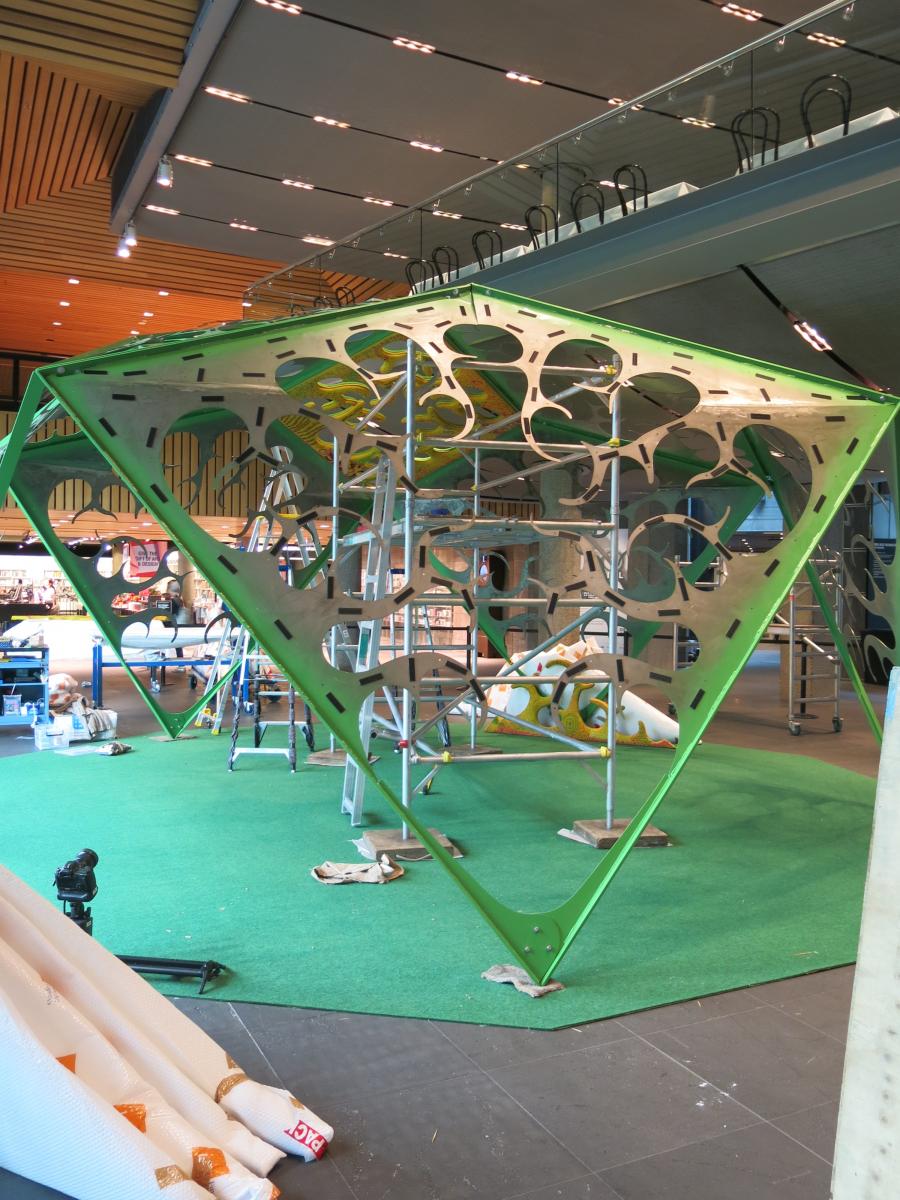 Social
For those who don't know already, John Payne has announced that he will be retiring on December 15th after a spectacularly successful and productive 35 years at the NGV. We will acknowledge this major milestone in the next issue…
Welcome back to Skye Firth and Louise McCullough who have been working with textiles conservation for the de-install of Dior.
Conferences and Workshops
Mary Jo Lelyveld and Bronwyn Tulloh attended the AICCM National Conference in Katoomba, getting to hear some great papers and discussions. Mary Jo gave her paper On Advocacy: Cultural Materials Conservation as a Holism, and handed over her presidency duties.
Mentoring and Students
Maria Halkias, who is completing her Master's course in paintings conservation at the University of Melbourne, is carrying out her vocational placement with us in the studio during the month of November. Maria has been involved in a wide array of tasks, including examination, documentation, radiography and minor treatments.
---
South Australia
Artlab Australia
Treatments and Projects
Renita Ryan has managed to squeeze in some treatments amid leading the Objects and Projects teams. She has completed remedial treatments on ceramics from the Migration Museum and the Art Gallery of South Australia (AGSA) and is currently cleaning The Clutch, by Antony Gormley before it returns to display at AGSA.
Megan Sypek has been working on a variety of projects such as: fitting out storage crates for two very special 12th Century Japanese wooden sculptures, repairing a Chinese horse with archaeological origins, and continuing the consolidation of flaking pigment on a privately owned bark painting.
Sophie Parker was very relieved to successfully complete repairs to a Japanese Doll's parasol by restoring the structural strength with Tetex, dyed Tyvek, Beva film, and Japanese tissue. Every rib was broken in one or two places, and the handle and stretcher ribs were detached. It was questionable as to whether the repairs would be able to support the tension in the parasol when it is pushed open, but it seems surprisingly sturdy.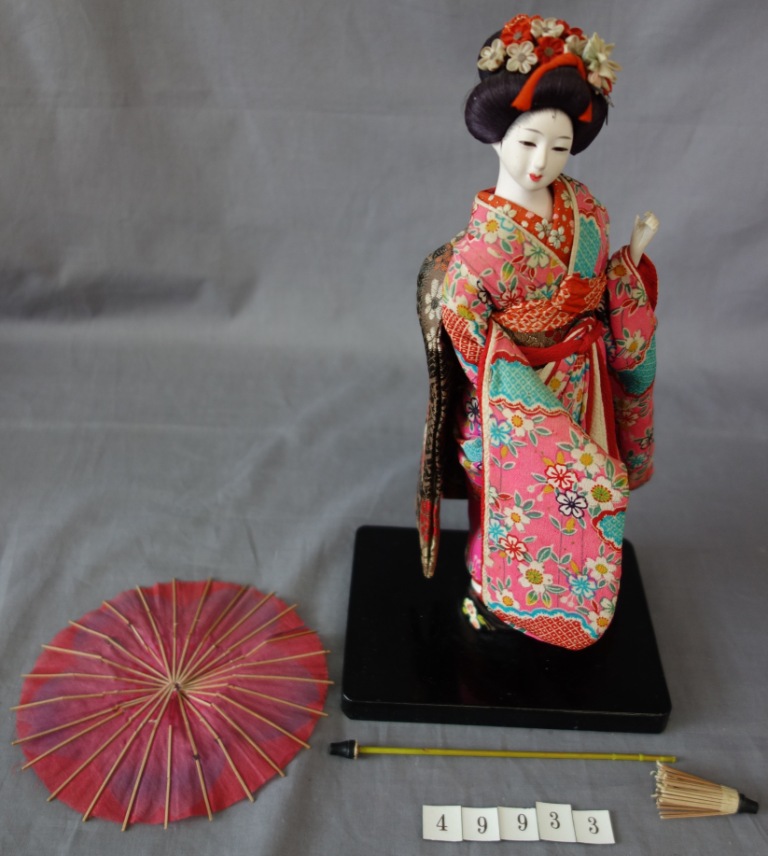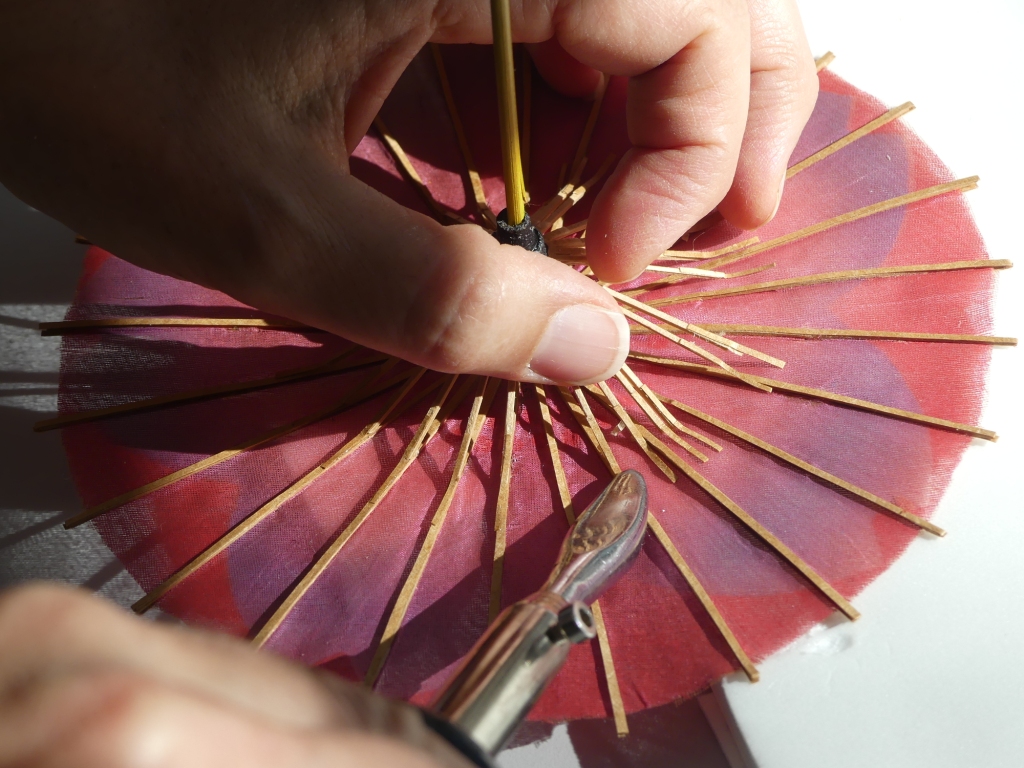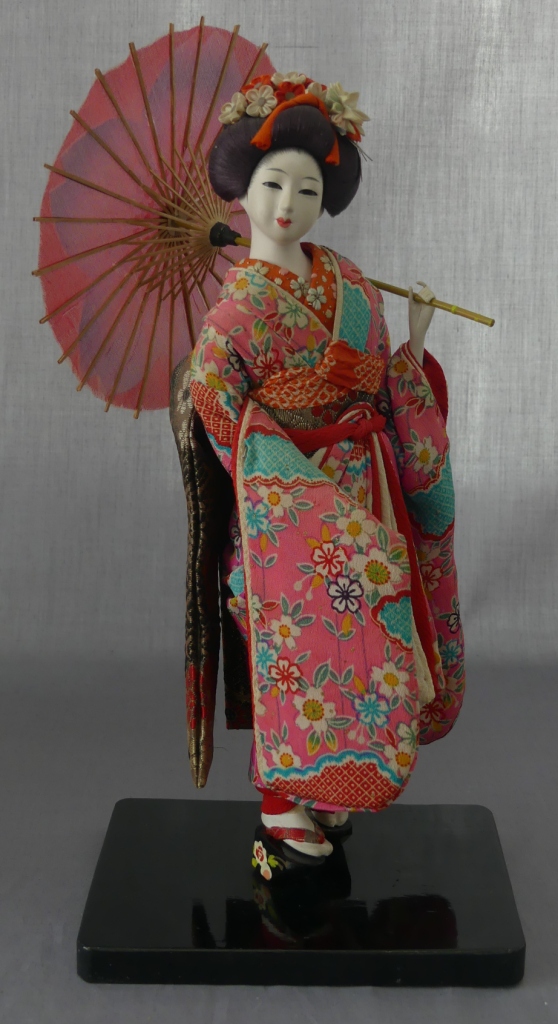 Filipa Quintela has been treating some bark paintings and Tungas (bark containers) that have been on long term open display in the Australian Aboriginal Cultures Gallery of the South Australian Museum. These required consolidation of the fragile painted surfaces and storage preparation so they can retire from the spotlight of display in safety & comfort (at least for a little while). She has also been involved with the ongoing storage preparation projects for various institutions, including a collection of ceramics from Alex Leckie recently acquired by AGSA.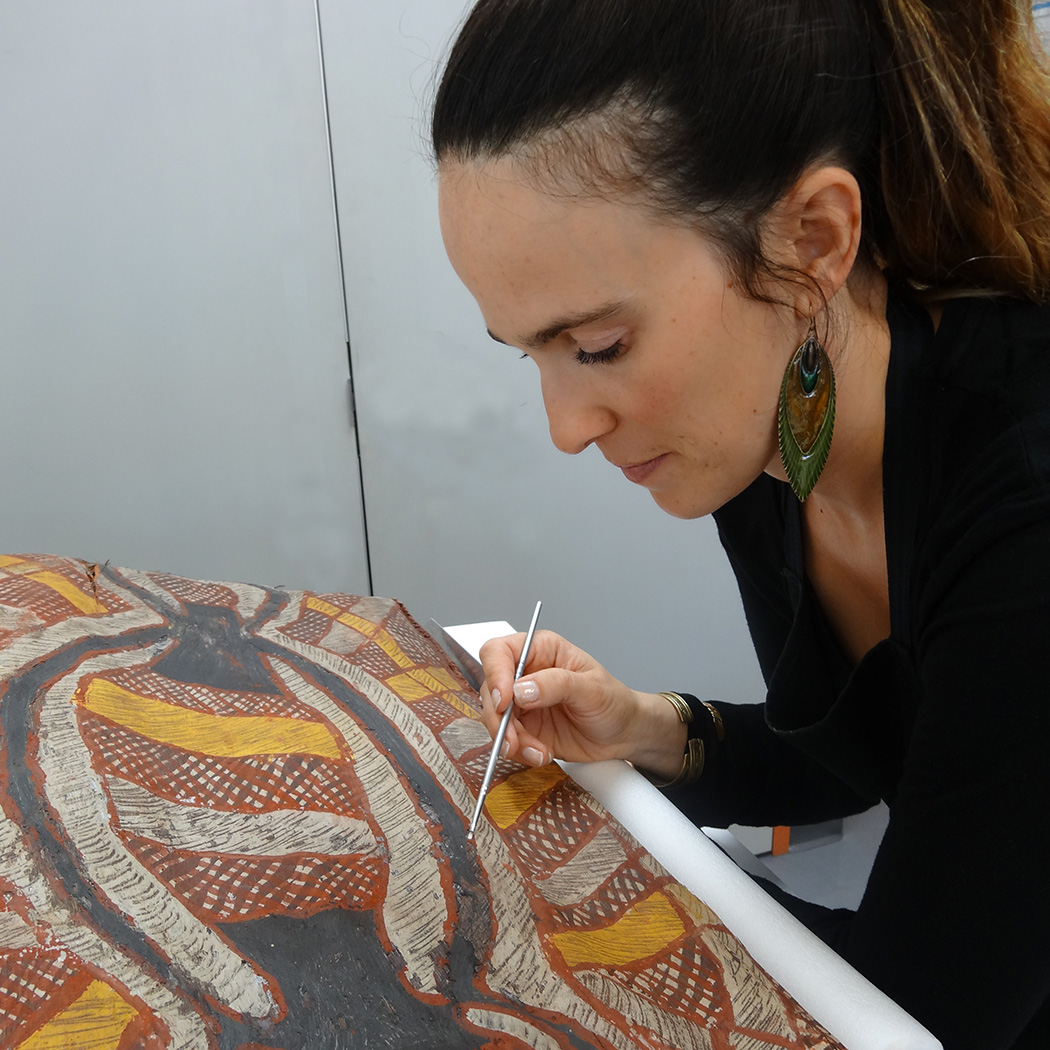 In early September Jo Dawe, Renita, Sophie and Filipa made the journey up to Birdwood (in the Adelaide Hills) to the National Motor Museum to undertake in situ cleaning of a mounted, painted fibreglass mould of a Zeta Runabout (c 1963). The Zeta was a compact and light-weight car manufactured in South Australia from 1963 -1965 by Lightburn & Co.
The car frame had been stored uncovered in a large shed for many years and unfortunately a group of possums had also decided to make the shed their home. A huge amount of possum faeces and urine (as well as dust, dirt, cobwebs, insects and plant material) had landed on the car and remained there for some time. We were much relieved to be working on the car outside, as there was a strong acrid smell that met us upon arrival. (We could only imagine how strong it would be in a confined, indoor space!) Accordingly, full PPE was required for this work and it did not take long to work up a sweat. We had come prepared for this; what we were not prepared for were the aggressive Magpies who did not like us being near their trees and periodically swooped us angrily!! It seemed they were a little intimidated by our full PPE and the hose running. Fortunately they did not make contact, just clicking as they swooshed past. As one of us has a bird-phobia, they became the chief Magpie-spotter and warned others of any impending attacks.
Treatment carried on and involved a thorough dry brush cleaning and vacuum. We then moved on to wet cleaning, using buckets of a mild, neutral detergent with sponges and brushes to work off the more ingrained material. We repeated the wet cleaning numerous times with areas of ingrained staining requiring additional solvent cleaning. As you can see from our before and after treatment photographs, there was a marked improvement in the Zeta's appearance, allowing it to be brought back into the museum environment for public display.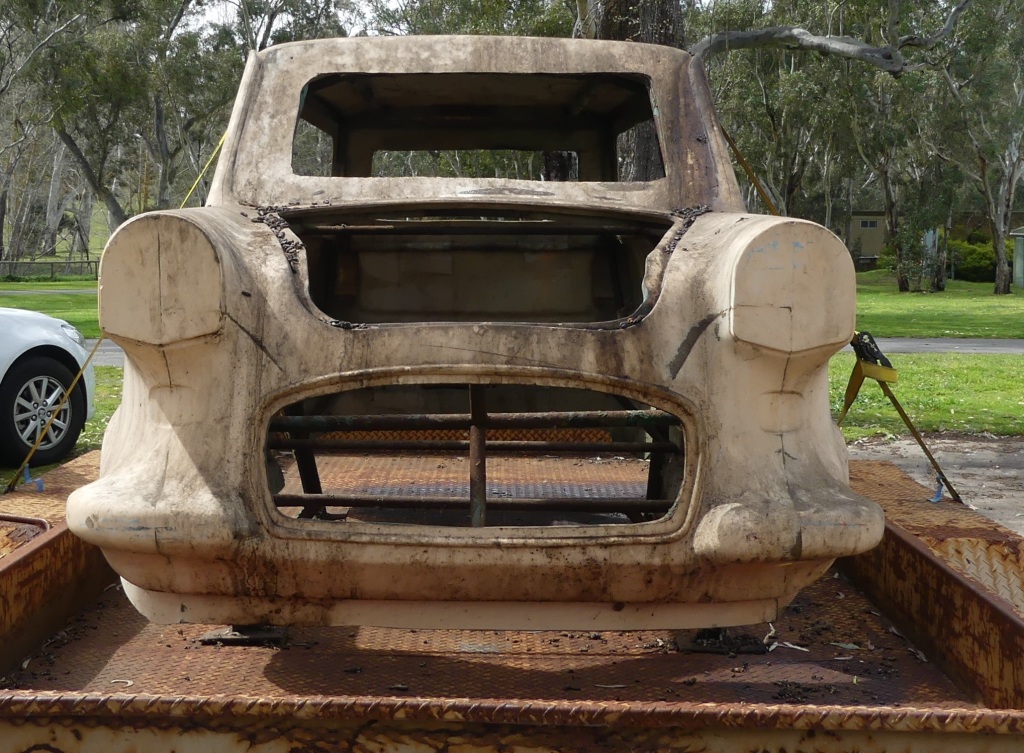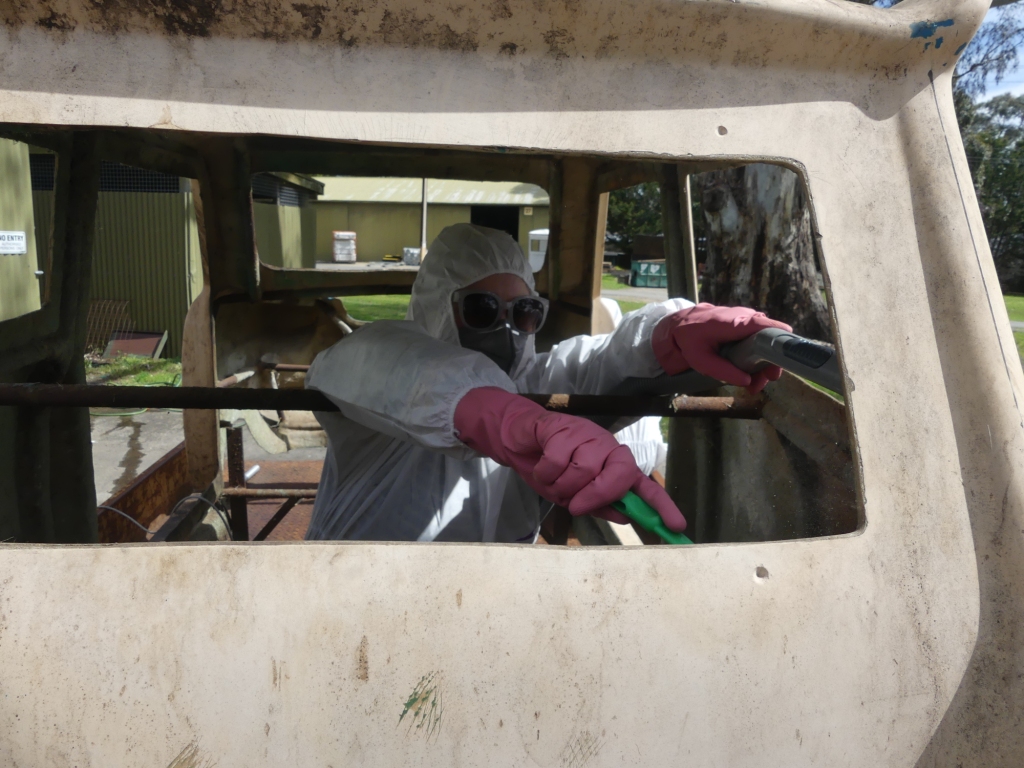 Exhibitions & Loans
Kristin Phillips & Mary-Anne Gooden have been busily preparing 20 gowns for the Art Gallery of South Australia's Paolo Sebastian: X exhibition which celebrates 10 years of the Adelaide couture house and its creations by designer Paul Vasileff, 2017 Young Australian of the Year. Paul creates beautiful, translucent gowns constructed of layers of fine silk tulle embellished with embroidery, beads and sequins. The translucent nature of the dresses presented us with a set of display challenges. Standard dressmaker forms were adapted and carefully recovered to create a uniform & tailored appearance. For dresses with sleeves, arms were constructed using flesh coloured crin which gave the impression of an arm filling the sleeve without it looking solid. Tapered tubes of flesh coloured stretch knit were also stitched to the hips of the mannequins. These helped to hide the stand and gave an impression of legs under the dresses without creating an obvious petticoat which would have changed the intended appearance of the dress. Many thanks to helpers Megan Sypek & Victoria Rose Thomas, final year student from the University of Melbourne who ably assisted us to churn out the bodies in a tight timeframe!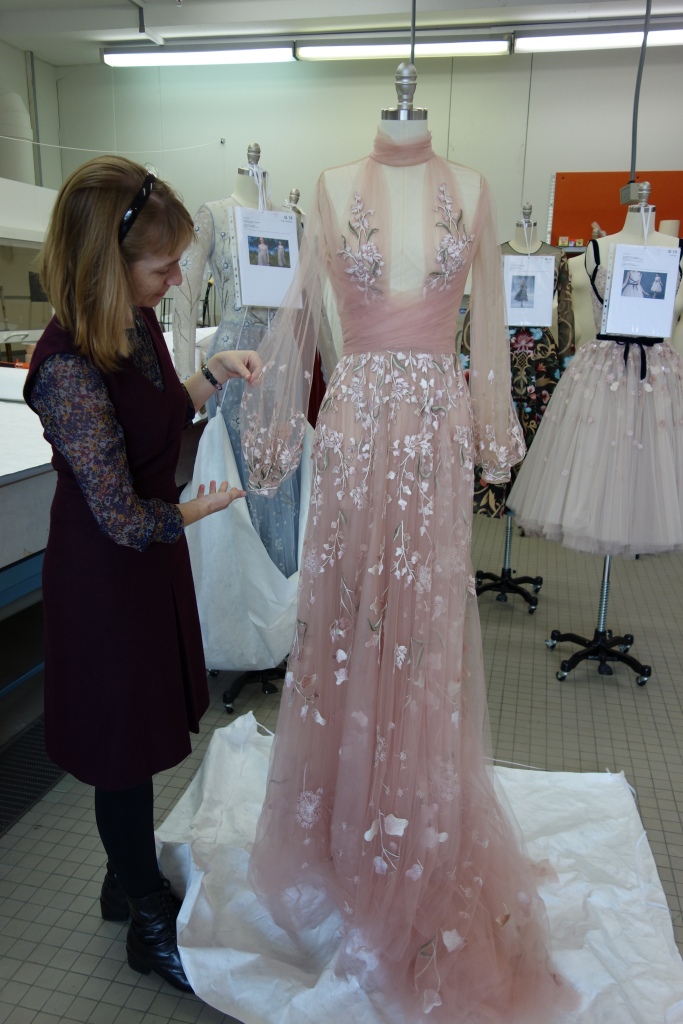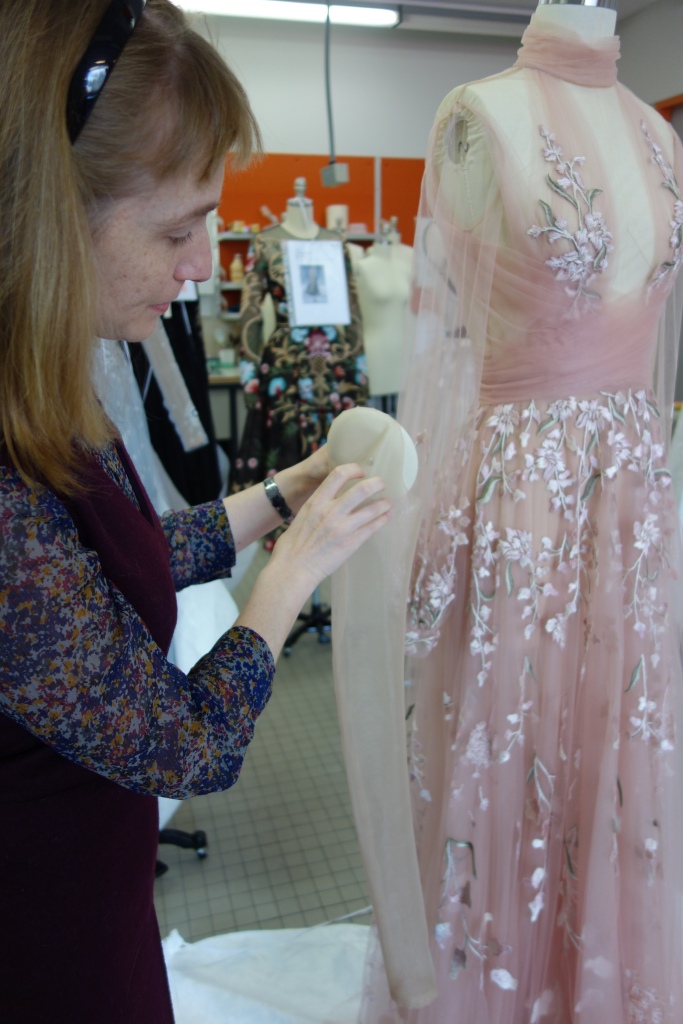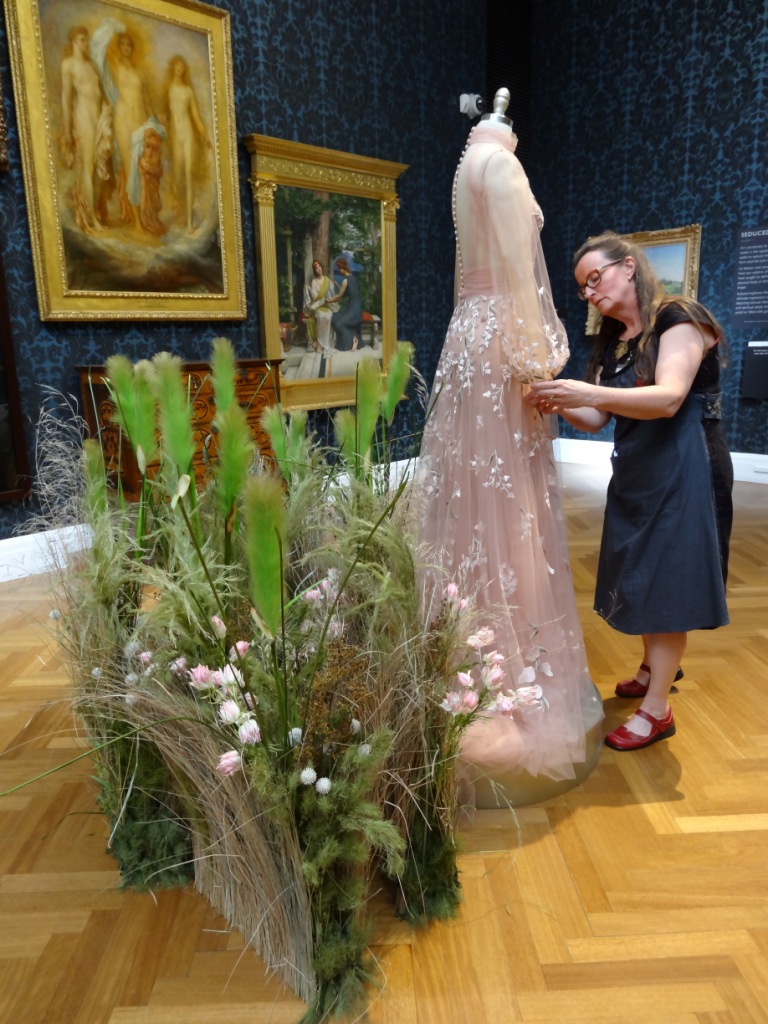 Meanwhile, preparations have also been taking place for display of numerous flat mounted textiles and costumes for AGSA's China & the World exhibition.
Yet again, Kristin has been delving into the world of historical costume reproduction. The National Motor Museum is opening an exhibition that explores the life of Alice Anderson, a pioneering female mechanic, chauffeur & entrepreneur. Unfortunately, minimal physical material survives so Kristin has taken up the challenge to reconstruct Alice's Chauffer outfit based upon historic photographs taken of her in the 1920's.
Western Australia
Heritage Conservation Solutions
Presentations and Outreach
Ian MacLeod recently traveled to Brisbane to deliver and pre and post dinner corrosion speech in the delightful surrounds of the members room at the GABBA cricket ground. Ian was the guest of the Queensland branch of the Australasian Corrosion Association and gave a talk that took in recent field work results on a 4,500 year-old site in Turkey and the fire storm that ravaged the WA township of Yarloop in January 2016.
Social
Ian was delighted to meet up again with his old AICCM friend Christine Ianna. Whilst in Brisbane Ian visited staff at the Queensland Museum and at the Maritime Museum on South Bank. He also inspected the remains of HMQS Gayundah on the beach near Moreton Bay.