Newsletter Issue Number:
Victoria
National Gallery of Victoria
Treatment projects
In the conservation studio our conservators are hard at work bringing some long-term projects to completion: Carl Villis is coming to the last stages of his major treatment of Paolo Veronese's Nobleman between and Active and Contemplative Life, a large Venetian canvas painted around 1570. Many years after his landmark balsa wood backing treatment, John Payne has brought the Garden of Love, a Venetian fifteenth-century panel back into the studio for some additional work on the sky and the partial reconstruction of a lost passage of drapery.  He is also constructing a frame more in keeping with the painting's age and style, to replace the nineteenth-century tabernacle frame which formerly housed the work. Raye Collins has continued work on two major projects: Josef Albers' Homage to the Square; and Amedeo Modigliani's Portrait of the Painter Manuel Humbert.
Volunteer Eliza O'Donnell is continuing her work on new contemporary acquisitions. At the end of September we farewelled Lisa Schaaf from Köln in Germany, who worked with us as an intern during the summer break from her conservation course.  Under the supervision of Raye Collins, Lisa completed her treatment of Roland Wakelin's Girl in a Purple Dress.
The Objects lab is ploughing on with some long term treatments, as well as prepping for exhibitions. Trude Ellingsen has worked on treatment and display options for the contemporary design show Common Ground, while Di Whittle and Bronwyn Tulloh prepared Bruce Armstrong's Guardians for his retrospective show. These two massive red gum pieces had been previously displayed outside, but will have a new life as indoor objects, with more detailed repairs undertaken as necessary. Marika Strohschnieder worked on a Virgin and Child polychrome relief to reveal details hidden under the grime. The whole team is now getting ready for exhibitions with massed objects and complex display requirements.
Exhibition preparation
The Exhibition team of Catherine Earley, Janelle Borig (& on occasion the rest of the department) have been absent from the Conservation corridors for some months working on a large and materially varied exhibition schedule. This includes Bulgari jewellery that came with staff and that were examined from a distance, Bruce Armstrong works large and small, a Sally Gabori Land of All painting exhibition from QAG which necessitated stretching of several paintings 6 meters long (thanks Gervais Battour). Added to this is the John Olsen: The You Beaut Country exhibition that includes two suspended ceiling works, now at NGVA but traveling after Christmas to AGNSW, and that Catherine and Janelle spent a week in NSW reporting on various private loans. Most recently the David Hockney Current exhibition has opened which displays work generated on ipad/iphone and includes some paintings but mostly screen works and others printed out onto a beautiful matte paper and laid onto dibond. Some of these works then slotted together to form very large format multi images framed on site by Fini. Catherine took a trip to LA to report and courier these from the Hockney Studio. To round out the year a large historic quilt show (silk components predictably the most problematic) is de-installing currently and boxes and boxes of Patrick Pound 'found and bought' objects are being documented for exhibition next year.
Bronwyn Cosgrove, Kate Douglas, Kate McLaren and Ellen Doyle in Textiles Conservation have recently installed the Viktor & Rolf: Fashion Artists, working closely with the team from the Viktor & Rolf Atelier. The exhibition will be showing until late February 2017. They have also recently completed storage solutions for the recently acquired Sirop French couture collection, with some of the pieces currently on show.
Following the frames symposium, we were pleased to be joined by Suzy Logan-Morris, Conservation student at the University of Melbourne, for a three-week placement in the studio. Suzy's keen interest in the conservation of musical instruments was very apparent while she undertook work on a Spinet (a small keyboard instrument) made by English craftsman Stephen Keene in c.1700, in preparation for the forthcoming exhibition Love: Art of Emotion 1400-1800. Suzi Shaw is coordinating contract work to reupholster five Regency period chairs (with non-original upholstery) in preparation for the rehang of one of the main gallery spaces at NGV International, opening at the end of this year.
Pip Morrison is currently preparing photographs for the upcoming exhibition Who's Afraid of Colour? showing from December 2016 at NGV Australia. Pip has also been working toward the NGV Festival of Photography, a major exhibition showcasing contemporary International and Australian photographs. The exhibition will include many new acquisitions which Pip has being assessing a preparing for display in March 2017.
Research
Ruth Shervington and Louise Wilson have been continuing research into watermarks in the NGV's collection of Albrecht Durer's prints that was commenced by our predecessors Lyndsay Knowles and Jacobus van Breda almost 20 years ago. Louise and Ruth have measured each watermark in accordance with the system developed by filigranologist Allan Stevenson and undertaken further research to identify related watermarks in other studies. Preliminary findings suggest the collection contains a combination of German and Italian watermarks which is consistent with documented history of paper production and trade in Italy and Germany and what is known of Dürer's life and travels.
The NGV has recently launched an on-line database of these watermarks following digitisation of the beta radiographs taken by Lyndsay and Cobus. The database makes this material available to other paper conservators, print scholars and paper historians which we hope will enable fruitful dialogue and collaboration with colleagues both nationally and internationally. We are indebted to Dr Susanne Pearce for her support of this project.  Sincere thanks to our former colleague Sarah Brown, Coordinating Conservator for her assistance with the innumerable technical aspects involved in creating the database.  To access the database, open the following link to the NGV's Conservation page and select the banner 'Watermarks in the NGV's Collection of Prints by Albrecht Dürer'.
http://www.ngv.vic.gov.au/explore/collection/conservation/
Conferences, symposia and workshops
Raye Collins attended the 2016 AICCM Paintings Symposium, held at the National Portrait Gallery in Canberra. Raye delivered a paper on her investigations into three Frederick McCubbin paintings in the NGV collection, co-authored with Johanna Ellersdorfer and Michael Varcoe-Cocks. Other former NGV paintings conservators gave papers: Helen Gill, Helen Casey and Alex Ellem, along with contributions from former intern Sophie Theobald Clark and current volunteer Eliza O'Donnell.
In August, Frames and Furniture, with assistance from other studios, played a large role in the organization of the symposium FRAME: History, Concept and Conservation. It was an exciting and valuable event – please see the reviews elsewhere in the newsletter.
Yvonne (Bonnie) Hearn recently attended Light, Colour, Structure, the 2016 AICCM Book, Paper and Photographs Materials Symposium at the National Gallery of Australia where she delivered a presentation on current research investigation fibre-tip pens in relation to works of art by Jimmy Pike.
Social News
The department has been invigorated by the presence of students Lisa Schaaf from Koln in the Paintings lab for three months and Suzy Logan-Morris from the University of Melbourne in the Frames and Furniture Conservation lab for three weeks. We wish Lisa and Suzy all the best in their studies.
State Library of Victoria
Treatment projects
In Conservation, treatment priorities have largely focused on preparation for exhibitions, loans and digitisation programs. The top priority in paper conservation has been the treatment of 120 playbills from the Coppin collection in Manuscripts, which were previously bound into a scrapbook. Dating from 1843, this collection represents some of Australia's earliest playbills and has been identified for digitisation. Treatment includes separation of the playbills from secondary paper supports, washing, repair and rehousing, with good results.
The Preservation section is preparing collections for relocation prior to the Library's redevelopment, which commences in 2017. Nearly 300 collections have been identified which has given Preservation and Manuscripts staff the opportunity to examine a variety of uncatalogued material, determine priorities for onsite and offsite storage requirements, and carry out simple rehousing and listing projects on both small and larger sized collections. Preservation staff are also working on a number of Picture collections in preparation for relocation, including identifying nitrate material and other unstable photographic formats, in addition to rehousing and labelling slides, negatives and prints.
Research projects
Noni Zachri has been examining a series of colour stereographs on glass by photographer Richard Courtney c.1920-40s to identify the early colour screen processes used. Viewing the slides at 100x magnification using transmitted and polarised light revealed details of the screen patterns, confirming the processes as Autochrome and in some instances Dufay. Courtney kept diaries, held in our Manuscript collection, carefully listing the processes and cameras he used on location while photographing the Victorian Alpine landscape, augmenting what we know about colour photography at this time.
Exhibition preparation
The book conservation team completed another successful changeover of the permanent Dome gallery exhibition, Mirror of the World, in October. New items in the exhibition include rare materials from the time of Charles I from the recently donated Emmerson collection.
October also saw the close of two exhibitions produced in partnership with the National Library of Australia: Amanda Wild and Albertine Hamilton travelled to Canberra to deinstall and condition report the S.T. Gill exhibition AustralianSketchbook. Colonial life and the art of ST Gillfor transport back to Melbourne, while the entire conservation team were involved in the deinstallation of the Heroes and Villains: William Strutt exhibition.
Preparations are well underway for the installation of our summer exhibition in the Keith Murdoch gallery. ON AIR: 40 years of 3RRR celebrates the 40th anniversary of the Melbourne independent radio 3RRR, opening in early November. This is the last exhibition in the Keith Murdoch Gallery for some time, as the gallery will close during the Library's redevelopment.  The install of 3RRR is closely followed by the next changeover of material in permanent Dome gallery exhibition Changing Face of Victoria.
Conference attendance and presentation
The AICCM Book, Paper and Photographs Symposium in Canberra was well attended by Preservation and Conservation staff. From Preservation, Kate Holloway, Leah Williams and Emily Keppel attended with Emily presenting a poster. From Conservation, Katrina Ben, Katy Glen, Marika Kocsis and Albertine Hamilton attended, all of whom gave presentations.
Marika Kocsis has been accepted to attend the Hanji Workshop for Foreign Paper Specialists in South Korea, running from 5-9 December 2016.
Social News
Comings and goings of staff
Jessica McElhinney has returned from completing an internship with the Canadian Conservation Institute (CCI) and recommenced work with the paper conservation team on a casual basis. Volunteer Lois Waters has temporarily departed to complete a three week internship at the National Gallery of Australia, in partial fulfilment of her Masters in Cultural Materials Conservation at the University of Melbourne.
The Grimwade Centre for Cultural Materials Conservation GCCMC     
Treatment projects
The Grimwade Centre Commercial Conservation team is working with the National Library of Australia on the conservation of the Library's 1663 copy of the map Archipelagus Orientalis, sive Asiaticus (the eastern or Asian archipelago) by master cartographer of the Dutch East India Company, Joan Blaeu. The large-format printed wall map is a highly significant artefact documenting the early Dutch exploration of Australia and New Zealand, as well as being a rare example of a 17th century wall map. The map is badly affected by copper pigments and obscured by a degraded varnish.
A comprehensive analysis of the materials has been undertaken by Dr. Caroline Kyi, Dr. Stefanie-Ann Alexander and Vanessa Kowalski, identifying the composition and properties of the pigments and varnish. Caroline and Stefanie have also made a significant exploration into the degradation mechanisms of copper-based media on paper. The Paper team, led by Libby Melzer, have investigated treatment approaches. Briony Pemberton and Libby have tested media solubility, and varnish removal approaches. A staged treatment approach has been developed in consultation with the NLA team. To date, removal of degraded varnish from the surrounding text panels has been completed with progress being made on removal of varnish from the actual map area. Libby, Briony and Peter Mitchelson are focused on this work. We hope to host some NLA conservation colleagues to work alongside our team. The treatment is expected to continue over the next three months.
Cushla Hill has worked on a large Donald Laycock work owned by Ormond College, tailoring a CAPS system to clean off the results of soda and beer spillage from a very soluble acrylic painted surface.
Caroline Fry has worked on a 19th century family-owned portrait of a woman by renowned Scottish artist John Campbell. This is a companion piece to the sitter's male counterpart and presented great structural and varnish removal challenges.
Surveys
The Objects team (Holly Jones-Amin, Carmela Lonetti and Anna-Maria O'Keeffe) conducted a second survey of outdoor sculpture for Brisbane City Council. Over 100 sculptures and groups of artworks were examined during an intensive two weeks on site. Documentation for each sculpture included a condition report detailing risk assessment, structural, stability and aesthetic issues. Finding and documenting the artworks required a lot of driving and walking and for some works climbing down onto the sides of motorways and trekking through swampy marshes. Each artwork was allocated a condition and treatment priority rating. We were impressed by the quality and amount of public artwork in Brisbane and, coming from Melbourne, the lack of mindless tagging! On the outdoor sculpture theme, Holly and Carmela have recently returned from an outdoor sculpture cleaning and stain reduction project in Castlemaine in regional Victoria. Textiles Conservator, Marion Parker, is presently working a complex treatment of two large embroidered curtains along with a variety of other textiles projects.
Jude Fraser recently assessed a Melbourne-based collection of glass plate negatives, sheet film (nitrate and acetate) and the photographer's workbooks, for Llyfrgell Genedlaethol Cymru / National Library of Wales. The professional photographer, Guy Hughes (1881-1972), worked in Pwllheli, Wales during the early 20th century and the photographer's family brought the collection to Australia after his death. The Library is looking at acquiring the collection and needed advice on the condition, packing and weight (estimated by Jude at over 625kg) of the collection.
Research
The objects lab has been experimenting with 3D scanning. A commercial client wanted a large ceramic wreath replicated. The wreath could not be cast due to multiple fragile layers of ceramic ivy leaves with multiple undercuts and the cost of 3D printing was prohibitive. Recent GCCMC graduate, Jessica Taylor, who has a background in ceramics, was employed to replicate the wreath in clay. The wreath was also scanned using an Artec 3D scanner from the University's Engineering Workshop. The client will have both a virtual and 3D copy of the wreath.
Fieldwork
Holly Jones-Amin undertook a third season working as an archaeological conservator in the field in Georgia with a team from The University Of Melbourne. The University of Melbourne has been working with The Georgian National Museum for many years. The framework of this co-operation is the Georgian-Australian Investigations in Archaeology (GAIA). Holly worked between the field and field lab undertaking cleaning and conjoining of pottery, and undertaking specialized lifting and consolidation of friable charred wood and antler dating to the early Bronze Age (c. 3000BC). For more information on this excavation see: http://museum.ge/index.php?lang_id=ENG&sec_id=113&info_id=14007
Workshop, symposia and workshops
In the Paintings/Frames lab, Vanessa Kowalski attended the Reflectance Transformation Imaging and 3D Photogrammetry workshop run by CHI (Cultural Heritage Imaging). We are now inspired to start mapping the surface of our objects in intricate detail.
Outreach programs
Earlier this year we hosted eight Art Workers from the latest ANKAA Arts Extension Program for a tour of the laboratories and a box making session with Jordi Casayayas. We also had Warmun Arts Centre Assistant, Ralph Juli working in the lab for a few days as part of the two-way learning program between GCCMC and the Warmun community. Work has been completed on a complex treatment of a very decorative Scheltema frame, with all involved in the stripping, re-gilding and patination.  
Student projects
GCCMC students, Laura Juliffe and Rosie Gooden, undertook their laboratory placements in the paper lab. Laura focused on the rebinding of a very large bible while Rosie worked on a collection of mould-damaged letters from the 17th century, belonging to the University Archives. Peter Mitchelson supervised the students. Objects student Emily Constantine did her laboratory placement with the Objects team, working on a bronze sculpture in the lab, an off-site treatment of a marble and bronze sculpture and assisting Marion Parker with preparing a collection of large banners for storage.
Exhibition preparation
Noni Zachri, Katy Glen, Danielle Woodward, Peter Mitchelsonand Anna-Maria O'Keefe recently worked with ACMI (Australian Centre for the Moving Image) staff on the deinstallation and condition checking of the exhibition, Scorsese.
Rehousing projects
Danielle Woodward and Stephanie Smith have been rehousing a large collection of glass plate negatives from the University's Creswick campus Forestry collection. Most of the negatives are enlarged images of plant structures. We have had additional assistance from students, Robyn McPherson and Adele Barbara,on this project. There was a lot of activity in relation to the opening of the new Arts West Building on campus, which has a focus on objects based learning and includes 200 display cases throughout the building. Objects from many of the University's cultural collections are being displayed. The paper team was also involved in preparing objects from The University's print collection for the exhibition, After Shakespeare presently on display at the Baillieu Library. Briony and Peter have also been preparing University collection prints and maps for an exhibition (working title Pseudo Colony) opening in 2017.
Social news
Comings and goings of staff
Catherine Nunn recently returned from an extended period of maternity leave and special leave, when she was based in London with her family. In 2015 she worked as Acting Head of Painting Conservation at the Victoria and Albert Museum, covering Nicola Costaras' sabbatical leave. This contract coincided with a major V&A Botticelli exhibition, and she treated a very large altarpiece by Botticelli belonging to the Birmingham Museum and Art Gallery. She also worked in collaboration with V&A Book, Paper and Textile conservators to treat a Thai Buddhist banner painting for the Buddhist Galleries at the V&A and in a private painting conservation studio in central London on Old Master paintings.
NSW
Art Gallery of NSW
Treatment projects
Since June the Frame Conservation team works on the preparation of over 70 frames for the Victorian Watercolours exhibition. Many of the artworks have not been exhibited for decades and their frames are covered with layers of dirt and overpaints, which now are patiently removed, often revealing well-preserved original gilding. New reproduction frames are being made by Tom Langlands, who after finishing a three year apprenticeship with David Butler, is getting more confident in making beautiful gilded frames, working independently.  Analiese Treacy will resume treatment of the watercolours for the Victorian Watercolours exhibition on her return to work in December.
Thanks to the Pohl Foundation's generous donation, Celine de Courlon and Barbara Dabrowa undertook a major conservation project of Hugh Ramsay's The Foil – painting and frame. The Foil is back on the wall in the Australian galleries for the public to enjoy.
Melissa Harvey, Jonathan Dennis, Paula Dredge, Celine de Courlon and Simon Ives have been working together to find a new hanging system for Imants Tillers's multi panel artworks. The new system which involves magnets will help improve the installation, hanging, and handling of the panels.
Research projects
Malgorzata Sawicki and Emma Rouse investigated the 'green layer' phenomenon of metal soaps forming on brass-leaf gilded/ brass-based painted frames at the AGNSW collections. Their paper proposal on this subject has been initially accepted for the 2017 Jubilee ICOM-CC Triennial Meeting in Copenhagen.
Time-based art conservator, Asti Sherring, in collaboration with curatorial, has been developing new approaches around the collection management of time-based art, performance, iterative and installation works. These discussions have culminated in the establishment of iteration reports, an artist questionnaire and a time-based art acquisition pro-forma, all of which focus on capturing technical specifications of the work, artist intent and the variable/ephemeral elements of a work and documenting them in a way that aids in the preservation of the work and its original concept. The time-based conservator position has been extended until late October 2017.
Exhibition preparation
The exhibition, Beyond words: calligraphic traditions of Asia, combines collection material and loans from the Islamic Arts Museum in Malaysia as well as two contemporary interactive works. Conservation preparations involved working closely with Design to create innovative supports for objects not usually displayed within the wall cases, including a concertina book displayed vertically and a Buddhist manuscript on copper. The Xu Bing installation has been both challenging for staff to manage the risks and rewarding with its huge popularity.
Objects conservation have been hard at work recently, with a number of collection changeovers and exhibitions. Kerry Head has prepared several textiles for a mid-display change-over of works in the exhibition Beyond Words, calligraphic traditions of Asia in late November. In October, Kerry and Kasi Albertspent several weeks assisting with the installation of many complex contemporary sculptural works in Primary structures and speculative forms, the new display in our Kaldor galleries. This included challenging works like Richard Serra's Plate, Pole, Prop and Ai Weiwei's Forever bicycles. Many months of condition reporting and treatment have finally come into fruition with the successful installation of well over 120 bark paintings and objects in the exhibition Art from Milingimbi, taking memories back. Kasi has also been undertaking a number of treatments of bronze and metal sculptures for change-overs in the Australian and Asian galleries.
Conservation also were involved in the deinstallation of the hugely successful Frida and Diego exhibition, now travelling on to Italy, and the installation of the AGNSW's major summer show Nude: art from the Tate collection, which also features works from the AGNSW collection that were prepared for display by Conservation staff.
Time-based art is currently preparing for the exhibition Time Light – Japan, which will include multiple computer generated works of art that respond to interactivity and audience interaction. This exhibit will allow time-based art conservator, Asti Sherring to focus on developing advanced strategies for the documentation of performative time-based artworks.
Conferences, symposia and workshops
Paula Dredge, Simon Ives and Celine de Courlon attended and presented papers at the Revivify 2016 AICCM Paintings symposium in Canberra in October. During the conference, Paula Dredge received the AICCM award for Outstanding Research in the Field of Material Conservation.
Carolyn Murphy and Analiese Treacy each presented papers and Sarah Bunn ran a one day workshop at the 9th AICCM Book, Paper and Photograph Materials Symposium: Light, Colour, Structure in Canberra. 
Social news
Comings and goings of staff
Analiese Treacy from paper conservation will return from maternity leave early December; Sarah Bunn and Asti Sherring are covering her role. Lois Waters from CCMC completed a three week internship as part of her Masters course on conservation.
Melanie Barrett from Objects Conservation is on maternity leave and will return in 2017, and Kasi Albert is covering her role.
Frame Conservation welcomed Emma Rouse and Lucy Tedder, who until end of this year will work intensively on preparation of the frames for the 2017 Victorian Watercolours exhibition.
Alexandra Sion, a French conservation student, completed a three-month internship in the Paintings lab.
Events
Melissa Harvey, technical assistant in paintings conservation, had a solo exhibition of her artworks, Dark Matter, at Factory 49 In Marrickville.
Australian National Maritime Museum
Exhibition preparation
The ANMM celebrates its 25th birthday on the 30th of November this year. To celebrate the museum is holding a 25th Anniversary Foundation Dinner. A collection of the Museum's most loved objects is being prepared by Luci Ronai and Nick Flood for display on the night.
Temporary exhibition change overs have preoccupied the conservation team for the last little while. Overseen by Sue Frost, Wildlife Photographer of the Year made way for the Blackmore's First Lady exhibition. Staff from Royal Observatory Greenwich and private collections packed up their precious objects from Ships, Clocks and Stars: The Quest for Longitude. This exhibition was replaced by the kid-friendly Voyage to the Deep: Underwater Adventures.
Treatment projects
The conservation of the Seafarers Memorial Anchors have recently been completed by Rebecca Dallwitz and a team of subcontractors.
Agata Rostek-Robak, Rebecca Dallwitz, Jeff Fox and Nick Flood areall involved in the planning and conservation of the Cape Bowling Green Lighthouse.You may be familiar with this collection object, it isthe lighthouse that sits on the wharf in front of the Museum's main building.  
Volunteer projects
Our volunteers Sue Brian and Jan Russell have been such a great help, undertaking tasks such as the Fini frame audit, preparing rolls, sausages, pillows and covers for the storage of the textile collection. Without them life would be so much harder for all of us. Thank you.
Social
In August the ANMM hosted the AICCM NSW Division's AGM. Accompanying the formalities of the evening we were privileged to be given a personal tour of the Ship, Clocks and Stars: The Quest for Longitude exhibition by ANMM Curator Dr James Hunter. In addition to this, SLNSW Conservator Kate Hughes presented the results of her Churchill Fellowship research in the UK where she undertook physical analysis of core reference collection of First Fleet artworks.
Sadly for us, in August Sarah Murray went west (literally), moving to Perth to take up a role at the Western Australian Museum. We'd like to wish Sarah good luck and thank her for her tireless work and good humour over the past 18 months.
Lucilla Ronai, Jeff Fox and Nick Flood are all excited to be "on deck" at the ANMM. Luci has recently returned to Sydney after working at the Library of Trinity College (Dublin). Jeff is moving up to Sydney and away from archaeological conservation duties in Melbourne. Nick comes to ANMM after a 2 year stint with the Objects and Outdoor Heritage team at ICS.
In October, after six weeks in her native Poland, Agata Rostek-Robak returnedfrom holidays (vodka in hand). We look forward to the tasting. 
David Stein & Co
Anniversary celebrations
In 2016, David Stein & Co is celebrating its 25-year anniversary since the company was founded by David Stein in 1991. Over the years the company has seen many changes, from studio location, staff members and interesting projects.
In 2015 David Stein & Co expanded into a new warehouse-conversion studio in Alexandria as an additional working space to our Darlinghurst studio. The new site provided us with a much-needed space for larger artworks, as well as a customised environmentally controlled storage and studio space. Next year we will eventually relocate our Darlinghurst office to Alexandria where the David Stein & Co team can all be in the one studio.
Conferences, symposia and workshops
This year we are proud to see our senior paintings conservator, Sian Griffiths, delivered her paper on 'Lining: the hazards and some helpful hints on lining on a vacuum hot table' at the recent AICCM Paintings SIG Revivify Symposium in Canberra. Katherine Rosenthal also delivered a poster presentation on her technologically savvy 'Artemis: Condition & Treatment Reporting Software', which she developed in collaboration with Digital Fusion Ltd. for the daily workflow management of the company.
Social
Comings and goings of staff
The team has grown over the last few years. This year we are excited to have Katherine Rosenthal come back from maternity leave and resume her role as general manager. We also have several additions to our paintings conservation team, namely Julia Sharp, Sandi Mitchell, Anne Perrin and Lucy Pedder. Julia joined the team in 2015 in the role of conservation manager and senior paintings conservator. Sandi joined us in late 2015 with experience both in public and private practice. Anne, our French conservator, who joined us in mid-2016, has many years of private conservation practice in France serving both public galleries and private clients. Lucy came to us in August 2016 and has been working part time both at the Art Gallery of New South Wales and our company. Our studio assistant, Ellie Gifford, is currently juggling part time work at the studio whilst studying the Masters of Cultural Materials Conservation at the University of Melbourne by correspondence.
Births, deaths and marriages
We would like to congratulate Selina Halim, our paintings conservator, who is expecting an additional member to her family in December. We wish her all the best for her journey to motherhood, as we look forward to seeing her again next year when she comes back from maternity leave.
Elwing and Gurney Archival
Exhibition preparation
James Elwing and Jill Gurney are preparing design bindings for the Canberra Craft Bookbinders' Guild exhibition of Contemporary Bookbinding Exhibition. Exhibition dates and venue are: 10th February till 28th March 2017, CraftACT Gallery, Canberra.
Conference attendance
James and Jill attended the AICCM Book, Paper and Photographic Materials Symposium, at which James presented a paper they co-authored on preservation of bibliographical material during book repair.
Treatment projects
James is repairing a rare 19th Century paper and cardboard parlour game called 'Catapultine', where marbles are shot into a drum to score, for a collector of such strangeness. He is also making a working facsimile so the collector can spend happy hours in play.
International Conservation Services
Treatment projects
Karina Acton and Annick have commenced work on an archaeological collection which involves the cleaning and conservation of artefacts from a development site in Melbourne.
James Kleppen and Katy Ross have been working on a condition report for a grotto in Rhodes, and have been busy in our workshops undertaking conservation works to some stone memorials for Liverpool City Council. Katy has also been working on an Etruscan cista for the Nicholson Museum. [A cista is a bronze container, usually circular, ovoid or rectangular, used by women for storage of personal belongings – Eds]
We continue to work on various projects that are driven by the current public transport overhaul in Sydney such as heritage items at stations in the CBD and the relocation of public artworks to allow for construction and development. Of particular note is a project which aims to restore the heritage tile capitals at Town Hall station, a project that Arek Werstak, Rob Williams and James have all been involved with.
Wendi Powell and Katie Wood have been busy working on a large collection of artworks by Joan Smith as well as a sizeable panoramic photograph for the Sydney Cricket Ground. The latter has involved the removal of a substantial Masonite backing, and infilling and inpainting of numerous losses. They've also been working on a magnificent, antique terrestrial globe to remove a highly discoloured varnish layer, as well as infill and inpaint areas of loss.
Oliver Hull has also been involved in treatment of the Terrestrial Globe, repairing damaged areas of its wooden stand. Meanwhile, he has been working on several small, antique furniture pieces for a selection of private clients, and is about to head to Amsterdam for the IIC's 13th International Symposium on Wood and Furniture Conservation.
Skye Firth and Gail Hamilton are almost finished piecing together the 'Birdwood Flag' from WWI, which has been a painstaking but rewarding project. They have also been working on various smaller jobs, including a fire screen and a Melbourne Football Club jumper once owned by John Lord.
Exhibition preparation
Our Paintings Conservation Team has been busy installing a collection of large paintings in the beautiful new ICC building in Sydney's Darling Harbour.
Conferences, symposia and workshops
They've also attended several AICCM Symposiums: Matteo Volonté, Jennifer O'Connell and Adam Godijn were at the 'Revivify' Paintings Symposium in October; and Matteo and Claire Heasman travelled to Melbourne for the 'Frame: Concept, History and Conservation' Symposium.
Julian Bickersteth and Nick Flood attended the IIC Los Angeles Congress entitled 'Saving the Now: Crossing Boundaries to Conserve Contemporary Works'.  It proved to be an incredibly stimulating week.
Projects
Fiona Tennant has been working with Meredith Lynch, Doug Rogan and Julian Bickersteth on the mapping out of a major museum relocation project.
Social
Comings and goings of staff
We recently welcomed Annick Vuissoz from Switzerland who will be working full time in our Objects and Outdoor Heritage Team. We have also farewelled our Objects Conservator Nick Flood who has taken up a position at the National Maritime Museum.
The Museum of Applied Arts and Sciences
Loans
Frances Fitzpatrick has just completed preparing a large loan to Sydney Living Museums. Called "Demolished Sydney" this exhibition includes an interesting mix of objects from the Garden Palace, Tooths Brewery and the Sydney Incinerator.
Installation of two glass objects was carried out for the retrospective exhibition of Edols and Elliot at the Manly Art Gallery.
To increase our exposure in the Parramatta region we have loaned a Marc Newson chair to Old Government House, Parramatta as part of their exhibition "AT HOME: Modern Australian Design".
An interesting proposed loan is the requested appearance of one of our health and medicine technology objects in an intellectual property rights court case overseas. This object has well-documented provenance and has had no modifications whilst in our care. Interesting points for negotiation include whether the object can be operated in court and by who? Can other modifications or software upgrades be demonstrated in the court room on our model and by whom? How to schedule the courier transport with unanticipated court delays? We also need to consider the potential for confiscation of the object by the courts until the completion of the case. Not your everyday conservation issues.
Exhibition preparation
Suzanne Chee is busy conserving wedding dresses for "Love Is – Australian Wedding Fashion". This exhibition will focus on the wedding dress and traditions in Australia. Over 60 garments will be drawn from the Museum's collection as well as contemporary loans. Many dresses have never been conserved nor displayed due to their fragility. Since attending the TSIG Adhesive workshop earlier this year, many conservation problems have been solved by using a mixture of Lascaux 303HV and 498HV painted onto silk crepeline. Patches of prepared crepeline can be cut to various sizes then heat-sealed onto damaged areas to provide support. This technique has worked very well on the garments 
Gosia Dudek dismantled the "Evidence" exhibition in September and prepared some objects and made some object supports as part of the installation of the "Icons" exhibition. In addition she is preparing objects for "The Lab", a new educational space.
Skye Mitchell is coordinating the conservation input into the refurbishment of the "Experimentations" gallery in addition, with assistance from Gosia, Bronwyn Dunn and Rebecca Main among others.
Sue Gatenby has been busy assessing and sourcing the material requirements for the coming British Museum exhibition "Egyptian Mummies: Exploring Ancient Lives". Showcases for the mummies require controlled low relative humidity and all materials must have passed the Oddy tests. In addition, low emission MDF or wooden plinths for fabric covering need an initial layer of Moistop, a barrier layer of foil laminate used as a barrier to prevent VOCs affecting the objects on display. MAAS will also be displaying some of its Egyptian collection in conjunction with this exhibition.
Several new exhibitions have been opened: "Icons" – treasures from the museum's collection – and "Out of hand: materializing the digital", a collaborative exhibition between MAAS and the Museum of Arts and Design (MAD) which looks at the role of digital manufacture in contemporary art, science, design and architecture.
A number of 3D printed textiles were purchased for "Out of Hand". As a result, many questions regarding new polymer materials and technologies have been raised; their conservation, storage and treatment will pose challenges.
Research
Two collaborative MAAS and ANSTO projects have been completed. The first is on a Chinese wine vessel revealing the casting procedure and assembly methods using neutron tomography. The second project on the analysis of the Harbour Bridge rivets has been finalised.
Unfortunately both the Perkin Elmer FTIR spectrometer and the Bruker XRF analyser are not operating. We are investigating the possibility of purchasing a Bruker Alpha-P FTIR ATR analyser with complete ATR material libraries and transferring our existing libraries onto the new system. A decision concerning the XRF will be made in the near future.
Museums Discovery Centre
The Museum Discovery Centre (MDC) at Castle Hill is now open to visitors following installation of approximately 4,500 objects into the refurbished display store.  Relocation of some collection objects from the Ultimo site into the new I-Store is underway. This will give us the opportunity to clean, photograph and store to best practise. The new store also provides cold store facilities at +10, +2 and -20°C for photo negatives and some plastics.  The conservation staff involved have been working long hours on both projects. Thanks in particular go to Rebecca Ellis, Vanessa Pitt, Carey Ward, Bronwyn Dunn and Kate Chidlow.
Collaboration
Ralph Boesel and Chris Eagle recently spent a week at the Museum of Transport and Technology (MOTAT) in Auckland to advise and assist with the reinstatement of their large Beam engine. The engine had not run since 2014 and now, once the boiler service is complete, it will be operated on a regular basis once again.
Outreach
For one weekend a year, Sydney Open unlocks the doors of the city's most important, inspiring and intriguing buildings and spaces. The Conservation unit assisted with the Museum's contribution to this event when Jonathan London, Kate and Bronwyn hosted two guided tours through the conservation labs on Saturday 5 November. It was a great opportunity to highlight some of the things conservation does but also contribute to the very popular annual event.
Preservation Australia and Conservation Resources
Projects
Tegan Anthes assisted the Singleton Council Library and Archive with the ongoing preservation of their collection. A long-standing relationship with this Council provided the opportunity for a new approach. Tegan visited the library and archives and provided on-the-spot advice and preservation strategies across all collection areas. The various staff took notes and will be devising a Local History/Archive Quality Improvement Plan to prioritise the needs of the collection over the next couple of years. Collections that were identified as needing minimal conservation were then used in a training session to train the staff in handling, cleaning and re-housing local history collections.
Beate Yule has been working through the conservation and re-housing of a significant Sydney family archive from the early colony days, which has allowed for some interesting reading!
New products
We have received some new Akapad dry cleaning sponges from Germany – Akapad white flexible and Akatissue, both suitable for oil and acrylic paintings. These have been briefly trialed by the paintings conservation department at the National Gallery of Victoria, and received the thumbs-up. Please contact Beate for more details and samples for testing.
Conferences, symposia and workshops
Kay Söderlund delivered a two-day training for the Museum of Old and New Art, Hobart – a short seminar on Integrated Pest Management, followed by working through and revising their disaster preparedness plan including some challenging recovery scenarios. The recovery procedures were interesting for us – how do you salvage a wet artwork made up of dead flies coated in shellac?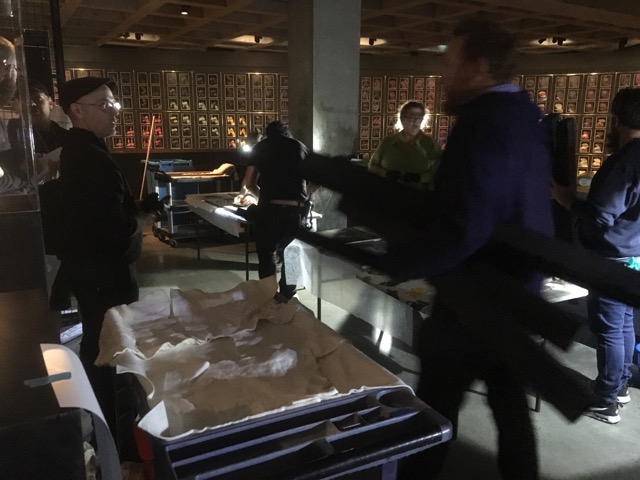 Tegan hosted a trade stand at the Australian Society of Archivists conference – Forging Links – People, Systems, Archives. This was held at Parramatta in mid-October and was well attended with over 300 delegates. Our stand highlighted our expertise in workshops and consulting as well as a small display of our beautiful boxes.
Kay and Tegan attended the AICCM Book, Paper and Photographic Materials symposium in Canberra, where Tegan presented a paper on highlights from the FAIC Collaborative Workshop in Photographic Materials in Tucson, Arizona. Tegan also attended the fantastic three day Conservation of Glass in Photography workshop with Susie Clark.  While Beate missed most of the conference as she was returning from her trip to Europe, she did manage to attend the one-day workshop on iron gall ink presented by Eliza Jacobi, and is now introducing new approaches to treatment in the studio.
Beate also attended two courses in Germany whilst on holiday in September. One on architectural plan collections of the 20th Century at the Akademie der Künste in Stuttgart and another on the conservation of tracing papers with Hildegard Homburger in Berlin.
Social
Beate enjoyed a beautiful Indian summer during her four weeks of holiday in Europe. She spent time in the UK, Germany and Italy visiting friends and family.
The Preservation Australia Studio hosted the Museums Australia (NSW) Christmas party on 10 November – word is spreading about how good the studio is for parties! Our Christmas party will be on 7 December – all conservators are welcome to attend.
Births, deaths and marriages
We are pleased to announce that Lari (our assistant in the product area) gave birth to a baby boy on the 9 November 2016.
Australian Museum 
Exhibition preparation
Spiders Exhibition opened at the Australian Museum. Conservation had minimal input into this exhibitions preparation. Sheldon Teare provided advice on preparing spiders in wet jars and selecting an appropriate adhesive to stick down specimens.
Acquisitions
As part of the 'Sea Journeys' project, the Australian Museum has made a major new acquisition. The works include a  large Erub ghost net canoe and paddle installation, an Erub drawing, a SidBruce Shortjoe painting, a Glen Mackie print and seven Glen Mackie boat sculptures.
Conferences, symposia and workshops
Sheldon and Megan Dean-Jones are heading off on a weeklong workshop on 11 November. The workshop is "Care and Management of Natural History Collections", held at the Universitat Autònoma de Barcelona.
Projects
Our old offsite storage facility is nearly empty. After months of preparation and coordinating movements, Megan and Sheldon will finally wish the site farewell. Brooke Randall (Conservator), Boyd Sanday (Conservation Technician), Megan and Sheldon have a final push to get the last specimens into new stillages or boxes.  Colin Macgregor supervised the relocation of the Aboriginal carved tree collection (almost 100) to a restricted room at the new Castle Hill storage. Hopefully this will be their home for many decades as the largest trees are over 2.5 metres high and require mechanical handling.  The Secret and Sacred Aboriginal objects store was also relocated in October requiring the construction of another restricted access room in the Pacific Store.
Work has begun renovating the oldest galleries in the Museum, turning them into a Treasures gallery. The Minerals gallery has been pulled out, which meant removing 1000s of minerals from their showcases. Michael Kelly and Rebecca Barnott (Contract Assistant Conservator and GCCMC Conservation Student) handled this work. Rebecca has been working closely with our Mineralogist to assess the specimens and carry out any cleaning required. A large Sei whale skeleton has to be removed and relocated in the Museum. The logistics of such a huge movement is not straightforward. Sheldon has been working out the whales movements with our Prep team. Brooke is carrying out the condition assessment and will be involved in the rehanging with Sheldon later in the year. Sheldon, Megan and Rebecca have removed a number of skeletons from display and completed condition assessment and very careful brush vacuuming. Sheldon has had to repair a number of small breaks. These skeletons are some of the oldest articulated skeletons in our collections and are in remarkably good condition
Renovations are simultaneously taking place in other galleries, including the Chapman Mineral collection and new display area in what was formerly the International Collection Store. 
Births, Deaths and Marriages 
Vale Heather Joynes
It is with great sadness that we mark the passing of Heather Joynes on the 11th November at the age of 93. Heather was longest serving and much loved volunteer in the Materials Conservation Department at the Australian Museum. She joined Sue Walston's conservation team in the mid-1970's shortly after the creation of the department and contributed continuously for 35 years until 2010. Her skills with embroidery and stitching were invaluable to the department and the benefits of her work can be seen throughout the collections in hundred of cushions, supports and carefully applied backings on textiles and costumes.
She was awarded the Order of Australia in 2013 for her services to the Embroiderers Guild and the Australian Museum. She will be greatly missed by all who knew her.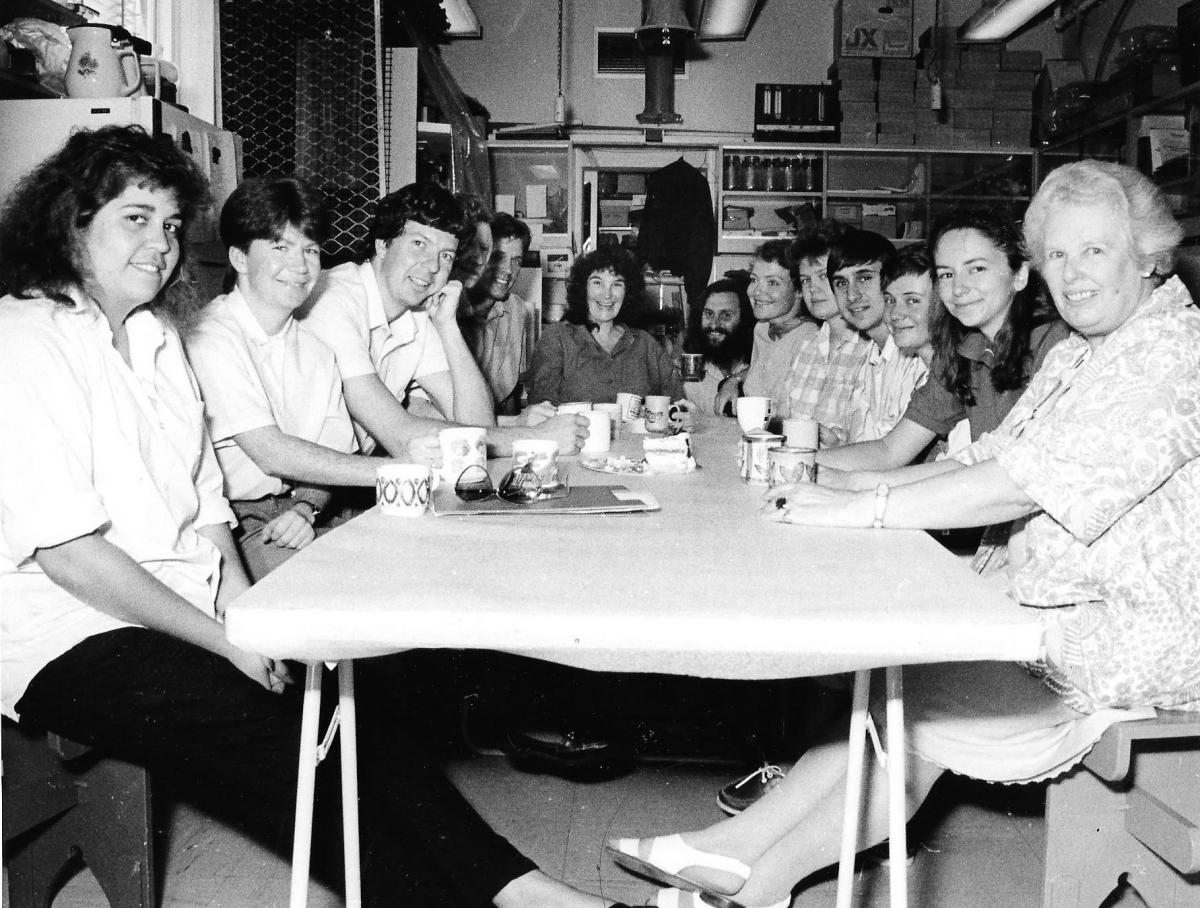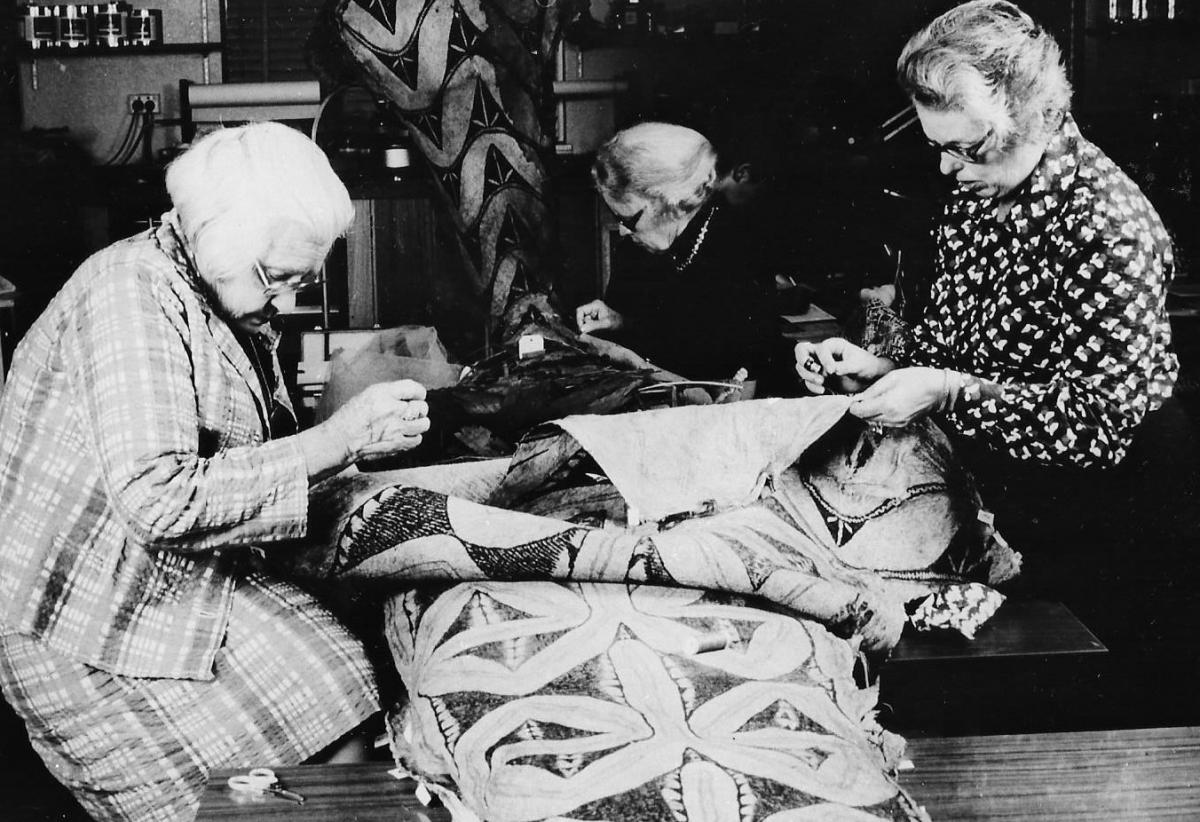 Heights Heritage Conservation
Exhibition preparation
200 George Street, Sydney [a new highrise – Eds] officially opened in August along with a public walkway showcasing artifacts found at the site, which were cleaned, repaired and mounted by Tess Evans for the permanent exhibition. [see http://www.200george.com.au/rich-in-history – Eds]
September and October have been pretty confronting, working on the Sydney Jewish Museum Redevelopment with X Squared Design on completely redesigning the museum interior. Around 300 objects from the Museum's own collection and on loan from Auschwitz have been cleaned and mounted ready for installation in November.
In October Tess went on a consultative visit to Exmouth to see the very impressive new Ningaloo Visitor Centre site (with a quick visit to the reef).
11 November sees the unveiling of the Lane Cove Honour Board, commemorating the fallen of the First World War, which has been completely restored and relocated in the Council Office Lobby.
Conferences, symposia and workshops
Tess was due to attend the QSMT Symposium, 'Inside Out/Outside In: Clothing, Cloth and the Meeting of Cultures' Bangkok in January 2017 to present her paper 'Blurred Lines: Conservation of Costume, Restoration of Aesthetic', but unfortunately with the death of the King of Thailand, the Symposium has been cancelled.
Professional
Tess has taken on the role of convenor of the Textile Special Interest Group. Thank you Julie O'Connor for your great work over the last two years. Over the Christmas break I will be setting up a designated page for Textile SIG members to contribute and share information in an informal setting.
Tess has also been asked to be an ICON PACR reader and assessor for individuals going through their ICON accreditation recall.
Social
Tess Evans has just returned from three days on Heron Island competing in her first ever 1km, and 3km round the island, Ocean Swim. With very little training she made it, unaided, in 78 minutes! Now with the bug, she has signed up with Cantoo to train properly for the Big Swim at Palm Beach in January. Watch this space…
ACT
National Archives of Australia
Moving the collection
Staff have been busy preparing for the move to the new National Archives Preservation Facility (NAPF) in Mitchell. Caroline Milne, Caterina Agostinetto and Steve Willett have been working flat out to ensure that collection material making the move will be as safe as possible, with a massive repackaging program taking place over the last 18 months or so. The Archives has worked hard to ensure that access to the collection is disrupted as little as possible for the coming months. Thank you to staff from other institutions who have made changes to loan requests as a result of the temporary changes to accessing the Archives collection. We appreciate your co-operation and understanding.
We have also been reassessing our stores of materials and equipment in an attempt to minimise the amount of non-collection material being moved to the NAPF. Wow, we certainly have some interesting and ancient pieces that would be well suited to a museum of conservation!
Research projects
As we are anticipating a lull in service work, some staff have begun work on research projects. As yet the projects have not been fully defined but will most likely be researching:
Implications of high humidity in uncontrolled environments
What types of mould are present in NAA holdings and which do we need to worry about?
The effectiveness of salt-water immersion as a first aid treatment for disaster affected paper-based materials (and how this might also affect media).
Continuation of investigation into records handling methods and their effects on archival collection materials
So far these are just ideas, and for the most part methodologies have not been determined, but you feel you might have relevant information or ideas on any of these please get in touch with clair.murray@naa.gov.au and we will keep your contact info for future reference.
Exhibition preparation
The Waterhouse Natural Science Art Prize wraps up on the 13th November. I do hope some of you were able to catch it!
Conferences, symposia and workshops
Most of the Conservation lab were able to attend the recent AICCM Book, Paper and Photographic Materials symposium at the National Gallery, and all agreed it was a wonderful experience. Several staff gave presentations, including Caroline Milne (co-authored with Caterina Agostinetto), Prue McKay (who was also on the symposium organising committee) and Cheryl Jackson. Travis Taylor went the extra mile and presented a workshop on paper fibre identification, ably assisted by Caroline and Ian Batterham, and kindly hosted by the University of Canberra.
Most staff were also able to attend one or more of the workshops held in conjunction with the symposium – for those who missed out, we have been able to benefit through in-house info sessions given by the people who attended.
South Australia
Artlab Australia
Treatment projects
In the Objects Lab,Sophie Parker has worked on a quaint little wax maquette of Queen Adelaide, a study for a large bronze sculpture in the Adelaide Town Hall. Drawing on experience from working with wax dolls, Sophie was able to lift and align the head which had broken and slumped forward at the neck. The head and shoulders were wrapped in Gladwrap, bubble wrap and aluminium foil, only exposing the break edges to which a heat lamp was applied to enable softening and movement in the wax, allowing the original position to be reinstated.
The Duncan Challenge Trophy (circa 1878), a beautifully detailed and large silver trophy (over 8 kg of silver used!), is currently being disassembled, cleaned and recoated under the watchful eyes of Jo Dawe. Numerous documentary photographs have been taken to ensure that the many various removable pieces shall be returned to their rightful position after cleaning and recoating. These loose pieces include 18 large fern fronds, numerous figures, including Aboriginal figures, dogs, a horse, a kangaroo and emu, and three recessed panels, each with a detailed rural landscape.  The level of intricate detail evident in the late nineteenth century silver smithing by Julius Schomburgk is remarkable. The trophy was the centrepiece of a contingent of items that travelled to the 1878 Paris Exhibition to showcase works from the colony of South Australia. It now belongs to the Royal Agricultural and Horticultural Society of South Australia.
Filipa Quintela is currently working on a pair of large wooden gilded angels – most likely from Pondicherry, India, circa 1780 – that belong to a private client. The treatment aims to stabilize the sculptures, as the gilded surface is in fragile condition, with extensive losses and lifting/tenting in areas indicating a high risk of further surface loss.  Treatment has commenced with a light general clean where possible, and extensive spot-consolidation of the gilded surface. Structural stabilization of two of the angels' arms will also be undertaken once the surface is stable.
Megan Sypek has been working on a wide range of privately owned works, including a Chinese terracotta figure, a shattered Italian glass plate, and a Swiss clock face. These jobs have all involved (vastly varied) stimulating challenges. She has also been assisting with the lab-wide effort of packing "The Wake" and other smaller objects.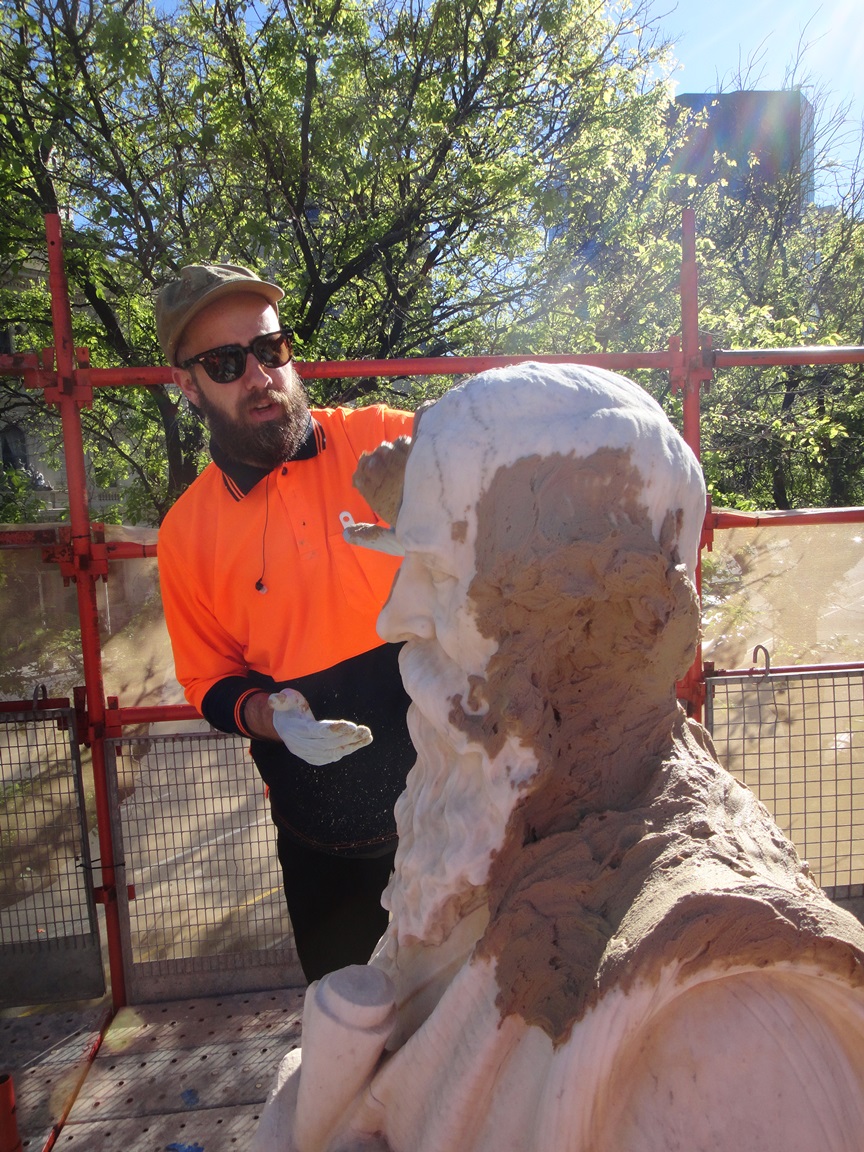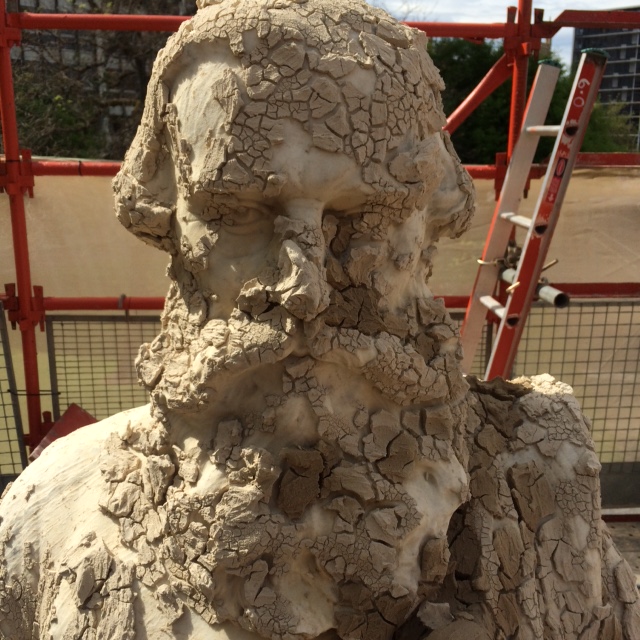 Abby Maxwell-Bowen and Stuart Fuller of the Projects team took well-deserved breaks in September before commencing another busy period of site activity, with two memorials in Victoria Square being worked on simultaneously. The John McDouall Stuart and Charles Sturt Memorials are both undergoing treatments including bronze care, sulphation and copper stain stone poulticing, cleaning and regilding. We have been greatly assisted by members of the Objects, Preventive, Paintings, and even Paper and Books labs, to ensure both gentlemen's treatment is complete by December. Meanwhile an art deco Honour Roll was returned to Blinman in the Flinders Ranges and a large sculpture of Jesus is currently occupying the loading bay, awaiting Ian Miles' expert attention.
In the Paper Lab, Aquila Evill and Jodie Scott have been working on privately owned collection materials. A recent challenging treatment involved tape removal and washing of a two metre long engineer's drawing of the ship The City of Hankow. The work has several coloured media on it which required vigorous testing before bathing. The tightly rolled drawing relaxed with aqueous treatment and was flattened in preparation for tear repairs, mounting and framing.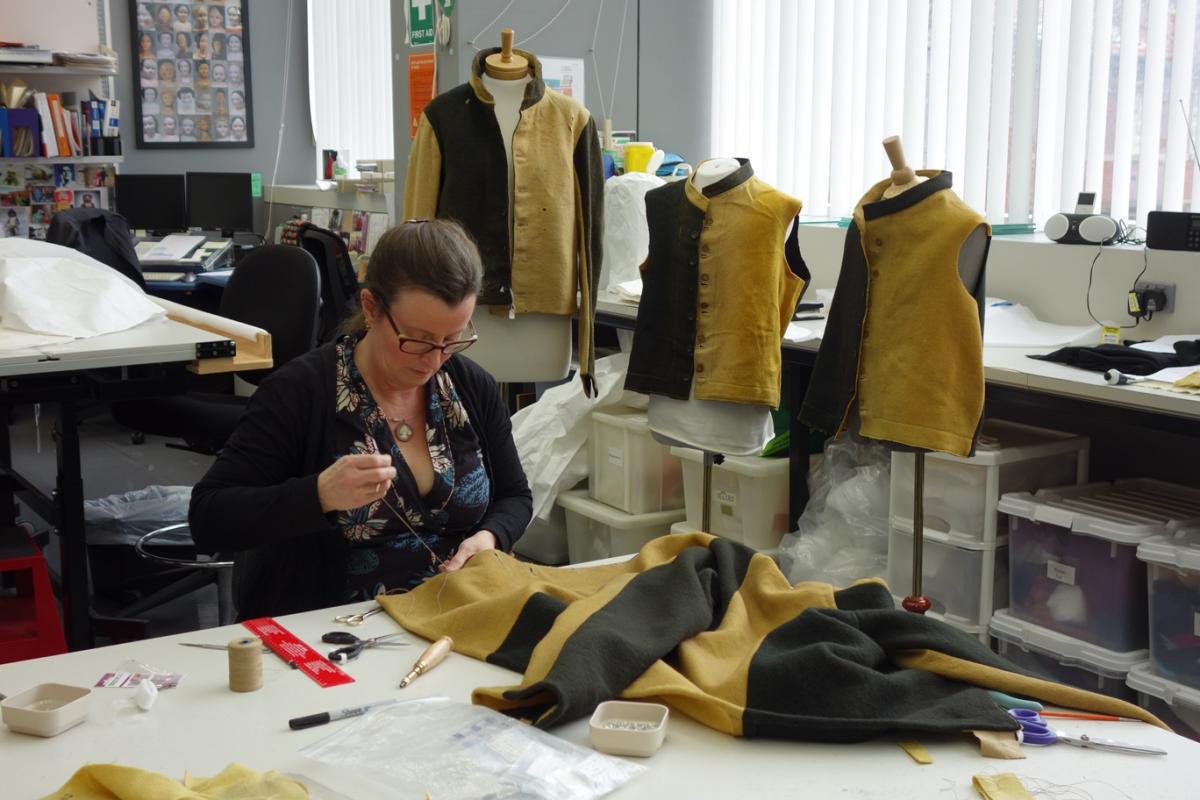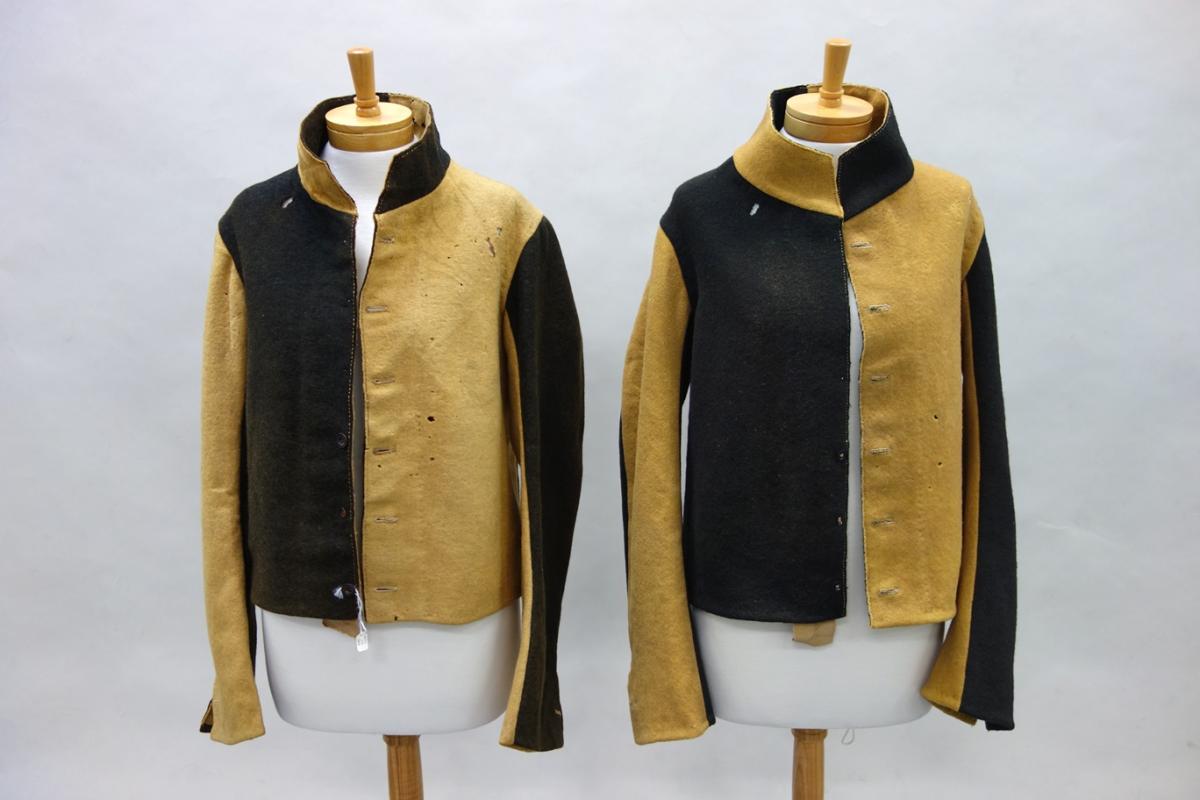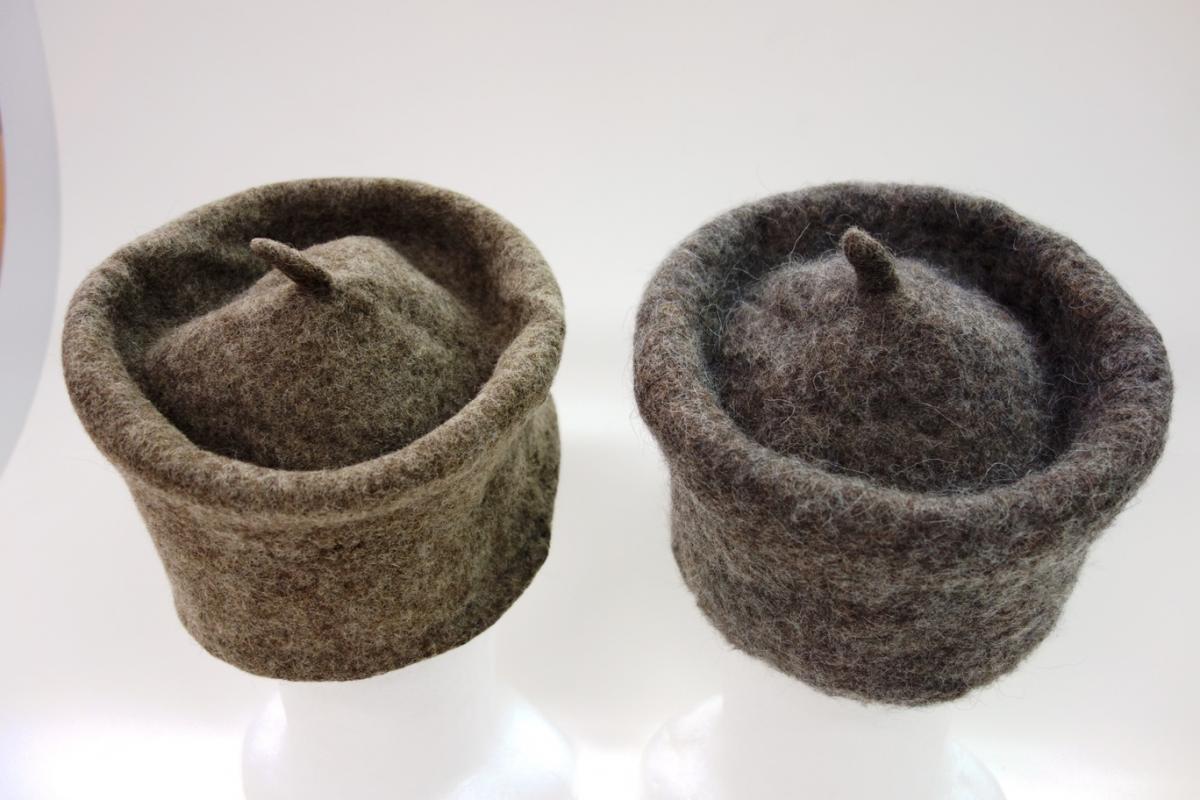 In Textiles,Kristin Phillips has recently finished making a replica convict uniform jacket, vest and hat for Tasmanian Museum and Art Gallery (TMAG). The original pieces had been on extended display at the Richmond Gaol. To ensure their long term preservation, the owners of the gaol have given them to TMAG and in return a set of accurate replicas was made for display. This unusual project required skills such as pattern drafting, clothing construction, dyeing, spray painting and printing to give them a realistic appearance. The best fun was recreating the insect holes!
Kristin and Mary-Anne Gooden also prepared costumes for an Adelaide Fashion Festival display at the Art Gallery of South Australia (AGSA). One of the costumes was a lovely 1750s silk robe à l'anglaise which required extensive treatment and construction of a replica underskirt. The costumes are displayed on cut-away style mannequins which were made from Fosshape reinforced with (judiciously positioned!) aluminium straps to support the shoulders & arms.
Exhibition preparation
These past few months have been a tremendously busy time in the Objects Lab for loan preparations for our State clients. We have prepared a variety of items, ranging from a delicately intricate Japanese bronze crab sculpture to a 150 kg+ Indian stone sculpture, both owned by AGSA on loan to MONA, Tasmania, for their exhibition titled 'On the Origin of Art'.
Justin Gare oversaw the packing for storage and transport of a newly acquired artwork from AGSA, titled "The Wake" by Sydney artist Nell consisting of 41 hand-built and individually decorated ceramic vessels, and 37 stools! The artwork had a prior loan commitment to Shepparton Art Museum, which AGSA honoured, but which required some speedy storage and packing solutions (not to mention additional Artlab workspace requirements!) in order that the many varied components of the artwork arrived there safely. It was a case of "all hands on deck" for a good few weeks and a hearty sense of relief once the work was completed and arrived safely at its display destination.
The paper lab has been preparing two exhibitions for AGSA. Anna Austin and Aquila Evill have been removing old mounts and pressure sensitive tape, washing chine collés and rehousing 50 etchings and engravings for an exhibition celebrating the Samuel Way Bequest.  Elizabeth Mayfield and Andrew Cuch have been preparing book and etching plate stands for the Rick Amor exhibition. Anna is also mounting up to 30 prints for this exhibition which will open in December 2016.
Research
Renita Ryan is assisting with XRF and gas chromatography analysis of a selection of didgeridoos from the South Australian Museum's (SAM) collection.  This involves collaborating with scientists from Flinders University and Collections Staff at SAM with the aim of identifying whether pesticide residues are present on SAM artefacts.
Conferences, symposia and workshops
Book and Paper conservators Liz and Aquila attended Light, Colour, Structure, the 9th AICCM Book, Paper and Photographic Materials Symposium in Canberra, 10–15 October.
Jodie attended Uniques and Multiples, the ICOM-CC Photographic Materials Working Group Meeting in Amsterdam, 21–24 September. Please refer to her report in this newsletter for further details of this conference.
Social
Comings and goings of staff
At the end of September Artlab gave a fond farewell to Helen Halley. Helen has been the Principal Conservator of the Paper, Books and Photographs section for several years and has retired from conservation to dedicate her time to animal rights causes and enjoy her love of opera. We wish her all the very best.
Jia Shai (Jenna) from Shandong Museum is currently undertaking a three month internship with Artlab's Preventive lab and History SA.
Tasmania
Queen Victoria Museum and Art Gallery
Exhibitions
Senior Conservator Amy Bartlett took over the project management and carried out the conservation for an exhibition titled "Blooming Tasmania: The Art of Botany" which was displayed at the Queen Victoria Art Gallery from September 2016. Amy prepared watercolours by WB Gould that were matched with botanical specimens from the Natural Sciences collection. This exhibition was displayed to complement the Blooming Tasmania Flower and Garden Festival which was held in Launceston.
Tasmanian Archive and Heritage Office
New acquisitions
We also collected a new acquisition of 17 works and photographs by Thomas Bock from descendents of the sitters including crayon and watercolour drawings, daguerreotypes and wet collodion positive photographs.
Exhibition preparation
Stephanie McDonald and Gaynor Tollard assisted with the delivery, photography and installation of the WWI Tasmanian Amateur Athletics Association honour roll board which has returned to the library after being rescued from the basement of the grandstand on the Domain.
Conservation and Allport staff prepared "Stories in Ink", an exhibition of work by South Australian artist Judith Klavins.  Her work is a personal response to John Scot's diary 1836 – 1847, King Island.  We prepared the diary, a lithograph by Mary Morton Allport of the 1843, a selection of seaweed specimens on paper from the Crowther collection and installed Judith's work.
Stephanie also prepared, delivered and collected the 1835 journal by Dr William Pugh of his voyage from England to Australia for display at the Launceston Library (LINC).  Dr Pugh was the first medical practitioner in Australia to administer ether as an anaesthetic in surgery.
Conferences, symposia and workshops
Stephanie attended the 9th AICCM Book, Paper and Photographic Materials Symposium in Canberra and the Conservation of Glass in Photography workshop with Susie Clark (from York in the UK), which followed the Symposium at the National Gallery of Australia.