Newsletter Issue Number:
What first attracted you to a career in conservation? How did you get started?
It's probably the common drawcard, which is that conservation sits in a confluence of a few different disciplines: history, art, science and craft. Craft and the practicality of the job were probably the most magnetic of these for me (I have a background in pattern drafting and garment construction). Formally, I came to conservation through the master's program at the Grimwade Centre following my vocational training and a Bachelor of Arts. I came to the program with the idea that it would bring together my practical and academic interests. It certainly has, but what's also kept me in it is the people. I've made such amazing friendships by being in the conservation community, which is full of so many kind and passionate people who are dedicated to their profession—and to morning tea. I've found collaboration can really influence the success of a conservation project, so it's been nice that this is so easily found when you are surrounded by smart, inquisitive and supportive colleagues.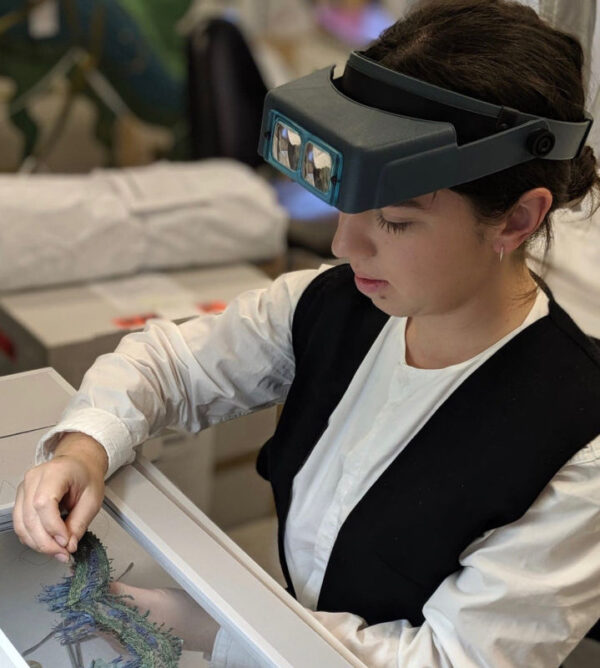 What does a typical work day look like at the moment?
I've recently started a full-time role at Artlab after working for a few years at GCS in Melbourne, so I'm still settling in to my typical day here. My time is spent between work for the South Australian state collections and commercial clients, which ensures a nice variety in the types of items and treatments that come across our benches. I feel fortunate at the moment that large parts of my days are still spent on treatment activities, but I also enjoy the preventive tasks and exhibition preparation that come with caring for the institutional collections. Because Artlab provides services across the state, I also find myself off-site quite often, which can be a nice change of pace, especially when we're up in Birdwood in the Adelaide Hills at the National Motor Museum.
Do you have a favourite object or collection that you have worked on?
One particularly memorable project was working on a Melbourne Cup Day outfit worn in the sixties by model Maudie James. I believe she was sponsored by Dupont to attend the event, and the outfit was made in one of their proprietary wool-synthetic blend textiles to showcase their product. I'm very interested in contemporary, synthetic textiles, as well as the social history of garments, so this really played into that. Of course, there being wool present (and the items being worn in November in Australia), pests had gotten into the ensemble over time. Any sense of glamour around the job was quickly lost when I found myself picking frass out of the trouser seat.
Last year I had the privilege of working on a collection of 14 'Kasperle' puppets from the Tatura Irrigation and Wartime Camps Museum while working at Grimwade Conservation Services. The puppets were made by German internees who arrived in Australia after WWII, and were likely used to entertain children in the camps. They're amazing objects, and potent reminders of how cultural material travels with and helps people make sense of new places and contexts. They'll forever be a part of my recollection of 2020, as a few of them went home with me during the second lockdown in Melbourne last year.
With the 'Kasperle' puppets from the Tatura Museum on mock display following conservation treatment. Image: Evan Tindal
Has working in conservation taught you any skills that you use in other areas of your everyday life? Or do you bring everyday skills into the conservation lab?
I do think my skills in pattern and garment making have come in handy. Replication is becoming more prevalent in the field of textile conservation as a way to display the information held in the physical shape of cultural material, without putting vulnerable objects at risk of degradation. Unfortunately I do still find at least one moth hole in my jumpers when I pull them out in winter, though now I'm embracing visible mending (possibly as a reaction to textile conservation repairs).
What is the one thing you wish more people knew about conservation?
That it is not a luxury and can absolutely be an option for smaller and regional collections either through grant funding or training programs. I've been lucky to work on a number of projects funded by generous grants, and this has been because of a few active and dedicated community members working with engaged conservation professionals to ensure that grant deadlines are met, that the applications are of a high standard, and that the projects are seen through to actually meet the proposed objectives. It is on the conservation community to ensure the scope of what we do in Australia reaches as far as possible, and that funding is made available to communities who would benefit from it most.