Newsletter Issue Number: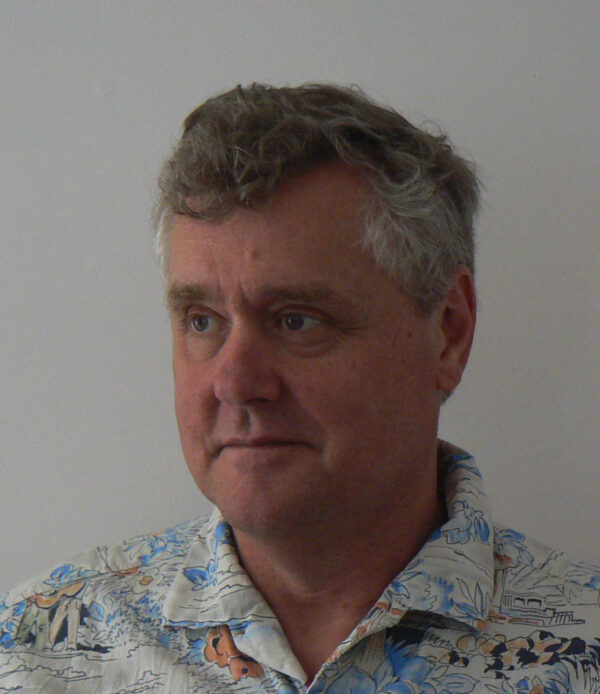 What first attracted you to a career in conservation? How did you get started?
When I finished sixth form in 1977, I was looking for a vocation. I was only 17 and had a precocious interest in art and archaeology. I was considering studying Archaeology at the ANU when a relative alerted me to a new course being offered at the CCAE – Materials Conservation. At this point I was not sure what materials conservation actually entailed. Nevertheless, it seemed interesting and I applied. I was very lucky to get in! Given the way my friends in archaeology have struggled to make a living I think I made the right decision!
At the CCAE you could specialise – I gravitated to paper conservation. I had always loved books and collected stamps as a child. I was also becoming interested in art on paper. The wonderful paper lecturer Bob Morrison stoked my interest and I knew I had found my vocation!
What does a typical workday look like at the moment?
After 35 years as Conservator at the National Archives of Australia (NAA) I 'retired' in 2014. Fate smiled on me and I was able to take on a role as lecturer/tutor in the University of Canberra Heritage Conservation course. On a teaching day I will present a lecture on a topic such as adhesives for conservation and then we will have a practical class where we make up a range of conservation adhesives. Later in the semester students will treat a project object, which could be anything from furniture to an easel painting. We have a range of wonderful mentors to help out with objects where my knowledge is lacking. This year the dreaded virus has changed many things. In first semester we had to close down our lab and all teaching was carried out online. We can now have our practical classes face-to-face but lectures are still delivered online.
My teaching role is part time and I have plenty of time to indulge my other passions – travel, writing music, cooking, etc. Also, I am the local AICCM President, which keeps me in touch with the profession – again, activities have been curtailed significantly due to the virus. But we are still going to have our famous Xmas party and Trivia Quiz this year – I'm writing the questions right now!
Do you have a favourite object or collection that you have worked on?
When I started at the NAA I became aware of a group of records known collectively as 'The Copyright Collection'. The collection comprised an enormous quantity of copyright applications and associated exhibits dating back to pre-federation and extending well into the 20th century. Copyright law up until the 1960s required an example of the item to be copyrighted to be submitted along with the application. This meant that tucked away in the collection was a treasure trove of graphic art, ephemera and literature that gave an alternative history of Australian culture in the period. I would like to think I played a small part in bringing this collection to greater recognition and it is now considered one of the jewels in the NAA crown. I was particularly fond of a small group of billboard posters that were discovered folded up in manila envelopes. I was able to carry out a treatment project where the individual sheets were flattened, deacidified, joined and mounted for display. My favourite was the poster for the steam ship Merimbula, which took passengers and cargo between Sydney and Eden in the early part of the century. This poster, which is probably the only extant copy, was in nine pieces and to see it come together was one of my favourite moments in conservation. If you want to see the poster follow this link: https://www.abc.net.au/local/stories/2012/07/12/3544644.htm
Can you think of an experience that has changed your perspective on conservation or how you approach your work?
Moving into a management role was a big change for me! My training was in treatment conservation and I had no idea about management. I suddenly had to manage staff, attend meetings, write reports, recruit staff, prepare budgets and prepare work plans. I also had to get involved in preventive conservation and projects to design new buildings. It opened my eyes to the fact that for conservation to continue to flourish we need good managers, managers that understand conservation and are prepared to go into bat to ensure proper resourcing. Also, a manager needs to be a spokesperson for conservation – always talking it up and taking advantage of any photo ops, press interviews and VIP tours to push it to the forefront. Of course, ideally a manager should be a conservator, one who is prepared to move out of the lab and into the office.
Has working in conservation taught you any skills that you use in other areas of your everyday life? Or do you bring everyday skills into the conservation lab?
Working with collections has given me a great love of art on paper. My eyes have been opened to the great beauty of etchings, engravings, drawings and watercolours. In my personal life I have become a collector of art on paper and have plan drawers full of prints, posters and drawings. I also love handmade and decorative papers and have piles of paper from places like Japan and Italy. When travelling I seek out print shops and paper shops and buy way more than I could ever put up on my walls. I will often buy an old print that needs conservation with the idea that I will fix it up one day. Sadly, I live out the old maxim—the cobbler's children go unshod—and many of these prints still await treatment. But there's still time!
What is the one thing you wish more people knew about conservation?
Much of conservation is invisible. We all love a great treatment paper with amazing before and after photos but much of our work isn't that 'sexy'! It is equally important for a conservator to spend time surveying their collection, or putting fragile items in appropriate boxes, or ensuring that the storage area is free from insects or ensuring that light levels in an exhibition space are suitable. A conservator needs to see these as important even though they can be invisible and thankless and do not result in a conference paper or a spot on the evening news!