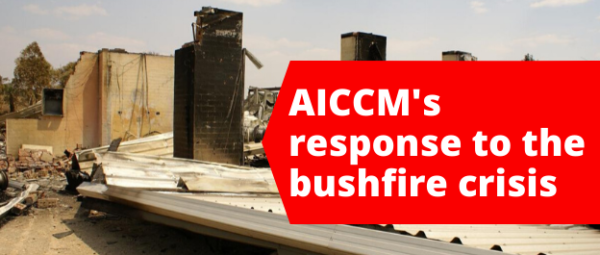 Volunteer Register / Requests for Assistance
Expressions of interest received from conservators to volunteer their time and /or services will be collated by the AICCM Secretariat in a register. If members or organisations request assistance in regards to conservation of cultural heritage, we will put people in contact with each other. Contact: Michelle Berry
Professional conservator directory
The AICCM has a directory of Professional Conservators available on its website: Find a conservator
Website Resources
The AICCM has a range of disaster resources available, including a brochure on fire. A flyer regarding smoke is currently being written. Please see our website for details https://aiccm.org.au/disaster
2020 Bushfire Response Fund
All donations to the AICCM will go towards conservation efforts related to the bushfire crisis. The AICCM will not be making a call for donations at this time as emergency services are the priority, however, we will put in place a project fund for donations we do receive until end of March 2020. Please check the donations web page for updates.
Blue Shield Australia
As an associated member of Blue Shield Australia (BSA), AICCM will be working closely with BSA and other organisations on sharing resources and distributing information.
Blue Shield Australia Survey

The Blue Shield Australia Survey has ended.
Blue Shield Australia is conducting a survey to quantify the impact of the bushfires and extreme weather events experienced across Australia from 1 November 2019 to 31 January 2020. The information will be aggregated to provide an overall cost to the sector of natural disasters this season. A report will be published using the results, which will be made available on the Blue Shield Australia website. BSA will not identify individual institutions' results. The questions in the survey relate to visitor numbers, building closures, staff absences, technical issues, impact on collections and on revenue. Please respond on behalf of your institution, rather than on an individual or department basis.
There are 20 questions and it should only take 10-15 minutes to complete. All questions are optional, so if you don't know the answer, move on to the next. Deadline for responses is close of business Monday 30 March, 2020. If you have any questions, please contact
info@blueshieldaustralia.org.au